In this translated interview, originally appearing on the Russian portal Sovsport.ru, Penguins star Evgeni Malkin discusses the All-Star weekend, talks Vladimir Tarasenko and Alex Ovechkin, and sheds some light on his private life.
* For the original interview by Natalya Bragilevskaya, click here.
– The game against the Flyers has been pretty rough.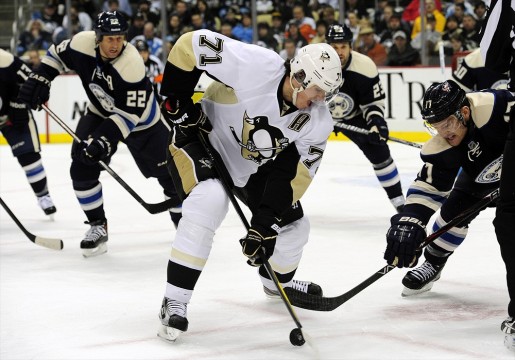 – Here it's always like that. I remember that once the fans thrown popcorn at us. You can't see anything similar in any other NHL arena. Only during the games between Penguins and Flyers. This is the Pennsylvania derby after all! And fans love these games, where they can see fire in players' eyes. We [in Pittsburgh] know that the Flyers play that way, we practice hard for the games against them. We could win, but we had too many penalties at the end. And the last goal has been a very strange one.
– Do you feel in good shape?
– Thanks God all is doing well. The All-Star weekend pause helps in getting some rest.
– What does it mean to you to play at the All-Star game?
– I don't even count how many times I took part in those events. I think four. You already know what's going to happen: the draft, the skills competition, the game itself. But the fans really like these events.
– What about players?
– I'll be frank, during the break players always want to rest. Fly somewhere for a short vacation. But the All-Star game is attended by people from many different cities, they vote their favorite players and everything is done for them. They want to see a show with the best players, and we don't have the right to disappoint them.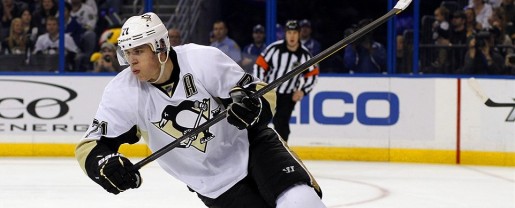 […]
– In what restaurants do Ovechkin and Malkin eat when they meet at the All-Star Game?
– Usually the NHL organizes special events for players. All is at the highest level. We simply have a walk in the city. By the way, it was in a restaurant, in Montreal, when Ovechkin and I made peace, through Ilya Kovalchuk. Then in 2009 we had that famous shoot-out… Do you remember when Ovechkin got that hat, glasses, took two sticks, and I fed him with water. It has been great. Ovechkin came at me and said: "Let's try", and I reply: "Ok, let's try". They didn't tell us earlier what to do, in the locker room they simply presented us with a list of things each player should do. I'm not a fan of these things. Well, I can try the shot accuracy one. But I won't do the fastest skater, I'm too slow.
– Are you surprised by Tarasenko's season? He can score 40 goals this season.
– Not at all! Have a look at the way he plays, at the stats. He's one of the best players for the Blues, and is among the top ten point-scorers in the league.
– Do you know him well?
– Unfortunately not, [Vladimir] is five years younger than me. I met him only at the Olympics Games in Sochi, where we played together. We don't talk much together, we don't have dinners together. But you can see right away what a great guy he is. Not only a great player, but also a very humble and good person. I wish him good luck, he deserves it. I noticed that Blues' coach Ken Hitchcock trusts him more. This is why he's now much more confident and plays better. Guys like him truly deserve to play at the All-Star game.
– Your first All-Star game was seven years ago.
– Yes… I remember taking part in it when I was a rookie. Time truly flies. And you need to use the chance they give you, if they wanted you to play there. As Ovechkin said, getting picked for the All-Star game is a sign that you're still afloat.
– Do you feel some aging?
– No, not for now. I don't think about my age. I'm in good shape, I feel great.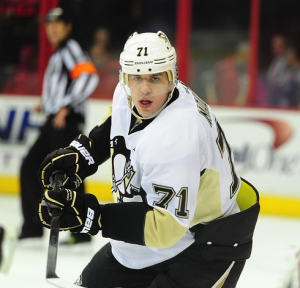 – Do you live alone?
– Many friends were at my place for the New Year, they are back in Russia now. I have a friend here in Pittsburgh, I'm planning to have some good time together soon.
– What about your girlfriend, Anna Kasterova?
– She flew back to Moscow, she works there. Maybe she'll be back later, but now she's busy.
– When will you marry her?
– Oh, you ask me this question every year! When we'll organize our marriage, you'll know about it. How can I say anything now?
– Your relationship must be not the easiest one, as you live in two different continents.
– In principle, we spend a lot of time together. She was here for a month for the New Year. If she has even a short vacation, she gets here. We'll see what happens. Having a family is a tough job. I would like to spend more time with her, but for now, that's what we have.
– You said that after the Olympic Games you wanted to think about kids. Do you think you're ready to become father?
– I'm mature enough for family and kids. It's not important if we'll marry or not, living together means a lot. If a couple wants to have kids, this means that they are on the right path. I don't think that the marriage in itself is all that important. I'm ready for kids, and would really become father soon.