The 2014-15 season has seen the Montreal Canadiens get younger. Some of the team's younger players are being given more ice time and responsibility and they have responded well. In the past few months, the Habs have frequently called up prospects from the AHL. Sven Andrighetto, Christian Thomas, Gabriel Dumont and Jacob de la Rose have all been given an NHL opportunity at varying times this season. While Andrighetto, Thomas and Dumont are all smaller players that bring a speedy game, de la Rose has brought a different flavour to Montreal.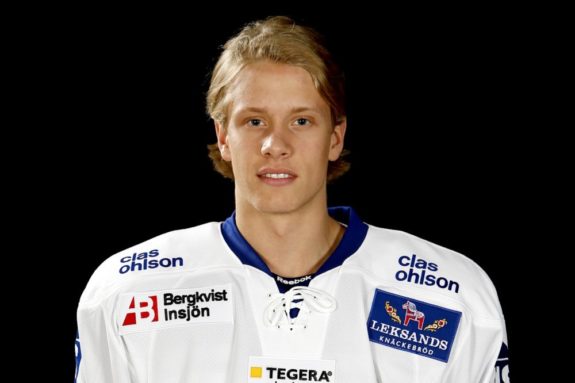 Making an impression
At the 2013 NHL draft, size was on the agenda for the Habs. Five out of eight players selected by Montreal were 6′ 0″ or taller. Drafted out of Sweden in the second round with the 34th pick that was acquired in the Andrei Kostitsyn trade to Nashville, de la Rose currently stands 6′ 2″ 190 LBS (according to NHL.com), giving him the size Montreal needs. As a draft eligible player, de la Rose was considered to be a safe pick as he had all the tools such as size, skating and hockey sense. But in a twist where scouts usually want to see defensive ability from young forwards, scouts wanted to see more offense from the defensively polished de la Rose. However, he is still more than capable of scoring nice goals when the opportunity arises.
De la Rose's call-up from the minors was a bit of a surprise. There are older prospects who are clamouring for a chance while the frequently scratched Michael Bournival has had a tough time staying in the Montreal lineup. But to de la Rose's credit, he has managed to make an impression despite playing only two games so far ranging from 11-13 minutes a night. He has shown off his excellent skating ability which shows in his ability to back check and keep pace with his linemates. What's been most impressive about de la Rose's debut has been his physicality. His willingness to throw his weight around has been a nice jolt of energy for the team.
Keeping a close eye
Still just 19, Montreal is no doubt keeping a close eye on de la Rose's development. He joined the farm team this past fall to adapt to the North American style of play. His defensive game continued to improve but his confidence with the puck took a hit as he struggled to score. However, the Habs decided to loan de la Rose to the World Junior Hockey Championships where he would captain Team Sweden. Playing with his peers in an important role appeared to do wonders for his confidence and his numbers since returning reflect that.
Jacob de la Rose pre-WJC: 5 points in 27 games, 1.25 shots per game, +2.

Post-WJC: 6 points in 10 games, 1.5 shots per game, +5.

— Andrew Berkshire (@AndrewBerkshire) February 2, 2015
De la Rose's ceiling
Jacob de la Rose's versatility, size and skating are what will land him a full time job in the NHL sooner than later. His size stands out in a prospect pool that is teeming with small, speedy players. de la Rose is fast for a bigger player and speed is a hallmark of the Montreal Canadiens' game. His ability to play centre or wing up and down the lineup will be an important asset for Montreal one day. Even though he isn't the flashiest or the most offensively gifted prospect, de la Rose has the tools to be an excellent third liner at the NHL level one day and that's what makes him a valuable player.