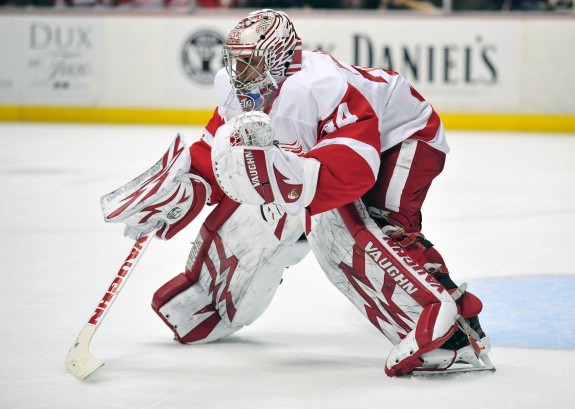 [dropcap]A[/dropcap]fter securing his third straight win Saturday night in a 3-1 victory against the Arizona Coyotes, Petr Mrazek is looking more and more like a veteran. He went through a stretch where he allowed 17 goals in four games, but since then, Mrazek has allowed just two in the past three games.
Mrazek was 1:54 away from a second consecutive shutout, before Oliver Ekman-Larsson scored and gave his team a chance to tie the game late in the third period.
The 22-year-old is 8-1 in his past 10 games — he was pulled in a 6-4 win against Buffalo on Jan. 18, a game in which Tom McCollum recorded the win.
Making Room for Mrazek?
Early Sunday morning, the Red Wings made an interesting roster move, as reported by The Detroit Free Press' Helene St. James.
#RedWings assign defenseman Xavier Ouellet to Grand Rapids. Alexey Marchenko stays for now. No other decisions before Monday practice.

— Helene St. James (@HeleneStJames) February 8, 2015
On the surface, this move seems like nothing more than the team opting to stick with Alexei Marchenko rather than Xavier Ouellet. However, Jimmy Howard is scheduled to make his return when the Red Wings play the Pittsburgh Penguins on Wednesday. Which means assigning Ouellet to Grand Rapids opens up a spot for Howard. Could the Red Wings be planning on carrying three goalies? Mrazek certainly has proven he belongs in the NHL, and if you ask coach Mike Babcock, he wants the best players playing. He told MLive.com's Ansar Khan:
"It's the NHL, the best guys are supposed to play. So, we got to figure that out."
I've said in the past that Mrazek has done all that he can in the AHL. He has more than 50 wins and backstopped his team to a Calder Cup during the 2012-13 season. He has nothing left to prove at that level. However, keeping him on the bench behind Howard and Jonas Gustavsson doesn't do him any good either. I'd rather see him continue to get playing time in Grand Rapids than sit on the bench in Detroit. Howard is the No. 1 goalie. Mrazek hasn't replaced Howard at all, but I think you have to ride the hot goalie until he is no longer hot. I could understand the rush to get Howard back in the lineup if Mrazek wasn't performing well, but he is performing well. No need to rush Howard for a game in early February when the team will need him playing his best hockey in the coming months.
Resilient Mrazek
Mrazek made his 10th consecutive start against the Coyotes on Saturday. After he gave up five goals in two periods against the Tampa Bay Lightning on Jan. 29, I thought Mrazek was mentally and physically exhausted. It seemed like a good opportunity to give him a rest and give Tom McCollum a start. However, Babcock opted to go with Mrazek in the very next game two days later against one of the better teams in the NHL, the New York Islanders. And Mrazek looked like his normal self again. He made 22 saves in helping his team secure a 4-1 win. That win earned him starts against Colorado and Phoenix, and he notched two more wins. On Saturday, Mrazek had to stop a Martin Erat penalty shot late in the third period to help his team get the win. The confidence that oozes from Mrazek is remarkable, especially considering the stretch of bad games he had last month. When he was pulled during the Buffalo game, Mrazek told St. James he quickly forgot about it.
"After I got pulled, you have to just flush it out and get ready for the next one and enjoy it from the start. It's always important to bounce back."
If the Red Wings do end up assigning Mrazek to Grand Rapids this week, he no doubt made a big case for a full-time backup position behind Howard for next season. 
Red Wings Make History
In addition to Mrazek's third straight win, the Red Wings notched their 1,500th franchise win under the ownership of the Ilitches.
1,500 FRANCHISE WINS UNDER THE ILITCHES. — George Malik (@georgemalik) February 8, 2015
The Ilitches have owned the Red Wings since 1982, and after some rebuilding years in the 80s, have built a team that has clinched a playoff berth for the past 23 seasons.
There's a lot that goes into creating a successful team spanning three-plus decades. The Ilitches have been able to get the right mix of management, coaching and players. It's even more impressive when you consider the salary cap was introduced after the 2004-05 lockout season.
The playing field was leveled, but the team continued to find talent deep in drafts and develop players through its farm system.
Subscribe to our Red Wings stories to get email updates every time a new story is published.
Tom Mitsos is a Detroit Red Wings and Grand Rapids Griffins staff writer for The Hockey Writers. You can follow him on Twitter @tom_mitsos.