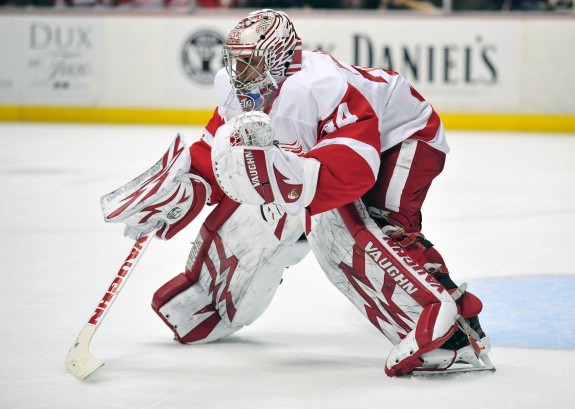 MLive.com's Ansar Khan does a weekly feature called "Ask Ansar," in which he answers fan-submitted questions about the Detroit Red Wings. I decided I would try and answer the questions submitted to Khan.
You can view his answers here.
Q: I'm really optimistic about Petr Mrazek's future and see him being a Red Wing for many years. Do you think they'll stick with Mrazek until (Jimmy) Howard returns instead of making (Jonas) Gustavsson the starter? Will Mrazek go back to Grand Rapids after Howard comes back or would they consider trading or waiving Gustavsson? Will Mrazek be the backup next season or will they sign a more experienced goalie and keep the kid in GR another year? – Doug
I think Mrazek has accomplished all that he can in the AHL. He has more than 50 wins and a Calder Cup to his name. Keeping him in the AHL another year will do him no good as far as development goes.
When Gustavsson returns, I expect Mrazek to get the majority of the starts, but Gustavsson will give him a rest in a couple of games to keep him fresh. Mrazek is the future of the Red Wings and Gustavsson is not. They'll want to give him as many starts as they can before Howard returns.
Speaking of which, I do expect Mrazek to be sent back to Grand Rapids when Howard returns, but he'll be back with the Red Wings full-time next year. Gustavsson signed a one-year deal this season, and I don't think they re-sign him again this offseason. I think the only reason Gustavsson was re-signed this offseason was to give Mrazek one more year of experience in the AHL.
Mrazek has fantastic NHL numbers so far, with a 12-8-1 record, 2.17 GAA, .918 save percentage and two shutouts. You can't ask for much more than that from a goalie who has started just 16 games.
Q: It seems as though the Wings are reluctant to make splash when it comes to trading for what they need. I respect (general manager) Ken Holland's asset management and his unwillingness to trade away assets the Wings have drafted and developed, but isn't trading for those final pieces (without selling the farm or the future, of course) a part of building a team that can make a legit run at the Cup? – Saskatoon Wingnut
The Red Wings have been one of the best teams as far as drafting and developing players. Selecting Pavel Datsyuk and Henrik Zetterberg in the sixth and seventh rounds, respectively, have been two of the best steals. Not to mention the current group of prospects: Mrazek (fifth), Teemu Pulkkinen (fourth), Gustav Nyquist (fourth), Tomas Tatar (second), Andreas Athanasiou (fourth) and Anthony Mantha (20th overall).
The hard part is once you've done a great job scouting, drafting and developing these players, it's hard to give them up. There's a fine line between developing them for your team and developing them for trade bait.
I don't see Holland trading Mantha, Nyquist, Tatar or Dylan Larkin after his performance in the World Junior Championships. In addition to those, the Red Wings have a lot of other guys who could reach that untouchable potential. Riley Sheahan is a solid second-line center who has improved tremendously this season. I don't think Holland wants to see him go.
Then you have Tomas Jurco, who has the potential to be a great player, but has struggled with back pain this season and hasn't lived up to the expectations he created for himself with a great rookie year last season. Not to mention a plethora of defensive prospects in Xavier Ouellet, Ryan Sproul and Alexei Marchenko.
Right now, the team is winning with relatively the same roster as last year. If the price is right, Holland will pull the trigger, but I don't think he will make a move if he feels the price is too steep or he likes his team as is.
Q: What is stopping Detroit from calling up (Mitch) Callahan? He's offensive in the AHL, scoring at a great pace for an energy forward. Detroit has lacked any real physical prowess since (Aaron) Downey and (Brad) May. Detroit drafts these abrasive players recently (Cally, Tyler Bertuzzi and Mike McKee), for what reason? It appears that no matter how well they develop they'll always be on the outside looking in. They'll be behind Mantha, who hasn't earned his call-up. They'll be behind (Joakim) Andersson and (Daniel) Cleary. – Blake
Unfortunately for Callahan, he's stuck in a position where the Red Wings already have players like him on the roster. Luke Glendening and Drew Miller fill the fourth line energy players who can also kill penalties.
Callahan has shown he can score at the AHL level, but scoring in the AHL and scoring in the NHL are completely different. If Cleary or Andersson were not on the team, Callahan might be a healthy scratch most nights, but as of right now, I don't see any room for him with the Red Wings.
Q: By taking a glance at the stats sheet, I've noticed Mantha hasn't been producing to his potential, in my opinion. Do you think this could be (due to) his injury, and that it could have had a bigger effect than most thought? Or is he still "adjusting" to pro hockey? – Matthew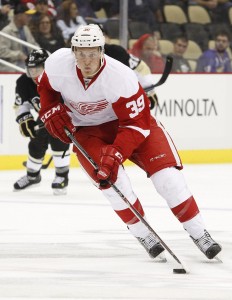 I think it's a little bit of both. He got in three games at the prospects tournament before he suffered his injury. So between his final junior game and his debut with the Griffins in November, he has played three games in six months. Some rust certainly was expected.
In 28 games with the Griffins, he has six goals and six assists with a plus-4 rating. Obviously, way below the rate he was producing in juniors, which was more than two points per game during his last season.
However, the jump from juniors to the AHL is a big one. In juniors, he was playing with kids his age and younger. In the AHL, the age range is much more diverse. There are players five or even 10 years older than him who have been playing the game a lot longer than he has.
He'll need some time to figure out the game and what will and won't work at this level. Tatar had just 32 points in 58 games during his first season with the Griffins. I expect a better second half from Mantha, and if the Griffins can notch a playoff spot, the extra experience will do wonders for his development.
Q: With the Wings' new assistant coaches, how are they blending? Seems they're doing pretty well. – Don
Tony Granato and Jim Hiller have done a phenomenal job for the Red Wings this season. The penalty kill — which Granato is overseeing — and the power play — which Hiller is overseeing — both are in the top six of the NHL.
The power play struggled out of the gate, as the young players struggled to sustain pressure. However, they now have the second-best percentage at 25.4.
The penalty kill has struggled recently, giving up at least one power-play goal in seven of the past nine games. However, it has been one of the more consistent pieces of the Red Wings for much of the first half of the season.
Subscribe to our Red Wings stories to get email updates every time a new story is published.
Tom Mitsos is a Detroit Red Wings and Grand Rapids Griffins staff writer for The Hockey Writers. You can follow him on Twitter @tom_mitsos.