Colorado Avalanche defenseman Eric Johnson is headed to Columbus to participate in the 2015 NHL All Star Weekend.  He is the only member of the Avalanche roster to attend this years All Star break.  While the future of this time looks very bright and is filled with All Stars to be the Avalanche have had a fair share of All Star success in the past.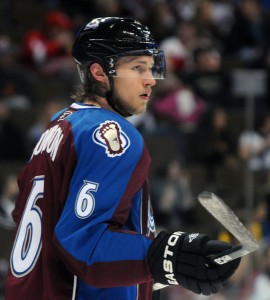 2004
In 2004 Joe Sakic lived up to his nickname of "Super".  In a game that the Western Conference All Stars lost 6 to 4 Sakic scored a hat trick.  Sakic had one goal each against Robert Luongo, Montreal Canadien Jose Theodore, and one of the all time greats Martin Brodeur.

Sakic wore his regular number 19 while Markus Naslund changed his number from 19 to 91 since Sakic was the senior player.  Sakic would be named the games Most Valuable Player (MVP) despite being on the losing team which came with a trophy and a new car.
2001
If it is possible for one organization to have a perfect season, 2001 was it for the Avalanche.  The All Star game that year was hosted by the Avalanche and was held at the Pepsi Center in Denver.  When the weekend began the Avalanche roster featured not only five All Stars but five All Star game starters.  Sakic, Ray Bourque, and Patrick Roy, all Canadians, started for the North American Squad while Peter Forsberg of Sweden, and Milan Hejduk of the Check Republic started for the World roster.  Also, Bob Hartley who was head coach of the Avalanche at the time was the assistant coach for the North American team.
Bourque had won the Accuracy shooting competition the day prior and the when the game began Sakic and Forsberg were, for the first time, across the red line from each other wearing different jerseys.
The Avalanche would finish the 2001 season with two headline making stories.  First at the trade deadline they would bring in Rob Blake via a trade with the Los Angeles Kings, Blake was also a starter on the North American Roster for the All Star game.  Most importantly however the Avalanche would go on to win the Stanley Cup, after 22 years Bourque finally got to raise the cup over his head.
In The Years to Come
The young talent on the Avalanche roster suggests the Avalanche will be well featured in All Star games for years to come.  Guys like Matt Duchene. Gabriel Landeskog and Nathan MacKinnon are certain to be part of the Avalanche Franchise for years and if the can put together consistently good seasons they will make an All Star roster or two.