210 players were lucky enough to have their named called at the 2014 NHL Draft in Philadelphia. A few more, like Red Wings defenseman Joe Hicketts, were able to sign with an NHL team as a free agent during a period between summer prospect camps and training camp.
The others that remain still of draft age will be re-entered and eligible to be selected in the 2015 NHL Draft. There is a reason none of them were selected last year, be it injuries, a lack of exposure, or a big question mark in their game. Now, things have changed and they have asserted themselves this season as legitimate draft prospects.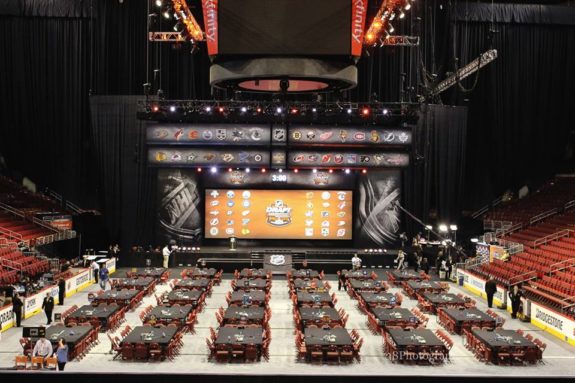 Below are ten of them plus a few honorable mentions. I've included their rankings according to the CSS Midterm results, and Craig Button's January list. People like to criticize Button's list because it's "different", but it's been very close in previous drafts. Plus, he has a wealth of front office experience that few draft prognosticators can match.
10. C Tyson Baillie, 1995, Kelowna Rockets (Button: NR, CSS: NR)
One of the top forwards on the Kelowna Rockets last year, Baillie has continued to improve this season on the best team in the CHL. He went from slightly under a point-per-game last year to 1.07 this year, while continuing to round out his game. He's the type of player that can now be trusted in any game scenario due to his improved two-way game.
He's a goalscorer more than a passer, and possesses strong offensive instincts, especially in tight around the net. His 27 goals this season are sixth most in the WHL, and he is third in points on an elite CHL team.
9. C/LW Trevor Cox, 1995, Medicine Hat Tigers (Button: NR, CSS: NR)
In past years, Cox would likely be written off as another high scoring junior talent that wouldn't succeed at the next level due to his size. However, the emergence of Tyler Johnson, a former unheralded WHL scoring star, could give Cox hope.
In junior, Johnson stood 5'9″ 175, and scored 115 points in 71 games in his 20 year old season. Cox stands 5'8″ 174, and is on pace for 121 points if he played 71 games in his 20 year old season. He's a strong playmaker that has great vision, which has helped to the top of the scoring charts in the WHL this year.
8. LW Vladimir Tkachev, 1995, Quebec Remparts (Button: NR, CSS: 121 NA)
A player with trademark Russian skill, the puck truly looks like it's on a yo-yo when on Tkachev's stick. His skating is good, not great, but it's his hands and one-on-one moves that impress when he's out on the ice. Here he is in the Super Series, going coast-to-coast around Canadian WJC Gold Medalists Samuel Morin and Zach Fucale:
His skills have translated into 54 points in 45 career QMJHL games over parts of two seasons. The skill is there for more production, but Tkachev just needs to put it all together. He will also have to gain a significant amount of weight to play in the NHL, as he currently stands at 5'10" 154.
7. RW Conor Garland, 1996, Moncton Wildcats (Button: NR, CSS: NR)
He may stand at just 5'8″ 168 lbs, but Garland does not play a small man's game. He shows a willingness to battle along the boards and get his nose dirty. Combined with his supreme stick skills, and he very well may have an NHL future. His skills are on full display below.
He had a solid year last year (54 points in 51 games), but has exploded offensively this year with a QMJHL leading 76 points in 45 games. That's 8 more points than anyone in the league, and 24 more than his closest Moncton teammate. He's very quick and agile, and a slippery player whose size makes him difficult to check.
6. C/RW Reid Gardiner, 1996, Prince Albert Raiders(Button: 77, CSS: 104 NA)
Halfway through the 2013-14 season, Gardiner had the look of a possible first round pick. He put up 34 points in his first 37 games, and played great two-way, gritty hockey. However, his offense took a nosedive in the second half, finishing the season with 10 points in 33 games. He was ranked 29th by CSS in their final rankings, but his lack of offense scared teams away from drafting him.
This year, his offensive game has re-emerged, with 38 points in 40 games. He's continued to play a strong 200 foot game, and as long as he can keep his offense up this time, he should find himself drafted in June.
5. D Dmitri Yudin, 1995, SKA St. Petersberg (Button: 100, CSS: 29 EUR)
Yudin is a two-way defenseman with NHL size at 6'2″ whose numbers don't do justice to his strong performance this year. He was an important member of the Russian WJC team that gave Canada all they could have this year, collecting two points in the process.
In the KHL this year, his 6 points in 34 games is the second most of any U20 defenseman. In addition, the fact that Yudin is a KHL regular at age 19 is impressive. What's even more impressive that he's a regular on the second best team in the league.
4. D Brien Diffley, 1995, BU Terriers (Button: 90, CSS: 139 NA)
Referred to as a "one-man breakout", Diffley has seen his exposure and stock rise dramatically in the past year. At the start of the 2013-14 season, Diffley was seen as a good DIII, borderline DI hockey recruit. In a year and a half, he's played himself into the conversation for the NHL draft.
Diffley's best asset is his effortless skating ability and strong transition game. He makes great passes, and possesses good offensive instincts. He currently has 6 points in 20 games in his freshman season for the BU Terriers. If he can continue this trajectory, he could be a gem.
3. G Denis Godla, 1995, HC Slovan Bratislava (Button: 91, CSS: 4 EUR G)
Before the 2015 World Juniors, Denis Godla enjoyed moderate success in Slovakia and internationally. Nothing he did gave any indication of what he showed in seven games for the Cinderella Slovakia team.
Godla's superb play willed the Slovaks to a bronze medal, making countless highlight reel stops against every opponent. He showed great athleticism, instincts, and calm under pressure at the tournament. He was named the Tournament MVP, Best Goalie, and placed on the Tournament All-Star team and became the cult hero of the tournament.
2. D Sebastian Aho, 1996, Skelleftea (Button: NR, CSS: 9 EUR)
Not to be confused with '97 born Finnish forward Sebastian Aho, this Aho is a small but very effective puck-moving defenseman. He possesses great skating ability, and is very effective in transition, whether it's skating the puck or making outlet passes.
He was a big part of Sweden's blueline at the World Juniors, where his 4 points in 7 games was second most among all defensemen in the tournament. Despite being undersized, Aho does not back down from a challenge and is willing to play physically to shut down his opponents. He has also been praised for his leadership abilities, serving as a captain or assistant for Sweden at the U16, 17, and 18 year old levels.
 1. D Vladislav Gavrikov, 1995, Lokomotiv Yaroslavl (Button: 51, CSS: 26 EUR)
Chiefly a defensive defenseman, Gavrikov plays a simple but effective game. He plays a very physical style that is particularly effective on the penalty kill and in the corners. He's also a proven leader, serving as the captain of his team in the MHL and Russia's World Junior team.
The World Juniors proved to be his coming out party where his defensive acumen was on full display. He was physical, remarkably effective, and hard to beat the entire tournament. He was named the Best Defender of the tournament despite not scoring a single point, a testament to his defensive ability and leadership.
Honorable Mention
C/LW Ryan Hitchcock, Yale University
D Ziyat Pagin, Ak Bars Kazan
C/RW Cole Sanford, Medicine Hat Tigers
C Luke Philp, Kootenay Ice