PHILADELPHIA –  Movement about cities and related uncertainties pretty much comes with the territory. That's the conclusion offered by Sam Gagner, who is playing for this third NHL team in as many seasons.
A former first round pick of the Edmonton Oilers in 2007, Gagner was traded twice on the same day in June, 2014 and again from the Arizona Coyotes a year later. Now, Gagner put out his shingle in Philadelphia and hopes he has found a permanent and productive home. With his third team in as many seasons, Gagner may not have earned the distant crown as "journeyman," but that designation comes to those who tend to plaster travel stickers on the suitcase.
While Gagner had a less than enjoyable season with Arizona a year ago, he is the first to acknowledge that movement among teams, as he said, "part of the game." At the same time, there is a learning curve to master and Gagner thinks he's satisfied that requirement. Though he played in 81 of the Coyotes' 82 games last season, his start was dreadful. Only with a better March and April did the 26-year-old redeem any semblance of credibility. Still, he finished second in goals with 15, picked up 26 assists for 41 scoring points.
Part of the difficulty was a series of two trades on the same day. In June of last year, the Oilers dealt Gagner to the Lightning, who turned around and immediately traded the native of London, Ont. to the Coyotes later in the day. Both the emotional effects of the movement and the uncertainty surrounding a new set of teammates and new coaching staff sent Gagner reeling. After last season, the Coyotes sent Gagner packing again, and this time, the 5-11, 205 pounder was off to Phillly.
"Coming (to the Flyers), I was more prepared than the trades of last year," he said after the Flyers defeated Nashville 3-2 in overtime Friday in the Wells Fargo Center. "I didn't get off to a good start last year and our scoring was down. Scoring was down throughout the league. Plus, (the Coyotes) did not have a good season and that had an effect on the players."
As a result of the deal to the Flyers, Gagner said he now looks in the mirror and sees an entirely different hockey player. With growing confidence and knowing he is in a good place, Gagner believes he's ready to a take a giant step forward.
"We've struggled to score this season and particularly at even-strength," he said. "I know I can help out team and I see myself growing as a player."
Coming into Friday's game with the Predators, the Flyers had scored the least number of goals of any NHL team. Despite picking up three in the OT win, principals feel the offense is showing signs of life.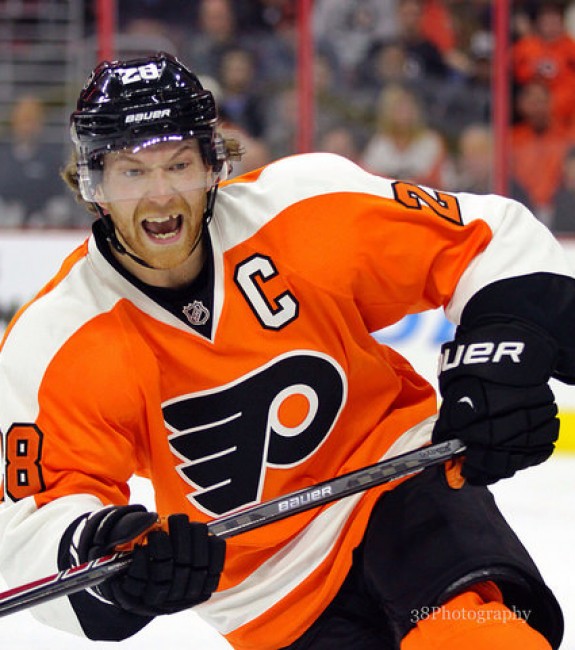 "If we do the details correctly, we'll get out chances," said captain Claude Giroux. "We're playing smarter hockey and the guys are involved. We have to be patient, but I see us playing with more confidence."
One Of Two In Plus Territory
If Gagner struggled in the desert, he appears to have turned his game around. At plus one, Gagner is only one of two Flyers (R. J. Umberger leads with a plus 3) in plus territory for the season. While Arizona coach Dave Tippett used Gagner primarily in even-strength situations and on the power-play, Gagne sees his development as a complete player.
"Right now, I think I'm a better two-way player," he said. "I look at my role, though, as helping this team, offensively. I feel I can be a top six scorer on there and my confidence level is up. I'm looking forward to contributing and be an important part of this team."
With the infrequence in which the Flyers have put the puck in the net, they can certainly use a refreshed and rejuvenated Gagner.