This summer's NHL Expansion Draft is expected to be quite an affair. Vegas Golden Knights owner Bill Foley paid $500 million to become a part of the NHL and has every intention of securing an impressive roster by night's end.
The league is taking a major risk on expanding out West again and gambling (no pun intended) on a city that has no association with the sport. So, if the NHL is going to make a splash in Sin City, then the Knights need to win early and often next season. If not, then Vegas is in for a long road to respectability.
Expansion Draft Rules
The rules created for the upcoming expansion draft hopefully make more talented players available for Vegas to select. The existing franchises can choose from two options available to protect players: The first option is selecting seven forwards, three defensemen and one goaltender or choosing eight skaters (forwards and defensemen) combined and one goaltender.
This format leaves little room for teams to hide prospects away, despite the fact that first and second-year players are exempt from the draft. Plus, veterans with no-trade or no-movement clauses in their contract must be protected as well. Franchises are going to lose quality talent, and no team will criticize the rules because that's the price of doing business in the NHL.
First-Overall Pick: Choose a Goaltender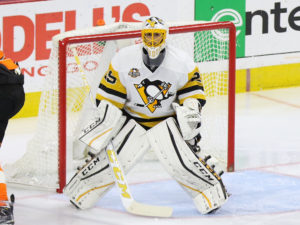 The goaltender is the most important position on the ice because the person who is put between the pipes can greatly effect a team's chances of winning. Numerous NHL franchises have failed to make the playoffs because of poor goaltending, and the analytic geeks have the proof. Usually, the gut-wrenching losses that occur during the hunt for a playoff berth are a direct result of this disastrous decision. A quality netminder can mask a team's deficiencies for an extended period of time.
The Knights must choose a netminder with the first overall pick in the upcoming expansion draft. They have an excellent shot of selecting a quality keeper because of the rules that govern the proceedings. The draft pool could include talented players like Antti Raanta, Marc-Andre Fleury and Jimmy Howard.
Antti Raanta
The New York Rangers have no decision but to protect Henrik Lundqvist in the expansion draft because of the no-movement clause in his contract. This will leave valuable back-up netminder Antti Raanta available to be drafted by the Golden Knights. His play has been outstanding all year, especially during Lundqvist's struggles between the pipes early this season. Raanta's patience inside the crease could be a calming influence to an expansion team's uneven defensive play. The time is right for him to flourish in the right situation as Raanta has one year left on a contract that will cost only a $1 million cap hit. If he fails in the starter's role, then Raanta can easily be moved back to the bench to finish out the season.
Marc-Andre Fleury
Marc-Andre Fleury has been a dominant goaltender for 13 seasons, but his time in Pittsburgh might be ending. The Pittsburgh Penguins are another team that has a two-goalie dilemma, and they will need to make a decision on which player will start in net for the 2017-18 season. Fleury's skills (372 career wins) haven't diminished, but Matt Murray seems like the logical choice because he's ready to become a No. 1 netminder. Criticism against Fleury centers on his struggles come playoff time, while Murray shined en route to a Stanley Cup championship last spring. Leaving Fleury unprotected saves the Pens from a potential goaltending controversy.
Jimmy Howard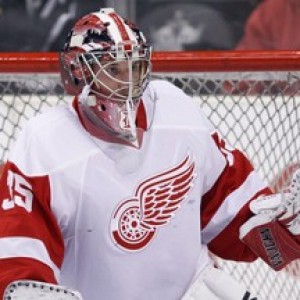 Jimmy Howard's time with the Detroit Red Wings might be coming to a close as Petr Mrazek is the franchise's future between the pipes. The one stumbling block is Howard's no-movement clause, so a trade will have to work out between the Wings and Knights to move him off the roster. Howard has two more seasons to go on a contract with a $5.2 million cap hit, but his leadership skills are important for an expansion team that is being built from the ground up. He is still a talented netminder that can guide a team out of rough stretches that occur in the regular season.
In analyzing each scenario, if the Knights select either Fleury or Howard, they gain an experienced netminder that fully understands the responsibilities of being a team's starting goaltender. Each can be serviceable for the next few seasons, especially if the Knights can team Fleury or Howard with a young goalie like Malcolm Subban. A quality prospect like Subban would gain valuable knowledge in the understudy role.
If they have an opportunity to draft Raanta, then it would be a wise move to select such an unknown quantity. Knights GM George McPhee would need to acquire a decent veteran backup to help Raanta get accustomed to his new role of being the lead goaltender.