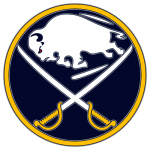 Extreme Makeover: Buffalo Sabres Edition 2012
The time for change is now. This organization needs to honestly look in the mirror, in this case to look on the ice and recognize just what they have assembled. A collection of various styles, sizes and contracts that when added up have not produced anything resembling a championship, heck, even a playoff caliber team. I can go up and down the line-up and comment on the shortcomings of the players but I believe that has been done to death over the last two years. I am writing this to offer my solution for Darcy Regier and Company that I believe will not only improve this team for the upcoming season but also to give the Sabres a new identity moving forward.
Reality Check
This team is in desperate need of a heart transplant. The current group of "core" players have been given several years to take this team forward – with little success. Changes can be made to improve and I think this summer provides a great opportunity to do so.
Why?
–    As the L.A. Kings have proven once you get into the playoffs anything can happen. With parity in the league qualifying is the difficult part.
–     A weak free agent group means demand will outweigh supply this summer; a couple of teams will overpay while the majority will still require the one or two extra pieces that they believe will elevate their team. The Sabres can provide some of the pieces.
–     Any trade must make sense from a team improvement perspective but also a salary perspective. It makes trading more difficult but not impossible. You have to find the right partner; or, who needs what you have?
–     You have to believe that Darcy Regier and Lindy Ruff are on a short leash with Mr. Pegula. Yes Lindy was given an extension recently but with the money being spent making the playoffs is the minimum that is expected of this team. This is the time for Regier to take a hard look at this group that he has assembled, realize the shortcomings and make the necessary additions and subtractions.
Weaknesses
There is no # 1 center. Derek Roy has proven he is not capable of handling the responsibility. With Tyler Ennis and Cody Hodgson as 2nd and 3rd line centers the future looks bright. However they should not be expected to carry the load at this early stage of their careers. This makes Roy an expensive 3rd line option.
More "grit" is needed. This team is very soft and easy to play against.
Lack of size up front.
Lack of leadership and lack of determination characterized this team.  As the playoffs show us every year it is a war of attrition where throughout the line-up players are willing to sacrifice themselves in all three areas of the ice to win. In its current state this team does not possess the players necessary to first, get in the playoffs and secondly once in the playoffs the ability to compete at the level necessary to win the Stanley Cup.
Salary Cap. This team must make all changes with salary cap considerations in mind. Although difficult, it is not impossible.
Solutions
# 1 – Obtain a # 1 center.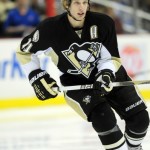 Free agency does not offer much this summer so a trade must be put together. I see an opportunity that has presented itself in Pittsburgh and if the rumors are true Darcy must jump on the opportunity to acquire Jordan Staal. GM Shero is in a difficult situation trying to sign Staal to an extension (with Crosby coming up next year as well) probably in the range of 6-7m per season. That is a lot of money for a 3rd line center (albeit with more responsibility than most) and is it the best allocation of resources for Pittsburgh?  Darcy should present an offer that would make it difficult for Pittsburgh to not look at this deal and still offer Buffalo an exciting new look. The price will be high but I believe the pieces are available that could land him. Here is how it would look:
Staal                4m                   for                   Myers              5.5m
Michalek         4m                                           Adam              .900
1st rd pick (12th)
2ndrd pick(44th)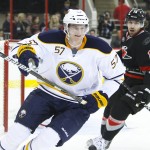 Analysis         
Trading Myers is huge but the chance to land Staal is worth it. Michalek is coming off surgery but is a reliable top 4 defensive player. Pittsburgh would need to include him to free up salary. Staal is the # 1 center that Buffalo needs in order to move forward. A strong two-way player, capable of scoring 30 goals, enhances the PP and PK, good face-off guy and becomes the center man that Vanek and Pominville desperately need. Derek Roy would be the ideal guy to include in this deal but I do not believe Shero would be interested. Therefore Adam would make the most sense. Lindy lost confidence in Adam quickly following his hot start and was demoted to Rochester but he could still develop into a top six forward. With two first and second round picks Darcy will have to part with one of each to make this deal happen. Another prospect would be required and I am ambivalent between Armia or Leduc. Let Pittsburgh choose. In the end moving Myers will not be popular but I do not believe he will ever be the "Chara-like" player that some have envisioned. He is just not tough enough; it is not in his nature. I believe he can be replaced and must be part of this deal to acquire Staal.
Note: This would allow Pittsburgh to get a true #3 center. Jarred Stoll who becomes a UFA this summer would be an ideal fit for the Penguins.
# 2 – Trade Derek Roy.
Adding Staal means Roy must be dealt. Looking around the league for possible destinations I see a good fit in Chicago. Patrick Kane is a much better winger than center man and moving him back with Toews on the 1st line would make sense. Roy could then slide into the #2 center spot with Hossa on his wing. This allows Chicago more flexibility and balance with their top 9 forwards. A change of scenery, less responsibility as the # 2 center and being in the last year of his contract should motivate Roy to get back to his 60-70 point days.
Roy     4m                   for                   Frolik                          2.35m (* 2 years)
Kyle Beach                ELC
Analysis:
Frolik would have to come back to clear salary for Chicago. In return for taking on Frolik a prospect would also have to come back. Beach is big, tough and can score. Battled injury last year and has fallen down the depth chart in Chicago. Frolik could battle for the # 3 RW in Buffalo or find himself in Rochester.
# 3 – Trade for D Zach Bogosian.                                                                                                
By moving Myers Buffalo has created a hole on the right side of the defense. Michalek will provide help defensively and can be used in a shut down role. But another right handed shot capable of top 4 minutes who can play in all situations is required.
Why Zach Bogosian? Big, physical, great skater, he plays in all situations and is young enough to build around. Gifted offensively but relegated behind Byufligen and Enstrom in Winnipeg (with Postma coming up fast). Bogosian would replace the minutes lost in the Myers deal. Plus, Bogosian is a New York native who was unhappy moving out of the country and would provide a local flavor.
Analysis:
What it would cost? Winnipeg needs more scoring and has room to absorb a little salary. I would send Stafford and also Weber to offset the loss of a d-man. Stafford will be a consistent 20-30 goal producer that will help Winnipeg's offense but can be replaced in Buffalo. The opportunity to acquire a top 4 d-man is worth the price.
Bogosian         2.5 * 1year        for          Stafford           4m * 3 years
Weber              .900m
# 4 – Target a RW free agent.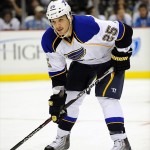 1st choice- Chris Stewart. Coming off a disappointing season in St. Louis, Stewart should have something to prove. He is a big, power forward who can score. He replaces Drew Stafford and would add real grit to this line-up. He would protect Ennis or Hodgson as well as take their set-ups and get back to his scoring ways while providing some much needed toughness up front. The Blues have Jaden Schwartz and recently signed Vladimir Tarasenko to make room for and Stewart seems like the likely choice to be moved.
An RFA he would need to be signed by the Blues and then traded to Buffalo. A one year deal at 3.3 m should provide incentive to produce. (Update: Stewart recently a 1yr deal at 3m with St.Louis).
Trade:  D Sekera 2.75 * 3years           for       Stewart            3.3m
3rd round pick 2012 (72nd)
Analysis:
Why Sekera? Never been a big fan. Not enough offense to be considered elite, not good enough defensively to justify the salary and not physical enough to play a shut down role. He recently played well at the World Championship and his value has never been higher. Move him while his value is high. Do not get excited with his play over there, the larger ice surface enables him time and space to make plays and not to get hit. This is not the case in the NHL where he consistently is making bad decisions to avoid a hit. Within Hitchcock`s system he can be protected more, is still young enough to develop properly in St. Louis and would provide a nice depth option on the back end with the chance to move up the charts.
#5 – In House moves:
With regards to existing Free Agents in Buffalo do not sign Boyes, Hecht or Kaleta. Personally I believe his style of play, essentially a "pest" has worn thin and with limited offensive upside let him move on. Plus with Bogosian moving to Buffalo his "hometown hero" status is lost.
Re-sign Ennis: 3 years at 5m would be reasonable.
Re-sign Brennan: 1yr at qualifying offer.
Here is how the roster would look:
Vanek                          Staal                Pominville
Foligno                       Ennis               Stewart
Leino                           Hodgson          Frolik
Gerbe/Beach               Ellis                Kaleta/Tropp
Regehr                        Bogosian
Ehrhoff                       Michalek
Leopold                       Sulzer
McNabb                      Brennan
Miller                          Enroth
Conclusion
This team will now follow Jordan Staal. A true # 1 center will have arrived and a new era will begin. This team is now larger, tougher to play against and will be better balanced up front. On the back end Michalek and Bogosian replacing Myers and Sekera and McNabb replacing Weber this becomes a more physical and difficult unit to play against. They will also provide better puck moving ability and overall a more physical defense. Salary cap has been kept in check, staying around 63m.
Going forward, after the 2012-13 season Staal, Bogosian, Hodgson and Stewart will need to be signed and obviously become the main priorities as this team will be centered on them.
Comments and feedback is encouraged
Note: salaries listed courtesy of: http://www.capgeek.com/