Facing Off is a weekly column, featuring Larry Fisher and Andrew Bensch debating five of hockey's hottest topics each and every Monday.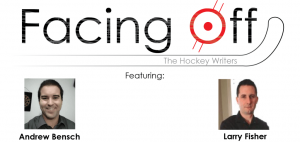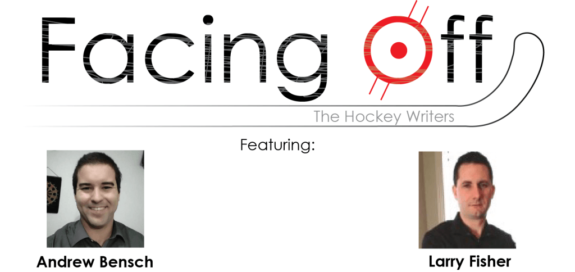 October, and the start of the NHL regular season, is just days away. We can almost taste the snow shower that sparks a scrum in front of the net as the Kings and Sharks do battle on opening night. We're less than a week out from one of, if not the best time of the year (how is that for a future Facing Off question? Better time of the year? October or April?) as fans of all 30 teams have at least some kind of hopes for the new season. Whether those hopes and expectations are realistic or not, well, who cares! Everyone has zero points in the bank right now and any team can get off to a hot start and get some confidence going. Sooner or later Larry and I will be able to discuss some actual games, some controversial coach's challenges, and other on-ice developments.
In the meantime, there are still a number of off-ice topics to tackle including the growing debate of banning fighting for good. Conservative old-school types like to believe fighting prevents cheap shots and "keeps players honest" while new-school types will argue that evidence suggests there is no correlation between having a fighter on the roster and a decrease in injuries. With the news of another former fighter passing away at a young age, doesn't the league have to act now? It can't be a coincidence that the former NHLers passing away so young were all heavyweight fighters, can it? Larry and I deliver completely opposite opinions on this topic and more in this week's Facing Off!
Which free-agent signing this summer is going to make the biggest impact on his new team for the upcoming season?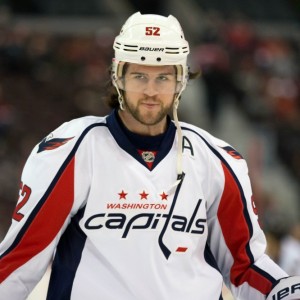 FISHER: It was honestly a pretty lacklustre free-agent crop, but I'm liking Mike Green in Detroit, providing he can stay healthy. He's the right-handed defenceman that the Red Wings have been lacking and he's got an elite offensive skill-set. Green could have a huge impact in the Motor City and potentially top 60 points this season if he plays 70-plus games. That's a risky prediction — based on Green's injury history — but I like to live dangerously. In fact, if I didn't pick Green, I might have picked Alex Semin in Montreal. He's shown up for training camp looking mighty motivated and seems to have instant chemistry with Alex Galchenyuk. If that carries over to the regular season, Semin could eclipse 50 points too, but he's a boom-bust type. Ditto for Chris Stewart in Anaheim and P.A. Parenteau in Toronto. Those are a few of the guys I'm most intrigued by. The upside is there for all of them. Or maybe Antti Niemi will backstop the Dallas Stars to a Stanley Cup championship and eliminate the San Jose Sharks along the way. Wouldn't that be something, eh Andrew? Eh?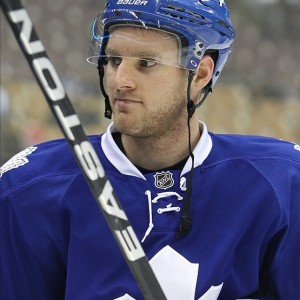 BENSCH: Haha Larry, Niemi would need far better than his below average .910 save percentage that he posted in the 2010 playoffs with Chicago in order for the Stars to win the Stanley Cup and that ain't happening. I believe in an earlier facing off I mentioned Semin would have been a better fit with a team that has a stud top line center (Anze Kopitar, Ryan Getzlaf, Joe Thornton, Jonathan Toews) and so I'm not sold on him with Montreal. This year's forward crop of free agents was rather underwhelming so I'm definitely going with a defenseman as well but I'll take Cody Franson. Buffalo is going to be extremely re-energized this season and Franson will finally be able to get the minutes he's proven worthy of this season. He will finish with 45-55 points and the Sabres will make the playoffs as the third seed in the Atlantic. Franson is a better possession player than he was credited for in Toronto, and the improved Sabres will be far better than the recent Leafs squads.
The enforcer role is going the way of the dinosaur, but do you think fighting will be banned altogether? Or do you think it will always continue to have a place in the game?
FISHER: I think it has a place. There is a time and a place for it. Having played the game — including a stint in 'Jungle B' where fighting was a skill valued right up there with scoring — I gained an understanding for and appreciation of the momentum shift that accompanies a good spirited scrap. Not staged, but spirited. Hockey is a big boy game played by men and they do a good job of policing themselves for the most part. Yes, there are refs, but the players keep each other honest, and the threat of fist-to-face violence does serve as a deterrent to excessive stick work and head-hunting in general. And the fans love it, like Don Cherry says 'you don't see anybody sitting down, booing or leaving the building during a fight.' Cherry is a little too old-school even for my liking, but I do like a good fight. Take for example, the pre-season tilt between Edmonton's Darnell Nurse and Calgary's Hunter Smith — please don't take that out of the Battle of Alberta.
BENSCH: Sorry to say it Larry, but you are simply dead wrong here. Fighting doesn't serve as any deterrent. There have been numerous studies published in recent years that have shown no correlation between having goons on the roster and fewer injuries from cheap shots. Fighting is on a steep decrease and it is good for the league. As much as I love a good fight from talented players entertainment-wise, it isn't worth the potential harm. We still have players in the league that would otherwise not be in the NHL if it wasn't for their willingness to face punch. These players are not fun to watch on the ice because they do nothing but hurt their team's ability to win hockey games. Furthermore, with the increasing number of former tough guys dying at a young age, it is only far too concerning that repeated head trauma is causing players problems later in life. I don't know how anybody can read this piece about former New Jersey Devils forward Mike Peluso and believe fighting should remain in hockey. This topic gets me really fired up because we are talking about players' lives here. Fights do not have any actual proven impact on the outcome of games, it is just a concept that old school hockey people convince themselves is reality. The majority of the greatest hockey games don't have any fights. The Olympics come to mind as an example. Clearly the sport would lose hardly any entertainment value if it banned fighting. If the sport doesn't lose fans, if injuries fail to increase without fighting and we can save the lives of some of these players, then where is the downside to eliminating fighting? That some of you hockey fans out there will be butt hurt for a short amount of time? Please.
Kyle Okposo is a pending unrestricted free-agent next summer and sounds unlikely to re-sign with the Islanders. Where does he end up and when? Is he a rental? What does his next contract look like (term and dollars)?
FISHER: This is similar to the Eric Staal question last week, with a similar answer from me. I don't see Okposo in Brooklyn past this season. Whether he becomes a rental will depend on the Islanders' position in the standings at the trade deadline, but assuming they appear playoff-bound, then he probably plays out the final year of his contract before becoming a free agent on July 1. If it plays out that way, he'll have plenty of potential suitors. I could see the Boston Bruins pursuing Okposo as a more offensive-minded Milan Lucic or a younger Jarome Iginla, two wingers who had success there but have since moved on. If Jaromir Jagr retires after this season, the Florida Panthers might see a fit there for Okposo. The New Jersey Devils will have lots of cap space and thus lots of money to throw around, and combined with the close proximity to Okposo's current location, that might make the most sense to him. A deal with the Devil? I could definitely see that, something along the lines of $28 million over five years.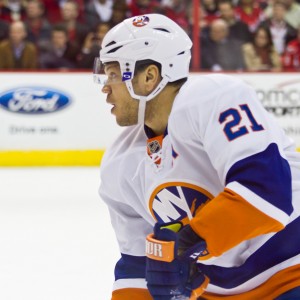 BENSCH: If not for injuries causing him to miss a handful of games the last couple years, Okposo would have had 70 plus point seasons instead of the 69 and 51 raw totals. He has the ability to be an offensive difference-maker for a number of teams. That said, even as the Islanders have improved in recent years, Okposo has still been well into the minus. He was minus-8 last year and a minus-9 in 2013-14. Injuries and questionable two-way play make me hesitant to sign him to big money over a long term. Depending on the team with cap space available, six million per year over three years is what I would prefer spending on a guy like Okposo. The highest bidder looking to add scoring without any cap crunch holding them back will probably go further north either in salary or term. If I'm Okposo, I would want to stay with a young up-and-coming team and sign a team friendly extension. If he wants to go for top dollar, well Larry hit it on the head with Florida and New Jersey as options. Both have cap room to overpay for a scoring winger.
The Kings might not be able to afford to extend both Anze Kopitar and Milan Lucic, pending UFAs next summer. Assuming they prioritize Kopitar, where does that leave Lucic? Who signs him?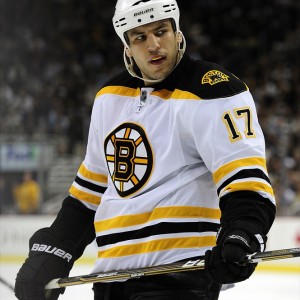 FISHER: The Kings gave up a lot to get Lucic — first-round pick, goalie Martin Jones and defence prospect Colin Miller — so I think they'll make a strong push to keep him. But can they afford Lucic in addition to Kopitar? That's the big question. Kopitar is going to earn in excess of $8 million and Lucic is going to want at least $6 million annually for at least four years. Some team will be willing to overpay because Lucic is such a rare breed with his combination of size, toughness and scoring ability. If Dean Lombardi doesn't want to pay top dollar, you can bet that Peter Chiarelli and the Oilers will be backing up the Brinks truck to Lucic's front door on July 1. He is exactly the kind of player Edmonton needs, although he plays the same wing as Taylor Hall. That might require some shuffling, but he's the kind of player you make room for if you're the Oilers. Edmonton will be shedding more than $11 million in cap space at the end of this season —Teddy Purcell ($4.5), Nikita Nikitin ($4.5) and Ben Scrivens ($2.3) are all UFAs —so financially it should be feasible. Given Chiarelli's pre-existing relationship with Lucic from their Boston days, that has to make Edmonton a frontrunner for his services.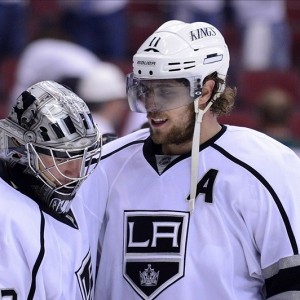 BENSCH: Considering the contracts that Jonathan Toews and Patrick Kane recently signed, north of $10 million in salary, Anze Kopitar has every right to want north of at least $8 million if not more. He is the engine that runs that Kings squad offensively and in all reality he is the captain of that team, not Dustin Brown and his measly 27 points the last two seasons. Kopitar is to the Kings what Toews and Ryan Getzlaf are to their respective teams. He is a sure fire top-10 center in the NHL and deserves to be paid like it. Milan Lucic on the other hand is the type of player that doesn't project to have a long shelf life in the NHL. See what has happened to 32-year-old power forward Ryane Clowe for instance. Lucic had his worst season in a long time last year with just 44 points. It is very possible for Lucic to bounce back but likewise he could simply be on the decline. Moving to the Western Conference with a much heavier travel schedule after spending his entire career in the East can often take a toll on players. If the Kings are hoping to keep him, having him be decent but not great would actually benefit them come offseason negotiations. He is only making $3.25 million in the last year of his deal, if he has another 45-50 point season, he certainly doesn't deserve double his current salary. Three years, five million per season sounds about right. Some team will overpay for him though.
Put yourself in Steve Yzmerman's shoes and decide between keeping the Triplets intact long-term or paying Stamkos top dollar. You can't accomplish both, if you sign Stamkos, you're bound to lose one of the Triplets to a trade or free agency in the next couple seasons. Do you want power in numbers or the face of the franchise?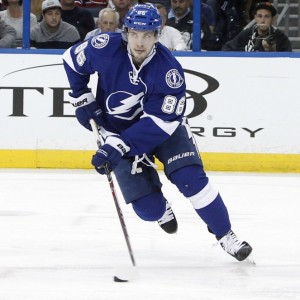 FISHER: The Triplets were all the rage in the playoffs and their chemistry as a trio is incredible, but Stamkos is the franchise player there. Tampa Bay is taking way longer than I expected to announce an extension, but even the Lightning owner is on the record endorsing a deal essentially at all costs. He's a smart man and Yzerman best heed that advice, expedite the process and get on with the season. They really shouldn't let this hang over the team past the opening puck-drop. If I'm Yzerman, I build around a core of three players in Stamkos, Triplets centre Tyler Johnson and top defenceman Victor Hedman. Those guys don't get away no matter what. If that means eventually moving starting goaltender Ben Bishop and letting up-and-comer Andrei Vasilevskiy take over, so be it. If it means losing one or both of the Triplets wingers in Ondrej Palat or Nikita Kucherov, so be it. I'd certainly move Bishop and Palat to keep Stamkos if the salaries were a wash. That's a 2-for-1 trade I wouldn't hesitate to make, and I don't think Yzmeran would either, so I'm sure it's just a matter of time until Stamkos signs off on a mega deal to stay in the Sunshine State. And I still think that time will come prior to the regular season, which is just over a week away now.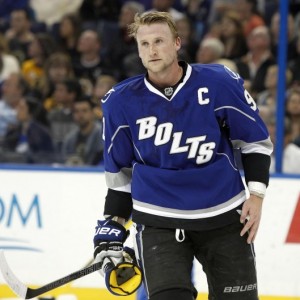 BENSCH: Stamkos and Hedman are arguably top-five in the league at their respective positions. While hockey is a team game, super stars are needed to go deep in the playoffs on a consistent basis. Every now and then teams with limited star power make a nice Cinderella run deep into the postseason but to consistently compete year in and year out, teams need top talent. So I agree with Larry in this instance, Stamkos is a player the team does not want to lose. Fans like to point out that during the playoffs the Triplets were scoring when Stamkos went cold. However, if the triplets didn't have Stamkos drawing attention from the opponents top defensemen, would they still be scoring? Probably not. It's like football when a top wide receiver draws double coverage leaving a slightly less talented but still solid receiver open and getting all the touchdowns. Stamkos will continue to draw attention from top shut-down guys from opposing teams, whereas we haven't yet seen the Triplets as a line long-term, particularly if they didn't have Stamkos on the other top-six line.