Facing Off is a weekly column debating five of hockey's hottest topics each and every Monday. From current events like trades and hat tricks, to bigger-picture stuff like scandals and expansion — you name it, we're debating it. Albeit, not always with a serious tone. We're keeping this column light, so keep that in mind when reading, and feel free to join in on the fun by leaving a comment.

It's been quite the week for hockey headlines again — from Connor McDavid's five-point performance in helping Jordan Eberle net his first career hat trick to Mike Yeo getting fired by Minnesota with the Wild sporting the league's worst record in 2016.
McDavid really is a special talent — generational, as they say — and it's unfortunate he missed three months with a broken collarbone because his name should have been carved into the Calder as the first Oilers player to ever win that award. Granted, it's still a small sample size, but some people are already penciling in McDavid as the favourite to win the Art Ross Trophy as the NHL's leading scorer next season. Depending on the Vegas odds, that might not be a bad bet.
https://youtu.be/eYXU0eMeI6s
The odds on Yeo's firing were getting higher by the day with the losses mounting for the Wild. That team hasn't been getting the greatest goaltending lately, but they haven't been scoring either. It doesn't bode well for a coach's job security when his players can't put the puck in the net, nor keep it out. John Torchetti is taking over there in hopes a change behind the bench can result in a change of course with Minnesota slipping out of the playoff race. It worked for Pittsburgh in swapping Mikes — Johnston for Sullivan — so it was worth a shot, but I don't like the Wild's chances going forward.
Minnesota fires coach Mike Yeo after Wild lose 13 of past 14 games https://t.co/FsxecBE1ki pic.twitter.com/9nlCGd6HaJ

— The Hockey News (@TheHockeyNews) February 14, 2016
We're back to the top of the order for Facing Off, which means I'm joined this week by Dan Mount, our resident beat writer for the Nashville Predators. He's proven to be a stellar lead-off man in this five-week rotation that culminates with a guest contributor following Félix Sicard, Andrew Forbes and Sebastian Hedley-Noble. It's a good team we've established, and we seem to be raising the bar from one week to the next, so let's keep that trend going.
The Battle of Ontario just got a whole lot more interesting with Dion Phaneuf switching sides. What did you make of that trade? Is there a clear-cut winner or was it more of a win-win?
MOUNT: I think Toronto is the winner by a nose for now, but will be the clear-cut winner if it manages to win the Steven Stamkos sweepstakes. The trade gives the Maple Leafs the salary-cap space they need to pursue the Markham, Ont., native. It will also finally remove the elephant in the Toronto locker-room of the "will he or won't he get traded" speculation. It may also force the Toronto-based media to have to cover something else since the Leafs traded away the one player that probably should have been dealt in the off-season.
Ottawa does profit from this trade as it gets the defenseman it has been seeking to help its thin ranks. Phaneuf can still be a good blue-liner and won't be asked to do so much, as Erik Karlsson shoulders a lot of the load for the Senators. Phaneuf can concentrate on playing his game and won't be subjected to the constant pressure that the media put on him in Toronto. Plus, I'm sure Dion doesn't mind being in the middle of a playoff race for the first time in a while.
The crazy story behind Dion Phaneuf's weird Senators gloves https://t.co/kbMb0BQTaS @sproudfoot pic.twitter.com/jaKqceRbD4

— Sportsnet (@Sportsnet) February 12, 2016
FISHER: I see it as a win-win. The Senators got the best player in the deal — Phaneuf is still a very capable top-four defender — but the Leafs got rid of that elephant Dan alluded to, along with its contract. Clearly, ditching the contract was Toronto's goal here and being able to do so without retaining any salary makes the Leafs winners too. Gone are Phaneuf, Phil Kessel and David Clarkson — three mistakes by previous management. That does open the door for Stamkos or any number of free agents or trade acquisitions.
I think Phaneuf will play out his contract in Ottawa — in its entirety — and be a strong contributor in a supporting role to Karlsson there. That's all Ottawa got, though, with the other four guys being footnotes who likely won't ever suit up for the Senators. They were contract dumps in their own right.
The Leafs got some intriguing, potentially useful pieces in return. Starting with Jared Cowen, a big defender who was a top-10 draft pick and is still only 25 years old. I wouldn't write Cowen off as a bust just yet. Milan Michalek, if the Leafs keep him rather than flipping him at the trade deadline, seems like another Mike Babcock-type player. I'm not saying Michalek will turn into Leo Komarov 2.0, but his skill-set is similar in a lot of ways. I don't have much hope for Colin Greening, but Tobias Lindberg is a legitimate prospect who had a strong showing at the Memorial Cup tournament last year for the champion Oshawa Generals. They were coached by D.J. Smith, now an assistant to Babcock, so the Leafs know what they are getting in Lindberg and he could be a good one — I see some shades of Loui Eriksson or Jussi Jokinen. A second-round pick in 2017 could fetch another solid piece for Toronto's long-term puzzle, especially if Ottawa misses the playoffs next year. But with Phaneuf added to the fold — and once he's fully comfortable there — the Senators could certainly be in the post-season picture. That would make it a win-win, otherwise advantage Toronto.
Speaking of trades, the deadline is now exactly two weeks away (Feb. 29). Last year, a total of 53 deals went down following the post-Christmas roster freeze, including 24 on deadline day. This year, there have been 13 so far (as of Phaneuf/Feb. 9). Do you foresee a flurry of activity? Could the totals top last year, or even come close? Let's put the over/under at 20 on deadline day and 40 total, what would you bet?
MOUNT: I'm going to go under on the number of deadline-day deals. However, I do think that there will be some deals before the Leap Year Day as there were last season. The price of doing business always goes up the deeper you get into that day, and there is always the constant worry that a general manager will mortgage the future in order to win now. I've seen plenty of times where a GM has gone all-in only to have to gone bust.
It's all going to hinge on two teams I think — and that's the Montreal Canadiens and Minnesota Wild. If Marc Bergevin gives up on the season, you could see the Habs make a few deals to try and put more bingo balls in the Auston Matthews sweepstakes. The Wild sit on the outside of the Western wild-card spots and have some big salaries on the team. Minnesota could start from scratch and dumping some salary would jump-start that process.
Told by an NHL & NHLPA source that 2016-17 cap could go down as much as $4 million. If true, interested in what that does to trade deadline

— MurphysLaw74 (@MurphysLaw74) February 12, 2016
FISHER: I'm also going to take the under here despite the fact I just predicted 40 potential trades that could, in theory, go down between now and the deadline. Realistically, the salary cap restricts the amount of movement and with some suggesting the cap could actually go down instead of up for next season, teams will be hesitant to take on expensive players with term on their contracts. There are quite a few quality rentals available, so I'd expect most of them to be on the move. That might account for a dozen deals. We'll probably see some veteran depth guys acquired for mid-to-late draft picks or mediocre prospects, and likely some of those 'what's-the-point?!?' trades too. If there's a handful of each, then the total will be awfully close to going over. I wouldn't be shocked if it did top 20 or even 24 on deadline day, but we have a long way to go to get to that 53 figure.
Now that the Wild have axed Yeo, you do have to wonder whether Chuck Fletcher is considering throwing in the towel or blowing it up. If he does, I tend to agree with Dan that there are a lot of desirable players on Minnesota's roster and that a shake-up there could send shockwaves across the league. Montreal is certainly another team to watch — heck, all the Canadian teams will likely be busy selling off their expiring contracts and possibly even pulling off a blockbuster or two. It's going to be an interesting (and fun) couple of weeks, that's for sure.
With Phaneuf going to Ottawa and Dustin Byfuglien staying in Winnipeg, some pretty big names are already off the board. Are you expecting even bigger names to be on the move? Predict the biggest trade.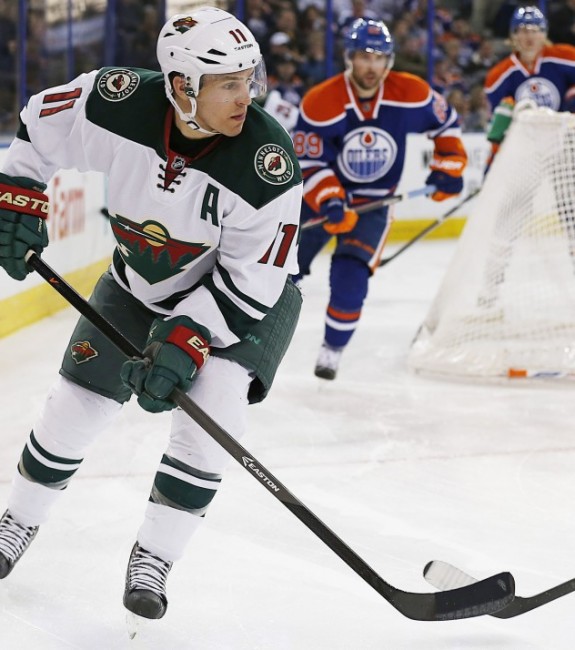 MOUNT: I'll go outside the box with this one — I'm calling Zach Parise of the Minnesota Wild. Living in Upstate New York, I know plenty of Islanders fans would love to see a scorer like him on the team. Our own Islanders beat writer Noel Fogelman was practically begging for this deal to happen, and it makes sense. The Parise contract was a huge risk by the Minnesota management and they've not gotten past Chicago the last couple of seasons. Could Kyle Okposo be someone that the Wild get back in return if they do go through with this deal?
I could also see Eric Staal getting traded because of the giant contract running out at the end of the season. I don't see the Hurricanes wanting to sink this much money into keeping a guy on the downslope of his career. Him and Jeff Skinner will be sought-after commodities at the deadline. The Hurricanes do have a bright future and clearing out some cap room would help them get some younger talent to go with that budding defense.
FISHER: Parise isn't a name that came to mind for me, but anything is possible and stranger things have happened — like that Phaneuf trade, for example. Personally, I would assume Parise remains one of the more "untouchable" players in Minnesota, that the plan is still to build a winner around him, Ryan Suter and Devan Dubnyk assuming the latter rebounds to his Vezina-finalist form sooner than later. Either way, the Wild are probably stuck with Dubnyk now, but Parise would have plenty of potential suitors if they decided to shop him around. Time will tell.
Trade Deadline Predictions: 40 Potential Deals – https://t.co/sCdH5sSwkz #hockey #THW pic.twitter.com/Iir8x98ZRl

— The Hockey Writers (@TheHockeyWriter) February 13, 2016
As mentioned, I really outdid myself by predicting not one, but 40 trades over the weekend. I'm already regretting a handful of them, but I'm pretty passionate about 10 others that I believe could come to fruition. Between now and the deadline, I plan to write about the five that I'd take back and the 10 that I'm standing by, so watch for that (shameless plug). If you haven't already clicked the link, I did have Staal moving — to Montreal — but that was contingent on the Canadiens staying within a few points of the playoff cutline until month's end. If not, Bergevin won't risk being a buyer unless he knows it's going to also be a longer-term investment (Staal re-signing, for example). I actually had Okposo going to Dan's Predators, along with 2014 fifth overall pick Michael Dal Colle, for affordable top-six wingers Craig Smith and Colin Wilson — a 2-for-2 that I quite like. Garth Snow isn't afraid to make a move, so if Okposo has priced himself out of Brooklyn, then that deal might not be as farfetched as some seem to think.
There are two others that I'm a bit bullish on. One would see Boston reunite the Hayes brother — acquiring Kevin from the Rangers to join Jimmy — in exchange for another pending free agent Loui Eriksson. The second has Detroit acquiring Mikkel Boedker from Arizona, with Teemu Pulkkinen and Tomas Jurco going the other way. The Red Wings would obviously attempt to retain Boedker past this season, while the Coyotes would welcome two more talented young forwards to go with the gang they are assembling in the desert.
Who's this Sidney Crosby guy surging up the scoring leaders? Any chance he catches Patrick Kane for the Art Ross Trophy? Where do you see Crosby finishing in the race?
MOUNT: I don't think Crosby can catch Kane because he's dug too deep of a hole with that early-season funk. However, I never doubted Crosby finding his scoring touch. He can be a streaky player, but he's still one of the best in the world when he's on his game. Crosby seems to be thriving thanks in large part to a healthy Kris Letang. Crosby's part of the reason the Penguins have gotten themselves back into the Eastern Conference playoff race. If Pittsburgh makes it in, I would argue that he might deserve some MVP consideration.
I think Crosby gets into the top five, if not the top three in the scoring race. Kane is going to keep scoring, barring any injuries, and I still think Alex Ovechkin makes a charge up the leaderboard.
https://twitter.com/TH2N/status/697073652123181056
FISHER: Crosby is currently only three points out of fifth and 10 points out of second. So, with the way he's been playing since the calendar flipped to 2016, I'm quite confident that he'll continue his climb and probably finish as the runner-up to Kane, who is an additional 15 points ahead — 25 clear of Crosby as of today. Crosby has five games in hand, but only 28 remaining in total, which makes that deficit seem insurmountable, especially if Kane stays healthy and keeps producing at a reasonable (or ridiculous) rate. Crosby is on pace for 80 points — impressive considering that pace was closer to 60 at the end of 2015 — but I'd be willing to bet he tops 90 and comes awfully close to triple-digits. Kane is on pace for 108 points and he's a strong bet to hit that number too. I foresee Crosby finishing second, about 10 points back.
The Stadium Series games are always a big hit — this year being hosted by Minnesota and Colorado, also within the next couple weeks — but where would you like to see an outdoor game played in the future?
MOUNT: Doc Emrick is a genius when it comes to predicting the location of games, as he correctly forecasted that Michigan Stadium would host the Winter Classic. It looks like he's going to be right about another one, as it's been projected that Beaver Stadium at Penn State University will host an all-Keystone State rivalry game between the Flyers and Penguins.
I think that Toronto needs an outdoor game at BMO Field because I don't know how it would work at Rogers Centre. Another place that could work is Met-Life Stadium in East Rutherford, New Jersey, or Citi Field in Queens if the NHL wanted to bring New York back into the mix.
5 Places that Nashville Could Hold a Stadium Series Game – https://t.co/a3wmQn7FBR #hockey #THW pic.twitter.com/xACwh4gOjl

— The Hockey Writers (@TheHockeyWriter) February 15, 2016
I'm also going to go outside the box again and say why not a venue like Churchill Downs in Louisville, Kentucky, or Bristol Motor Speedway in Tennessee. Emrick threw it out there as a possibility because his broadcast partner Ed Olczyk is a horse-racing owner. NBC Sports also owns the broadcast rights to the Triple Crown horse races and it would be a nice way to cross-promote both of their properties. I could imagine ads for the Kentucky Derby running during NHL games and vice versa. The same rings true for Bristol, as NBC has rights for NASCAR. The track is going to host a college football game between Virginia Tech and Tennessee on Sept. 10. I could see a hockey game involving the Predators working there.
FISHER: Well, the cat's out of the bag on my idea here. I was going to go to bat for Winnipeg, even though Gary Bettman has brought it up before. I wasn't sure how serious he was about it, but it now sounds like plans are in place for the Jets to host the Oilers in an outdoor game this coming October. So there you have it, congratulations Winnipeg. It could be bastardly cold — comparable to the original Heritage Classic in Edmonton, back in 2003 — but it'll be a ton of fun for that hockey hotbed.
Report: Winnipeg Jets to host outdoor game in October 2016 https://t.co/MhQ1s0mIun pic.twitter.com/HQZxSXTw8u

— The Hockey News (@TheHockeyNews) February 14, 2016
I must say, though, Dan has put forth some excellent ideas here. This topic was more so Dan's brainchild, but my thought process was focusing on NHL cities and stadiums belonging to corresponding sports teams (baseball, football). I have no clue if a hockey game could be played at Jerry Jones' new palace in Dallas — AT&T Stadium — but that seems to be the mecca for sporting events lately. Climate and weather obviously plays a big factor, so certain places like Florida can probably be ruled out. I've never, until now, imagined a hockey game at the home of the Kentucky Derby or on a NASCAR track for that matter. That's really outside the box, but I really like it. Well played, Dan. I'll throw Las Vegas Motor Speedway into that mix, along the same lines as Bristol. I've been to the Vegas track for an electronic music festival — the Electric Daisy Carnival (EDC) in 2013, the wife-to-be's idea of a good time, not necessarily my scene — but it's a massive area that could certainly host an event of this magnitude. And with Sin City in the running for an expansion franchise, hosting an outdoor game there could be a creative way to drum up even more interest in a non-traditional hockey market.
On a side note, many of the ice-making gurus — the men behind the scenes making the outdoor magic possible at all these venues — reside right here in Kelowna, B.C. Next time we cross paths, I'll be sure to run some of these "out-there" ideas past them and report back in the future.
BONUS TOPIC
I gave Kristi Loucks the chance to wear Stan Bowman's shoes last week. Now, it's your turn to be David Poile for a few minutes. What moves would you make for Nashville between now and the deadline? Do the Predators need another top-line winger to flank Ryan Johansen and James Neal?
MOUNT: I don't necessarily think that there's going to be a deal needed. Colin Wilson is back now and he was a 20-plus goal-scorer last season. Wilson was skating with the top line before he went down to injury again. He was putting things together and starting to play well after his slow start.
The Predators might also have a secret weapon in the form of 2013 draft pick and Hobey Baker Award finalist Jimmy Vesey of Harvard. He has scored 74 goals in 119 career NCAA games over the past four seasons, and is a big player at 6-foot-3, 210 pounds. He's also someone who has great speed for a player of his size. Poile has already said that Vesey was "pro ready" at last year's general managers' meetings.
#PredsPride #Preds Predators Play Waiting Game With Jimmy Vesey #NashvillePredators #Predators https://t.co/h2oTXClmCz

— Predators Fans (@PredatorsViews) December 15, 2015
There is a concern that Vesey will not sign and instead let his draft rights expire because his dad, Jimmy Sr., and brother, Nolan, are with the Maple Leafs. However, Vesey has said he's committed to Nashville, and I'm sure he'd love to be a part of a team that's on the verge of being really good for a long time. The way things shake out, he could make his debut in the opening round of the playoffs.
I know Poile said he could make more moves, but I'm sure he doesn't want to destroy too much of the future.
---
Who won this round of Facing Off? Feel free to weigh-in with your opinions in the comments below. We will be checking in periodically to both defend and expand on our initial answers. If you want to see us face-off over a topic, we're open to suggestions as well.
Dan Mount is a sports reporter for the Watertown Daily Times in Watertown, New York, and the Nashville Predators beat writer for THW. Follow him on Twitter: @DanMountSports.
Larry Fisher is a sports reporter for The Daily Courier in Kelowna, British Columbia, Canada, and has been an at-large contributor for THW since August 2014. Follow him on Twitter: @LarryFisher_KDC.