Facing Off is a weekly column debating five of hockey's hottest topics each and every Monday. From current events like trades and hat tricks to bigger-picture stuff like scandals and expansion — you name it, we're debating it. Albeit, not always with a serious tone. We're keeping this column light, so keep that in mind when reading, and feel free to join in on the fun by leaving a comment. Follow us on Twitter (@FacingOff_THW) and get in on the debate there too.

Talk about an anticlimactic trade deadline — and talk about it, we did.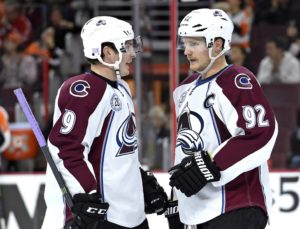 Most of the bigger names had already moved prior to Wednesday, the biggest names of all — those with term remaining on their contracts — never ended up moving, and there weren't any buzzer-beating blockbusters.
March 1 came and went as expected, without much surprise or suspense, but that didn't stop us from spending more than an hour debating the winners and losers and weighing in on most of the 39 deals that have gone down over the last 2 1/2 weeks — including 18 on Wednesday — during Episode 9 of the Facing Off Podcast.
Joined by frequent guest Félix Sicard in a follow-up to our trade-deadline preview show from Feb. 12, we shared our opinions on the best and worst trades, the biggest steals and the biggest overpayments, the deals that made us go 'wow' and those that made us go 'WTF', while also discussing our frontrunners for GM of the Year and declaring our Stanley Cup favourites going forward.
It's an action-packed show with some interesting hot takes that our Facing Off listeners will surely find enjoyable.
The one loser we forgot to mention was the New York Islanders, who did absolutely nothing.
Garth Snow must have got too caught up in trying to reel the big fish — presumably Matt Duchene — that he forgot to trade Jaroslav Halak or make any other moves.
Halak was a glaring omission on deadline day since the media insiders were reporting at least two, if not three teams had made offers for the goaltender who backstopped Team Europe to the World Cup of Hockey final only to be banished to the minors midseason. So it's shocking that Halak is still stuck in the AHL as of today.
Unless Snow made a handshake deal with his former colleague George McPhee — Las Vegas' general manager — to package Halak and some other assets to the Golden Knights ahead of the expansion draft in June, with McPhee promising not to pick a certain player who will be exposed by the Islanders.
That's entirely possible — plausible even — and the only conceivable excuse for Snow's inactivity is that the foundation has been laid for a future trade that won't be announced until after the season.
However, that won't help Doug Weight and the Islanders' playoff chances and will do little to ensure the new ownership group earns post-season revenue in Brooklyn this spring.
The other Eastern Conference contenders all loaded up, to some degree, so the odds would appear to be against the Islanders now. And if they do miss the playoffs, the odds would also seemingly be against Snow staying on as GM.
Time will tell but John Tavares can't be too happy about his team standing pat at the deadline, while watching all their rivals get better.
Félix wasn't thrilled with Bob Murray's decision to sit on his hands either, having written about Anaheim's need to go all-in at the deadline and having also set his alarm for 6 a.m. PT in anticipation of some deals involving the Ducks.
Ducks' Only Option Is to Swing for the Fences – https://t.co/SaGonsoeEN #hockey #THW pic.twitter.com/ObZYRVtxoQ

— The Hockey Writers (@TheHockeyWriter) February 28, 2017
Félix, who serves as THW's lead writer for the Ducks, had to deal with the disappointment of nothing happening — nothing but a minor-league swap that wasn't announced until after the deadline — but I've made that mistake before and decided to sleep in this year despite my angst.
Thankfully, I didn't wake up to any Shea Weber for P.K. Subban bombshells but, in a way, I wish I had. It would have given us that much more to talk about, but fortunately we had plenty of fodder from our preview show and the past couple weeks to fill the online airwaves.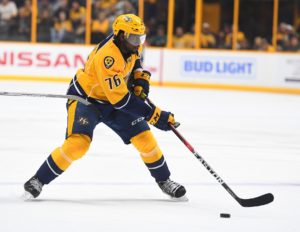 And, yes, we did resume our ongoing Weber-vs.-Subban debate, but somehow neither of us mentioned that they will be opponents tonight for the first time since that trade in the summer. Subban was hurt for the first head-to-head meeting in Nashville, but he'll definitely be out to make a statement in Montreal tonight. That should be must-see TV.
If I have one regret from this episode, it's that I was a little too hard harsh on Joe Sakic in lumping him and the Colorado Avalanche in among the deadline's biggest losers. They weren't winners by any means, but the more I think about it, the less I blame Sakic. I mean, it's not his fault that Taylor Hall only fetched Adam Larsson. The other big 1-for-1 swap from this past summer has to be hurting the value of Duchene and Gabriel Landeskog, especially if Sakic is targeting a defenceman in return for either of those forwards.
In hindsight, I was probably just disappointed that Sakic didn't pull off the blockbuster we were all hoping for — to make it a more memorable deadline — but he really didn't have anything to gain from making that deal now as opposed to at the draft or later in the offseason. So, my apologies to Mr. Sakic and feel free to prove me wrong this summer.
---
Who won this round of Facing Off? Feel free to weigh-in with your opinions in the comments below. We will be checking in periodically to both defend and expand on our initial answers. If you want us to face-off over a topic, we're open to suggestions as well.