Another month, another extended losing streak for the Detroit Red Wings, as they slipped farther and farther away from clinching a 26th consecutive playoff berth. Detroit went 5-5-1 in February to all but seal its first season without a playoff berth since 1989-90.
The Red Wings closed out February with an overtime win against Vancouver, but it has become clear that Detroit is not a playoff team, as evidenced by General Manager Ken Holland trading Tomas Jurco, Brendan Smith, Steve Ott and Thomas Vanek at the trade deadline.
However, the Red Wings did have some standout performances this month from players who still are on the team. Here are The Grind Line's selections for the Player of the Month for February:
Brandon Peleshok: Henrik Zetterberg
Even with the Red Wings likely missing the playoffs for the first time in 26 years, it's tough to place the blame on the shoulders of captain Henrik Zetterberg. He leads the teams in points this season (48 points in 61 games played), and he maintained his scoring touch through the month of February.
Through 11 games, Zetterberg registered four goals and nine assists for Detroit, leading the team with 1.18 points per game. The Red Wings' captain also led the team in shots (29) and power-play points (five), and led all forwards in ice time, averaging 20:18 per game.
The Red Wings have asked a lot of the team's aging captain, whose role was supposed to diminish this season. During the summer, general manager Ken Holland declared management's intentions to move Dylan Larkin to center, though he struggled early and has played on the wing for the most part. Additionally, the team intended to use Zetterberg on Frans Nielsen's wing, but the combination did not stick. As a result, the 36-year-old forward has played as Detroit's top-line center this season.
While Red Wings fans have the right to show concern over the remaining years left on Zetterberg's contract, he certainly has held up his end of the bargain over the past month and throughout the entire 2016-17 season.
Tony Wolak: Petr Mrazek
If anyone was going to lead the Red Wings to the playoffs, it was Petr Mrazek. But unfortunately, his teammates did not step up to match the goaltender's stellar play.
In 10 February games, Mrazek won five, including two separate weekends of consecutive wins on back-to-back nights. To his credit, Mrazek only allowed 24 goals in those 10 games. The issue was the Red Wings only scored 23 in that span and just about sealed their fate of missing the playoffs for the first time since the 1989-90 season.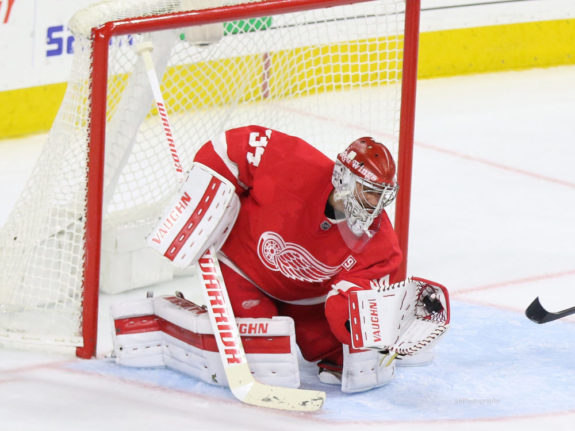 It was Mrazek's last stand that kept the Red Wings afloat through February. His .923 save percentage — though solid — does not adequately represent the goalie's February performance. The fact was Mrazek gave his team a chance to win every night, which is all Detroit could have asked for given their dire situation. Simply put, Mrazek got his swagger back and made the saves he needed to.
Though he did so in too-little-too-late fashion, it was nice to see Mrazek finally find his game after struggling much of the season. The 25-year-old lost his starting job to Jimmy Howard early and allowed Jared Coreau to surpass him on the depth chart. But as the has season slipped away, Mrazek gave Red Wings fans a glimmer of hope for what's to come: better team goaltending.
Tom Mitsos: Anthony Mantha
One of the key pieces of the rebuilding plan for the Red Wings, Anthony Mantha continued his stellar rookie season, posting two goals and six assists in 11 February games. He is second on the team in points — now that Vanek has been traded to the Florida Panthers — with 31 points in 46 games. He also is eighth in the league among rookies in points.
He was second on the team in February in five-on-five shot attempts-for percentage (53.79) behind Gustav Nyquist (55.93). His line with Zetterberg and Tomas Tatar easily has been the team's best line this season, leading the team in five-on-five shot attempts-for percentage (57.18) for all lines that have played at least 50 minutes together.
Mantha has been one of the few sources of offense for the Red Wings, and according to Dom Luszczyszyn's Game Score model, he has been their best player this season.
Here is an explanation of Game Score, but the short version is it weighs events that happen during a game based on importance (shot attempts for and against, goals, primary assists, secondary assists, etc.) and gives the player an overall score.
Luszczyszyn's model gives Mantha an average Game Score of 0.81, slightly ahead of Zetterberg's 0.80 and Vanek's 0.72.
Of course, it's not a perfect formula, but it's a good synopsis of how important Mantha has been this season.