On Saturday night, Detroit Red Wings goaltender Petr Mrazek backstopped the team to a 1-0 win against the Nashville Predators with a 42-save shutout. When paired with Friday night's win over the Islanders, these two victories symbolized a reversal of everything that has gone wrong with Detroit's and Mrazek's season.
.@pmrazek34 with a little bit of mustard. #LGRW pic.twitter.com/MTuza3etFO

— Detroit Red Wings (@DetroitRedWings) February 5, 2017
A Year to Forget
It's an understatement to say that things haven't gone the Red Wings' way this year. At 22-21-9, the Wings are in sixth place in the Atlantic Division, but are only five points out of a playoff spot. The team has been riddled by injuries all sea-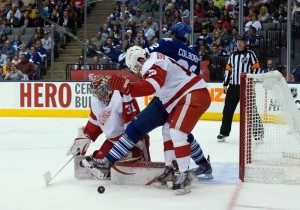 son and hasn't been able to put together a stretch of offensive production plus solid team defense since their six-game winning streak in October.
Mrazek's season hasn't been much different. While he's remained healthy, the Czech goaltender hasn't been consistent and has struggled at times. To make matters worse, goaltending partner Jimmy Howard has been on fire all year, prompting coach Jeff Blashill to implement a starter-by-committee procedure. When Howard went down with varying injuries, Blashill opted to give third-string goaltender Jared Coreau playing time over Mrazek.
Winning only 10 of 28 games before the All-Star break and sporting a goals-against average north of 3.00, Mrazek's first half of the season was one he would like to forget. Some even began to question his future in Detroit.
Then, this weekend happened.
Red Wings Redemption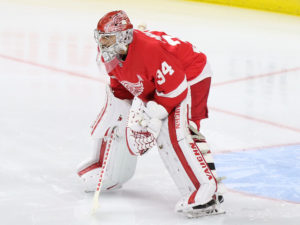 Given Mrazek and Detroit's struggles, it was no surprise to see the New York Islanders score early Friday night at the Joe. It was the sixth time in the last 15 games that the Red Wings allowed their opponent to score within the first five minutes of a game – hardly the start Mrazek and the team wanted.
After a back-and-forth game, the Red Wings were up 4-3 in the closing minutes of the third period. Two of the three goals scored on Mrazek were ugly, but the Wings were winning at least. Then, the Islanders' Jason Chimera—in his 1,000th game—snuck a squeaker past Mrazek with less than three minutes to play to tie the game – a goal that accurately summed up the Red Wings' season.
But with under 30 seconds to go, pinball wizard Danny DeKeyser unintentionally banked a shot in off of two Islanders defensemen, giving Mrazek and Detroit a much-needed win, plus a sense of relief.
Back-to-Back for Mrazek
In a curious move, Blashill opted to go back to Mrazek for the next night's game in Nashville. Though he won against the Islanders, Mrazek gave up three "soft" goals (four total) on 36 New York shots while his backstop, Coreau, had put together an impressive month of January.
The obvious decision would be to play the other goalie on the second night of back-to-back games. Instead, Blashill put his confidence in Mrazek, who took advantage of the opportunity and did not let his coach—or team—down.
Mrazek responded to the vote of confidence with a 42-save shutout on the road against the Predators. Nashville outshot Detroit 42-19, but the young goaltender would not budge.
In their quest for a 26th straight playoff appearance, the Wings needed this win. Mrazek did as well. For someone with little confidence in his game throughout the first half of the season, Mrazek looked the part of a franchise goaltender against the Preds.
His focus was apparent, with his quiet intensity in net and lightning-quick reflexes when he needed to make a save. When the opportunity presented itself, Mrazek had no problem showing a little flare when snagging a puck mid-air – something he did often last season when he and the team were on a roll.
Up Next
On Tuesday, the high-powered Columbus Blue Jackets roll into town to take on the Red Wings. Conventional wisdom would guess that Mrazek would be back in net to face one of the NHL's best teams.
If the Wings can continue their luck and Mrazek can again prove doubters wrong, we could finally see a resurgence that fans have been hoping for all season.