Facing Off is a weekly column debating five of hockey's hottest topics each and every Monday. From current events like trades and hat tricks, to bigger-picture stuff like scandals and expansion — you name it, we're debating it. Albeit, not always with a serious tone. We're keeping this column light, so keep that in mind when reading, and feel free to join in on the fun by leaving a comment. Facing Off also has its own Twitter handle now (@FacingOff_THW), so follow us there and get in on the debate.

Joonas Donskoi has given the Sharks life, and we'll see tonight if San Jose can send the Penguins backpedalling to Pittsburgh. Or whether Sidney Crosby, Matt Murray and the gang can win one on the road to head home with a chance of capturing the Stanley Cup in the Steel City on Thursday.
Yes, we'd have to wait until Thursday for a potential conclusion, or for the series to resume as a best-of-three if San Jose manages to hold serve.
The three-day breaks between games are absurd if you ask me. Game 7, should the series go the distance, wouldn't be until June 15 — that's next Wednesday! Joe Thornton and Brent Burns will be tripping over their beards by then. And their poor wives . . .
I get that the NHL and NBA are trying to stagger their schedules and avoid overlapping. I also get that the players involved have been through a gruelling 100-plus games since the season started back in October. But I'm sure they'd like to get it over, win or lose, sooner than later at this point too.
I find that I'm losing interest in the series because of all the down time and off days. Fortunately, being a draft junkie, the combine was ongoing to help pass the time, but the waiting is definitely the hardest part.
Somehow, the AHL's championship series is even worse. The farm teams for the Columbus Blue Jackets (Lake Erie Monsters) and Washington Capitals (Hershey Bears) will play Game 3 of their Calder Cup Final tonight, then sit around until Saturday for Game 4. Again, that delay has to do with scheduling conflicts with Lake Erie playing out of the same building as the NBA's Cleveland Cavaliers, but there has to be a better way. I mean, get on with the show already!
And on we shall get with Facing Off, as I'm joined this week by one of our regulars, Félix Sicard, who covers the Anaheim Ducks for THW. The Ducks aren't exactly dominating the headlines these days, but a former Anaheim player is still going strong and producing epic goal calls . . . in Punjabi?
Fun stuff to start us off. Now, who would you rather see win their first Stanley Cup — Joe Thornton or Phil Kessel?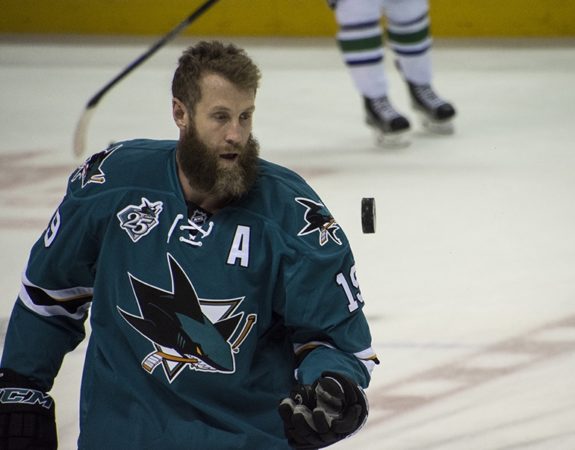 FISHER: Prior to the series, I would have said Thornton for sure. That beard is legen-dary, one of the best of all-time — arguably more epic than Ron Burgundy's moustache. But Kessel is really earning it thus far, continuing to step up on hockey's biggest stage despite his bad breath, while Thornton has faded a bit, at least during the games in Pittsburgh. Thornton was making a physical presence there by mixing it up fellow stars Sidney Crosby and Evgeni Malkin, so he won't be going down without a fight.
I picked the Penguins to win in 7, and I could still see it being a long series, but I have a soft spot for Thornton in terms of wanting to see him and Patrick Marleau hoist their first Cups. It'd be nice to see Kessel get his hands on the holy grail too, especially after getting snubbed by Team USA for the World Cup. If Kessel is good enough to be a key player in beating San Jose, then he probably could have helped just a little in "beating Canada." It sounds as though I'm picking both, and it's not like I despise either player or wouldn't want to see them succeed, but I would lean toward Thornton in hopes that the Sharks can mount a comeback.
Who would you rather see win their first #StanleyCup? #NHL #THW

— Facing Off (@FacingOff_THW) May 31, 2016
SICARD: Thanks to a weaker Eastern Conference, I get the overwhelming sensation that the Penguins have found a magic recipe that will have them back in the Stanley Cup Final for years to come. Then again, we were all saying the same thing back in 2009 when a forward group starring Crosby, Malkin and Jordan Staal seemed like the next dynasty. Still, I feel like Pittsburgh's blueprint seems repeatable. San Jose, on the other hand, is a much different story. There's no telling how long this group of veterans will be able to play at such a high level. So for that reason, my vote goes to Jumbo Joe.
With expansion looming, Marc-Andre Fleury and Ben Bishop could be moving. Who gets asked to waive their no-trade clause first? Do either or both of them get traded this offseason? And where do they end up?
FISHER: This is going to be a very interesting offseason for goaltender movement, especially if there is an expansion announcement in the next couple weeks that only allows teams to protect one goalie for that draft. Pittsburgh and Tampa Bay would still likely have another full year to make those decisions — the expansion draft wouldn't take place until the 2017 offseason, at the earliest — but teams will want to tweak their rosters sooner than later. There will also be more value in parting with a goalie this offseason, as acquiring teams will pay more to have the new netminder for the full campaign as opposed to bringing in a big name at the trade deadline or last minute before the expansion draft.
Is it a given that Pittsburgh will choose rookie sensation Matt Murray over Fleury, or that Tampa would keep the young Russian Andrei Vasilevskiy rather than Bishop? No, I don't think either team has made up its mind or started shopping its veteran. It all hinges on expansion, but salary will play a big factor too and no-trade clauses apparently won't be exempt from the expansion draft, so both Fleury and Bishop could be exposed. If that's the case, and those teams prefer to build around their cheaper, younger options for the future, then there is a very good chance that one or both of Fleury and Bishop are traded this summer and perhaps as early as this month's draft.
Pondering a bold question from @Erik_Erlendsson: should the Lightning trade Ben Bishop? – https://t.co/gRWEtgX4hf

— NHL on NBC Sports (@NHLonNBCSports) May 29, 2016
Bishop is a Vezina finalist again and he's been a wall for Tampa — he was great in the playoffs prior to hurting his leg — so it would seem less likely that the Lightning move him. But Vasilevskiy may have the higher ceiling in terms of potential, and if moving Bishop frees up enough money to re-sign Steven Stamkos and lock up Victor Hedman and Nikita Kucherov long-term, then Bishop could become a salary-cap casualty. Tampa would be selling high on Bishop and that's certainly better than losing him for nothing to an expansion team.
With Murray backstopping Pittsburgh throughout the playoffs and looking like the real deal — coach Mike Sullivan considers him the starter going into next season now, one would assume — so Fleury is the more likely candidate to be moved this summer. Fleury has been a team-first trooper in riding the pine, but he'll want to the go-to guy again next season and may be willing to accept that role elsewhere.
Calgary and Carolina top the list of teams looking for a new No. 1 goaltender. Toronto would likely express interest as well — potentially buying out or retaining significant salary on Jonathan Bernier in a deal — though the Leafs might prefer to pay more for Vasilevskiy than Bishop to get a goalie who could grow with their rebuild. Félix's Ducks still have to make a decision on re-signing Frederik Andersen or trading John Gibson, with both being prime targets for teams in the goalie market. Fun times ahead.
Should the Pittsburgh Penguins trade Marc-Andre Fleury?

— Tendy Gear (@Tendy_Gear) May 13, 2016
SICARD: The only answer here is Fleury. Though having a bounce-back season this year, Fleury just hasn't been good enough to warrant his payday. And with the ascension of Murray, the writing seems on the wall for the Quebec native to be finding a new home come this fall.
Bishop is a Vezina candidate for crying out loud. Yes, he seems to have a bad habit of getting hurt at the worst times, but I'm not convinced Tampa Bay's brain trust has seen enough out of Vasilevskiy to move on from their behemoth starting goaltender.
Lots of rumours about the Rangers blowing it up. Almost everybody, including Rick Nash, is said to be on the block. Do you think Nash gets traded this offseason and where could he end up?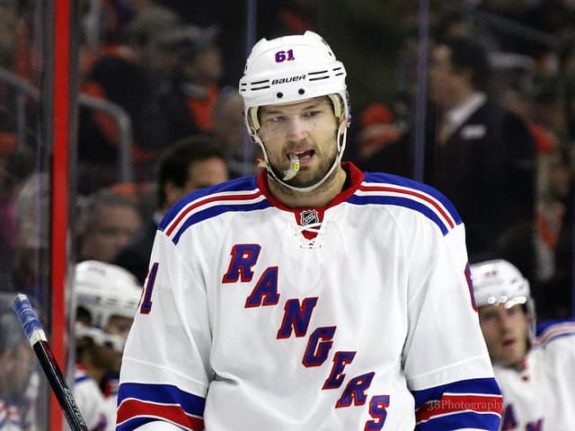 FISHER:
Nash has a modified no-trade clause, with a list of 12 teams that he'd be willing to go to. That is more than a third but just under half the league. Nash had a lingering injury that limited his production this past season, but he had a resurgence two years ago in showing that he could still be an impact power forward. There is a market for that type of player, but Nash's contract could be tough to move with two years remaining at $7.8 million annually. Not many teams could take that on as a salary dump in exchange for a package of draft picks and prospects. So the Rangers would need to take back significant salary in a swap of stars or possibly retain some of Nash's salary for more of a futures return.
There are plenty of power-forward types as pending free agents — guys like Kyle Okposo and Andrew Ladd — so teams might prefer to sign those players without giving up assets, and they would likely come at a cheaper cap hit too. If there aren't enough free agents to go around, which there never are, then the teams who strike out on that front will probably circle back to Nash. Unless it's a star-swap, I don't see Nash getting dealt at the draft. As free agency sorts itself out, I could see Nash finding a new home, but I don't think the Rangers are going to get a great return for him either way.
If Boston loses Loui Eriksson as a free agent, I could see Don Sweeney taking a run at Nash over the summer. I assume the Bruins would be on Nash's list of acceptable teams, so that would have potential, but what would the return look like? I could see Jimmy Hayes being involved, to be reunited with his brother Kevin in New York, along with the rights to Alexander Khokhlachev, who just signed in the KHL for next season. That obviously wouldn't be enough, and if the Rangers had to retain salary, they would probably want Boston's first-round pick in 2017 or another top prospect thrown in. I feel sorry for Henrik Lundqvist, but the Rangers are probably going to trend toward a rebuild this offseason.
Another off-day for #StanleyCup Final means another poll. Who gets traded first this offseason? #NHL #THW

— Facing Off (@FacingOff_THW) June 3, 2016
SICARD: It's sad to say, but it's time for the Rangers to start thinking about life after Lundqvist. Part of that entails engaging in a full-scale rebuild, but it might not be time for that quite yet. They still have at least enough talent to get into the playoffs, and with the right additions, they could make some noise. Their defensive depth was really exposed by the Penguins, so that's something that they'll have to address over the summer.
Nash is worth keeping around at least one more year, just to see what this group could accomplish with some tweaks. If it doesn't work out after that, then it'll be time to start tearing it down and enter some very uncertain waters. What a time to be a Rangers fan!
Word is, the Kings are stripping Dustin Brown of the 'C'. Who should be L.A.'s new captain, Anze Kopitar or Drew Doughty? Should Brown still get an 'A' on his jersey or be cut out of the leadership group altogether?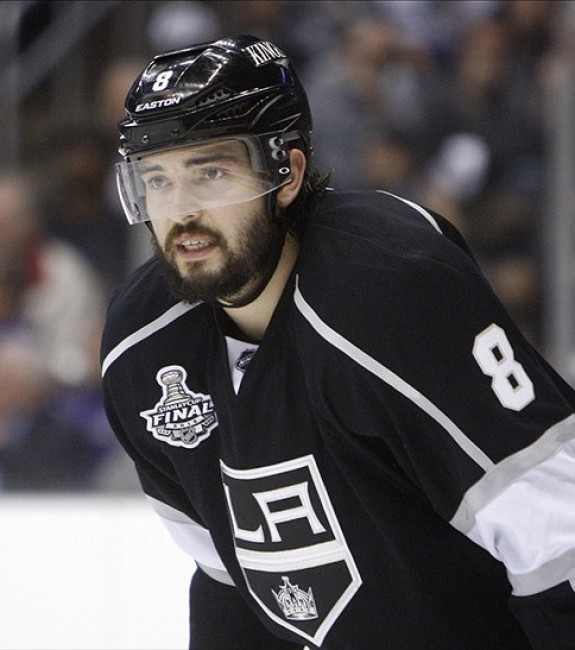 FISHER: I prefer Doughty here, he's an all-around defender who logs huge minutes and has won Olympic gold medals. Doughty leads by example on the ice and always seems to be vocal on the bench as well as with the officials. Kopitar also has strong leadership intangibles, to go along with his fancy new franchise-type contract. Making the captaincy change is a wise move for Los Angeles, whichever direction it decides to go, but I would give the 'C' to Doughty.
As for Brown, I'm not sure he deserves a letter at this point. I'm not sure how much he has left to give in general. If the Kings hadn't been forced to pay out Mike Richards last summer, I think Brown would have been a buyout candidate this time around. Brown's game is rapidly declining and he's no longer a top-six forward option for the Kings, which makes him grossly overpaid as a third-line grinder. Next to David Clarkson, Brown might have the worst contract in the entire league with six years remaining at an average of $5.875 million but an actual salary of $7 million for next season. Brown will either be bought out or retire before that contract is up, but Dean Lombardi will be desperately trying to trade him in the meantime. Brown also has a modified no-trade clause, but his list only has seven no-go teams, so Lombardi is likely shopping him to the other 22 clubs as we speak. Something tells me Brown won't be back in Los Angeles next season — that Lombardi will find a taker for him, with salary retained — and that'll make for some serious drama on the Hockey Wives reality show.
Off day for #StanleyCup Final, so here's a question: Who will be L.A. #Kings next/new captain? #THW #NHL

— Facing Off (@FacingOff_THW) June 2, 2016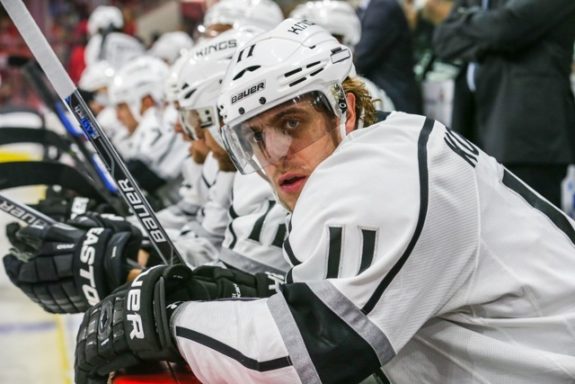 SICARD: The Kings' captaincy situation is an interesting one, especially considering how badly Brown's performance fell off over the past two years. Were I to be a voter in this election, I'd be all-in on the Kopitar ticket. Perhaps it's because I spend a lot of time interacting with Ducks fans, but something about Doughty just rubs me the wrong way. His jarring personality seems more likely to cause PR nightmares than that of the soft-spoken Slovenian.
As for Brown, I'd remove him entirely to make way for some of the younger Kings to step up into leadership roles. Either way, L.A. isn't winning another Stanley Cup anytime soon if its biggest in-season acquisitions continue to be guys like Rob Scuderi and Vincent Lecavalier.
Is the whole left-right defence pairings concept overblown? Yes, this is related to P.K. Subban's omission from Team Canada in favour of Jake Muzzin.
FISHER: Yes, I think this is crazy. I thought it was crazy when Marc-Edouard Vlasic made the Sochi Olympic team over Brent Seabrook for the same reason. Vlasic has since proven his worth but, at the time, it was a controversial decision with Seabrook in the prime of his career and having won gold in Vancouver. Ditto here with Subban, although he was mostly a passenger in Sochi. Regardless, I don't like taking inferior talents just because they hold their stick on the right side of their body — or, rather, the left side in this case.
I get that Subban is a high-risk player and that Muzzin is a safer, albeit less talented option if that was the deciding factor. Also working in Muzzin's favour was his familiarity with Doughty from forming a tandem in Los Angeles. However, it is well known that Canada's coach Mike Babcock is hardcore about the left-right pairings and not having same-handed partners. I have the utmost respect for Babcock, but I have to respectfully agree to disagree on this front. I'd be picking the best players regardless of what way they shoot — granted, you don't want six righties, but four shouldn't be a big deal — and Subban would definitely be on my roster for the World Cup.
SICARD: There's a few angles to this debate. On one hand, there's no doubt that it's easier to operate on the left side of the ice as a left-handed defenseman. But should that come at the cost of having a less talented team? That's where the proponents of this school of thought lose me. You'll never be able to convince me, or really anyone with a brain, that Muzzin is a better fit on Team Canada than P.K frickin' Subban.
The funny thing is, Canada is so loaded that it probably won't even matter. With the Americans making some absolutely deplorable decisions (leaving Kessel off the team), and Russia still not having a semblance of a real blue-line, Canada should once again stake its claim as the world's greatest hockey nation without much hassle.
BONUS TOPICS
Speaking of Subban, is there any way Edmonton could get him from Montreal without giving up Taylor Hall? Do you think Subban gets dealt before his no-trade clause kicks in on July 1?
FISHER: Yes and yes. I do think Edmonton can land Subban without Hall, and I do sense that Subban will be traded between now and July 1, likely at the draft. Do I think Edmonton is the frontrunner for Subban? Probably. Do I think that's a good fit going forward? Not necessarily.
Edmonton badly wants a top-pairing, franchise-type, right-handed defenceman. Subban fits the bill and is among the very best options. Montreal badly wants to draft Pierre-Luc Dubois, the talented and versatile French Canadian forward with size and skill. Edmonton has the fourth overall pick, which could be used on Dubois, who won't be available when Montreal selects at ninth.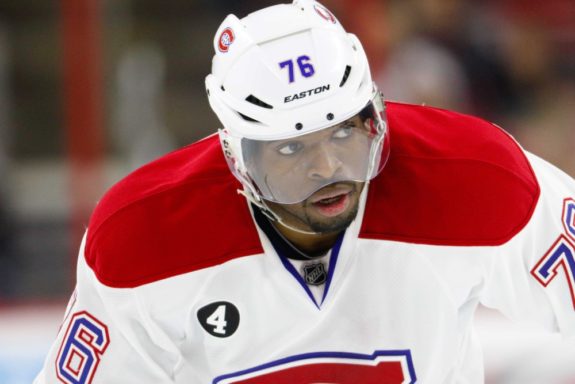 That pick alone isn't worth Subban, not even close. The common rumour is Hall and No. 4 for Subban, with conflicting opinions on whether Montreal would have to send No. 9 back to Edmonton to balance the deal. That seems fair enough — Hall and No. 4 for Subban and No. 9. However, if the Oilers trade Hall to address the defence hole, then Edmonton's left-wing depth chart has Benoit Pouliot, Patrick Maroon, Lauri Korpikoski and Matt Hendricks. In other words, the Oilers would be plugging one hole but creating another massive one. Pouliot, Maroon and Korpikoski are all best suited to be third-liners on a contending team, so having two of them in the top-six isn't a recipe for success.
Edmonton's strength is at centre and Montreal could use an upgrade there too. So what if the Oilers offered No. 4, plus Montreal's choice of Ryan Nugent-Hopkins or Leon Draisaitl, plus either Pouliot or Nail Yakupov for Subban as a 3-for-1 package? Pouliot is another French Canadian who has grown as a player since his first stint with the Habs, while Yakupov is a friend and former junior teammate of Alex Galchenyuk who could benefit from a change of scenery. I know Félix is a Habs fan at heart, so I can't wait to see whether he'd accept that offer or tell me — and Peter Chiarelli — to go fly a kite.
SICARD: No, no, NO! Why is this still a topic of conversation? Subban cannot, and will not, be traded from the Montreal Canadiens this summer. How many times do I have to defend this point? Subban is objectively the best skater on the current roster. Without him, the blue-line, though dotted with talent, isn't nearly as impressive. His impact on the community and his importance to ticket and merchandise sales all factor into why Montreal would never part ways with Subban unless something catastrophic were to happen. Ownership simply wouldn't allow it. So no, I won't even entertain this trade "rumour". Subban isn't going anywhere but the Bell Centre come October.
It's been fairly quiet on the Ducks' coaching front. Any hunches on who Anaheim might be hiring? Anybody in particular you are hoping it will be or won't be?
FISHER: I'll let Félix field this one for the most part, but the three names that I'm hearing associated with Anaheim are Randy Carlyle, Travis Green and Paul MacLean. I'd probably rank them in that order in terms of likeliness, but I'd personally prefer the up-and-coming Green, a former Ducks player who has done wonders with Vancouver's farm team, the Utica Comets. Carlyle and Ducks GM Bob Murray are good buddies and they have met about this vacancy, so that reunion seems the most likely, but I don't know what's changed with Carlyle or the Ducks to ensure better success this time around? MacLean is already on Anaheim's staff as an assistant brought into the fold last offseason, so those would be my frontrunners, but maybe Félix knows something I don't, or has some others names to consider?
Who should be the next head coach for #NHLDucks? #NHL #THW

— Facing Off (@FacingOff_THW) June 6, 2016
SICARD: The Ducks' coaching search has been slow and methodical, but with big names like Guy Boucher now off the market, I'm expecting a resolution to the saga within the coming week or two. Carlyle has been in the conversation, but I get the feeling that his involvement in the interview process has been a bit overblown because of his name recognition. Yes, he's had success with the Ducks in the past, but I don't think Murray would be foolish enough to ignore Carlyle's horrendous tenure in Toronto. Then again, Murray may also think that this veteran group needs a disciplinarian like Carlyle to whip them into the Stanley Cup Final. The latter scenario seems plausible, which should be a frightening thought for Ducks fans.
To Larry's point, Green is an interesting candidate, and the early reports are that he's a bit more progressive, something that could certainly help Anaheim make the most of its offensive firepower. I hope it'll be someone like Green but, sadly, if Murray was dumb enough to get rid of a great coach like Bruce Boudreau, then I could see him being dumb enough to think that hiring Carlyle again is a good idea. Exciting times in Anaheim!
---
Who won this round of Facing Off? Feel free to weigh-in with your opinions in the comments below. We will be checking in periodically to both defend and expand on our initial answers. If you want to see us face-off over a topic, we're open to suggestions as well.