Facing Off is a weekly column debating five of hockey's hottest topics each and every Monday. From current events like trades and hat tricks to bigger-picture stuff like scandals and expansion — you name it, we're debating it. Albeit, not always with a serious tone. We're keeping this column light, so keep that in mind when reading, and feel free to join in on the fun by leaving a comment. Follow us on Twitter (@FacingOff_THW) and get in on the debate there too.

The World Cup of Hockey has come and gone. In a flash, it seems, but the eight-team tournament was well received amid a busy sporting month.
Nobody knew what to expect, but this World Cup met or exceeded the expectations of most. Aside from maybe Ryan Kesler . . . but his comments about the lack of atmosphere in Toronto throughout the showcase might have been a bit of sour grapes too. His Team USA sucked lemons, that's for sure.
There was some anticipation of an anticlimactic ending after Team Europe stunned Sweden in the semifinals, setting up what many believed would be a convincing sweep for defending champion Canada in the best-of-three final. But Europe didn't go down easily by any means and kept things interesting until the final horn.
Sure, it was still a sweep, but it wasn't a cakewalk for the almighty Canadians. It was quality entertainment.
Props to Canada, though, for staying on top of the hockey world at the senior men's level — now the two-time reigning Olympic (2010, 2014), world championship (2015, 2016) and World Cup (2004, 2016) winners. Talk about undisputed.
Sebastian Hedley-Noble, one of our Facing Off regulars, returns to help close the book on the World Cup of Hockey and turn to the page to the upcoming NHL season.
What will be your lasting memories of this World Cup? Or will you even remember it a year from now? What were the highlights for you? Did you lose interest at any point, or were you on the edge of your seat until Brad Marchand's winning goal?
HEDLEY-NOBLE: I'll absolutely remember this year's World Cup, no doubt about it. I loved watching Team North America, but perhaps that's because one of my favorite players, Nathan MacKinnon, was on fire — and besides him, the whole team was just pure exciting hockey to watch. MacKinnon's OT goal, toe-dragging the puck around Henrik Lundqvist's stick and putting it top shelf on the backhand, was brilliant. That's the highlight for me, hands down.
However, besides watching North America, all the other teams seemed not ready, too slow or just uninterested. Sweden, Finland, USA and Russia were underwhelming, which for me was a big letdown.
Europe looked like garbage in their exhibition matches against TNA, then came to life in the round robin. Canada was expected to dominate on home soil and they did just that.
So, yes, I did lose a bit of interest after North America won their game yet didn't get to move on — we won't get into that, will we? — but it was still the World Cup in September when we are all starving for hockey, so I continued watching it despite my disappointment all the way until Marchand's winner.
FISHER: I felt compelled to watch this tournament to its conclusion, partially because of the calibre of hockey and partially because I've lost interest in most other sports lately. The Blue Jays' playoff push was somewhat captivating at times and the NFL season kicking off intrigued me for a minute or two, but not enough to change the channel away from the World Cup action.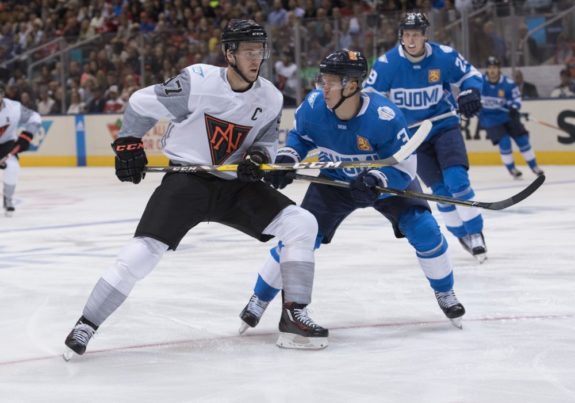 Although I have to admit, my interest waned a bit — ever so slightly — when Team North America was eliminated. Nothing against a Canada-Russia semifinal, I mean it doesn't get much better than that — I have an appreciation for the historic Summit Series and the longstanding rivalry that predates my existence — but I really, REALLY wanted to see that under-24 dream team take on Canada.
I'm convinced that would have been the game of the tournament and I truly believe we could have witnessed an upset there. North America would have been riding a wave of momentum thanks to MacKinnon's heroics against Sweden and would have had nothing to lose against big, bad Canada, so I totally could have seen the kids coming out on top. They were hard not to cheer for — playing a fun, run-and-gun style — but once I came to grips with TNA's elimination, I got back on the Team Canada bandwagon and rode it half-heartedly the rest of the way.
There were plenty of highlights from start to finish, but — much like Sebastian — the memories that will stick with me mostly revolve around Team North America. We might never see anything like that again — I highly doubt there will be a TNA 2.0 in 2020 — but it was a thrill-a-minute while it lasted. If only it could have lasted a little longer . . .
Based on the World Cup, do you have any predictions for the upcoming NHL season? Players that will break out, bounce back or perhaps go bust? What were some of your takeaways from that tournament?
HEDLEY-NOBLE: Well, I definitely think those players who participated in the tournament will have a bit of an extra edge, having already played at a very high level entering the new season. There were numerous players who stood out, and there were those who were almost invisible.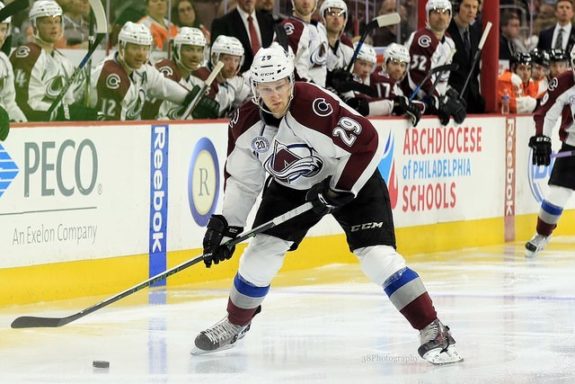 You know I'm going to mention MacKinnon here when it comes to who I think will have a breakout season ­­— in part due to the World Cup. He stood out above the rest on a team that had Connor McDavid, Auston Matthews and Jack Eichel.
Besides that, I really don't want to make any crazy predictions based on a few weeks of hockey, though — like MacKinnon — I think many players who had great tournaments will come out flying for the new NHL season.
The biggest takeaways for me will be watching the first Team North America, the United States' complete disaster, Canada's dominance, and the underdog Team Europe coming together under Ralph Krueger. I really enjoyed the tournament overall, but if it's going to mean the end of the NHL's participation in the Olympics, I won't be too thrilled.
FISHER: I'm going to go way out on a limb here and predict that Sidney Crosby will win the Art Ross and Hart trophies in 2017. Heck, I'll predict that, providing he doesn't get hurt, Crosby will win both in a landslide. That may not be overly bold, but the Pittsburgh Penguins captain proved once again that he's the game's best player and that it isn't even close when it comes to a best-on-best showdown. Patrick Kane, Alex Ovechkin and the other superstars paled in comparison. Their impact was nowhere near that of Crosby, who added World Cup MVP to his Conn Smythe Trophy from this past spring as the playoff MVP — and there was little debate this time around.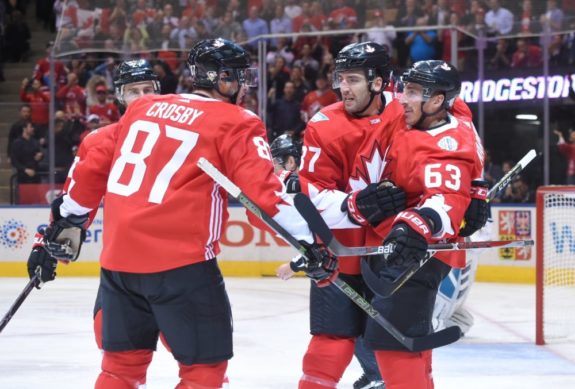 Granted, Marchand was worthy of consideration as the tournament's leading goal-scorer and for netting the title-clincher — and, yes, Phil Kessel got snubbed again, inexplicably left off the American roster — but Crosby was a dominant force and really took that Canadian team on his shoulders at the World Cup. He was absolutely deserving of those accolades and there will almost certainly be more to come.
I figured Sebastian would pump MacKinnon's tires here, and I had planned on doing the same. He was arguably Team North America's MVP — I would argue in his favour — and was dangerous on almost every shift. I do see that carrying over to the regular season, so I'll echo Sebastian's prediction of MacKinnon breaking out. I think he's capable of being a point-per-game player and finishing among the league's top-10 scoring leaders. I'll say MacKinnon nets 35 goals and roughly 75 points, though I'm not sure it'll be enough to get the Colorado Avalanche into the playoffs. I'm still torn on that front as I finalize my preseason standings predictions.
I'll leave the busts alone too, although a good number of those Team USA forwards have clearly lost a step, but here are two other takeaways. Carey Price is bouncing back and it didn't take him long to return to form. That save on Marian Hossa mere seconds before Marchand's decisive goal was proof that Price is back to being a clutch performer. That's great news for the Montreal Canadiens' playoff chances, so long as Price stays healthy.
Lastly, Krueger was the tournament's top coach and did a masterful job of getting Team Europe to buy into a winning system — and, more importantly, a winning mentality — after being humbled by Team North America in those exhibition games that Sebastian alluded to. That group really bonded together and made so much progress in such little time that it's only a matter of time until Krueger is back behind an NHL bench. That is, if he so desires.
Krueger was asked about a potential return and the possible challenge of inheriting Las Vegas' expansion roster, but he was noncommittal. I think that would be a great fit for Krueger and I'm sure his name is now topping the list of candidates for Bill Foley and George McPhee. First things first, they have to announce their team name and I wonder whether that could happen this week? My money is on the Desert Knights.
As for the Olympics and whether the World Cup will do away with NHL participation, Mike Babcock was blunt — and bang-on — in his assessment:
Mike Babcock: "The World Cup is great, but it's not the Olympics. Let's not get confused."

— Chris Johnston (@reporterchris) September 27, 2016
The more high-level international hockey, the better as far as I'm concerned. Bring on PyeongChang 2018. That announcement should be coming any day now too.
Jacob Trouba didn't play much for Team North America and now he's refusing to play for the Winnipeg Jets. When, or will, Trouba be traded? What teams make the most sense? Any predictions on a potential return?
HEDLEY-NOBLE: I say absolutely he gets traded after his agent came out and said so himself. I'm sure both sides want a deal done as soon as possible, as neither wants to be stuck in that situation. Trouba wants to be playing hockey, while the Jets would like a nice return and be rid of this distraction once and for all.
Trouba will be highly sought after — he's a right-handed shot that can play in all situations. I'd assume the list of teams trying to put together a trade is pretty large. The Edmonton Oilers immediately come to mind, since they were reportedly after Tyson Barrie and are still looking for a top-pairing, right-handed defenseman like Trouba has the potential to become. However, Edmonton did acquire Adam Larsson, which does help in the same regard.
Other teams I could see going hard after Trouba would be the Boston Bruins, Arizona Coyotes, Detroit Red Wings and the Toronto Maple Leafs. Any return would have to be substantial, depending on what the Jets prefer of course. They can keep stockpiling young talent or grab a solid NHLer in return. It will be fun to watch!
Jacob Trouba has requested a trade from the Winnipeg Jets https://t.co/p8uEYGCCkW pic.twitter.com/ito7K6v1Gk

— Sportsnet (@Sportsnet) September 24, 2016
FISHER: What about your Avs? I'm a little shocked Sebastian didn't include Colorado among the teams trying to land Trouba. I have the Avalanche near the top of my list. The only issue is they are already strong on the right side with Erik Johnson and Tyson Barrie, and Trouba's reasoning for wanting out of Winnipeg is the fact he's stuck behind Dustin Byfuglien and now Tyler Myers. Trouba is adamant about playing a top-four role on his natural side, but I wonder whether Johnson or Barrie could shift over to the left? If so, Nikita Zadorov could be a quality addition to the Jets' young core as a promising lefty, but that obviously wouldn't be enough as a 1-for-1. The Avs would have to add a solid prospect, possibly somebody like this year's second-rounder Cam Morrison.
I can comprehend the rationale for most of the teams that Sebastian mentioned, and I'll add the Anaheim Ducks, Buffalo Sabres, Carolina Hurricanes and Philadelphia Flyers as other possibilities. Cam Fowler, Jake McCabe, Haydn Fleury or Jake Bean, and Travis Sanheim or Ivan Provorov are all lefties of potential interest to Winnipeg.
Edmonton needs another right-handed defenceman, but it needs to be somebody more like Barrie than Trouba. Larsson and Trouba possess a similar skill-set, so that would be a bit redundant, although you can never have too much of a good thing — and the Oilers would have to listen if and when Kevin Cheveldayoff calls up Peter Chiarelli. In saying that, Edmonton should be targeting more of an offensive catalyst who can quarterback the power play with a booming shot from the point. Trouba doesn't really fit that bill — he's more of an all-around type like Larsson, or Oscar Klefbom — so I don't see the Oilers being overly interested, shocking as that might be. I don't think Edmonton would part with any of Ryan Nugent-Hopkins, Darnell Nurse, Leon Draisaitl, Jesse Puljujarvi or Klefbom in a deal for Trouba and nothing else would make sense from Winnipeg's standpoint.
Nevertheless, there is a Dec. 1 deadline looming in which Trouba must be traded by then or he'll be ineligible to play for the rest of this season. I don't see this situation dragging out that long, and I have a hunch that it'll be resolved sooner than later. Don't count out Toronto. I could see something like Trouba for Jake Gardiner and either Travis Dermott or Andrew Nielsen. There are so many options and Trouba's services are obviously in demand, so something will get done in the next couple weeks. Certainly before November. And, no, I don't see a happy ending in Winnipeg like Jonathan Drouin had in Tampa Bay.
Trouba is hogging the headlines — because he's asked for a trade — but do you see any of the other unsigned RFAs getting moved? Out of those seven, besides Trouba, do we see any holdouts or do the other six all get new deals done in time for the season?
HEDLEY-NOBLE: Talk about the wrong way to hog the headlines, eh? Well let's go player by player. All signs are pointing to Johnny Gaudreau re-signing with the Calgary Flames. I'd be shocked if they didn't get a deal done before opening night — Sean Monahan doesn't want to be called a liar!
Hampus Lindholm doesn't sound happy with the Anaheim Ducks according to Bob McKenzie, and we've been hearing Lindholm trade rumors all summer, so I'll be bold and say he gets shipped off. Another Duck, Rickard Rakell, is also without a new contract, but he'll stay depending on Lindholm. Anaheim only has about $7.5 million left in cap space, and Lindholm wants a large chunk of that.
Nikita Kucherov, despite not having a deal yet, is apparently practising with his Tampa Bay Lightning teammates, so I take that as a sure sign of a deal getting done very soon.
Same goes for Rasmus Ristolainen and the Buffalo Sabres. Correct me if I'm wrong, but I heard he is also practising with his teammates, so expect a contract signed there too.
Tobias Rieder is one I can't really put my finger on. He's put up nice numbers and is only looking for $2.5 million — a number that seems pretty fair to me, so what are the Arizona Coyotes waiting for exactly?
FISHER: That's a good rundown Sebastian and McKenzie emptied his notebook regarding RFAs on Twitter this past week, to bring everybody up to speed on all these lingering negotiations. With training camps and preseason action now in full swing and the regular season just over a week away, it's crunch time for these six — and for Trouba, for that matter. They want to get playing, but first, they want to get paid. And paid a lot in some cases.
Gaudreau is asking for $8 million per season on a long-term contract. Calgary would have liked to lock up Gaudreau and Monahan to similar deals, while keeping captain Mark Giordano as the team's highest-paid player at $6.75 million. That ain't happening. Not now, not after Gaudreau drove up his value even further with an impressive performance at the World Cup where he was in the running with MacKinnon as Team North America's top forward.
As a result, the Flames are going to have to back a Brinks truck up to Gaudreau's doorstep to keep him in the fold. Monahan signed in the summer for seven years at $6.375 million, but Gaudreau's cap hit is definitely going to start with a 7 and might be closer to the 8 he's seeking. No hometown discount there, and if the Flames keep playing hardball and the season actually starts with Gaudreau on the sidelines, that situation could spiral into trade speculation. I don't see it coming to that, though. Brad Treliving is proving to be an astute general manager and he'll get this deal done — he just might not be thrilled with the terms.
The Lightning don't have much wiggle room with their cap situation going forward, so Steve Yzerman will have to work some serious magic to keep Kucherov in Tampa. A rumour has surfaced that Kucherov could be fielding offers from the KHL and I suspect he's also waiting on Gaudreau to an extent. Most expect Gaudreau to stay in Calgary and if he gets north of $7 million per season, that gives Kucherov more bargaining power. The state taxes in Florida should work in Yzerman's favour again — as was the case with Steven Stamkos and Victor Hedman — but I don't think Kucherov is a slam dunk to sign there. Something tells me that he could be a holdout when the puck drops.
Lindholm does seem the most likely to be traded from this list, but the Ducks are going to put their best offer on the table this week before making any moves. Unlike Ristolainen and Kucherov, Lindholm hasn't reported to Anaheim's training camp — he's still back in Sweden and has offers to stay there as well. The Ducks operate on an internal budget, so they might not have the cap space for both Lindholm and Rakell. Something has to give there and it's starting to sound more like the defenceman will be shipped out. Anaheim would be dealing from a position of strength and Lindholm could fetch more than Cam Fowler, who was being shopped at the draft.
Edmonton might have more interest in Lindholm than Trouba, but the Ducks would want Jordan Eberle, Draisaitl or Nugent-Hopkins in return and the Oilers may not be willing to go to those extremes. The same teams pursuing Trouba will be putting in calls on Lindholm, albeit with different packages — Winnipeg wants a left-handed defenceman, Anaheim will be after top-six forwards and likely a left-winger. What if Buffalo offered Evander Kane and Alex Nylander? It seems steep, but I don't think it's out of the realm of possibility. Maybe the Sabres make the Ducks take back Cody Franson as part of the deal.
Rakell is apparently close to signing a six-year extension worth just under $4 million per season, which would be great value for the Ducks. Expect him to stay put.
Rieder is as good as gone from Arizona. Ottawa's Curtis Lazar and Edmonton's Nail Yakupov could be targets in return, though the Coyotes might need to throw in a draft pick. Rieder's agent has a reputation for being difficult to deal with, but I tend to agree with Sebastian that a two-year deal at $2.5 million annually seems fair enough.
Yakupov is entering his second year of that exact contract and requested a trade last season before rescinding and reporting to camp, but he's going to struggle to fit into Edmonton's depth chart this season. I'm not sure where Rieder would slot in either — especially if Kris Versteeg is signed — but the Oilers originally drafted Rieder and he looked good at the World Cup, so I assume there would be interest in him.
The Oilers also want another second-round pick in the 2017 draft — they have to forfeit their own to Boston for hiring Chiarelli — so if the Coyotes brought that to the table, along with Rieder, I could see Yakupov and a lower pick or mid-level prospect going the other way. Then again, Edmonton's preference would probably be to move Yakupov outside the division — ideally to the Eastern Conference — because the Oilers wouldn't want to be burned by him on a regular basis, and I could totally see Yakupov lighting it up alongside all of Arizona's talented young forwards. John Chayka can probably see that too. Something to watch out for.
What other storylines have caught your eye from the first week of preseason play? Any cuts seem surprising so far? Which training camp battles are you most intrigued by? Are you keen on any of the PTO guys getting contracts?
HEDLEY-NOBLE: Sadly, I don't have a million eyeballs or I'd be watching all the preseason action I could get. Concentrating on my two teams — the Colorado Avalanche and Florida Panthers — I'll be much more able to answer this question!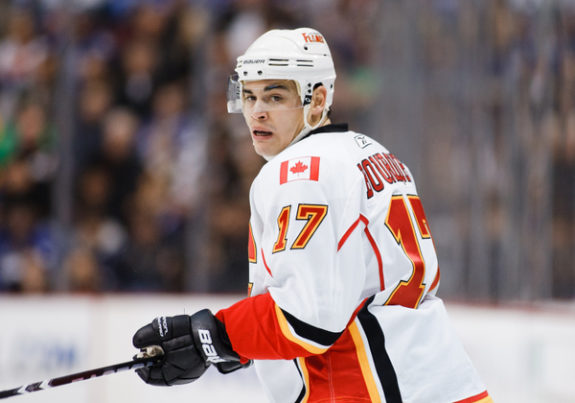 I haven't been surprised by any cuts thus far. The training-camp battles are where things get juicy though. In Denver and Sunrise, most of the battles are taking place for just a couple of available positions. Both teams have some really tough decisions to make regarding who stays or who is sent down/put on waivers. I get pumped watching the young guns compete for roster spots, such as Colorado's Mikko Rantanen, J.T. Compher, Nikita Zadorov and Chris Bigras. In Florida, Denis Malgin, Kyle Rau, Jonathan Marchessault and Michael Matheson are all very exciting to watch in preseason battles.
As for the PTOs, the Avalanche brought in Gabriel Bourque and Rene Bourque, with Rene showing he's still got it and is very hungry to land a spot. I think Rene has four points in two preseason games with Colorado at the moment. New head coach Jared Bednar really likes what he's seen from Bourque, and it seems he has the best shot at making the team.
On the Panthers' side, they've already released Justin Fontaine, Stephen MacAulay and Ryan Horvat, so not much to discuss there.
I was rooting for Peter Mueller on a PTO with the Boston Bruins, but he's since been released. I absolutely loved Mueller's game when he came to Colorado before getting concussed by Rob Blake, and things just haven't gone his way since that hit. What about you, Larry? How is Kris Versteeg looking in an Edmonton Oilers uniform?
FISHER: Versteeg is looking good for the most part and seems like a lock to sign a contract, probably just for one season in the $1-$2 million range. Depending how he does over these last three preseason games, I could see Versteeg getting $1.5 or $1.75, but I definitely see a deal getting done with Edmonton.
#YEG | Beauty feed from @Pitty687 for the Versteeg tally! pic.twitter.com/c2iPhc6fl3

— Edmonton Oilers (@EdmontonOilers) September 27, 2016
I'll caution Colorado fans and followers not to get on the Rene Bourque bandwagon. He's a perennial tease, a guy with all the talent in the world but no consistency when the going gets tough. It wouldn't surprise me to see him get signed, but I also wouldn't be shocked if he's waived within a month or gets banished to the press box as a healthy scratch. You've been warned!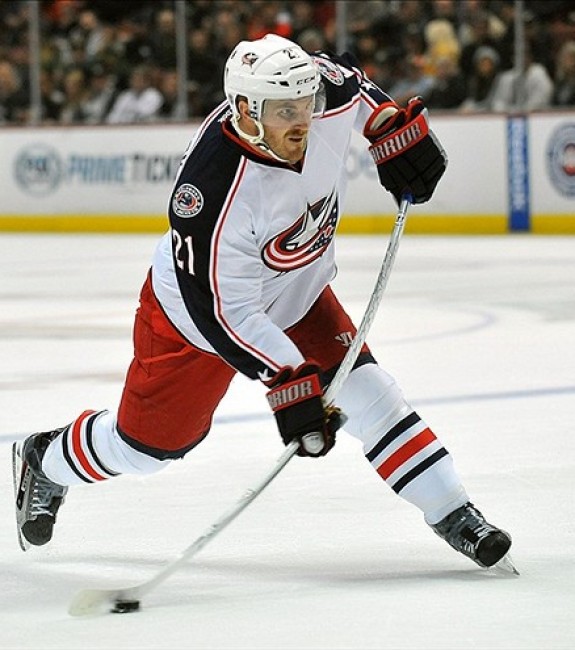 It was a bit surprising to see James Wisniewski's tryout end so soon in Tampa Bay, but I knew that roster would be tough for him to crack. I assume Yzerman let him go sooner than later to give Wisniewski a chance at catching on elsewhere. He wouldn't be the first player to get released from one PTO, accept another audition and end up signing a contract. Again, the Oilers could have interest — still in the market for a right-shooting, power-play option. I do expect Wisniewski to get another look from some team this week.
I thought Fontaine would have stuck around longer in Florida too. I've always liked him as a depth forward — dating back to his Bonnyville Pontiacs days — and still think he could be serviceable for a few more years. It'll be interesting to see what's next for Fontaine. Linus Hultstrom was another early cut by the Panthers. He was sent to the minors, to adjust to the North American game, but Hultstrom had been one of the best point-producing defencemen in Sweden last season and I saw him as a sleeper pick in Florida. I expected Hultstrom to push for a spot there, but his initial audition didn't last long at all.
The same can be said for Jordan Subban in Vancouver. The Canucks only gave him one exhibition game before a demotion, which seemed odd, but Troy Stecher has stolen the show there as a puck-moving prospect — surpassing Subban on the organizational depth chart in the process. Vancouver is an intriguing team this preseason in terms of training-camp battles, with Tuomo Ruutu and Jack Skille looking good on PTOs and even James Sheppard to a lesser degree. Will the Canucks sign a couple of them and try to stay competitive or just play their prospects — sink or swim — in embracing a rebuild?
There are battles all across the league. Detroit has some interesting decisions to make — especially on defence — with several prospects now needing to clear waivers in order to be demoted. I expect the Red Wings to lose at least one, if not two, of their odd-men out when those cuts come down. That opens the door for trade potential in the meantime. I wonder if Detroit could be another possible destination for Yakupov. Ryan Sproul should be on Edmonton's radar as an offensive right-handed defenceman. Yakupov for Sproul and either Martin Frk or Mitch Callahan, all of whom could be claimed? Yakupov for Sproul and Tyler Bertuzzi might make more sense. I can't see Sproul getting back to Grand Rapids. The Oilers should snag him one way or the other. We shall see.
---
Who won this round of Facing Off? Feel free to weigh-in with your opinions in the comments below. We will be checking in periodically to both defend and expand on our initial answers. If you want to see us face-off over a topic, we're open to suggestions as well.
---
The Hockey Writers coverage of the World Cup of Hockey 2016 was brought to you by PrimeSport, the official Fan Travel & Hospitality Package Partner of the World Cup of Hockey 2016.