Before a big game, players may be sleeping, focusing on trying to score the game-winning goal that lifts their team ahead. Some are simply resting, trying to relax and focus. John Scott, however, is on YouTube and HockeyFights.com, focused on his obligation for the game to come: as an enforcer, his job is to chirp, drop the gloves when necessary and win the fights he picks.
"I'll be honest. You can never shut it off. It's a 24/7 job. When you know a fight is coming up, you can never shut off your brain," Scott wrote of fighting in his Players' Tribune piece. "You can be the toughest, baddest guy in the NHL, and there's still that fear."
Blood. Battles. A war on ice. In the sport of ice hockey, each player possesses a skill, and with it comes a preordained position on the roster. For the NHL enforcer, their job is not to score the game-winning goal, or to make highlight-reel plays, but to throw hard hits, intimidate opponents, protect teammates and drop the gloves.
It may seem like an easy job, one that requires a tall, heavy player to use his size and strength to fight, but it takes a toll. It leaves marks, and on the outside, the impact might mean a broken nose, bloodied knuckles, a stitched-up gash or a missing tooth. However, the scars that don't show, the ones that hide on the inside, cut the deepest. And the one that has affected the lives of many hockey players is in the form of a chilling brain disease.
Deterioration of a Brain on Sports
Chronic Traumatic Encephalopathy, or CTE as it is called, is a degenerative brain disease found in many athletes, especially those who suffer brain trauma, concussions or repetitive blows to the head. The disease can only be diagnosed posthumously.
The progressive condition can come on at any time. The repetitive trauma leads to a build-up of tau protein, an abnormal protein which kills and eats away at brain cells. Even after the trauma ends, the effects remain, and the disease continues in the brain.
CTE leaves behind a barrage of symptoms, including memory loss, impaired judgment, confusion, anger, impulsive behavior, aggression, depression and eventually, dementia. A visual depiction of the brain displays the severe effects that the disease leaves behind.
In the National Hockey League, CTE has been found in the brains of deceased players, many of them former tough guys assigned the role of enforcer. After Derek Boogaard's death in May 2011, he and three other former NHLers were examined for CTE. All four of them tested positive.
Boogaard's Life and Death Leaves an Impact
http://gty.im/106916639
It was Boogaard's death, however, that shook the hockey world. The 6-foot-8, 270-pound enforcer may have been a merciless, brutal warrior on the ice — off the ice he was a completely different person. The "Boogeyman" was loved by many; former roommate Brent Burns referred to him as a "teddy bear." His Rangers teammates spoke of what a big heart he had, and how the "Gentle Giant" was harmless, a fun presence and a loving friend.
Boogaard's behavior grew concerning when he joined the Minnesota Wild in 2009-10. He had to watch the beginning of the campaign away from the ice, mainly because he was being treated for drug addiction at the beginning of the year. After that, Boogaard, famous for his friendship, sense of humor and love of life, began to fade.
"His demeanor, his personality, it just left him. He didn't have a personality anymore. He just was kind of – a blank face." – Former teammate John Scott, New York Times
Boogaard experienced ongoing headaches and other complications during that season with the Wild. The next season, the New York Rangers inked him to a four-year deal, reportedly aware of his complications and issues. When he dropped the gloves, he showed no emotion. He continued to deteriorate, and at one point cried in his father's arms.
All of this led to him spending thousands of dollars on painkillers, which he would eventually become dependent on. On May 13, 2011, Boogaard died of a lethal mix of Percocet and alcohol and was found by his brother in his hotel room.
After Boogaard's passing, his family donated his brain to scientific researchers who found that the 28-year-old had advanced CTE in his brain, leading many to question the toll that being an enforcer takes, especially when it comes to head injuries and mental health. Boogaard was just one example; many enforcers unfortunately followed, struggling with head injuries and mental health issues from the impact of their role on the ice.
Enforcers at Risk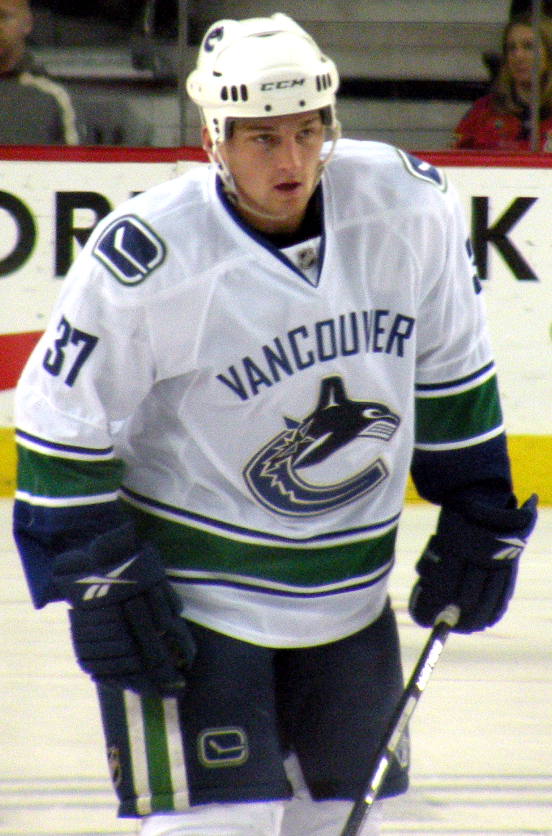 The presence of CTE and the controversial role of the enforcer was debated heavily in 2011, when three players, Boogaard, Rick Rypien and Wade Belak, died within four months of each other. Rypien and Belak died in the month of August of apparent suicides, and both were said to suffer from clinical depression. With no post-mortem analysis available, it is unknown whether they suffered from CTE but one can imagine the toll this job took on him.
Rypien's death was one that led to even more questions about a possible correlation between an enforcer's obligations, head injuries and mental health.
Months before he died, Rypien began to display troubling behavior. In one instance, he attacked a fan in the stands at a Wild game. Former teammate Kevin Bieksa says that he and his wife knew of Rypien's depression after the 27-year-old moved in with them and spent many late nights talking to him about his struggles.
Things were starting to look up for Rypien during the 2011 offseason; he signed a new contract with the Winnipeg Jets and had a hefty support system. However, his battle with several bouts of depression ended in defeat, and he took his own life in mid-August.
His suicide triggered a conversation about the importance of mental health, but because Rypien was never tested for CTE, a correlation between his mental issues and playing career cannot be scientifically proven.
The last enforcer that tested positive for CTE in his brain after his passing was former enforcer Steve Montador. He suffered multiple concussions and also struggled with depression, memory loss and insomnia. His official cause of death, however, is natural causes; at the age of 35, Montador stopped breathing and his heart stopped pumping.
Montador's case may be eerie, but from the stresses he faced day in and day out, one can only try to comprehend why, at such a young age, a physically fit hockey player died of natural causes.
While the number of enforcers to suffer from CTE is getting larger, there are others who have not suffered the effects of CTE at all.
No Proven Link Between Concussions and CTE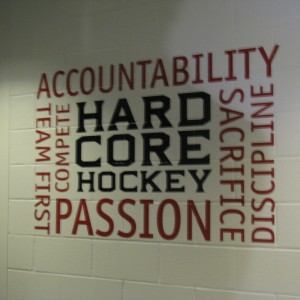 Months after Montador's death, former NHL enforcer Todd Ewen died of a self-inflicted gunshot to the head. Though he and his wife thought he had suffered the effects of CTE, the disease was not found in his brain. Ewen had over 150 NHL fights, as well as an ongoing battle with depression, but never experienced the effects of CTE.
While the number of enforcers that lived with CTE isn't a small one, there are many who suffered head traumas and the rugged nature of the NHL that have escaped with no head trauma or serious brain injury, let alone suffered the lingering effects of it. Former NHL enforcer Tie Domi fought more than any other player, racking up 338 fights and over 3,000 penalty minutes, but has never experienced any form of depression, painkiller addiction or symptoms combined with CTE. He is alive and well at the age of 46.
Though over 90 percent of deceased NHL players tested for the disease were found to have CTE, there is no scientifically proven link between concussions and CTE. In July 2016, NHL Commissioner Gary Bettman penned a 24-page letter in response to Sen. Richard Blumenthal of Connecticut, who inquired about the long-term risks of head trauma. Bettman also criticized the media for "misconceptions that have been repeatedly promoted."
"The science regarding CTE, including the asserted 'link' to concussions that you reference, remains nascent, particularly with respect to what causes CTE and whether it can be diagnosed by specific clinical symptoms… A casual link between concussions and CTE has not been demonstrated… the relationship between concussion and the asserted clinical symptoms of CTE remains unknown." – Bettman
Scientifically speaking, there is no proof that repeated concussions and head injuries will lead to CTE. In some athletes, it will, in others it won't. Science needs to determine what is different in the brains and physiology of those players that do suffer from CTE and those that don't. Those results would help players understand what affect their on-ice actions could have on their long-term physical health.
As the debate continues, Bettman promotes the NHL/NHLPA Concussion program in his responses, and how it has evolved into something that improves and promotes player safety and education, as well as requiring all NHL players to be tested.
Should There Be A "Take Five" for Fighting?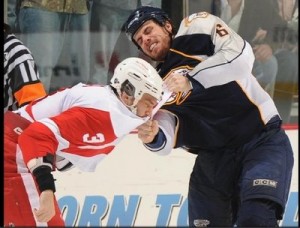 With the prominence of CTE and multiple players stepping forward, the debate on whether or not the NHL should allow fighting continues. While some believe it should die out, because it promotes violence, others believe it is a cornerstone of the game.
The Leafs Nation penned a piece called "I'm Done with Fighting," where they made a case against the presence of fighting in the league. They pointed out how players "sacrifice their brains for [fans'] entertainment" and in the end, there shouldn't be a place for it.
Puck Daddy, however, argues that it is part of the game, and players accept that as the current reality. Editor Greg Wyshynski argued that fighting is what got the Rypiens and Boogaards into the NHL in the first place, and though it may not be good for players, it is "naïve" to argue that it is the root of the NHL's head trauma epidemic. Would the end of fighting stop head trauma from occurring? Though banning fighting may seem like an easy fix, it does not solve the entire problem.
Not Just a Hockey Problem
The occurrence of CTE is linked to other sports besides hockey, such as boxing and football, though people aren't calling for boxers to stop throwing punches or football players to stop tackling each other, and there are obvious reasons for that. Hard hits, punches and collisions are parts of these sports, the cornerstone of tradition. Without them, the sport loses its meaning.
When it comes to the NHL, there are plenty of other factors besides fighting that lead to concussions, such as clean checks, falling against the boards and random contact to the head. That doesn't mean that the NHL should get rid of hitting or skating to avoid the risk that the player doesn't fall or suffer a concussion.
Ultimately, with all of these instances in all these sports in mind, it's understood that not every athlete has been affected, nor have they gone on to develop CTE. Granted, continuous head trauma from punches taken to the face, hard checks or even helmet-to-helmet collisions could have, in part, influenced the development of CTE, but calling an end to fighting in the NHL is analogous to banning peanuts because some people are allergic: just because some are affected doesn't mean all are, and calling for an end to something that only impacts some people would be radical.
There are some NHL enforcers that have come forward to talk about the toll fighting has had on them, and their written words speak volumes. Enforcer Rich Clune wrote about his battle with depression in a Players' Tribune piece, highlighting that players don't dream of going out and fighting players. The anxiety of the game forced Clune to hide behind a smile each morning at practice when he was really waking up in the middle of the night with nosebleeds and starting his days off with alcohol, marijuana and even cocaine.
"I am certainly not unique. There are players in the NHL right now who are suffering and you would never know it from looking at their stat sheet or how hard they compete in practice." – Rich Clune
Another enforcer that has struggled is Zack Kassian, a "goon" whose battle with alcohol led to a severe car accident and several months of rehabilitation, as well as a trade to a new organization. While Sean Avery's out of control behavior on and off the ice eventually led to the end of his playing career, as well as run-ins with the law for drug possession, his actions cannot be directly linked to his career in the NHL.
Without a doubt, the league needs to address this issue, but what they need to focus on is the impact that being an enforcer has on a player's mental wellness. While CTE, concussions and brain trauma are issues that need to be dealt with by the league, those are only the physiological aspects of an enforcer's life.
The Mental Health Toll
The mental toll that their role takes on them can eventually lead to alcoholism, drug addiction, reckless behavior, depression and unfortunately, in some cases, suicide. The psychological damage that enforcers experience, thanks to their job on the ice, needs to be addressed as vitally as instances of CTE.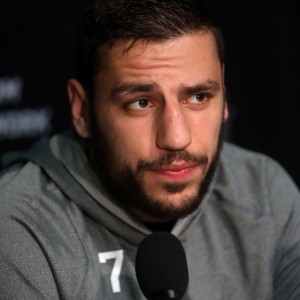 Along with their efforts to reduce the instances of head injuries, concussions and the potential for CTE development, the NHL also needs to focus on providing players with the mental help they need and to ensure that each player on the roster is physically and mentally well.
Fortunately, the role of the classic enforcer seems to be fading, as players like Tom Wilson and Milan Lucic are leading the new wave of fighting, but also play a vital role when it comes to the offensive rush. John Scott was named an All-Star in 2016 and knows that there is more to the game than dropping the gloves.
As the debate for and against fighting continues, one can only hope that along with the continued efforts to keep the players' brains safe, with new concussion protocols and further discussion and research into CTE, its root causes, and treatments, the NHL will start to focus on the impact that being an enforcer or 'tough guy' has on the mental health of its players. The league's Player Safety Department needs to remember that they are responsible for the health and wellness of the entire player, not just the physical parts.