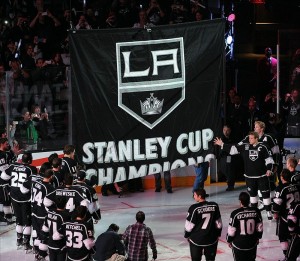 Advice From a Two-Time Fantasy Hockey Champ
I must say, 2010 was a special year for me.  First, it was the year I became engaged to my now beautiful wife.  Second, it was my first year playing fantasy hockey.  I am still in the same twelve person Yahoo! league with the same people.  Indeed I love and hate all of them at the same time after over three seasons filled with injuries, bad trades, and fights over waiver claims.  I am sure I speak for many people when I say some of my best friends are my fantasy hockey enemies.
Nonetheless, I am proud to say that I have won this league for the past two seasons.  In retrospect, my first championship was part in parcel due to trade with my buddy Rafal in which I acquired Jonathan Quick.  Last year, the difference maker for my team was a trade with a friend who will remain anonymous (still bitter about how the trade worked out for him), which sent Sidney Crosby to his team in exchange for Jonathan Toews.   Sure, it was a high-risk, high-reward trade for both of us.  Needless to say, the breeze blew in my direction and I won the crown.
While I am proud of my consecutive championship status, this year as I pursue the "3-peat,"  I am learning a few things.  Perhaps one of the most important lessons, is that the championships are in the waiver wire.  Often times, we are caught up in "blockbuster trade" negotiations.  I admit, I have been involved in many trades since my tenure in the league.  This year is different.  Like the last two seasons, I am sitting pretty, in second place, and leading my league in all categories (standard league categories).  However, my tactic is different this time around.  I reserve two spots on my roster that I like to think of as "the dispensables."  Every week, I see who is hot, I grab them, use them, drop them, and I win.  Interestingly enough, two players who started with "dispensable" statuses, and who now maintain a permanent spot on my roster, play for the Kings.   Lucky for you, these same contributors are still available on the waivers.   In fact, there are a number of Kings available that could really boost your lineup.  Enough about me.  Please see three Los Angeles Kings who I think could bolster your team.
Three Kings Who can Cause Royal Problems for Your Fantasy Hockey Competitors
FANTASY PROFILE:  Martin Jones
Owned in 63% of Yahoo! Leagues, Ranked 17th Overall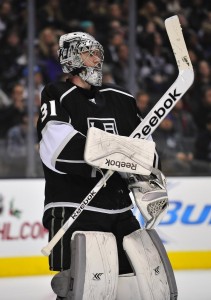 If you haven't heard, Martin Jones has been wreaking havoc on the league since taking the reigns as the Kings' starting net minder in place of the injured Jonathan Quick.  Besides making history by starting his career off at 6-0-0, Jones has been making waves around the league with his impressive saves, consistency, and discipline.  Make no mistake, the Kings play a great defensive game overall, but the youngster's 7-0-0 start has not come easy.  Jones has stopped 207 shots in his seven wins, averaging twenty-nine saves per game.
While Quick is on pace to return soon, if Jones is available in your leagues, grab him; first, he still has a couple more starts likely before he becomes a back-up goalie, and second, he will be an awesome back-up goalie.  With a .85 GAA, and a .971 save percentage, he should not be on waivers.  Do it.  Do it now.
FANTASY PROFILE: Tyler Toffoli
Owned in 16% of Yahoo! Leagues,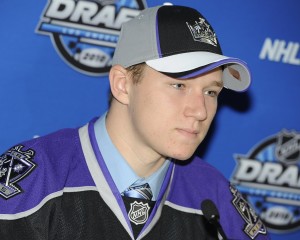 I have been high on this kid since I started watching him in a Kings' uniform.  Every time I watch him play, I like him more and more.  I think he has a bright future in the NHL and I can't wait to see him grow.  I am not the only one, as the Los Angeles Times  has also commented on Toffoli's prolific style of play.
The future star is the perfect plug in for your line-up if you are hurting on the center or wing position.  The first plus is his dual position status (C, RW).   The youngster also continues to collect impressive stats with a solid 9G, 8A, and +13 rating over the course of twenty-two games.  Additionally, with forty-nine shots on goal in twenty-two games, the kid is putting up between two and three shots on goal per game, which is not too shabby considering he is on the third line.  Moral of the story, the young talent is not going to put up elite numbers, but his consistent success is enough to warrant waiver pick-up consideration if you need some boost.
FANTASY PROFILE:  Jarret Stoll
Owned in 3% of Yahoo! Leagues
Perhaps his 4G, 8A stat line does not jump off the screen right away; however, the 31 year old has been playing well as of late, putting up five points over the past seven games.  Moreover, in that time span, Stoll has put up 8 PIM to go along with a +4 rating.  Again, do not expect elite numbers from the vet; however, if you are hurting, the feisty center could provide some great categorical help as we approach the midway point of the season.
I hope this was helpful folks.  The Kings' current roster has championship potential, massive depth, and impressive defensive play.  With all of those characteristics, it is no surprise the roster is filled with fantasy relevance.  I am a believer.  Look at the bright side; I am taking my own advice.  So if it's bad advice, we are all going down together.  Have a wonderful holiday and much luck to you on your fantasy hockey endeavors.
All the Best,
Jesse