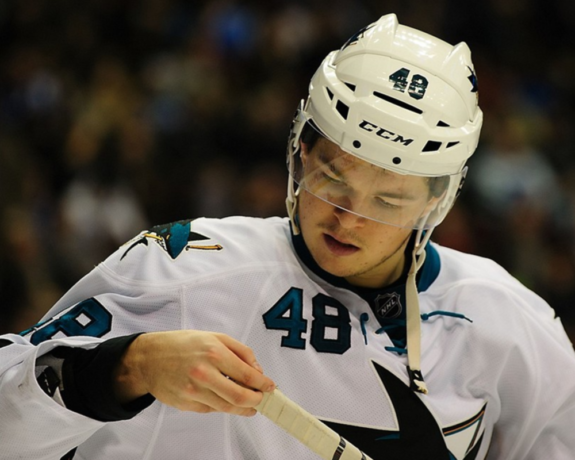 After scoring four goals against the Rangers in just his third NHL game, San Jose Sharks forward Tomas Hertl told the sellout crowd at the SAP Center, "This is dream. This is not reality."
He couldn't have put it any better. It isn't supposed be so easy for Hertl, a 20-year-old rookie playing in his first season in the league. Most rookies don't net 15 goals in their first 35 games and draw comparisons to Jaromir Jagr. Most rookies don't play on alongside Joe Thornton on the first line of a perennial contender. Most rookies aren't among the top-16 in goals scored in the league, nor are they runaway Calder Cup winners in December. Most rookies don't become immediate fan-favorites, but Hertl has by far received the loudest cheers out of any Sharks player at the SAP Center this season.
Hertl, in essence, has been living the dream.
But utopia can't last forever. Eventually, a dream must end and reality must settle in. For Hertl, his first experience of reality came on Thursday night late in the first period of a game against the Kings, when his right knee collided with the right knee of Dustin Brown.
Hertl will miss at least the next month with a knee injury.
As the old saying goes, "You never know what you've got until it's gone." For the Sharks, they knew they had a promising talent when they drafted Hertl 17th overall in 2012, but what were the odds that some teenage rookie from the Czech Republic would not only win a roster spot out of training camp, but also develop into one of the top youngsters in the league?
With his youthful exuberance and energy, Hertl has also become the face of the Sharks' "reset."  The Sharks have had the constant core group of players for years in Joe Thornton, Patrick Marleau, Dan Boyle, Joe Pavelski, and Logan Couture. And while the team has continued its success in making the postseason each and every year, the constant struggle to bring home the Stanley Cup has lingered on and on. Hertl provides the Sharks with exactly what they need in a "reset," and may even be a missing link to a potential championship team.
Nice dream, no?
But for now, that dream is put on hold. For now, the Sharks will have to deal with James Sheppard playing on the top line, and they will have to manage without their prized young talent.
Reality has settled in for 20-year-old rookie Tomas Hertl, and the Sharks will soon find out what they truly have in him.