The U.S. Women's National Team defeated Canada 4-1 last night in Grand Forks, N.D. It was the two teams' fifth match-up of the season.
"I thought everybody played really well tonight," said U.S. head coach Katey Stone after the game. "I thought Molly Schaus played really well in net, staved off a ton of pressure. Our defensemen did a great job in the scenario we spend a lot of time on, and we got to their net. And we really started to possess the puck more in the second period and third period."
Canada opened the scoring 17:22 into the game, with Haley Irwin deflecting a Caroline Ouellette shot. Grand Forks native Monique Lamoureux tied it for the United States with just 11 seconds left in the first period, off of a feed from twin sister Jocelyne.
"It was kind of like a monkey off my back," said Monique, who finished with one goal and one assist. "Scoring hasn't come as easy for me this year and so to get that one great pass from Jocelyne felt pretty good, especially to get one here."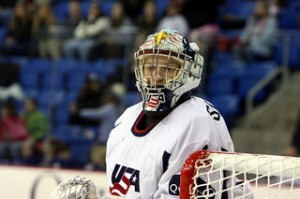 Second period goals from Brianna Decker, Hilary Knight, and Jocelyne Lamoureux were all the United States would need to cap off the victory.
Team USA started the season off 0-3 against the Canadians, then shockingly fell to Finland in the semifinals of the Four Nations Cup. But after defeating Canada 5-1 in Calgary last week, the Americans have now beaten them in two straight contests.
"We're just getting better. We're getting better. And we're taking greater responsibility, individually and collectively, and it's making a difference," Stone said. "It's simple plays. I don't think it's rocket science. We're just taking responsibility for our jobs on the ice and handling the puck, possessing the puck, and getting to their net when we can."
"I think we just started focusing on ourselves," U.S. captain Meghan Duggan said of the team's improvement. "We work on different things in practice, we try to own our defensive zone, be really sound in there, and not let them push us around. We've been forechecking like crazy and basically beating them to every single puck, using our speed, using our size, and it's really worked out for us in the last little bit."
Duggan, who finished the game with two assists, has been captaining the team since the Four Nations.
"It's quite the honor obviously to wear the 'C' for the U.S.," Duggan said. "I think we've got a great group of girls and it's not a tough group to lead. A lot of the girls are passionate about everything that we do and I just throw out reminders here and then and then lead by example. That's all I can ask of myself."
The game got pretty heated in the final ten seconds as a Jocelyne Lamoureux check on Canadian forward Brianne Jenner led to a brawl breaking out. It was the second brawl between the two teams this year, after one started in their Oct. 12 game in Burlington, Vt.
"That player that hit Pucci took her out for a season two seasons ago, and she took a head shot at her," Monique said. "So we're going to stick up for our teammates, and we're going to protect them. I think Jocelyne obviously body-checked her but I think it was clean.
"If you're going to take a head shot at one of our players, there are consequences for playing like that."
Stone echoed that sentiment.
"I'm not a proponent of fighting in hockey. I am a proponent of standing up for yourself," she said. "If players are going to take cheap shots at our players, there's going to be an answer to that. And we will not get pushed around.
"At the end of the day we'll prepare to play any game we have to play. And like I said, we'll go hard, we'll play clean, but if the game gets out of hand we'll manage that as well."
The United States will face Canada next at the Xcel Energy Center in St. Paul, Minn. on Dec. 28. There are less than two months to go until the 2014 Winter Olympics start, so both teams are entering the final stretch.
"We have two more games against them before Sochi," Jocelyne Lamoureux said. "We just have to take care of business every game, especially when it's a one-and-done deal in February. That's what these games are all about, one unlucky bounce can be a loss so we just have to keep doing what we're doing."
"Everybody's down the stretch and making some pretty critical decisions here too so there's a lot of pressure on these kids," Stone said. "They'll just bring their best and we'll just keep trying to get better and hopefully not have too much turkey over the next couple of days."