In today's Fantasy Findings, we will go over how one player's return will breathe life into both his team and their fantasy values and which NHL stars will turn a new leaf moving into 2016.
On January 1st, the Montreal Canadiens and the Boston Bruins were the focus of the hockey world as they faced off in the 2016 NHL Winter Classic. The latest chapter of the storied Original Six rivalry took the two teams outside and onto the field at Gillette Stadium in Foxborough, Massachusetts.
At the conclusion of the NHL's eighth Winter Classic the Canadiens skated off the ice on the winning side of a 5-1 score. It was a big game for obvious reasons, but there was plenty of fantasy implications to take away from this year's Winter Classic.
Steve Laidlaw over at Dobber Hockey spent a big chunk of his January 2nd Hockey Ramblings talking about the Winter Classic. During the post he talked about probably the biggest fantasy storyline the game had to offer, the return of Brendan Gallagher.
Laidlaw said, "Just as expected, the return of Brendan Gallagher paid serious dividends for Montreal. Five goals in total with two of them a credit to Gallagher who scored his 10th of the season and added a primary assist on Max Pacioretty's third period goal that really iced the game when the Bruins were mounting a comeback."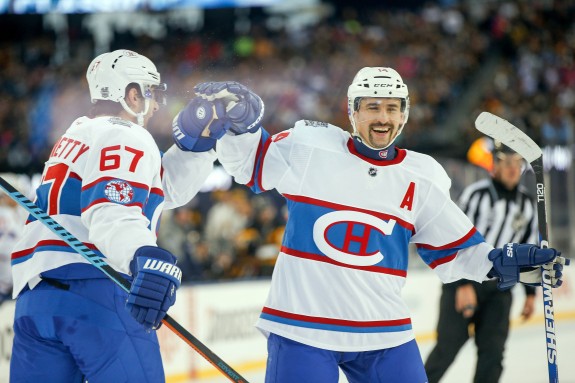 Fantasy Advice: Gallagher Will Save the Day
It is no secret that the Canadiens have struggled recently. A 3-11-0 record in December erased the Canadiens commanding lead in the Atlantic Division and now the Florida Panthers sit only one point behind Montreal after trailing the Canadiens by 11-points on December 8th.
But the return of Gallagher coupled with a convincing win with the entire hockey world watching could light a fire under the Canadiens as they move into 2016.
In the 22 games Gallagher played before he was forced out of the line up, the Canadiens scored 78 goals which averaged out to 3.55 goals per game. The 17 games Gallagher missed, the Canadiens found the back of the net only 31 times which averaged out to a measly 1.82 goals per game.
Laidlaw also touches on the effect that Gallagher's return will have on linemates, Tomas Plekanec and Max Pacioretty, who sturggled through a Gallagherless December. Gallagher (1G, 1A), Plekanec (2A) and Pacioretty (1G, 1A) combined for two goals, four assists and a plus-five raitng in Gallagher's return.
If Gallagher's return doesn't breathe life into the Canadiens and their fantasy values I don't know what will.
---
The New Year is a time for change. Almost everyone chooses bad habits they want to kick to the curb and thinks of things they can do better once the calendar flips to 2016. This time of year is no different in the hockey would. When January first comes around, the league is hovering around the half way point and gives everyone plenty of time to change their game for the better.
Matt Cubeta recently posted an article on NHL.com going over this very situation. He picked 16 players and gave his readers a New Year's resolution for each player. Here are his top three in my opinion. 
"Sidney Crosby – I will raise my shooting percentage"
Crosby and the Pittsburgh Penguins have been struggling all season long. How bad has Crosby been playing? Crosby has 11 goals on 113 shots through 37 games for a 9.7 shooting percentage. 2.
"Corey Perry – I will shoot the puck more"
In 37 games Perry has hit the net only 99 times. In 2010-2011, when Perry set a career high for goals with 50 he fired 290 pucks on net. Perry has averaged 2.67 goals per game this season, a pace he will have to pick up if he wants to produce.
"Jack Eichel – I will lead all rookies in points by season's end"
Eichel (13G, 12A) currently sits in fourth place, nine points out of first, when it come comes to rookie scoring in the NHL. But Eichel's 13-goals has him tied for first with Dylan Larkin of the Detroit Red Wings when it comes to goals scored by a rookie.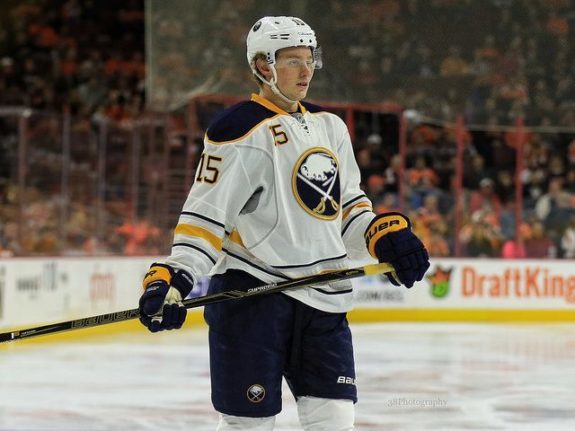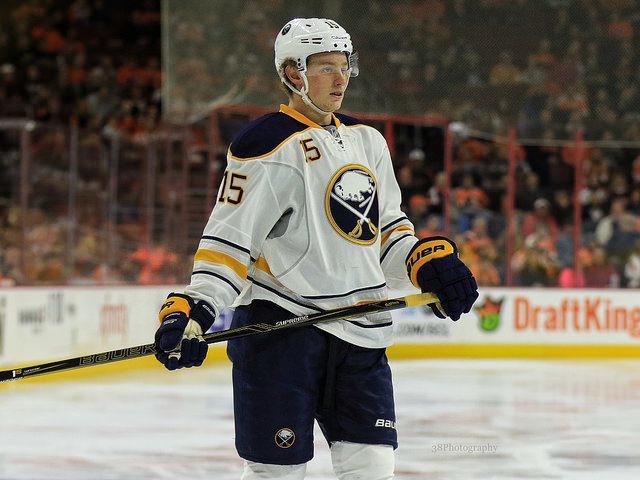 Fantasy Advice: Buy on Eichel and Perry, Sell on Crosby
I said it several weeks ago. Crosby is going to put up a couple games that might tease you, and he has. Crosby has scored a goal in four of his last five games, and has most chanting Crosby is back. But I don't buy it.
Put Crosby on the trade-block now and use this recent spike in production to sell high. And if you have a hard time pulling the trigger remember, in Crosby's first 30 games he was held of the score sheet 17 times. Do you want to suffer though that again?
Now on to Perry. I do believe Perry will shoot the puck more because the Anaheim Ducks have a shot in the Pacific Division. The pacific, outside of the Kings, has been a dumpster fire all season long. The fact that the Ducks are currently in sixth place but are only three points out of second in the division will keep Perry and the Ducks hungry.
And don't look now but the Ducks will play their next eight games at home to get the ball rolling.
Finally, Eichel. The Sabres rookie has found a groove over the last week. Eichel has recorded 11 points (4G, 7A) in his last seven games. Eichel is getting better every game, and his time with the top six forwards and the first power play unit will only help his overall production.
For more fantasy news, be sure to check out THW's fantasy homepage and follow Eric on Twitter at@_Roberts11.