In today's Fantasy Findings, we talk about a trade that shook the NHL and we try to grasp what is going on in Anaheim.
The trade is still very fresh, less than 24-hours fresh. Last night, the Nashville Predators and Columbus Blue Jackets exchanged young studs who were supposed to be the future of their respective organizations.
But the next time Seth Jones hits the ice he will no longer be a part of the Predators, he will be wearing a Blue Jackets sweater. The same goes for Ryan Johansen, the next time he laces up his skates it wont end with a Blue Jackets feel, it will end with a Nashville gold being pulled over his shoulders.
Pete Jensen put together a piece for NHL.com where he said, "The Nashville Predators and Columbus Blue Jackets had glaring needs. They addressed them Wednesday in a trade with each other, and the fantasy landscape should change as a result."
Saying this trade should change the landscape might be putting it mildly. This trade should absolutely shake up the fantasy scene.
Johansen needed a change of scenery. We won't go into much of the details here but Johansen had slowly fallen from grace with those calling the shots in Columbus and he eventually ended up on the trading block.
Johansen will give Nashville the first line center they've been looking for and possibly be the final piece to what could be one of the top lines in the NHL. The possibility of a Filip Forsberg, Johansen and James Neal combination should have Predators fans and fantasy owners drooling.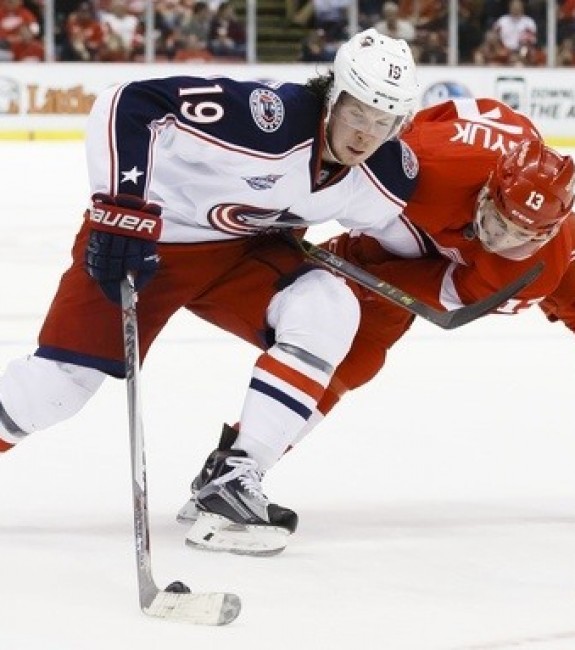 Jensen says, "Even if Johansen is not with Neal and Forsberg at even strength, he should be with them on the Predators' top power-play unit with high-scoring defenseman Weber and Josi. Eleven of Johansen's 26 points this season have come with the man-advantage, so that could only help an already-strong power-play group (19.7 percent, T-11th in NHL entering Wednesday)."
Much like Johansen, Jones will move out from behind Weber and Josi in Nashville and into a top-two defensive pairing in Columbus. Jensen says, "Jones (34 percent owned and counting) should be added immediately if you need a high-upside defenseman in fantasy with the market so slim at the position."
There is an obvious offensive spark coming to Columbus' blue-line in Jones. But the overall defensive upgrade might be the biggest take away. Jensen says, "The 21-year-old shutdown defenseman joins the Blue Jackets, who are allowing 3.17 goals per game this season, the most in the NHL." It's a tall task, but Jones should help the Blue Jackets' backend tremendously.
Fantasy Advice: Johansen and Jones Will Be Fantasy Studs
The fantasy upside that comes with this deal is through the roof. Johansen is out of the dog house in Columbus and Jones is no longer in the shadow of Nashville's big two, which should have the two young studs trending up at a steep angle.
Johansen will probably see the biggest upside of this deal because he is going to the better team. Johansen's numbers (6G, 20A) have been down this year, that's no secret. This move should prove to be a catalyst for Johansen, who scored 33-goals in 2013-14. Possibly jumping onto a line with Forsberg and/or Neal will definitely help as well.
Obviously Jones' offensive contribution will be a breath of fresh air in Columbus, but I think the domino effect from his defensive responsibility is what should be looked at. I'm not going to say Jones' arrival will lock down the wins, but his presence could steal a win here and there and may make some of the cheapest daily fantasy goalies in the league a sleeper pick against some of the NHL's weaker teams.
In the end, this should be seen as the beginning of the season for Jones and Johansen. The two are moving into bigger and better roles for everyone involved. When I say everyone I mean fantasy owners as well, grab them in your leagues if available, slot them in your daily lineups and ride them as they burst through their previous fantasy roofs.
---
Last night things were bad for the Anaheim Ducks. They were on the wrong side of a 4-0 throttling thanks to the Toronto Maple Leafs on home ice. But the even bigger news to take away from this loss was Ducks goalie, John Gibson leaving the game just a minute into the third period due to a lower-body injury.
Before their loss to the Leafs, the Ducks had won four of their last five and hadn't lost in regulation since Dec. 21. Now the Ducks' goalie carousel will shift back to Frederik Andersen who sports a 5-8-5 record with a .913 save percentage and 2.50 goals against average.
So the season of ups and downs continues in Anaheim. Now what?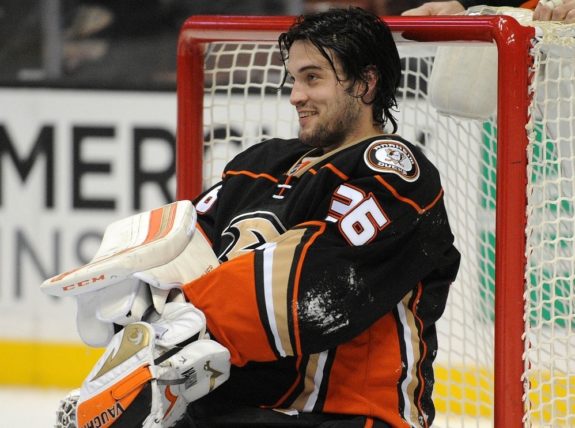 Fantasy Advice: Ride the Ducks Roller Coaster
It is hard for a team to find a groove when there is a different guy between the pipes every night. It is even harder for a goalie to establish a groove when there are so many changes in net, which has been the case in Anaheim.
It's been a revolving door in Anaheim's net. Gibson was thought to have grabbed the number one slot but this injury will likely give Andersen a chance to reclaim that title. There has even been stretches where both Andersen and Gibson have been playing poorly and Anton Khudobin was the regular in net.
I recently wrote that the Ducks' current eight-game home stand, which they currently sit at 1-1-0 on, would be the Ducks' coming out party. I still think it can be. Andersen can play well but he can also play poorly.
At the moment, when it comes to the Ducks, the entire roster not just their goalies, you have to be ready to be let down. But if you drop them in your line up and they pay off, good for you. But be ready for the possible heartbreak. I've fallen victim to both Corey Perry and Gibson this season. But there have been nights where they steal the show.
Take the risk because if it pays it off it will pay off big. But, keep your stress ball handy because it could be a wild ride.
Update: Since publishing this post the Ducks have traded for former Montreal Canadiens goalie, Dustin Tokarski. So add another seat to the carousel in the Duck's crease.
For more fantasy news, be sure to check out THW's fantasy homepage and follow Eric on Twitter at@_Roberts11.