In today's Fantasy Findings, we talk about some unsettling and interesting player statistics as we approach the half way point of the NHL season.
Now that the majority of the teams across the league are reaching that 35 to 40 games played mark and have given everyone a respectable sample size, it is a good time to look at what players have done and get a feel for things going into the second half of the season.
Tom Collins over at Dobber Hockey put together an article listing the top 10 interesting stats where he says, "Some of these stats tell a bigger story on how the season has been going for poolies and some of the players on this list may see their value waver because of how they've performed."
Among Collins' listed statistics is Dylan Larkin's plus-20 rating through 33-games. Larkin has put together a rating good enough for first place in the NHL and if the rookie can manage to hang on to that first place spot come seasons end, according to Collins, it would be the first time a rookie has ever finished the season leading the plus/minus category.
Through out Collins' list he also mentions some troubling stats for some of the league's biggest stars. Collins mentions P.K. Subban's 1.1 shooting percentage and says, "Subban has been successful on just one of his 87 shots," and that this is the lowest shooting percentage of anyone with at least one goal.
However, although Subban may be struggling to ripple the twine, according to Collins, Subban is on pace for a career high 210 shots this season. So while Subban isn't beating goalies, the opportunities are there and his shots are hitting the net.
Fantasy Advice: Ride the Youth and Stay Patient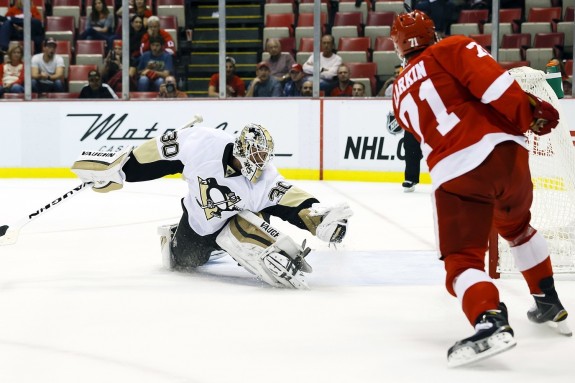 Larkin has been in the spot light all season in Detroit. The rookie is getting first line minutes centering Detroit's first line with Henrik Zetterberg and Justin Abdelkader and is averaging just over (2:03) two minutes of power play time per game.
Offensively, Larkin will get chances because of his skating with Abdelkader and Zetterberg, but skating along side seasoned veterans like those two also brings along a defensive upside which most rookies don't have the pleasure of having.
All signs point to Larkin's production continuing into the second half of the season. Keep Larkin in your line ups and ride the kid's young legs into the post season.
When it comes to Subban don't get frustrated with the lack of goals. There is still plenty of fantasy value to Subban's high volume of shots and his 22 assists so far on the season. Like it's mentioned above, Subban has 87 shots this season, which means he is hitting the net and getting the shot there is half the battle.
Subban is listed at number three on NHL.com's 'Fantasy Top 60 D' with only one goal to his name. Subban will start scoring, his average of nine goals a season says so, and when he does, he'll be a well-rounded fantasy juggernaut and likely shoot to that number one spot.
---
To put it nicely, Sidney Crosby is having a down year. Actually, overall the Pittsburgh Penguins are having a down year. The Penguins currently sit four points out of the Eastern Conference's final wild card spot and has gone 2-6-2 in their last ten games.
But let's focus on Crosby here, he has been a fantasy head ache all season. Very little production and totals suggesting career lows come seasons end have most labeling this Crosby's most disappointing season.
How disappointing? Well, Matt Cubeta put together a piece for NHL.com where he addressed Crosby's totals and whether or not he can turn his season around.
In that article, Cubeta says, "This season Crosby has six goals and 13 assists through 30 games. With an average draft position of No. 2 in Yahoo leagues, Crosby currently ranks No. 138 in fantasy production. This is easily the worst start to his career despite still being considered to be in a prime age season at 28."
Cubeta says Crosby will need 65 points across his final 52 games in order to reach the 84 point mark he hit last season. That's a steep task for almost any player, let alone a struggling Crosby on a team averaging just 2.19 goals per game.
Over the course of Cubeta's post, he states Crosby is not getting the chances he has in the past which stems from his averaging just 2.87 shots per game. Along with his poor point totals, Crosby has been a plus/minus nightmare, where he has grabbed a minus-six rating through 32 games.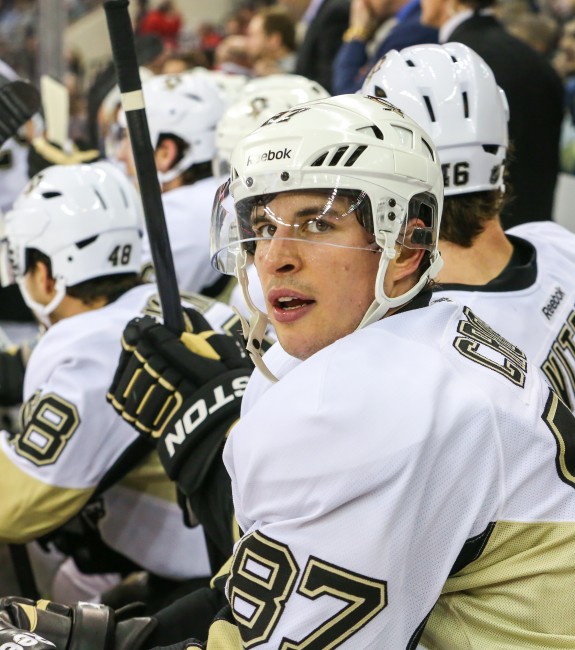 Fantasy Advice: Pull the Trigger
Overall, Crosby has been a fantasy nightmare this season and waiting for him to find his groove, if he does at all, will only hurt you in the long run.
Now is the time to put Crosby on the block and try to get some value back in return. His name still is Sidney Crosby, which should get some value in return no matter the situation. But Crosby is on a team struggling to find its identity which will only slow his comeback.
Don't be fooled by stats like his three-point night back on Oct. 20, where Crosby put up a goal and two assists on the Florida Panthers. Let stats like, through his first 30 games Crosby was held without a point 17 times bring you back down to reality.
Pull the trigger, send Crosby packing, use the value behind his name and not his stats to get something in return that will get you some fantasy value on a nightly basis.
For more fantasy news, be sure to check out THW's fantasy homepage and follow Eric on Twitter at @_Roberts11.