Each week Fantasy Fluctuation looks at the players whose ownership in fantasy hockey has risen and fallen the most, to see what that means for your rosters as you look for steals, to cut bait, or to make a season-changing trade in your league.1
Risers
1. & 3. Adam Henrique (+58.7%) & Lee Stempniak (+57.1%)
What's behind the climb? Stempniak has two goals and three assists over the last five games. Henrique has five goals and three assists in his last six games. That and no one owned them because the Devils are terrible.
I'm on the fence as to whether this is legit or an overreaction to short-term success.
On their side? The Devils sport a thin roster and the trio that has been the first line — Henrique, Stempniak, and Mike Cammalleri — is The Lord of the Rings to the other lines' The Hobbit. Or, at a minimum, the team's top six is a wild upgrade over the next couple units. That means Stempniak and Henrique are getting opportunities. Stempniak is getting a little less power play time than Henrique, but they're both getting it.
On the other hand, the team isn't very good. That's a detriment if your league scores plus/minus and also means that there just isn't that much help to be had for either of these guys. Honestly, on how many teams are these guys top line material?
Additionally, the Devils are getting just 42.7 shot attempts per 60 minutes of even strength play. That's the lowest rate in the league by nearly three shot attempts. That means, good ice time or not, there isn't much offense to go around in New Jersey. Look at the chart below. See New Jersey in the lower left? That's them basically having the most boring games since Jacques Lemaire was a NHL coach.
Each team's size is determined by the number of goals they're scoring per 60 minutes of even strength play.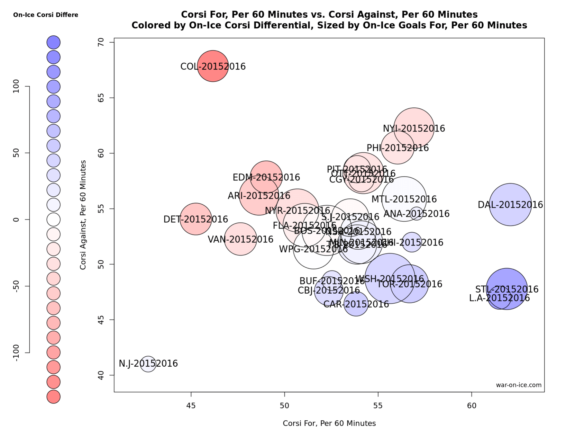 Also working against this being real: Henrique is shooting 31.6%, which you shouldn't bank on lasting longer than a Darryl Sutter press conference.
In deep leagues Stempniak, Cammalleri, and Henrique are legit options. But I don't know that I'm very excited about any of them. The ceiling is low.
2. Colton Parayko (+58.1%)
The rookie defenseman is showing that he's more than just his 6-foot-5 frame. He has three goals and three assists through his first nine NHL games, with three points, seven shots, and a plus-3 rating in his last two games. That kind of production on the blue line is significant. But is it real? His ownership jump is largely the result of some near-term success and injuries to defensemen like Kevin Shattenkirk, Duncan Keith, Mike Green, and Justin Schultz. Don't bet the house on a 22-year-old rookie defenseman on a blue line where Kevin Shattenkirk is nearing a return.
Other Notable Riser: Nail Yakupov (+30.7%)
This? This is McDavid. Yakupov wasn't highly ranked coming into the season, but working on a line with Connor McDavid and Benoit Pouliot has suited his disposition quite nicely, thank you very much. On his current six-game point streak, he has two goals and six assists to go along with a plus-3 rating, two penalty minutes, a power play goal, and 17 shots.
I'm buying it, but it's probably too late for you to jump on the train if you haven't already. That 30.7% ownership increase puts him at 100% overall ownership2. That likely means that you're not getting him off waivers any longer.
Fallers
1. & 2. Aleksander Barkov (-55.9%) & Mike Green (-37.9%)
These two aren't actually the top two fallers of the week, but they're the top two fallers who aren't on injured reserve, which is more of a technicality than anything. Both of them are injured. But both could be back soon, which sets them aside from other guys near the top of the Fallers list, like Jaden Schwartz, Evander Kane, and Paul Stastny.
Barkov is great. In a real hockey draft set today, I'm picking him over Green and I don't see any reason we should debate about it. (And I'm probably doing the same in a legacy fantasy league.) But in terms of a steal right now, look to Mike Green. It's been a rough start to the season, but the Detroit blue line needs a puck moving veteran who they can rely on. He's a power play specialist and the door is open for him to start producing when he gets back in the lineup.
RELATED: Cody Eakin (-32.2%)
Eakin's newfound availability could be a great thing for some intrepid owners. As of Wednesday Eakin was practicing as the top line center with Jamie Benn and Tyler Seguin on the wings. If he's on your roster, hold onto to him to see if this sticks. If he's not on your roster, make a note to check in on him. It's not likely to last all season with Seguin typically centering that top unit and coach Lindy Ruff tending to juggle who is playing with that duo, but as long as it lasts, anyone skating with Benn and Seguin has the potential to be a nice depth pickup.
Other Notable Faller: Chris Kunitz (-20.9%)
The 36-year-old is in decline. It's particularly indicative of where he sits on the team that when the Penguins took Phil Kessel off Sidney Crosby's line, shaking up all forward groups, and Kunitz wasn't slated to rekindle that familiar chemistry with Crosby on the top line.
This season, he's seen plenty of time with Crosby, but in Wednesday's game he was predominantly with third-line center Nick Bonino, seeing a couple shifts at Malkin's side as well. He doesn't have a home and he's falling down the depth chart. At 36 it's not surprising that his production would decline, but a single goal in nine games is a very slow start and there's no guarantee that Kunitz will be set up with Pittsburgh's top-end talent any more. Depending on what else is available, walking away from Kunitz may not be a bad move.
1 Ownership levels use ESPN's fantasy hockey as a reference point.
2 100% ownership does not necessarily mean that he's owned in every single league. Ownership levels are determined with a sample size, so there's a chance he's in your league and that doesn't negate the 100% ownership ranking.
Dustin Nelson writes about news and the Minnesota Wild for The Hockey Writers.