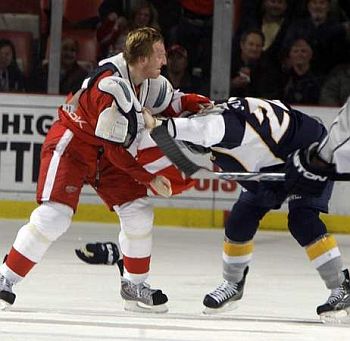 Have you ever been a part of a fantasy hockey league whose participants have irked you in one way or another? Well, chances are, you probably have. However, for those that haven't had to deal with unwanted trade proposals, manager inactivity, and uncontrollable trash talking, this article will attempt to illustrate what one should NOT do when participating in an online hockey league.
Here's the breakdown:
6.) Creating Multiple Teams – Having two or more teams in a fantasy league can create quite an advantage for the manager that controls this multiple-headed beast. Not only can the controlling manager keep infusing one particular team with players, but they can also make transactions at a greater interval and pillage the waiver wire at a greater rate. In addition, having multiple teams helps facilitate the creation/execution of lopsided trades. Unless a league stipulates that any participant can create more than one team, managers should refrain from indulging in such activity.
5.) Too Much Trash Talk – That about summed it up, but seriously, too much trash talk is never the best idea. Whether it be at the live draft or during the season, trash talk is good in steady dosages. This is not to say that some extreme trash talking between two managers doesn't provide for some good comic relief, but there are better things to fill up league threads with and certainly smarter topics that can be discussed.
Trash talking can have a couple of effects on a league, depending on the crowd that one plays with. Constantly trashing others in a league and blatantly conducting oneself with an air of superiority will not endear you to many of your opponents. Instead, it could possibly draw the ire of the league and expose you to some vitriol from fellow managers. On the other hand, trash talking in moderation could inspire your opponents to raise their level of play/activity, and could even create some rivalries for the near future if the league and its managers are renewed.
4.) Ludicrous/Excessive Trade Proposals – Trading in any fantasy sport can be a very exciting and rewarding aspect for some. Others might not be as active when it comes to the trading block, but there is certainly a fine line between proposing a fair trade and a lopsided trade.
Lopsided trade offers are some of the most infuriating e-mail notifications that one can receive when it comes to fantasy hockey. Receiving a trade offer that addresses necessary team issues for a certain manager at a reasonable price is more than acceptable, but getting a proposal that is attempting to fleece you of your biggest assets in a not-so-subtle way can be a pain in the neck. Countering the individuals that propose such uneven deals would likely create an even greater challenge as the person that initially intimated the deal isn't looking to give up their most valuable options.
On the other hand, conspiring to willingly make unfair trades is another fantasy no-no. Usually, such deals will be struck between two managers that are pretty well acquainted and have had preliminary talks as to which assets they will let go of respectively. When these deals are made, they are usually for the benefit of one team at the expense of the other. The individual that receives the better end of the bargain also just happens to be, more often than not, one of the more competitive teams in the league.
Lastly, too many trade offers can be pretty annoying. Even if a manager is proposing trades that are balanced, there can still be cases where no one in the league will take the manager up on their offer. If no one in the league is willing to accept your trade offer, then you should shelve any proposals for a later date in the season. Sending trade offers to league managers in a spamming fashion won't win you any fans, so try to make your initial proposals as concise and fair as possible.
3.) Transactions-A-Plenty/Hogging Up Resources – Now, you might think that making dozens of moves in a league that doesn't cap player adds/drops isn't that much of a fantasy hockey "don't," but it can certainly annoy other managers. One is well within their rights to make as many transactions as they want when it comes to adding players in a league that doesn't have a maximum amount of moves limit. However, those that add several free agents on a daily basis and create a revolving door of players on the waiver wire should not be surprised if they are not invited to rejoin the league for the following fantasy hockey season.
Freely adding players is certainly not a cardinal sin in fantasy hockey, but adding three or four players each day and thus preventing others from making transactions can be quite a nuisance to deal with. Players in free agency will always be fair game to an active manager and more likely than not it will be the early bird that gets the worm. It might be a bit discouraging to log into your fantasy league in the morning to find that another manager snagged your pickup just moments before, but to sign in and see a plethora of transactions from one manager can be a bit infuriating, especially if that individual is making those kinds of transactions on a daily basis.
Exceptions to this rule do exist, but those in head to head or rotisserie leagues should abstain from making a ludicrous amount of adds/drops on a daily basis. If a manager did not have a strong draft, then it might be acceptable to allow them to make a number of transactions until they round out their team, but this cannot be an accepted process throughout the duration of the fantasy hockey season.
In contrast, playoff time can be a very tricky time in fantasy sports. It can also be a time where the inactive/consolation bracket teams suddenly spring to life and start making moves out of the blue, even though their season has long been over. Whatever the intentions of this manager may be, they tend to aggravate those that stayed active throughout the year and got their team to the playoffs through fair tactics. Oftentimes, for one reason or another, one might see a consolation bracket manager drop their star players right before the start of the playoffs. During other times, an irrelevant manager might just add the players that are on a hot streak just to spite the managers that are in contention and fighting for their playoff lives.
While every manager has the right to add/drop players whenever they want, those that are not in the playoff picture should make the least amount of transactions possible, or not make them at all. If a manager did not pay attention to their team from the beginning of the season, then there is no reason to start paying attention when all is already lost. Fantasy managers will most likely not create a big fuss over another manager making 50-75 moves over the course of the fantasy season, but having hundreds of transactions at the end of the hockey season won't earn anyone any cool points from the other participants in the league.
2.) Unclear Draft Rules/Impulsive Rule Changes/Reneging on Payouts – Unclear drafting rules can have a ripple effect on a league and could discourage managers from participating in fantasy hockey leagues with you in the near future. While it is certainly the duty of each manager to check their league settings before the draft starts, there is no excuse for last second changes to scoring settings, draft orders, or waiver priorities.
Once a league's draft rules and settings have been established before the draft, there should be no reason that these rules are changed on a whim. Changing rules just to appease the other participants in the league will likely draw the ire of those that drafted according to the rules and were content with the league settings as they were. If your draft strategy failed and you are not content with your team, don't petition the commissioner to make rule changes that will benefit you, it only muddies the waters for the rest of the season.
Impulsive rule changes can have a significant impact on the way that a league's season plays out, but welching on payouts can be worse. If a league is created with a cash prize in mind, and various other incentives are offered for monetary rewards, then it is solely the duty of the league's commissioner to make sure that these payments are properly distributed. Advertising monetary incentives for division winners, league winners, and other achievements can certainly attract an individual to join a league, but a commissioner must remember that they owe the league their word if they are dealing with money that is not their own.
Transferring money to an unknown individual certainly has its disadvantages, but most fantasy leagues that play for money operate on good faith, and so should the commissioners that are entrusted with overseeing the appropriate dispersal of winnings.
1.) Manager Inactivity – Inactivity is the bane of a fantasy manager's existence. There is usually nothing that gets a manager's blood boiling more than a manager that shows up to draft and then promptly forgets about his team for the rest of the fantasy hockey season. When one forgets about their team for the duration of the fantasy season, they ultimately make the league less competitive. Even though these forgetful managers will not be making any moves or snagging your sleepers during the hockey season, they take competition away from the league by holding on to their players while their team rots at the bottom of the standings.
While inactive managers won't make many meaningful transactions over the course of the fantasy hockey season, they usually provide an easy victory for managers in a head-to-head league. Now, imagine that this is the final week of the fantasy hockey season and you are on the cusp of a playoff berth. However, the manager below you is also well within range of a playoff spot, but they have a match-up with an inactive team. The aforementioned situation may not play itself out in every fantasy hockey league, but imagine you lose out on playoff positioning because the person below you coasted to a 16-0 victory, courtesy of the other manager's inactivity.
Manager inactivity may make for an easy win when one plays an inactive team, but an individual should join a fantasy hockey league with the full intention of playing out a season. Circumstances do arise that can take someone's mind away from fantasy hockey, but a simple reminder or note to the league can go a long way, especially if the manager gives ample notice of their absence in the future.
– Feel free to leave a comment or story as to what has annoyed you in your fantasy hockey league
In his third year with The Hockey Writers, Toli covers all things related to the New York Islanders. Focusing on the Islanders, the NHL Draft & draft-eligible prospect goalies, and hockey history, Toli can be contacted on Facebook by searching/messaging Toli Metter and on twitter by searching @ToliMetterTHW.