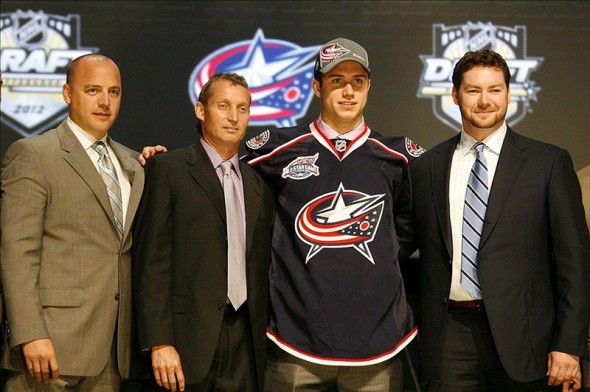 Follow @DavidOConnor95

Expectations aren't exactly high this season when it comes to the Columbus Blue Jackets.
The loss of their now former captain, Rick Nash, will hurt the team to a great extent. Nash had been the face of the franchise for years, and now that he's gone, a lot of fans will be disappearing as well.
However, there is at least some light shining in Nationwide Arena, even if it isn't all that bright. Most of the glow will soon be centered around Ryan Murray, the Blue Jackets' second-overall selection in the 2012 NHL Entry Draft.
By no means is he the saviour Columbus' fans are looking for, nor is it fair to say he's the heir to Nash's throne. But it is fair to say he comes in with some weight on his shoulders, and just a little bit of pressure.
When Blue Jackets' general manager Scott Howson announced Nash's departure for New York, many of Columbus' fans were outraged. How dare he trade away the team's star captain for a somewhat measly return, right? Well, in a way, many of those fans were correct. From a different perspective, however, Howson was simply acquiring what he could get.
This is where Murray comes in. In June, when Murray's name was called to the stage in Pittsburgh, Nash was still the main man in town. Now that it's not the case anymore, Murray is going to be expected to come to the aid of disheartened fans.
Murray was widely considered to be of the best leaders in the draft class, so it's not like he's coming in without knowing what he's doing. He hasn't even played a real game in a Columbus jersey, but that doesn't mean all that much at this point.
There's a sense of desperation in the air right now. The team doesn't look so great up front, and that's no slight to Derick Brassard or R.J. Umberger. It's reality and that's just the way it is.
Ironically enough, Columbus' blueline isn't actually all that bad. Former third-overall pick Jack Johnson, who was acquired from Los Angeles last season in the Jeff Carter deal, would be a top-pairing defenseman on most NHL teams. James Wisniewski, though sometimes careless, is a solid member of Columbus' core. After those two it's mostly depth players, but Adrian Aucoin, John Moore, Nikita Nikitin, and Fedor Tyutin aren't exactly terrible rearguards either.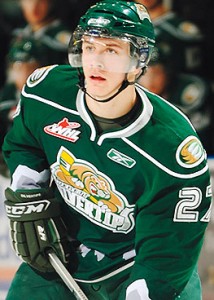 At Columbus' summer development camp, Murray impressed the staff who were watching him. Brad Larsen, head coach of the Blue Jackets' American Hockey League affiliate, the Springfield Falcons, was especially pleased with what he saw.
"Ryan just got better every day," Larsen told Rob Mixer of BlueJackets.com. "He's been pretty much what's advertised, from what I saw. He calms pucks down, he makes a good first pass, and when we did line-rush stuff. He's a defensemen that makes the right decisions. I'm very impressed with what he brought, and I see him only getting better as time goes on."
Larsen isn't the only one who likes what he sees when Murray gets on the ice. Scouts from all over would come watch the Everett Silvertips play, with the sole purpose of analyzing Murray's skills. He's known as a player who's a great skater, one with terrific defensive instincts, and one who should be able to step into the professional ranks next season.
Unfortunately, it's not always that easy. But for someone like Murray, it might not be an entirely huge adjustment.
This past season with Everett, he was named the team's captain as an 18-year-old. While the pressure might get to player's who can't handle that responsibility on an everyday basis, Murray handled it just fine when it came to on-ice performance.
He earned himself a spot on Canada's World Junior team, where his main assignment was to shut down opposing offensive threats. While a certain game (which shall go unnamed) didn't go all that well for him, Murray played well enough to show scouts what he was all about. In fact, Murray showed enough this season to warrant a call from Hockey Canada, one that invited him to participate in the men's training camp for the 2012 IIHF World Championships. Due to injuries, he then found himself on the team. Though he didn't play as much as he's used to, Murray's inclusion in the tournament spoke volumes to NHL executives.
Murray knows he has a lot of work to do, because as he says, "it's the best league in the world." For someone who was considered a safe pick at number two, that work is considered more than enough by some. It's a unanimous opinion that he should be in the NHL for many years, but there's a lot of inconsistency when it comes to discussing just how good of a player Murray will be.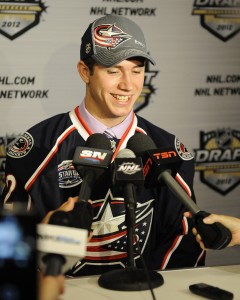 As a player who's been on the radar of Hockey Canada for an extended amount of time already, Murray's been surrounded by expectations and pressure for a while. And yet, no one is too sure if he'll be able to stick in Columbus come October. Murray will very likely participate in most of the Blue Jackets' preseason matchups, starting with a game against the Pittsburgh Penguins on September 24. But when it comes to how many games he'll be playing in a Columbus uniform during the regular season, most will agree there's no definitive estimate they can make. Having said that, many scouts believe he'll be successful for a long time.
"I think Murray brings something to the game … he brings a steadiness to the game to the point that you know he'll play 15 years in the League without any problem," NHL Central Scouting's Peter Sullivan told NHL.com.
During the recent 2012 Canada-Russia Challenge, Murray was partnered with a familiar face in Scott Harrington of the London Knights. The two played together at the most recent World Junior tournament in Alberta. Murray's name wasn't called out by the play-by-play broadcaster overly often during the Challenge series, and that was actually a good thing. Most of the time, fans watching on television are more interested in hearing about mistakes and scoring opportunities than they are defensive play. As long as Murray's name isn't heard, he's probably doing just fine. Silence can sometimes be a blessing to professional athletes.
There's no doubt he'll be given every opportunity to shine his own light in Columbus. Competition will be fierce at the Blue Jackets' training camp among blueliners, but Murray should be able to take care of himself very well. It might take a while for him to make a real impact, and he may not see a whole lot of ice initially. However, Murray has the potential and talent to be a reliable, shutdown defenseman in the NHL someday.
Now he just has to prove it.
________________________________________________
Follow me on Twitter: @DavidOConnor95    "Like" my page on Facebook: David O'Connor