Fantasy Hockey Mailbag is a weekly column, answering your questions every Tuesday (or sometimes Wednesday). No question is too big or too small, so if you want advice or feedback on any topic related to fantasy hockey, just ask away in the comments below.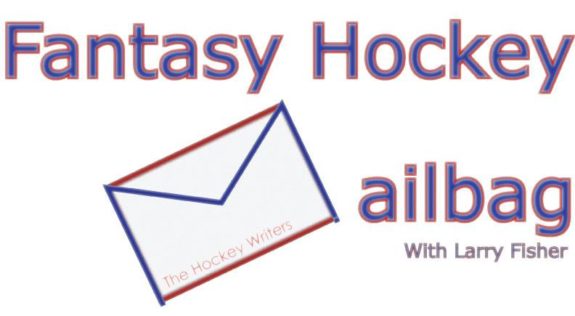 Fantasy leagues don't always abide by the NHL trade deadline.
Some leagues are long past theirs and others are still to come.
Regardless, the NHL deadline greatly impacts fantasy teams every year.
Who gained fantasy value as a result of the trade deadline? I offer up five names: https://t.co/bxSbJ87Nuh

— Matt Larkin (@THNMattLarkin) March 1, 2016
Owners of Andrew Ladd were probably fist-pumping when he got dealt back to the Chicago Blackhawks with plans to flank Jonathan Toews and Marian Hossa once the latter is healthy again. That should be a productive trio and any of them would be worth acquiring if trades are still permitted in your league.
Ditto for Mikkel Boedker in Colorado, slated to skate alongside Nathan MacKinnon and Gabriel Landeskog. That should be a boon for Boedker, increasing his fantasy value and making him a hot commodity.
Once Rick Nash gets back, Eric Staal could pick up the pace with his old buddy and Derek Stepan. That has the potential to be a pretty potent line for the Rangers.
http://gty.im/513149816
It's more of a wait-and-see with Jiri Hudler in Florida, Lee Stempniak in Boston, Kris Versteeg in Los Angeles and Jamie McGinn in Anaheim. They all had prime roles on their former teams and although the changes in scenery will help their Stanley Cup chances, it could hinder your fantasy team's title hopes if they end up further down the depth chart.
Those in deeper leagues — or in need of help on defence — might want to roll the dice on Justin Schultz in Pittsburgh or Eric Gelinas in Colorado. They have offensive upside but struggled to stay in the lineup with Edmonton and New Jersey, respectively. The same goes for forwards Brandon Pirri and Shane Prince. Pirri fell out of favour in Florida but is a proven scorer and could take off again in Anaheim if his ankle holds up. Prince couldn't crack Ottawa's roster but got to make his Islanders debut on the top line with John Tavares and Ryan Strome. Prince is likely a placeholder there for Mikhail Grabovski, so don't rush out to grab him off the waiver wire.
https://twitter.com/ESPN_NHL/status/704790854058188801
---
Stefan Morrone, a Mailbag regular, was eager to shake up his roster at the trade deadline. His peers were wheeling and dealing but, in our ongoing conversations, I kept preaching patience and telling him to hold out for the right offer. There is no point in pulling off lateral trades that could turn into setbacks and, tempting as it might be, it's never a good idea to be making moves simply for the sake of making a move.
Stefan's league is full of active managers, so he was fielding dozens of offers by the day — mostly lowballs for his top players like Tavares, Taylor Hall and 40-win goaltender Braden Holtby. Some would say you'd be crazy trading away any of those guys, but Stefan didn't want to stand pat like Jim Benning and managed to get decent value for his two prized forwards.
http://gty.im/511453430
Trade 1
INCOMING = Nicklas Backstrom and Nikita Kucherov
OUTGOING = Tavares
ANALYSIS: Stefan had to drop a player to make this 2-for-1, but Benoit Pouliot had just suffered a long-term shoulder injury, so that made for an easy decision. I like this deal for Stefan. The names Daniel Sedin or Tyler Toffoli also came up in this negotiation process, but when the offer came over, it included Kucherov instead. Either way, that's a solid return for Tavares. Nicely done — it was worth the wait, right?
---
http://gty.im/512849520
Trade 2
INCOMING = Ladd and Justin Williams
OUTGOING = Hall and Brandon Saad
ANALYSIS: There's that Ladd guy. I don't necessarily like this deal for Stefan and I didn't advise it, but I understood his reasoning in accepting. Stefan wanted some consistent producers. Hall has been slowing down lately and Saad has been streaky all season. Hall is still the best player in this swap, with the ability to burst out for multipoint performances. I never like giving up the best player and I've always been a bit partial to Oilers, so it's not a deal I would have made personally. That said, it will be a fun one to track from now until the end of the regular season in determining the winner here. Time will tell.
---
Andrew Hunt also reached out via email with another trade offer — saying: "things sure roll in fast when you tell everyone you're selling the farm! Your thoughts?"
http://gty.im/510672634
OUTGOING = Mark Giordano and Kevin Fiala
INCOMING = Travis Hamonic and Mike Matheson, plus two draft picks (2016 second-rounder roughly 20th overall and 2017 first-rounder likely ninth to 12th)
BACKGROUND: Andrew explained the motivation for this deal is that he wants to get younger and needs some help on defence. He's already building around a youthful blue-line consisting of Cam Folwer, Olli Maatta, Matt Dumba and Colton Parayko on his active roster, plus Derrick Pouliot and Josh Morrissey on his farm team.
ANSWER: This might be a loss on paper, at least short-term, but it's a deal that makes sense in fulfilling Andrew's vision for the future of his team. Hamonic is seven years younger than Giordano and better fits the age group for the rest of Andrew's defence. There would be no harm in having a solid veteran like Giordano on the roster, but he'll be past his prime by the time those up-and-comers start peaking. Hamonic should still be a quality contributor when that time comes, and Andrew is wise in targeting him — knowing he's probably headed to a Western Canadian team for next season where he'll play an even more prominent role than currently he does for the Islanders. Hamonic hasn't been a huge fantasy stud thus far and he's one of those players who might always be more valuable to his team in real life. Giordano is a proven point producer from the back end and he's 20-plus points clear of Hamonic this season, so Andrew is bound to feel a negative ripple effect on that front.
http://gty.im/508080290
The prospect swap is intriguing to me. I'm a prospect junkie and I'm high on both those guys — Fiala, the Nashville forward, and Matheson, the Florida defenceman. Matheson just had a brief audition, so he might not be far from earning a full-time gig with the Panthers. If Brian Campbell doesn't return next season — he's a pending unrestricted free agent — then that could open the door for Matheson, with the potential for power-play time as well. It also wouldn't be surprising if Florida retained Campbell or replaced him with a fellow veteran thus furthering Matheson's development in the minors.
With Fiala, he's going to have to step up and steal a spot with the Predators. He'll be given every opportunity to do just that in training camp because Fiala possesses a special skill-set and is more offensively gifted than several of the forwards holding down roster spots as of today. His all-around game is a work in progress, in terms of becoming more consistent and playing the "right way." If Fiala ends up flanking Ryan Johansen and James Neal next season, which is within the realm of possibility, then he'll have fantasy value sooner than later. That situation could be reminiscent of Tomas Hertl breaking into the league alongside Joe Thornton and Joe Pavelski in San Jose. Fiala is comparable to Hertl in a lot of ways.
Stockpiling draft picks is always a good idea for a rebuilding team, and Andrew would be landing a couple of quality selections here. That serves as good insurance in case Fiala makes a more immediate impact than Matheson, but long-term I do like this deal for Andrew. His defence will definitely be better in a few years' time, which is the goal he had in mind. Mission accomplished.
Jon Miazyk asked via email: I'm just poking around for your general sense of my team with trade deadline looming. Also, who you think my keepers should be?
BACKGROUND: This is the inaugural season of Jon's three-year keeper league. Teams are permitted four keepers, counting one rookie. He's currently in second place out of 10 teams. Jon's league has plenty of scoring categories — 19 in total, including 15 for skaters. They are goals, assists, points, +/-, penalty minutes, power-play goals, power-play assists, power-play points, shorthanded goals, game-winning goals, shots on goal, shooting percentage, faceoff wins, hits and blocks for skaters, plus wins, goals-against average, save-percentage and shutouts for goaltenders. Jon's roster is as follows:
http://gty.im/512663302
Forwards — Connor McDavid (rookie), Evgeny Kuznetsov, Nathan MacKinnon, Ryan Johansen, Filip Forsberg, Aleksander Barkov, Nikita Kucherov, Jason Spezza, Evander Kane, Mikkel Boedker and Ryan Callahan
Defencemen — Shea Weber, P.K. Subban, Ryan Suter, John Carlson (IR), Justin Faulk (IR), Jake Muzzin, Matt Niskanen
Goaltenders — Petr Mrazek
ANSWER: It's unfortunate that Jon can't keep this entire team — wow, what a stacked roster. There is no better rookie than McDavid, especially as a keeper. Based on those categories, I'd be tempted to keep three forwards in addition to McDavid. Unless defencemen are scored separately, the only blue-liner worth keeping is probably Erik Karlsson. Maybe Brent Burns or John Klingberg. Don't get me wrong, Weber, Subban, Suter, Carlson and Faulk are a handful of studs, but they are unlikely to match the output of your forwards. I'd keep Kuznetsov as a no-brainer. For the other two spots, I'd consider the pros and cons on MacKinnon, Johansen, Forsberg, Barkov and Kucherov. Any of those five guys would make great keepers, you really can't go wrong. Personally, I'd hang onto MacKinnon and Johansen, but ask five fantasy "experts" and you might get five different answers.
http://gty.im/512185160
I still believe MacKinnon has elite potential, that he could crack the top 10 in league scoring next season. If you've been reading the Mailbag lately, you're well aware that others beg to differ and feel MacKinnon's ceiling might be in the 60-some point range. I'd keep a Predator for sure, but you could probably flip a coin between Johansen and Forsberg. I gave Johansen a slight edge for his faceoff wins, which seem to make centres more valuable than wingers in your league. It's only one category, but keeping three centres (with McDavid) makes a lot of sense to me.
http://gty.im/470871218
As for the trade deadline, which is still to come in Jon's league, I wouldn't be opposed to standing pat. That roster is good enough to win the title in any 10-team league. Boedker should pick up the pace with Colorado, so you could consider that a trade addition from within. Even Callahan has been chipping in more and more lately, thanks to flanking Steven Stamkos in Tampa Bay. It's almost as if the stars are aligning for Jon's team. Yet, if you're wanting to make a move, you could try selling high on Callahan. I'd probably put Spezza and Kane on the block too, maybe Muzzin and/or Niskanen as well. Those would be the five guys that I'd shop around in search of an upgrade. Would I trade Kane or Callahan for Eric Staal or Andrew Ladd? Yeah, I'd probably take a chance on them. I'd be more reluctant to move Spezza for them because he tends to rack up the power-play points in Dallas. You're eventually going to get back Carlson and Faulk — presumably in time for your league's playoffs? — so you could afford to do a 2-for-1 trade involving Muzzin and Niskanen. Any chance you could pry away Kevin Shattenkirk or Kris Letang for those two? It might be worth a shot. Some food for thought, anyway.
---
My Fantasy World
Keeper 1
It all comes down to this week — our regular-season finale to determine payouts and playoff positioning. There are battles playing out from top to bottom, but I'm kind of in no-man's land — that being, the middle of the pack (10th place out of 20 teams). That isn't by design, having been a seller for months, but my waiver-wire claims are keeping my team competitive. If they aren't going to let me tank towards a higher pick in our rookie draft, hopefully they continue to perform in the playoffs and give me a shot at some prize money — most likely in the consolation tournament for first-round losers.
Our league's perennial kingpin is back on top and, barring a blowout loss, will be crowned regular-season champ for the fourth time in our six-year history. He was runner-up the other two seasons — yes, his worst finish is second place. That's both incredible and unprecedented, especially for a league with substantial roster turnover from one season to the next. Nobody else has consistently finished among the top-five payout positions and almost everybody has experienced being a seller at least once. We pride our league on its parity, but this guy keeps defying the odds year in and year out, so hat's off to him (again).
However, we haven't started engraving the trophy just yet. He'll have to earn it this week, with our final matchups pitting every team against their nearest standings rival. So first is facing second, another loaded buyer who trails by 11 points and would need to win by a minimum of 6-0-4 or 7-2-1 in order to steal the title. The third-place team could still come out on top too, getting a favourable matchup but with 12 points to make up. He'd pretty much need to pitch a shutout and hope that second also scores a lopsided upset over first. I don't like their chances, but it'll be a fun and intense final week nevertheless — followed by a four-week playoff tournament.
---
Keeper 2
I'm at the bottom of the standings in this 28-team league too, committing to a full rebuild after reaching the second round of playoffs last season. Yet, as it played out, I'm still in a meaningful matchup to end our regular season. I'm facing a division rival, a team that is just ahead of me in the standings and I'd very much like to keep it that way. Of course, intentional tanking is frowned upon and we back-edit any missed lineups in both leagues, so the better (or luckier) team will ultimately win here. At stake is the sixth overall pick in this year's rookie draft. That honour will, in all likelihood, go to the loser of this week's matchup. The winner could drop as far as ninth in the draft order. Through two nights, we're pretty neck-and-neck, so it's shaping up to be another nail-biter for the rest of the week. Wish me luck . . . in losing!
I won't be making the playoffs here — not even close — but I'm looking forward to following along. Three of the four divisions are going to feature quality matchups that could go either way, especially in the second round. By the third round, when the division winners clash in their respective conference finals, all bets will be off and we should be in for a couple epic showdowns to determine the championship contenders.
---
Box Pool Update
Good news here — I've shot up from 13th place all the way to fifth since we last checked in on my 32-team box pool a month ago. At that time, I had some difficult decisions to make in swapping out three roster players for replacements from their original groupings. That deadline was just prior to the NHL All-Star break and I was brave enough to keep McDavid instead of upgrading him to Anze Kopitar, among others. Instead, I turned Tyler Seguin into Patrick Kane, Ryan Nugent-Hopkins into Patrice Bergeron, and Ondrej Pavelec into Craig Anderson.
http://gty.im/511615870
The way it worked, we got credit for their entire season total — not just going forward from the day we acquired them. So, at the time, I improved 20 points for Kane, 14 for Bergeron, and 21 for Anderson — adding a total of 55 points. Since then, Kane has tacked on 13 points, Bergeron 10 and Anderson nine, although the latter suffered a lower-body injury on Tuesday night. Hopefully that won't turn out to be too serious.
http://gty.im/511553596
I'm also benefitting from the resurgences of Sidney Crosby and Ryan Getzlaf since the calendar flipped to 2016. I have Eric Staal and Stepan too, so if they do get it going with Nash, that will give my team another shot in the arm for the stretch run. I still have a lot of ground to make up on the teams ahead of me, trailing the leader by 40 points. We both have Kane, Crosby, Joe Thornton, Hall, Spezza, Corey Perry, Braden Holtby, Phil Kessel, Victor Hedman, Anderson and Staal on our 21-man rosters. The 10 discrepancies are as follows:
http://gty.im/506259288
MY TEAM = Karlsson, Bergeron, Getzlaf, Kucherov, Toews, Jack Eichel, Stepan, Ben Bishop, Kevin Shattenkirk and McDavid.
TOP TEAM = Subban, T.J. Oshie, Claude Giroux, Blake Wheeler, Max Pacioretty, Saad, Kyle Okposo, Marc-Andre Fleury, Tyson Barrie and Kopitar.
So that's what I'm up against — I need my guys to outpoint his guys by 40 or more points the rest of the way. That's not insurmountable, but it'll be an uphill battle.
---
Do you have a question for the Fantasy Hockey Mailbag? You can reach out to me in the comments section below, by email at larry.fisher31@gmail.com, or on Twitter: @LarryFisher_KDC.
Larry Fisher is a sports reporter at The Daily Courier in Kelowna, British Columbia, Canada, and has been an at-large contributor for The Hockey Writers since August 2014.