Fantasy Hockey Mailbag is a weekly column, answering your questions every Tuesday. No question is too big or too small, so if you want advice or feedback on any topic related to fantasy hockey, just ask away in the comments below.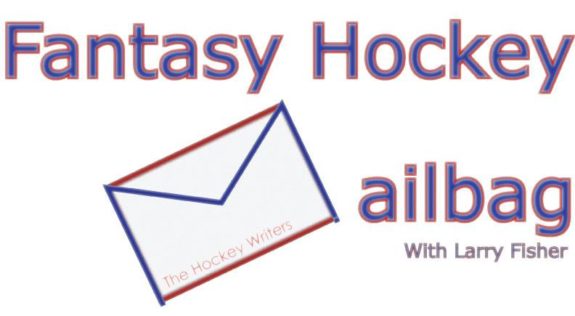 These are tense times for fantasy managers, just as they are for their real-life counterparts.
The looming NHL trade deadline has the potential to make or break fantasy teams depending on who gets dealt where and the ensuing impact. There will be buyers in both realms and the moves made in the coming days will separate the contenders from the pretenders. With the right additions, managers can put their team over the top. By standing pat, it could take them out of the running.
30 Thoughts: @FriedgeHNIC expects Canadian teams to be busy at the #NHLTrade deadline. https://t.co/5OWQDme2jv pic.twitter.com/SIMFQdp8VY

— Sportsnet (@Sportsnet) February 23, 2016
Those imminent NHL trades — and there will be many between now and Monday — will provide a boost for some fantasy teams, with certain players increasing their value by landing in desirable spots with favourable circumstances going forward.
Some big names, including Montreal's P.K. Subban, have been bandied about, but the majority of movement will involve pending free agents and players who could use a change of scenery.
New Puck Daddy: NHL Trade Deadline: 10 game-changing players who might move https://t.co/ut0T2bovEW

— Greg Wyshynski (@wyshynski) February 23, 2016
Nathan MacKinnon doesn't fall into either category. The first overall pick from 2013 is fast becoming a franchise player for the Colorado Avalanche and will be untouchable for the foreseeable future.
However, his name keeps surfacing in the Mailbag as a prime target for fantasy trades. Several MacKinnon owners, both in single-season leagues and keepers, are entertaining the idea of moving him. They seem to be growing impatient with MacKinnon's mediocre production and afraid that his ceiling might be lower than originally anticipated. Others still see top-end potential in him and have been persistent in their pursuit to acquire MacKinnon.
http://gty.im/503452032
Andrew Hunt has been fielding offers on MacKinnon for the past month and finally pulled the trigger on the following deal just the other day:
INCOMING: Logan Couture, Tomas Hertl and a potential top 3 rookie draft pick
OUTGOING: Nathan MacKinnon and Ivan Provorov
Andrew had previously consulted the Mailbag on two separate occasions, only to be told to hang onto MacKinnon. As a result, he rejected a 2-for-1 offer of Kevin Shattenkirk and Mark Scheifele, then turned down Scheifele, Martin Jones and a first-round pick (top-five protected).
Andrew jumped at the latest offer without hesitation, but came back for reassurance that he did the right thing — asking, what do you think? How did I make out?
ANSWER: Congratulations Andrew, I'm glad you held out for the best possible return. I do think you'll miss MacKinnon at times in the future — I still believe he has the ability to be near the top of the scoring race for the next decade (top 20 for sure) — but that trade would have been tempting even for MacKinnon's biggest fans. Couture and Hertl should offset, if not exceed MacKinnon's production, and that pick will net you another top prospect anywhere inside the top 10 of this year's draft. There is a Big 3 — Auston Matthews, Patrik Laine and Jesse Puljujarvi, all impact forwards — so if you end up landing one of them, then you should emerge as the winner of this trade. If you're picking fourth or later, there is a significant drop-off and that could even out the deal or possibly put you on the losing end. Here's hoping MacKinnon's new team tanks down the stretch for Andrew's sake.
I do really like both the guys that Andrew gave up. I'm not among those who feel MacKinnon is topping out as a 60-point player. I think he'll be in the 70s and perhaps 80s on a perennial basis in the years to come. Provorov is going to be a big part of Philadelphia's stacked defence, though he'll be competing for power-play time with emerging fantasy stud Shayne Gostisbehere and fellow prospect Travis Sanheim.
Providing Andrew can add a better prospect than Provorov with this pick — better being debatable outside of the top three — then I think he'll be happy with the return in hindsight. I'm still unsure as to whether I would have personally made this trade in Andrew's shoes, but I wouldn't have told him to run for the hills either. All things considered, it is pretty fair in my opinion, though it does hinge on the status of that draft pick.
---
Kyle Hipwell is a newcomer to the Mailbag, but he's another MacKinnon owner with some needs to address and plenty of interest pouring in. Kyle's keeper retains four players on a four-year system, with his plan being to build around MacKinnon, Taylor Hall and Evgeny Kuznetsov, plus either Blake Wheeler or Max Pacioretty.
There are 14 teams in Kyle's league, which totals 56 keepers. They conduct a standard draft to round out their 15-player rosters each year. As of today, Kyle is without a pick in the second and third rounds. For reference sake, this year's second round featured Shattenkirk, Mark Giordano, Tomas Tatar, Mark Stone, James van Riemsdyk, Henrik Lundqvist, Kris Letang, Patric Hornqvist, Brent Burns, Joe Thornton, Tyler Toffoli, Marc-Andre Fleury, Jake Allen and David Pastrnak. So that gives you an idea on the kind of talent available in those rounds.
Kyle is currently in fifth place but within striking distance of the prize money, with the top four earning payouts. He'd like to take a run at that, but would also like to replenish his draft picks.
Enter MacKinnon, who has garnered the following offers:
Option 1
Ondrej Palat, first- and second-round picks in 2016 and a third-rounder in 2017
Option 2
First- and second-round picks in 2016 and a third-rounder in 2017
Option 3
Filip Forsberg and a late first in 2016 (likely 12th or 13th overall)
Kyle asked: Would you make any of those deals or just keep MacKinnon?
ANSWER: It took me a while to gauge the value of draft picks in Kyle's league and my initial reaction was to reject all these offers, to keep MacKinnon, and to try shopping Wheeler or Pacioretty for picks instead. That is still probably what I'd do in Kyle's situation, but it will be easier said than done with most teams already content with their current keepers. The top-four contenders apparently wouldn't want Wheeler or Pacioretty as depth players and the bottom teams are, understandably, protective of their draft picks.
So Kyle keeps coming back to MacKinnon — or potentially Hall — as the trade chip(s) to acquire those coveted picks. I get the dilemma here, but I'm never one to endorse giving up the best player in any deal, nor do I encourage trading keepers for non-keepers. Forsberg would be worth keeping — I'd lean toward that option if Kyle was dead-set on making a move — but I see great potential in Kyle's team with MacKinnon, Hall and Kuznetsov as the faces of his franchise. I would suggest staying the course with those guys, and if Kyle's unable to pawn off other players for picks, then he'll just have to make the most of the selections he still possesses — including his own first-, fourth- and fifth-rounders.
http://gty.im/503631712
I also suggested trying to package Wheeler and Pacioretty for Forsberg in a 2-for-1 trade — with Forsberg becoming Kyle's fourth keeper — but that was a no-go. Heck, I thought Kyle could have asked for a late-round pick to be included in that deal, but clearly I'm misinterpreting some of the values in this league. Kyle is in a tough spot without those picks, but he could make things even tougher on himself by trading away MacKinnon or Hall. If the right deal isn't out there, don't force it. Keep calm and carry on.
---
My Fantasy World
Keeper 1
Not much to report here — I lost 6-3-1 to the fourth-place team, as the top-seven money contenders all held their spots in the standings. With two weeks to go, those battles for the five regular-season payouts are proving to be entertaining. This week has first facing fifth and third facing seventh in the two matchups with money implications. The underdogs will need to keep it close or pull off upsets to have any chance of cashing in. Next week is our finale, which pits every team against its closest standings rival, so 1-vs-2, 3-vs-4 and so on, all the way down to 19-vs-20.
I'm currently 10th, but it's tight in the middle portion of the standings too, with the 14th-place team only five points behind. I'd gladly drop a few spots to climb up the rookie draft order, although that would mean a tougher first-round playoff opponent. The top-16 teams qualify for the post-season, so I've essentially clinched a berth there — I'm exactly 30 points up on 17th place, with a maximum of 40 points remaining — but I'm likely destined for our consolation tournament, which features the eight first-round losers. I won't stand much of a chance regardless of which top-seven opponent I draw in the opening round, but I should be in the mix for that consolation prize — $60 off next year's $100 entry fee.
---
Keeper 2
In a stunning but welcomed rally, I lost for the fifth straight week and fell into last place in my seven-team division, which bumped me up to sixth (from eighth) in the rookie draft order for this 27-team league.
This week will be another sure loss and if I can slump to a seventh straight defeat in our regular-season finale, I could potentially pick as high as fifth. I'll still need some more good bad luck to reach that goal, but my decision to sell off and embrace a full rebuild seems to be paying dividends. As of right now, I also own the 13th, 20th and 26th overall picks in the first round, plus 38th overall in the second round. I have my top 40 prospects for the 2016 NHL draft pretty decided on — I do a mock draft every year, typically two or three rounds, to be published at the beginning of June — but I'll save that discussion for another day.
---
Do you have a question for the Fantasy Hockey Mailbag? You can reach out to me in the comments section below, by email at larry.fisher31@gmail.com, or on Twitter: @LarryFisher_KDC.
Larry Fisher is a sports reporter at The Daily Courier in Kelowna, British Columbia, Canada, and has been an at-large contributor for The Hockey Writers since August 2014.
Larry Fisher is a senior writer and head scout for The Hockey Writers, having been an at-large contributor for THW since August 2014. Fisher covers both the NHL and the WHL, specializing in prospects and NHL draft content, including his annual mock drafts that date back to 2012. Fisher has also been a beat writer for the WHL's Kelowna Rockets since 2008, formerly working as a sports reporter/editor for The Daily Courier in Kelowna, British Columbia, Canada from 2008-2019. Follow him on Twitter: @LarryFisher_KDC.