Fantasy Hockey Mailbag is a weekly column, answering your questions every Tuesday. No question is too big or too small, so if you want advice or feedback on any topic related to fantasy hockey, just ask away in the comments below.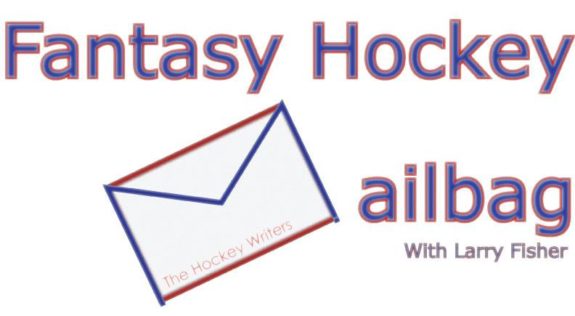 The Jonathan Drouin trade watch continues. Ditto for Patrick Marleau, Travis Hamonic and Kerby Rychel, among so many others rumoured to be on the block.
Some might move before, during or right after All-Star weekend, with the NHL general managers convening in Nashville to not only watch the inaugural 3-on-3 tournament but also to talk some hockey amongst themselves. Granted, they are in constant contact throughout the season — over the phone and via email — but those in-person conversations tend to be the most productive.
What the fallout will mean for your fantasy teams, we'll just have to wait and see where everybody ends up between now and the Feb. 29 trade deadline.
Fortunately, this week's Mailbag will still have plenty of trade talk, with my keeper leagues' deadlines coming and going — one was Sunday and the other is tomorrow (Wednesday). Buyers be buying and sellers be selling there, but before we get to that, I do have one reader-submitted trade question to tackle.
Andrew Hunt asked via email: In a keeper league, I was offered Make Scheifele and Kevin Shattenkirk for Nathan MacKinnon. I'm pretty loaded at the centre position with David Krejci, Mikael Granlund, Sean Monahan and Dylan Strome. I'm in need of a defenceman, my top-four are Olli Maatta, Colton Parayko, Justin Schultz and Cam Fowler. Your thoughts?
BACKGROUND: Andrew is new to the Mailbag, having reached out to me for advice after reading last week's overflowing edition. Turns out, Andrew's league is set up quite similar to my main keeper. Mine is 20 teams, 20-man rosters, with a minimum of five and a maximum of 15 keepers from one season to the next. Andrew's is 12 teams with 20-man rosters and 14 keepers, so it was easy for me to relate. It also helps that we're in the same boat, both trying to tank and/or rebuild on the fly, with Andrew not expecting to make the post-season and my team not expected to make it out of the first round if it stays in the playoff picture. Andrew will likely finish in the bottom six and have a shot at landing the first overall pick (presumably Auston Matthews) through his league's lottery system. In our discussions over the last few days, I suggested that Andrew, as a seller, trade away as many of his six (or more) non-keepers for draft picks or prospects from past rookie drafts that won't reach NHL status this season but have a hope of making it in the future (aka not busts). I told him to try to load up on future assets and tank his current team to increase the chance of landing Matthews/top pick. Being stuck in the middle of the pack with no chance against the top contenders is probably the worst place to be. If you can't compete for the title/prize money, then you may as well compete for the top pick. As for the question at hand here . . .
http://gty.im/501013762
ANSWER: In saying all that, MacKinnon probably isn't a guy that Andrew should be selling off despite how big of an upgrade Shattenkirk would be for his defence. MacKinnon has the talent to be a top-10 scorer for the next decade, and as much as I like Scheifele, that's an equally big downgrade at forward. On the plus side, Andrew is in a position to make this 2-for-1 trade without having to drop a player from his current roster, so that makes it more tempting. I'm sure several NHL GMs would entertain that deal in real life — Shattenkirk and Scheifele for MacKinnon — but in Andrew's case, I'd recommend building around MacKinnon going forward. I'd also recommend a counter-offer for Shattenkirk if possible. He'd be a good fit for that relatively weak blue-line, but not at the expense of MacKinnon.
---
My Fantasy World
Keeper 1
This is the keeper I've been talking about, where I'm having decent success as a seller in terms of unloading non-keepers for futures — picks and prospects — but I'm still not plummeting down the standings as planned. Despite depleting my roster to the best of my ability in advance of Wednesday's deadline, I'm remaining competitive and coming off a 5-5-0 tie this past week. That was a stronger showing than I had hoped for, but here's hoping a few of my players increased their trade value enough to pull off another last-minute deal . . . or two or three.
I was involved in three of this league's 10 trades over the last week, with more to come within the next 24 to 48 hours:
http://gty.im/506108998
INCOMING = Ryan Callahan and a third-round pick (currently 57th overall)
OUTGOING = Patrik Berglund and Vincent Lecavalier
ANALYSIS: This trade was thanks to some savvy waiver claims in recent weeks, taking advantage of my place in the pecking order by ranking in the bottom half of the 20-team standings. I was able to claim Berglund just before he returned from shoulder surgery and then grab Lecavalier immediately after he was traded to Los Angeles in real life. They both hit the ground running and were contributing at a near point-per-game pace when I pulled the trigger on this deal. Both were picked up on expiring free-agent contracts and thus couldn't be keepers for next season anyway, so they were of no real use to me going forward. The buyer who got them is tied for fourth in the standings and in a battle for a top-five payout, so he struck while they were hot in hopes of bolstering his depth for a prize-money run in the regular season and perhaps in playoffs as well. They could certainly pay dividends for him, but I was happy to stockpile another pick — bringing my total to eight, with my own first, plus one second and six thirds. Callahan was a bonus too, considering he still has two more years left on his current contract at a relatively cheap cap hit. That said, I wouldn't be opposed to flipping him for another future asset, either ahead of this deadline or in the off-season. In the meantime, I also added Sam Gagner and Luke Glendening to flesh out my roster following this trade. Both will be trade bait if anybody wants them.
http://gty.im/505739028
INCOMING = William Karlsson
OUTGOING = Zack Kassian
ANALYSIS: Another recent non-keeper waiver claim in Kassian turned into a younger potential keeper in Karlsson. At least Karlsson is on a cheap entry-level contract, with two years remaining, whereas Kassian will be expiring at season's end unless this GM uses his free-agent signing on him prior to tomorrow's deadline. I'm assuming that was his motive for making this deal, but that signing will award Kassian the exact same contract as Karlsson and I still prefer the latter in a straight up swap, all things being equal. I had previously traded away my signing, so I had no way of retaining Kassian, Berglund, Lecavalier or this next guy.
http://gty.im/490040016
INCOMING = Emerson Etem, Gregory Chase and Slater Koekkoek
OUTGOING = Joseph Blandisi
ANALYSIS: If I had kept my signing or if I was willing to trade a prospect or pick to re-acquire somebody else's signing, I would have used it on Blandisi. He's showing a lot of promise, with six points through 10 games for New Jersey, and the Devils definitely need some young point-producers going forward. That could be a great fit for him and he was certainly worth signing, which this GM did immediately after landing his rights. Now, he'll have Blandisi for at least two more seasons, providing he reaches our 26-game threshold by the end of the NHL regular season. If he's sent back to the minors or an injury prevents him from playing 26 games, then the signing is voided and he would instead be eligible for our annual rookie draft. So there was some risk involved in trading for him and signing him, but the reward could be huge. It could be similar to last season when I did a trade-and-sign with Mike Hoffman, moving him out for Nail Yakupov and Zach Bogosian in a trade that obviously backfired on me. In this deal, I got back two mediocre prospects in Chase and Koekkoek — I have higher hopes for the latter — plus a non-keeper in Etem, who others might still be interested in signing.
Here are the other seven trades, not involving me, in rapid-fire fashion:
http://gty.im/503770804
INCOMING = Leo Komarov and Brian Flynn
OUTGOING = Corey Perry and Andrew Ladd
ANALYSIS: Based on name value, this deal is a rip-off, but Komarov comes with a cheap keeper contract, while Perry is too expensive to keep and Ladd is expiring after this season. Flynn was seemingly a throw-in. Personally, I'm not convinced Komarov can produce at this level again next season, so I probably would have shopped Perry and Ladd for more futures but, then again, futures are never a sure thing either. I honestly don't like this return for the seller, but to each their own.
---
http://gty.im/496991192
INCOMING = Marian Gaborik, Christian Fischer, Jordan Greenway, Nicklas Jensen and Petri Kontiola
OUTGOING = Jeff Carter
ANALYSIS: Same seller here, but this is more my kind of return. Carter is in the final year of his current contract, but he could be extended at a still reasonable salary for another year or possibly two. Gaborik is a bit cheaper, with two years left on his current contract, so that savings would have freed up cap space for our annual auction in the fall. Fischer and Greenway are intriguing power-forward prospects, while Jensen is nearing NHL status and sure looked like a bust in Vancouver's organization prior to getting traded to the Rangers for Etem. Kontiola had a failed stint in Toronto and probably won't get another chance in North America, so he can probably be cut loose even as a non-roster prospect. This deal will be a wait-and-see, decided by what becomes of Fischer and Greenway, along with whether Carter's addition helps this buyer get into the prize money.
---
INCOMING = Brian Dumoulin and Mackenzie Skapski
OUTGOING = Marian Gaborik and Chris Tanev
ANALYSIS: I'm not sure I understand this deal for that same seller, who flipped Gaborik and tossed in Tanev for pretty much nothing in return. Dumoulin already has NHL status and I really don't see him as a keeper, or as a defenceman with much fantasy upside. Skapski somehow got into a couple games with the Rangers last season and then somehow got picked in our rookie draft, but he's sporting a sub-.900 save percentage in the ECHL this season. The Rangers have better goaltending prospects in their system, so Skapski can be written off as a bust at this point. Gaborik certainly should have been able to fetch a prospect with better upside.
---
http://gty.im/494142818
INCOMING = Ales Hemsky, Rocco Grimaldi, Nikolay Goldobin and Kirill Petrov
OUTGOING = Gabriel Landeskog
ANALYSIS: Last but not least from that seller, they got a decent haul here for Landeskog, who is on an expiring contract and can't be kept beyond this season. Hemsky has a bargain-bin salary with two more seasons left on his contract, while Grimaldi and Goldobin were both first-round NHL draft picks with decent offensive potential. Both are closing in on NHL status, so their new owner will be hoping they don't get to 26 career regular-season games by the end of this campaign. The buyer might have been afraid of that, knowing his roster was already too deep to keep them, but he probably wanted Landeskog more than anything as our current standings leader. The rich got richer here, but the seller got a couple quality pieces for his team's future too.
---
http://gty.im/505908116
INCOMING = Brent Burns
OUTGOING = Marc Staal and Matthew Barzal
ANALYSIS: Same buyer here, with our standings leader landing Burns to help put his team over the top. Barring a catastrophe, he'll be tough to catch with the additions of Burns and Landeskog. Marc Staal is a nice player in real life, but he's not much of a fantasy contributor, especially in this league where hits and blocks don't count for anything. He's on a non-keeper expiring contract anyway, so this was essentially a 1-for-1 swap of Burns for Barzal, a talented forward prospect for the Islanders with big-time potential. Burns is just such a beast in the present that it's hard not to consider this a win for that buyer, but Barzal could make it a win-win if he reaches his ceiling. Oddly, the seller here is actually in third place but recently took over this team as a mid-season replacement with a catch — they are limited in the amount of prize money they can earn because of the previous GM's failure to set his lineups on a regular basis. As commissioners, we continued to backedit the roster for that team to ensure all the points were counted but, after so many strikes, we restricted the winnings to next season's entry fee, with anything above and beyond going towards the total purse for 2016-17. The top four in the regular season earn at least their entry fees, along with the top two from the playoffs, so the new co-GMs are still trying to secure that placing but at the same time shifting their focus to the franchise's future.
---
http://gty.im/492826914
INCOMING = Joe Thornton
OUTGOING = Jake DeBrusk
ANALYSIS: This was an intriguing trade, with a seller making a buy from another wannabe seller. You see, the bottom-four teams will also play off in a draft lottery tournament to determine the top-four picks in this year's rookie draft. So here we saw the 18th-place team grab Thornton from the team currently in 17th place, probably realizing their paths could cross in that tourney and the team with the better roster at that time will have the best chance at the first overall pick (Matthews). Smooth move if that was, indeed, the thought process behind this deal.
---
INCOMING = Nick Ritchie and Mark Pysyk
OUTGOING = Teemu Pulkkinen and Darnell Nurse
ANALYSIS: Lastly, a trade between real-life friends who might be trying to help each other in the fantasy realm. The team that acquired Pulkkinen and Nurse is bringing up the rear in our standings and is far enough back that its pick will certainly be in the running for Matthews. Except for the fact that team previously traded away its first-rounder, to the team that took back Ritchie and Pysyk in this deal. So the incoming team here has a vested interest in seeing his buddy do well the rest of the way — the better buddy does, the higher his pick will be. But the deal itself was fair enough that we couldn't void it or complain of collusion. Ritchie is a top prospect and could be an impact player for Anaheim as early as next season. Pulkkinen has one year left on his entry-level contract in our league and Nurse has two remaining, but both should be solid keepers and contributors for next season. Pysyk is a non-keeper on an expiring contract unless he's signed by tomorrow, which is possible. I'd rather have Pulkkinen and Nurse, obviously for the remainder of this season but going forward as well, although others disagreed and favoured Ritchie over both of them. Again, to each their own.
---
Keeper 2
I put up a better fight than anticipated here against friend of the Mailbag, Luc Grenier, but fortunately I came out on the losing end of a 165.6-140.7 result. That was my highest point total in five weeks and highest since I started selling, so Luke might have been sweating for a bit despite leading from start to finish last week.
This league's trade deadline was Sunday, but I didn't manage to pull off any more deals amid a flurry of last-minute activity that saw some pretty big names on the move. I was trying to pawn off my spare parts such as Hemsky, Tanev and Derek Dorsett, but there were no takers. All the buyers already had better depth players or weren't willing to make a drop for a marginal upgrade, so I'm stuck with those guys at least until the off-season. I shouldn't say "stuck" because they are all three serviceable in this league, but I don't see them as part of my core group going forward.
Nevertheless, they remain on my roster, which is now locked in stone aside from waiver claims through the end of the regular season. I won't be making the playoffs, but this is where my team stands as of today:
http://gty.im/503882672
Active Forwards — Mika Zibanejad, Craig Smith, Jesper Fast, Tomas Jurco, Ales Hemsky, Derek Dorsett, Frank Vatrano, Michael Mersch and Tanner Kero
Prospect Forwards — Artemi Panarin, Ty Rattie, Sven Andrighetto, Alexander Khokhlachev, Hudson Fasching, Nikolai Prokhorkin and Danny Kristo
Active Defencemen — Adam Larsson, Calvin de Haan, Nikita Nesterov, Chris Tanev, Jakub Kindl, Jared Cowen
Prospect Defencemen — Anthony DeAngelo, Jeremy Roy, Travis Dermott, Gustav Forsling, Vili Saarijarvi and Kristian Nakyva
Active Goaltenders — Kari Lehtonen and Michal Neuvirth
2016 Draft Picks (5 total, 4 first-rounders and 1 second-rounder) — Currently 8th, 16th, 19th, 22nd and 38th
In this league, prospects don't reach NHL status until 75 games for skaters and 50 games for goaltenders, so only Panarin is projected to become active providing he stays healthy for the entire season. If that happens, I'd have to make room for him by dropping one of my current actives, likely either Cowen or Kindl. It is a dynasty league, so we keep 18 actives, plus as many prospects as we want.
Here are the seven deals that went down ahead of this league's deadline:
http://gty.im/458826350
INCOMING = Henrik Lundqvist
OUTGOING = Phil Kessel and Jimmy Howard
ANALYSIS: Two teams trying to address their needs, one by upgrading its goaltending with Lundqvist and the other by adding a sniper in Kessel. Fair value.
---
http://gty.im/497402134
INCOMING = Nail Yakupov
OUTGOING = Hampus Lindholm, Jeremy Bracco, Brycen Martin and two second-round picks (currently 46th and 54th overall)
ANALYSIS: Yes, that's a lot to pay for Yakupov, but he's a lifetime keeper in a dynasty format and if he clicks with Connor McDavid going forward, he could still become the best player in this deal and offset some of those losses. As of today, most would agree that Lindholm is the best player in this deal, especially considering young defencemen are the most difficult assets to acquire in fantasy leagues like this. If Yakupov doesn't take off as McDavid's wingman, this could go down as a big loss.
---
http://gty.im/496564906
INCOMING = Mark Giordano, Benoit Pouliot, Michael Matheson and Chris Bigras
OUTGOING = Alex Pietrangelo
ANALYSIS: Pietrangelo is six years younger than Giordano but hasn't been nearly as productive in fantasy to date, so this package was a little puzzling. It seems to me like an overpayment, especially because I'm high on Matheson as a prospect, but like I said about Lindholm, there is a price to be paid for acquiring younger defencemen. This GM paid a premium, but Pietrangelo could still break out and become a go-to guy for the foreseeable future. I'd rather have that package based on the present.
---
http://gty.im/468678494
INCOMING = Kevin Shattenkirk and Emerson Etem
OUTGOING = Jakub Voracek and Justin Schultz
ANALYSIS: A hockey deal, in fantasy — imagine that. Basically two teams meeting each other's needs again, with one wanting a better defenceman in Shattenkirk and the other improving at forward with Voracek. The fact that blue-liners are a bit more valuable, the Schultz-for-Etem swap likely balances out this deal. Call it a win-win? I'm not really leaning one way or the other here.
---
http://gty.im/468639860
INCOMING = Shane Doan
OUTGOING = Second-round pick (51st overall)
ANALYSIS: Pretty straight forward deal here, a veteran for a draft pick. Doan's days are numbered, but he's been surprisingly productive this season and should help this buyer down the stretch.
---
INCOMING = Second-round pick (46th overall)
OUTGOING = Evgeny Medvedev and Xavier Ouellet
ANALYSIS: Medvedev is new to the NHL this season, but he's already 33 years old, so he's no spring chicken. Ouellet is a 22-year-old defence prospect with decent upside so, combined, they are worth that pick. Fair value again here.
---
INCOMING = First-round pick (26th overall)
OUTGOING = Linus Ullmark and a second-round pick (53rd overall)
ANALYSIS: Ullmark was a pleasant surprise during his stint with Buffalo before Robin Lehner returned from injury and this GM will get 31 more starts from Ullmark as a prospect in exchange for dropping down 27 spots (as of today) in the rookie draft order.
---
Box Pool Update
It's time for my monthly look at a couple box pools that I entered this season. I even get to make a few trades in the one, a rare occurrence in box-pool formats. Let's start there, with a league run by my uncle- and cousin-in-law. Looking at the standings first, I'm still in the middle of the pack but ahead of both of them. I'm in 13th place, while the uncle is 24th and the cousin is having a tough go in last place among 32 entries. I'm 86 points behind the leader, 37 points ahead of the uncle and 91 up on the cousin.
So I need to make up as much ground as possible with these trades. The way it works is we were allowed to swap out two skaters and one goaltender, but we had to pick replacements from the original box grouping. You do get credit for their points to date, so it makes sense to capitalize on those discrepancies, while also weighing their point potential for the rest of the regular season following the All-Star festivities.
Here is a look at what my options were, in order of the biggest point spread to be gained via trade — ranging from 30 points down to five points:
Connor McDavid (12) for Alex Steen (42=30)/Anze Kopitar (41=29)/Filip Forsberg (31=19)
Ondrej Pavelec (5) for Craig Anderson (26=21)
Tyler Seguin (53) for Patrick Kane (73=20)
Ryan Getzlaf (29) for Joe Pavelski (48=19)/Nicklas Backstrom (44=15)
Sidney Crosby (40) for Jamie Benn (58=18)/Alex Ovechkin (42=2)
Ryan Nugent-Hopkins (30) for Patrice Bergeron (44=14)/Derick Brassard (36=6)
Derek Stepan (21) for Kyle Okposo (35=14)/Sean Monahan (29=8)
Jonathan Toews (35) for Johnny Gaudreau (46=11)/Daniel Sedin (43=8)
Phil Kessel (30) for Matt Duchene (40=10)
Jack Eichel (32) for Bobby Ryan (42=10)
Eric Staal (29) for Bryan Little (38=9)
Corey Perry (31) for Henrik Sedin (37=6)
Kevin Shattenkirk (27) for Tyson Barrie (32=5)
http://gty.im/478661986
Now that you've had a minute to digest those numbers, would you believe me if I told you that I didn't trade McDavid? Basic math suggests I should have and I strongly considered swapping him for Kopitar, but I decided against it. I truly believe McDavid is going to light it up as a point-per-game player over Edmonton's final 32 games, bringing his season total to somewhere in that 44-to-50 points range. Kopitar is on pace for 70 points, so roughly 20 more than McDavid based on my projections.
http://gty.im/502464532
Instead, I traded McDavid's teammate, Nugent-Hopkins, for Bergeron. As you likely know, Nugent-Hopkins is going to miss upwards of two months after undergoing hand surgery, so assuming he returns March 26 against Los Angeles, that would only leave him five more regular-season games. And assuming the Oilers are out of the playoff race, they might just end his season early. Even if Nugent-Hopkins does make it back and puts a point-per-game in a handful of contests, he'd finish in that 35 range. Bergeron is on pace for 75 points, which would be roughly 40 more than Nugent-Hopkins or double the difference from McDavid to Kopitar.
http://gty.im/501995970
I also traded Seguin for Kane, simply because Kane is running away with the scoring race, currently on pace for 115 points. Seguin is on pace for 87 points, a difference of 28. So I'm betting that Kane maintains or increases that gap, while McDavid winds up finishing closer to Kopitar — fewer than 28 points behind him. It's a risky bet, but I like to live dangerously and it'll give me something to track down the stretch.
http://gty.im/458799152
Lastly, I made the obvious trade of Pavelec for Anderson in goal. Neither of them are fantasy stars, but my other netminders were in good shape, having picked Ben Bishop over Carey Price from the outset and also taking Braden Holtby over Jonathan Quick, amongst others. Anderson has a 21-point lead on Pavelec and I don't see that changing, especially not if Winnipeg continues to ride rookie Connor Hellebuyck even when Pavelec is healthy again.
http://gty.im/467380868
My other box pool is the Kentwood Hockey Draft put on my OilersNation.com. I've made a marginal climb up the standings there from when we last checked in back on Dec. 8. I was tied for 246th overall then, but now I'm in a group at 222nd, up 24 spots. It's a big improvement from Nov. 10 when I was tied for 693rd out of presumably thousands of entries. I currently have 738 fantasy points — up from 207 on Nov. 10 and 415 on Dec. 8 — but the leader is at 795, which still seems like a pretty insurmountable 57-point deficit.
Looking at our roster discrepancies, he went with the Dallas tandem of Benn and Seguin, while I picked Crosby and John Tavares from the first two boxes. Combined, that's a 37-point difference right there (111-74). There were 21 total boxes, so that only leaves 20 points over the other 19 boxes. It appears this draft was won and lost right off the top, but don't count out Crosby and Tavares just yet. They could certainly make things interesting over the final 30-some games. Stay tuned!
---
All-Star Pool
I'm also entering an All-Star pool where we pick 12 players, including at least one defenceman but no goaltenders. It is a rotisserie, points only, with goals and assists worth the same. I discussed it at length in this week's Facing Off column, but if you missed it there, here it is again. This is a first for me — I've never been in an All-Star pool, never even heard of an All-Star pool, but the 3-on-3 tourney has everybody excited and now we're turning it into a fantasy game too.
It's harder than you might think to pick this team, mainly because there is nothing at stake — well, next to nothing — in the All-Star Game, so you never know who's going to actually try and who's going to coast around. You could simply pick the top-11 forwards in league scoring, along with the top defenceman, and call it good. You might even win with that straight-forward strategy. Or you can overthink every selection, overanalyze every angle, which is the approach I ended up taking.
Where to begin? Well, you'd be crazy not to have Patrick Kane on your team — the guy is on pace for 115 points, which prorates to 20 more than his nearest rival in the scoring race. That Central team is stacked, so it's probably smart to pick the Dallas tandem of Jamie Benn and Tyler Seguin. Give me Vladimir Tarasenko too. The obvious defenceman is Erik Karlsson, so I'll take him to round out my top five.
http://gty.im/185779213
Only seven more to go. Moving over to the Metropolitan Division, I'm also going with the Washington tandem of Alex Ovechkin and Nicklas Backstrom. Here's hoping Ovechkin is sober (or less hungover than last year), and Backstrom should be a good bet to be trying more than most, given this is his long overdue first appearance in the All-Star Game. They aren't having great seasons by their standards, but I still want John Tavares and Steven Stamkos on my team to make it nine.
I'd like to take Johnny Gaudreau, but my anti-Flames upbringing instilled a "no Calgary players allowed" rule for my fantasy teams, so I'll have to take a pass on him against my better judgment. Instead, I'll take Taylor Hall from the Oilers because that's the homer thing to do and because he's been very effective in the 3-on-3 all season.
Because I'm so confident the Central is winning this tourney, I'll go back there for my final two selections. Jonathan Toews because he's as clutch as they come and isn't the kind of guy to be going half-speed at anything, it's just not in his nature. And, lastly, I'm going way off the board by picking Roman Josi, a second defenceman, from the host Predators. Every year, players from the host team seem to get special treatment — the sweetest set-ups — and I feel Josi's skating and passing ability will help him rack up the assists if not the goals.
To recap, my 12-man team consists of Kane, Benn, Seguin, Tarasenko, Karlsson, Ovechkin, Backstrom, Tavares, Stamkos, Hall, Toews and Josi. Wish me luck this weekend!
---
Do you have a question for the Fantasy Hockey Mailbag? You can reach out to me in the comments section below, by email at larry.fisher31@gmail.com, or on Twitter: @LarryFisher_KDC.
Larry Fisher is a sports reporter at The Daily Courier in Kelowna, British Columbia, Canada, and has been an at-large contributor for The Hockey Writers since August 2014.
Larry Fisher is a senior writer and head scout for The Hockey Writers, having been an at-large contributor for THW since August 2014. Fisher covers both the NHL and the WHL, specializing in prospects and NHL draft content, including his annual mock drafts that date back to 2012. Fisher has also been a beat writer for the WHL's Kelowna Rockets since 2008, formerly working as a sports reporter/editor for The Daily Courier in Kelowna, British Columbia, Canada from 2008-2019. Follow him on Twitter: @LarryFisher_KDC.