As the month of March dawns on the 1965-66 hockey season, a common theme seems to be prominent in many quarters. All around the National Hockey League, and the rest of the hockey world for that matter, everybody is looking for something in particular.
Golden Jet Looks for 50
Bobby Hull goes into tonight's game tonight in Chicago against the Detroit Red Wings looking for his record-tying 50th goal of the 1965-66 season. He has scored 49 goals in 51 games this season.
Despite being on the cusp of the record-tying goal, Hull says he is more concerned about team results than individual goals:
Our big problem is to stay with the Canadiens. They don't seem to lose. If and when I score my next few goals it's most important to me that they help us keep winning.
Tonight, Hull plays a team against whom he has enjoyed great success this year. In nine games versus the Red Wings this season, the Golden Jet has scored eight goals. Things seem to be lining up for the star left-winger to reach and perhaps eclipse the mark tonight.
Leafs Settle on Gamble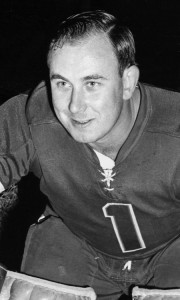 In Toronto, over the past couple of days, the Maple Leafs have been frantically searching for a qualified NHL goalkeeper. The top three netminders in the Toronto system, Johnny Bower, Terry Sawchuk and Gary Smith, are all sidelines with various injuries.
General manager-coach Punch Imlach has settled on journeyman goalie Bruce Gamble. Gamble, 27, has seen NHL action with the New York Rangers and Boston Bruins. During both of those big-league stints, his teams were not terribly skilled and he was forced to perform under less than ideal conditions for a goaltender.
This season, Gamble has played for Toronto's Central Professional Hockey League team at Tulsa. He has had a great season for the Oilers and has them battling for the lead in the league. His 2.87 goals-against average is among the league's best.
Rights Traded to Leafs in Training Camp
Gamble's rights were acquired by Toronto during training camp in September from the Springfield Indians of the American Hockey League. He had left the Indians during the second half of the 1963-64 season after growing weary of the Spartan treatment owner Eddie Shore gave his players. He was suspended the entire 1964-65 season when he refused to report to Springfield's training camp in September.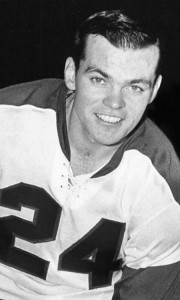 Imlach was looking for goaltending depth for this season and remembered Gamble's time in Boston. He called Shore and offered a couple of minor leaguers, Larry Johnston and Bill Smith, neither of whom figured in Imlach's plans. Shore agreed to send Gamble's rights to the Leafs for Johnston and Smith and the portly netminder was now a Maple Leaf.
There was one hitch in the deal. Shore thought that Imlach had offered goalkeeper Smith, as in Gary Smith. Imlach had no intention of giving up a fine prospect for a goalie who hadn't played in a year and a half, and had offered William Smith, a 23-year-old winger who scored nine goals for the Oilers in 1964-65.
When the players arrived in Springfield, Shore was livid to discover that the Smith he had bought was not a goaltender. Shore called Imlach, who offered to nullify the deal and told Shore to send the players back to Toronto. Shore, figuring that live bodies were better than a goalie working in the grain elevators of Thunder Bay, decided to let the deal stand.
NHL Hires P.R. Director
Keeping with the "looking for something" theme, the National Hockey League continues is quest for a national television contract in the United States. To further that search, the league yesterday hired Donald V. Ruck, 38, of Mount Carmel, Connecticut as its new Publicity Director.
Ruck will be in charge of the NHL's new publicity office, to be opened this summer in New York City. He will supervise all the league's public relations activities in both Canada and the United States.
Ruck is the second executive hired by the NHL in recent months. Brian O'Neill of Montreal was recently brought on as the league's administrative manager. He is considered to be the heir-apparent to Clarence Campbell's role as NHL president.
Ron Andrews continues in his post as publicity director and unofficial league statistician. Fred Corcoran remains as publicity consultant in New York.
Ruck has been the director of public relations for Connecticut Blue Cross for the past 12 years. Prior to that, he worked as a sportswriter for several papers, including both major dailies in Hartford, Connecticut. He is a graduate of the University of Connecticut (1952) and has remained active in the school's sports program.
Ruck is expected to take over all television network negotiations. The league is currently awaiting a decision by NBC as to whether they will carry Stanley Cup playoff games on Sunday afternoons. Such a decision would require the league to alter its game schedule. Stanley Cup games have never been played on Sunday afternoons.