Jeff Tambellini has had an up-and-down hockey career since playing for the Wolverines at the University of Michigan and being drafted by the Los Angeles Kings in the 2003 NHL Draft. After a brief cameo in Hollywood he was shipped cross-country to the New York Islanders where he shuttled back-and-forth between the NHL club and it's AHL affiliate in Bridgeport — where he often excelled, potting at least 30 goals twice.
Come the summer of 2010 the Islanders failed to re-sign Tambellini and he made another cross-continent trip, this time landing in his hometown with the Vancouver Canucks where he played in 62 games and six playoff games as the Canucks made it all the way to Game 7 of the Stanley Cup Final before succumbing to the Boston Bruins.  The following summer he found himself overseas, playing in Switzerland under coach Bob Hartley; Tambellini would go on to lead the ZSC Lions in scoring while leading the team to the Swiss Championship in his first year there.
He most recently played a few seasons in the Swedish Hockey League, before inking a one-year, two-way deal with the Tampa Bay Lightning. This season with Tampa's AHL affiliate, the Syracuse Crunch, Jeff Tambellini has put up 33 points (18g-15a) through 46 games and The Hockey Writers spoke with him recently to find out why he made the move back to North America and what it was like to play against his younger brother this season among other topics.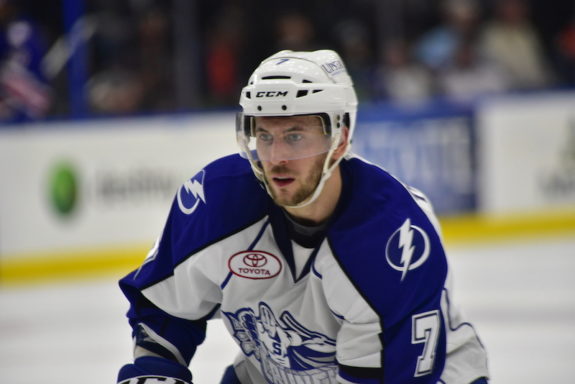 The Hockey Writers: What were some takeaways from your three-year experience at the University of Michigan?
Jeff Tambellini: I had a really good experience in college, we always had great teams at Michigan; one of the main reasons why I went there was I knew we'd always have a chance to win. Red Berenson always gave us a good team and he was a great coach (of mine) for three years. It's a really good program and a great school.
THW: What are your memories of your 242 NHL games with the Los Angeles Kings, New York Islanders and Vancouver Canucks?
JT: Good memories; first game, first goal. Definitely the best part was (playing in) the playoffs in Vancouver; that stood out — that's a pretty special time. That's definitely a highlight.
Jeff Tambellini nets his first NHL hat trick vs. the Buffalo Sabres in 2009:
THW: You spent the previous four seasons overseas, in Switzerland and Sweden, what was it that enticed you to come back to North America?
JT: I went over there earlier than most, we had a chance to win there twice; which made it a little easier to come back, still with a desire to win here. I think if you wait too long it's really hard to come back. I think I was pretty close to that line, age-wise, that if I wait a year or two more it would have been tough to come back. This is my home.
THW: What's been the biggest transition for you coming back to play hockey in North America?
JT: I think it was a bigger transition going overseas, but the game's changed a lot. A lot of the European game has come into the NHL and the AHL, so it hasn't been too bad (for me). Really just getting used to the smaller rinks. Some of the things that I learned to do in Europe didn't necessarily translate back (here); but after about twenty games it made sense again.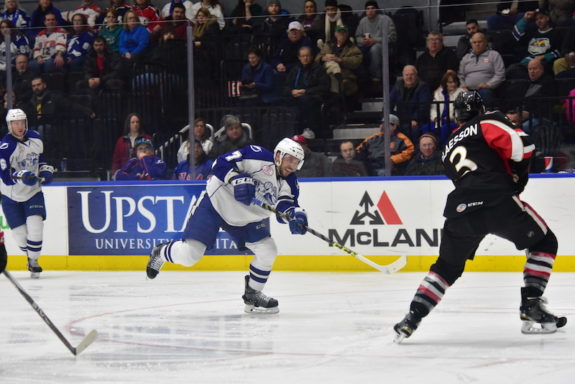 THW: What has it been like to play in the same league as your brother Adam Tambellini of the Hartford Wolfpack, who is 11-years younger than you on opposite teams?
JT: It happened so fast, we played each other back-to-back, I think in the first week, and then we don't see Hartford again the rest of the year. It happened quick and there's so much going on. His first start, me coming back (to the AHL). I thought he played awesome, I caught myself watching him more than anything else.
THW: Your father Steve Tambellini is obviously a former NHLer (won two Cups with the Isles, former Edmonton GM, currently a scout for the Anaheim Ducks) what is the best piece of advice he has given you during your career?
JT: I don't know if it was really any advice, just the fact that he had experience in the business. So the decisions we made, as a family, were really informed decisions; I think that helped me a lot. Just knowing the business; every situation we ran into that was new for me, he had so much experience in. I think that was definitely my advantage.
Special thanks again to the fantabulous Kristen Denick (Account Executive with the Syracuse Crunch) for helping to put this together for THW.
Dan Rice can be reached via Twitter: @DRdiabloTHW or via Email: drdiablo321@yahoo.com.