With the NHL preseason underway, there are fantasy drafts happening every day now.
That means plenty of questions for the Mailbag. And, not surprisingly, at this time of the year, many are curious about this season's rookie class and which prospects to pick.
The preseason can be misleading, especially early on, because teams aren't yet icing NHL-calibre lineups, so prospects might be lighting it up against inferior competition and minor-league goaltenders.
Next week's games will be more telling, especially by next weekend, as the exhibition schedule winds down and rosters really start to take shape.
Don't put too much stock in these initial results or statistics, but don't totally ignore them either. Keep tabs on potential steals or sleepers, but realize everything ramps up again once the regular season rolls around.
Some prospects are locks to be starting — and staying — in the big league but, even then, the decisions can be difficult.
Pat Feser asked on Twitter: I have the first overall pick in a rookie draft for my keeper league. There is chatter that Patrik Laine is the better "fantasy" player . . . I have to pick Auston Matthews, right?
ANSWER: The way I see it, Laine is going to be a poor man's Alex Ovechkin and Matthews is going to be a rich man's Jonathan Toews. Those comparisons might cancel each other out in terms of fantasy impact.
What I mean by that is Laine will be more electrifying and will have some of those 'wow' nights where he nets four goals — perhaps even as a rookie — but I'm also expecting Laine to go through some unproductive stretches in the early stages of his career. Similar to Nikolaj Ehlers last season in Winnipeg.
Matthews is going to be more of a steady performer, consistently putting up points but maybe not in the same highlight-reel fashion as Laine. Matthews is more like Mats Sundin, he'll show up on the scoresheet even if he doesn't bring the fans out of their seats every night.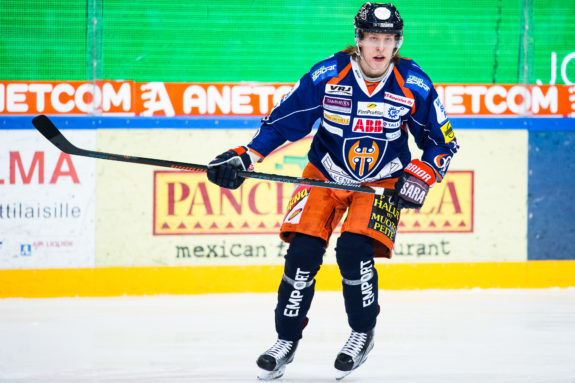 Laine could be a 50-goal scorer in a couple seasons. Matthews could be a point-per-game player in his prime. I would expect them to put up similar point totals throughout their careers, with Laine netting more goals but not by a significant amount. Matthews could be a 40-45 guy and Laine more of a 50-35 guy. Something like that.
So their fantasy value should be comparable, unless your league values goals above assists — then maybe, just maybe, you make the bold move of taking Laine over Matthews with the first overall pick. I have yet to see or hear of Matthews going second in rookie drafts, but I wouldn't necessarily say it's a no-brainer to take him first. I know I had the second overall pick in one of my rookie drafts and I was hoping for Laine, though I wouldn't have been disappointed with Matthews either.
I do expect Matthews to have the longer career or the longer prime between the two, but there is so much roster turnover in fantasy leagues — even in keepers — that I wouldn't base my decision on longevity. For the next five to eight seasons, I expect them to be within 10 points of each other at season's end, barring injuries.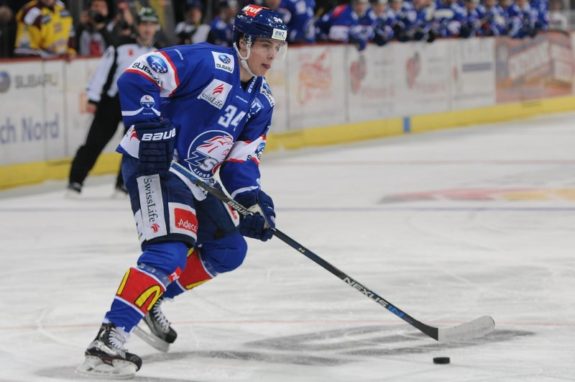 One thing to consider is their linemates and who will be in the better situation — both in the present and in the future. I still feel it is pretty equal on that front.
Laine is projected to start the season on Winnipeg's second line with Bryan Little and Drew Stafford, but if he outperforms Ehlers in training camp, Laine could land on the top line with Mark Scheifele and Blake Wheeler. Kyle Connor could skate on Laine's line long-term too.
It'll be interesting to see where Matthews slots into Toronto's depth chart and how Mike Babcock deploys him. Nazem Kadri and Tyler Bozak aren't true No. 1 centres, so Matthews might leapfrog them right away. He did climb from the fourth line to the first in a matter of a couple weeks with Team North America at the World Cup, so a similar ascension could occur with the Maple Leafs. I could see Matthews between James van Riemsdyk and either William Nylander or Mitch Marner before long and that has the makings of a dynamic line. Matthews was centering van Riemsdyk and Leo Komarov during his debut practice, which would be comparable to Laine as far as quality of linemates.
All in all, you can't really go wrong with Matthews or Laine. Matthews is the safer pick, but it's true that Laine might have more fantasy upside, especially as a goal-scorer. Do you want to live dangerously?
Mark Burke asked on Twitter: Where would you slot Tyler Motte, Sebastian Aho, J.T. Compher, Thomas Chabot, Pavel Buchnevich, Anton Slepyshev, Brady Skjei and Steven Santini with year's draft class?
BACKGROUND: Pat and Mark are both in the same keeper league, based out of Lloydminster, a small city straddling the Alberta-Saskatchewan border. This 18-team league is remarkably entering its 27th season and three GMs have been involved from Day 1. By comparison, my main keeper is entering its seventh season with seven of the 20 original GMs still in the fold.
Pat and Mark's league is one of the very best and I'm speaking from experience. It was my first keeper — spanning four seasons (2005-2009) while working in Lloydminster — and I shamelessly copied the majority of the rules and formatting in founding my own league after moving to Kelowna. The only reason I left that league is I couldn't commit to making the trip back to Lloydminster for the annual in-person auction draft and it was a hassle getting someone else to attend on your behalf. That league is old-school, it doesn't do an online draft — even though most websites now offer the auction option — but that's what makes it so special. It brings 18 grown men — mostly middle-aged, many of them greying or balding — into a rented boardroom full of beer, food, and testosterone. Things get intense at times, but the fun is unrivalled by any other drafting method. Oh, the stories I could-but-can't tell. It is an all-day-and-into-the-night affair, depending on how many "penalty shots" are consumed for breaking the rules. You can't beat in-person if you can pull it off. My current keeper still hosts a "draft party" — typically attended by a handful of the 20 GMs — but our auction is online and it's just not the same. That one day of suspense and shenanigans — boys being boys, adults being teenagers again — is what I miss most about Pat and Mark's league.
ANSWER: As for Mark's question, that is quite the assortment of prospects. Aho and Buchnevich are a clear cut above, in my opinion, and are worthy of top-10 consideration amongst the 2016 draft class. I wouldn't take them over any of Matthews, Laine, Jesse Puljujarvi, Matthew Tkachuk, Pierre-Luc Dubois, Alexander Nylander or Clayton Keller among the forwards. I would rank Aho and Buchnevich right there with Tyson Jost to round out the top-10 forwards available for your draft. Aho went eighth overall in one of my drafts to mixed reactions, but I felt that was a decent value pick, especially if you're wanting a rookie to step right in and contribute to your fantasy team this season. Jost or others like Luke Kunin or even German Rubtsov might have a higher fantasy ceiling, but Aho and Buchnevich are NHL-ready and could make an immediate impact.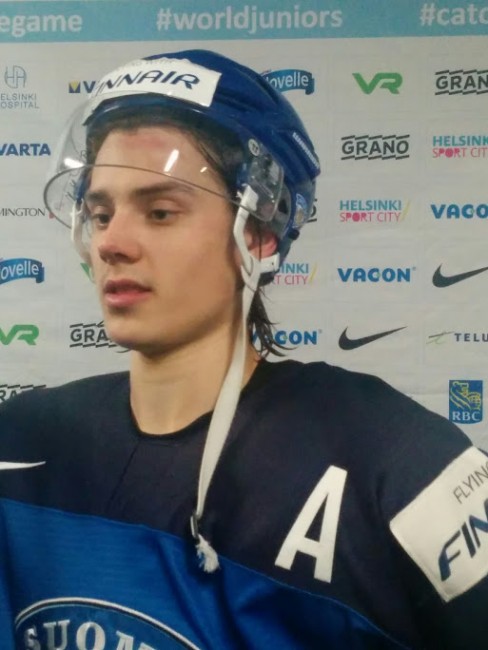 If the preseason is any indication, it looks like Aho will be playing on a line with Teuvo Teravainen and Elias Lindholm, while Buchnevich is skating alongside Mika Zibanejad and Chris Kreider. I really like the potential of those combinations, so I wouldn't hesitate in picking either Aho or Buchnevich.
Motte, Compher, and Slepyshev should see NHL time this season too, but I'm not as high on them. I wouldn't take that trio ahead of many, if any, of the 2016 first-round forwards — well, maybe Trent Frederic and Tage Thompson. I actually like most of the second-round forwards and even some of the third-rounders from 2016 more than those older prospects.
Motte is intriguing, but he's probably behind Nick Schmaltz and possibly the likes of Vincent Hinostroza, Ryan Hartman, Tanner Kero, Kyle Baun and Mark McNeill on Chicago's prospect depth chart. There will only be room for a couple of them on the Blackhawks' opening-night roster, so Motte is facing an uphill battle. Alex DeBrincat, who fell to Chicago in the second round of this year's NHL draft, is another prospect I would pick in a rookie draft before Motte.
In terms of defencemen, Chabot would interest me. Skjei and Santini would not. I don't see much offence in the latter two and thus they wouldn't really be on my fantasy radar when it comes to drafting rookies. I do like Chabot's upside and the potential opportunity that awaits him in Ottawa. I doubt he makes the Senators this season, but he might get a long look with a strong showing in exhibition games.
Comparing Chabot to the 2016 draft class, I wouldn't take him ahead of Mikhail Sergachev or Olli Juolevi. After that, Chabot could be an attractive option in comparison to Jake Bean, Charlie McAvoy, Jakob Chychrun and Dante Fabbro. I would rank Chabot in that range, though probably towards the back end of the group unless you want a defence prospect who is further along in his development. Bean, for example, could be a few years away but has a higher ceiling than Chabot — at least offensively. If you're looking for somebody to make an impact sooner than later, Chabot could be your guy.
Mikael Bartholdy asked via email: Who would you suggest trying to pick up in regards to goaltending this season?
BACKGROUND: Mikael is in a 15-team keeper league that favours goaltenders in its scoring system. In fact, six goaltenders — Braden Holtby, Jonathan Quick, Henrik Lundqvist, Corey Crawford, Roberto Luongo and Ben Bishop — produced more fantasy points than any forward or defenseman in this league last season. Unfortunately for Mikael, goaltending is his weakness and kept him from winning the league title — he finished fourth despite a strong core of forwards and defencemen.
Mikael did manage to pick up Winnipeg's Connor Hellebuyck — one of the NHL's top goaltending prospects — and will be keeping him this season. The other goalies on Mikael's current roster are Thomas Greiss and Joonas Korpisalo. Mikael isn't happy with that trio and wants to shake things up. His plan is to take a goaltender in the first round of his upcoming draft and is looking for help on who to target.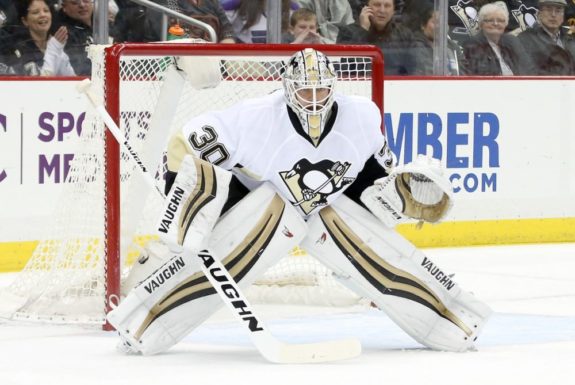 ANSWER: Each team keeps eight players and with goaltenders being so valuable in this league, Mikael is assuming most the big names will be retained. Mikael could pick Ondrej Pavelec to have a guaranteed starter in Winnipeg, but Pavelec will probably be available outside of the first round. Mikael should be able to grab Pavelec in the middle rounds and not waste a high pick on him. Being a keeper league and seeing both Matt Murray and Andrei Vasilevskiy projected as being available for Mikael's first-round pick, I would take either of them to pair with Hellebuyck long-term. Heck, I'd take both Murray and Vasilevisky if the other guy was still there in the second round. To have a goaltending trio of Hellebuyck, Murray, and Vasilevskiy — instead of Greiss and Korpisalo — in a league that seems to overvalue goalies would be a genius strategy. Mikael would be set in goal for the next decade.
However, if Mikael is in win-now mode, then he may not want to load up on young goalies who might still be backups this season. In that case, Mikael would be better off taking the best player available in the first round — be it a forward or a defenceman — and hoping Pavelec falls to the second or third round. If the Dallas tandem was available, Kari Lehtonen or Antti Niemi could be decent options considering they will backstop a winning team. Buffalo's Robin Lehner could be a better target than Pavelec in the early rounds. As could Toronto's Frederik Andersen. Edmonton's Cam Talbot and Calgary's Brian Elliott might be available too and their teams should be improved this season. Ottawa's Craig Anderson and Carolina's Cam Ward fit that bill as well.
The list could go on, but I would still target Murray and/or Vasilevskiy above all the others. Yes, even if it means short-term pain for long-term gain. Mikael would be in great shape for the future with either or both of them joining Hellebuyck between the pipes. That is, assuming he'd be allowed to keep more than one goalie among his eight keepers. Even if that is against the rules, I might still go that route because any of those three would be great trade assets going forward once they become elite starters.
Richard Phillips asked: Who are the top goaltending prospects, in your opinion, in the NHL? Who would you target for keeper leagues?
ANSWER: Murray, Vasilevskiy, Hellebuyck and Anaheim's John Gibson are the top prospects on the verge of becoming starters this season or next. They are the obvious answers here. I guess you can throw Lehner, Vancouver's Jacob Markstrom, St. Louis' Jake Allen and Colorado's Calvin Pickard into that mix too, but they have been known commodities for some time now. The same goes for San Jose's Martin Jones and Detroit's Petr Mrazek.
Beyond that group of 10 — representing one-third of the league — it should be noted that goalies are a crapshoot, which is the reason NHL teams rarely use first-round picks on them anymore. It is just too hard to tell who will boom and who will bust as their development continues toward the professional levels.
The same logic can be applied to picking goalies in rookie drafts for fantasy leagues. It will be hit and miss. I could throw out 50 names and probably only 25 will ever play an NHL game, possibly even fewer. Of course, there are some seemingly can't-miss prospects that I would be willing to recommend.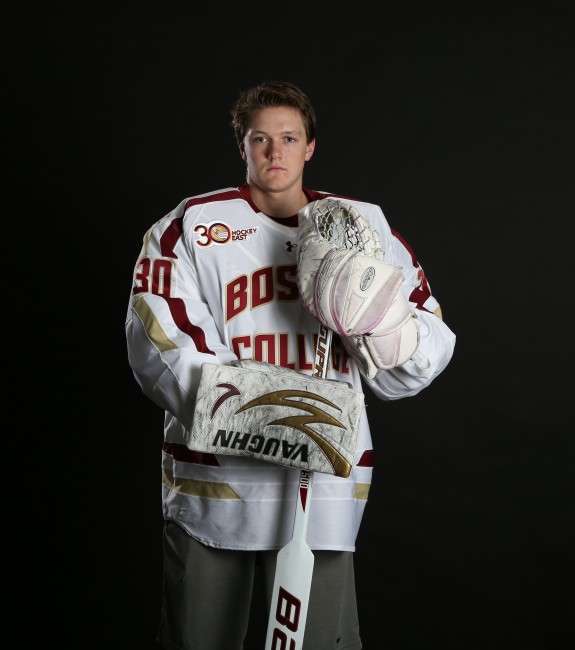 Ilya Sorokin might top my list — he's a third-round pick of the Islanders from 2014 who is dominating the KHL again this season. Sorokin will arguably be the best goalie outside the NHL this season, but he's Russian and there's always that risk he won't cross the pond.
Ditto for Washington's Ilya Samsonov, a first-rounder from 2015 who has drawn favourable comparisons to Vasilevskiy. If you like Russian goalies, those two should represent the future.
In North America, the NCAA has been producing some top-end netminders in recent years. Vancouver's Thatcher Demko is the second-coming of Cory Schneider and will be battling with Markstrom for the Canucks' crease soon enough. Calgary's Jon Gillies missed most of the last season with hip surgery but has returned to form and is quite reminiscent of Hellebuyck. The Flames are one of those teams with several goaltending prospects and time will tell who takes that torch when Elliott's tenure ends there — be it Gillies, Mason McDonald or Tyler Parsons.
The Flyers drafted Carter Hart out of the WHL this year — a guy I'm really high on — but Philadelphia already had Anthony Stolarz, Alex Lyon, Felix Sandstrom and Matej Tomek in the system, so who knows which prospect will be between the pipes in the City of Brotherly Love a few years from now. It's a guessing game, much like Philadelphia's current situation with Steve Mason and Michal Neuvirth.
Opportunity is a big part of it. For example, New Jersey has Scott Wedgewood and Mackenzie Blackwood, but neither of them is going to get any action behind Schneider. They might not even get ahead of Keith Kinkaid on that depth chart.
Meanwhile, in Carolina, Alex Nedeljkovic could be starring sooner than later if Ward and Eddie Lack falter. Therefore, Nedeljkovic would rank higher on my list of keeper goalies.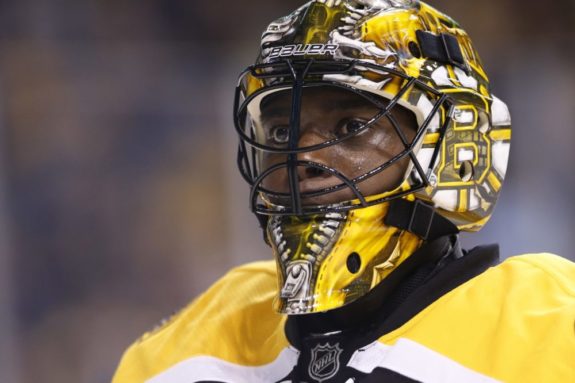 I'm not sure what to make of Malcolm Subban in Boston or Zachary Fucale in Montreal, two highly-touted Canadian goalies. They are boom or bust types but could have elite potential. However, some other major-junior prospects might end up being just as good or better. Philippe Desrosiers in Dallas is one of the names that comes to mind and his chance could be coming too if Lehtonen and Niemi disappoint again this season. Fucale is stuck behind Carey Price and Subban seems a likely candidate to get selected in the expansion draft by Las Vegas.
My live viewings are mostly of WHL goalies and I've always liked Winnipeg's Eric Comrie, but he's undersized and behind Hellebuyck. Pittsburgh's Tristan Jarry seemed like a solid prospect, but Murray is the future there, with the Penguins also picking Filip Gustavsson this year. As much as I like Hart, Tampa Bay's Connor Ingram could outperform him to become Canada's starter at this winter's world juniors.
Finland continues to produce quality goaltending prospects too, with Juuse Saros looking like the heir apparent to Pekka Rinne in Nashville. Ville Husso is another impressive Finn who could push Allen for playing time in St. Louis in the years to come. Even Korpisalo, who Mikael owned in the previous question, appears promising for Columbus, but the Blue Jackets just have to hope Sergei Bobrovsky can stay healthy and build on his World Cup heroics for Russia. If Mikael is still reading, Bobrovsky — if available — would be a much better pick than Pavelec in the first round.
I'll stop there because I'm already getting carried away. If I had to rank my top three, beyond those initial 10, I would probably go Sorokin, Demko, and Samsonov in that order. I'm honestly not sure who would round out my top five or crack my top 10. Like I said, it's a total crapshoot.
---
My Fantasy World
Keeper 1
Still just counting down the sleeps until the auction on Oct. 8 — only nine sleeps away now.
When that time comes, 20 teams will be competing to buy a total of 91 forwards, 38 defencemen, and 13 goaltenders before picking a combined 160 more players of any position over an eight-round, non-snaking reserve draft.
It should be tons of fun, even though I don't have much money to spend in rounding out my roster. Stay tuned for those results in the next Mailbag.
---
Keeper Two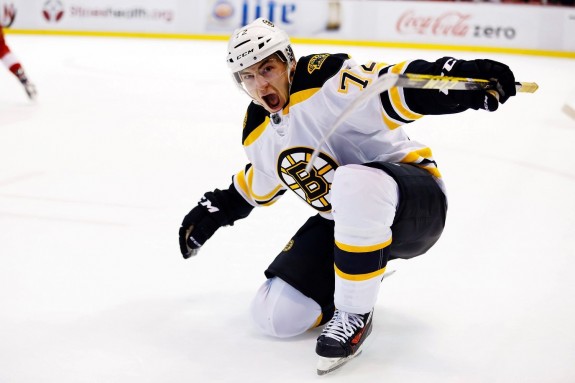 This team is getting depleted by injuries before the season even starts, but I'm not overly upset because I'm rebuilding here with no real plans of contending for anything this season. The loss of Frank Vatrano hurts more than Tomas Jurco, Joffrey Lupul and potentially Bryan Rust. I was hoping for big things from Vatrano in his first full NHL season, but he's going to be sidelined for three months now after undergoing foot surgery. Hopefully, he bounces back because I've been envisioning Vatrano as part of my future forward group.
Dan Boyle has yet to take a tryout anywhere, which leads me to believe he's leaning toward retirement, but I'll hang on a little longer just in case he gets a contract.
I did make a couple minor roster moves since the last Mailbag, claiming Mike Fisher off waivers — he was surprisingly dropped right after being named Nashville's captain — but the plan is to trade Fisher for futures (prospects or picks) at some point. I had to drop Tanner Kero, a Chicago forward prospect, to make room for Fisher, and I decided to swap Michael Hutchinson for Anders Nilsson in goal too. I already had Linus Ullmark, so I figured Nilsson might give me the Buffalo tandem if Lehner gets hurt again. Hutchinson seems like the odd-man out in Winnipeg anyways.
Other than that, I don't have any irons in the fire at present. I'm more or less just waiting for the puck to drop or for the injury reserve to become available, so I can fill those aforementioned holes. Then again, I might just activate a few rookies and rotate them in and out, considering I'll have Laine, Brandon Davidson, and Michael Matheson as prospects starting the season on NHL rosters, plus perhaps Puljujarvi, Michael McCarron, Artturi Lehkonen, Gustav Forsling and Anthony DeAngelo.
The future should be bright for this team, but the present is pretty painful.
---
Do you have a question for the Fantasy Hockey Mailbag? You can reach out to me in the comments section below, by email at larry.fisher31@gmail.com, or on Twitter: @LarryFisher_KDC.
Larry Fisher is a senior writer and head scout for The Hockey Writers, having been an at-large contributor for THW since August 2014. Fisher covers both the NHL and the WHL, specializing in prospects and NHL draft content, including his annual mock drafts that date back to 2012. Fisher has also been a beat writer for the WHL's Kelowna Rockets since 2008, formerly working as a sports reporter/editor for The Daily Courier in Kelowna, British Columbia, Canada from 2008-2019. Follow him on Twitter: @LarryFisher_KDC.