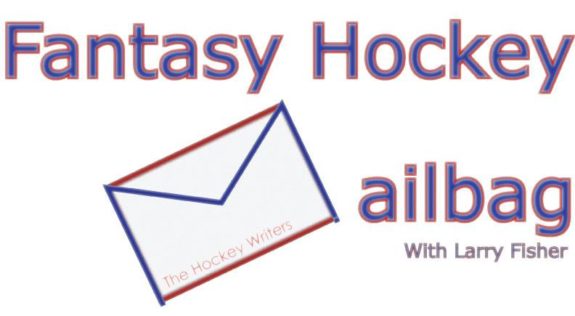 'Tis the season for buying and selling.
Well, mostly for buying in the Christmas spirit, but the selling applies to fantasy hockey — at least to keeper leagues, with the NHL season surpassing its quarter-mark.
The majority of Mailbag questions over the last week have involved trading from a buyer or seller approach. Here are a few examples:
OUTGOING = Mikko Rantanen and Travis Sanheim
INCOMING = Jordan Eberle and Gabriel Landeskog
---
OUTGOING = Oliver Ekman-Larsson and Nicklas Backstrom
INCOMING = Noah Hanifin, Jakob Chychrun and Nikolaj Ehlers
---
OUTGOING = Brandon Montour
INCOMING = Nick Leddy
For non-contending teams contemplating a rebuild, those are enticing returns. For middle of the pack teams with a tougher head-to-head schedule to start the season, it's probably still a little early to sell.
That's the case for Pat Feser, a friend of the Mailbag who is building for the future around Connor McDavid and Austin Matthews — yes, he managed to land both — but remains competitive in the present. He could have went either way, buy or sell, as evidenced by these offers involving young defencemen:
OUTGOING = Shea Theodore
INCOMING = Vladislav Namestnikov, Evander Kane and Jeff Petry
---
OUTGOING = Oliver Ekman-Larsson, Nicklas Backstrom and Patrice Bergeron
INCOMING = Zach Werenski
Pat was hesitant to pull the trigger, one way or the other, but ultimately became a buyer on Black Friday, when he deemed this deal too good to pass up:
OUTGOING = Travis Sanheim, Daniel Sprong and a first-round draft pick (1-18, likely in the teens after this trade)
INCOMING = Jeff Skinner and Jake Muzzin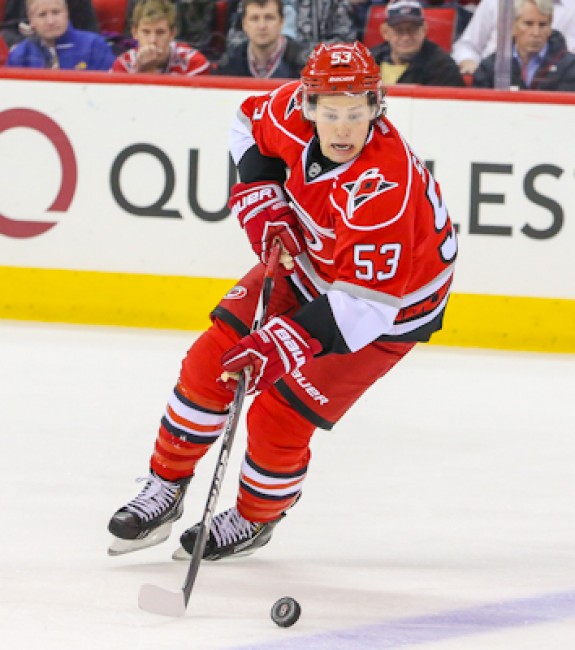 I like that move for Pat. He's currently third in his six-team division, with the top two getting paid in the regular season and most of the prize money allocated to playoffs in that 18-team league.
Pat felt he needed another good defenceman like Muzzin to improve his chances and Skinner should only help too. Makes sense to me. Especially with the way contracts and salaries work in this league, Pat is better off trying to cash in while McDavid and Matthews are still on cheap entry-level deals. Keep buying and building their supporting cast.
At least that was going to be my advice. Turns out, before I could get this Mailbag published, Pat did some more wheeling and dealing. Oh boy, did he ever . . .
OUTGOING = Oliver Ekman-Larsson and Nicklas Backstrom
INCOMING = Zach Werenski
---
OUTGOING = Auston Matthews
INCOMING = Jack Eichel, Nikolaj Ehlers and Noah Hanifin
Truth be told, I'm still digesting those moves, but I think Pat comes out ahead in the end. That was obviously a steep price to pay for Werenski, but he's looking like the real deal right now and Pat was able to shed significant salary there. The return on Matthews was quite the impressive haul, especially with many considering Matthews and Eichel fairly equal. I do prefer Matthews, but not by much, so getting both Ehlers and Hanifin makes that one a big win for Pat in my opinion.
---
In single-season leagues, or limited keepers, there are still "hockey trades" going down. Regardless of your league's format, a key rule of thumb is to buy low and sell high.
Another Mailbag regular, Stefan Morrone, nearly went against that rule by pursuing the following deal:
OUTGOING = John Tavares and Evgeny Kuznetsov
INCOMING = Claude Giroux and Ryan Getzlaf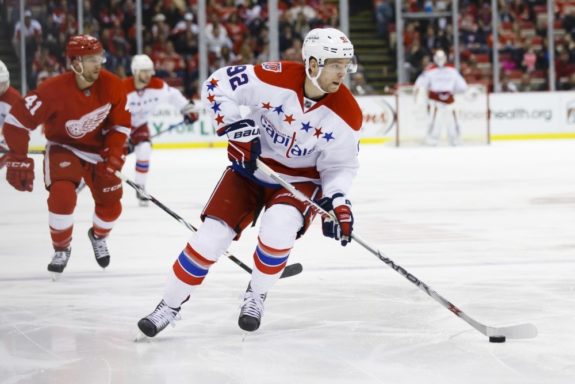 Stefan had grown frustrated with his struggling stars and tried to revisit an offer he had previously resisted on my advice. Fortunately, in my opinion, the other GM rejected this time around. That would have been selling low on Stefan's part, and Kuznetsov has since shown some encouraging signs as Alex Ovechkin's centre again. That deal was turned down on Nov. 18, so I'm looking forward to tracking it from that date on, to see how it would have played out for Stefan. Through Saturday, Stefan's guys have combined for five points in nine games, while Giroux and Getzlaf have totaled four points over eight games. It'll be an interesting study at season's end.
---
Enter a couple Mailbag newcomers in Justin Lalonde and Nick Milinkovich. Both reached out via email, requesting some roster help regarding trades as well.
Justin asked: Are there players on my roster that are slow right now but can bust out? Or are there guys I'm holding onto in hopes they will bust out (like Mike Hoffman) that I should look elsewhere to replace?
BACKGROUND: Justin is in a limited keeper league, where the 12 teams each keep one forward, one defenceman, one goaltender and one rookie for a two-year limit. Justin is currently in eighth place, occupying the final playoff spot, albeit still early with plenty of time for improvement.
Justin's roster is as follows:
C — Alex Galchenyuk, Victor Rask
LW — Patrik Laine (rookie keeper), Jeff Skinner, Mike Hoffman, Gabriel Landeskog (IR), Travis Konecny
RW — Patrick Kane (keeper), Phil Kessel, T.J. Oshie (IR), Patrick Eaves
D — Drew Doughty (keeper), Cam Fowler, Ryan Ellis
G — Roberto Luongo, Cam Ward, Peter Budaj, Jonathan Quick (IR, keeper)
ANSWER: Hoffman has turned it on since I received Justin's question, so that part is kind of answering itself. I do like Hoffman as a fantasy player and think he could produce at close to a point-per-game pace the rest of the way.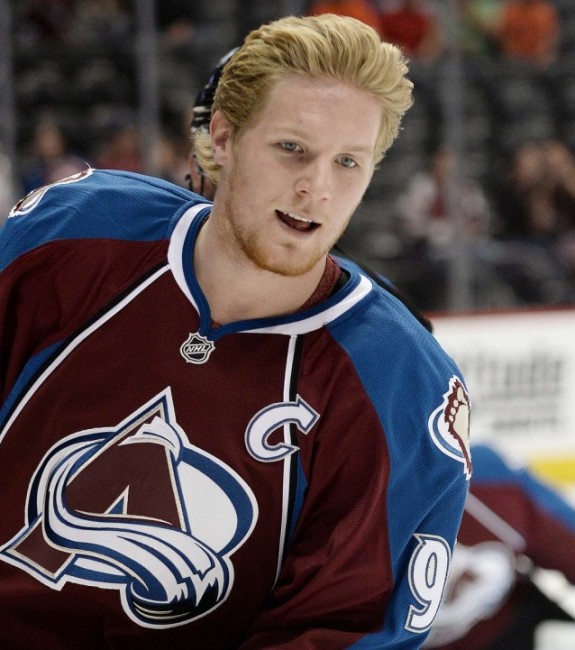 However, aside from Hoffman, I don't really see any other slow starters there. I guess Landeskog could fit that bill, but I don't have high hopes for his fantasy potential and think he'll always be a more impactful player in real life, along the lines of Jonathan Toews.
Instead, what I see is some hot starters who could perhaps cool off. Rask, Eaves and Konecny as forwards, Fowler on defence and Budaj in goal all seem to be overachieving or exceeding my expectations. If I owned those players, in particular, I'd certainly be listening to offers on them, if not actively shopping them based on that sell-high mentality.
If I were Justin, I'd also be looking to strengthen my centre position and maybe add another quality defenceman. I'd consider making a 2-for-1 trade, packaging two of those five hot starters to address one of those needs. If there's a market for Budaj, I'd entertain moving him too while his stock is higher than ever.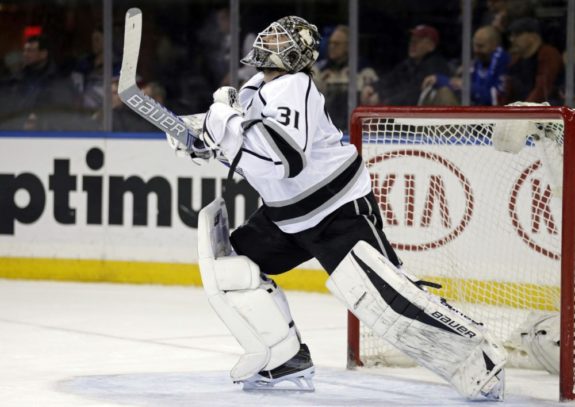 Thinking out loud, I wonder what kind of long-term goaltending upgrade could be available for Justin if he packaged Budaj with Eaves? Neither are household fantasy names, but they are putting up nice numbers this season. Seems like the perfect time to sell high.
Packaging Rask and Fowler could probably net a much bigger fish, be it a centre or a defender. It's worth exploring in my opinion. I'd like to see a little more elite talent on Justin's roster, even if makes his keeper decisions more difficult going forward.
Some teams might consider Konecny an upgrade on their current rookie keeper as well, and with Laine locked in there, it would be interesting to see what kind of return Konecny could fetch for Justin. More food for thought.
---
Nick asked: How much future talent is worth giving up for Steven Stamkos and Jonathan Quick?
BACKGROUND: Nick is in an 11-team keeper league, with 18 roster spots and 12 keepers. The scoring categories are goals, assists, power-play points and plus/minus for skaters, then wins, goals-against average, save percentage and shutouts for goaltenders. This league runs right through the end of the NHL regular season, without any playoff component.
Nick won the league title two years ago and finished in second place last season. He's currently sitting fourth in the standings and really likes his team but has accumulated too many strong keepers, so he's trying to decide how to get the most out of his assets.
Nick's roster is as follows:
C — Anze Kopitar, Aleksander Barkov, Patrice Bergeron
LW — Filip Forsberg, Max Pacioretty, Alexander Radulov
RW — Patrick Sharp, William Nylander, Mikko Rantanen
D — Erik Karlsson, Brent Burns, John Carlson, Aaron Ekblad
G — Tuukka Rask, Cory Schneider, Matt Murray
Bench — Jesse Puljujarvi, Gustav Nyquist
Remember, Nick can only keep 12 of those 18. With that in mind, and thinking from a buy-low perspective, Nick engaged in negotiations with a seller wanting to ship out Stamkos and Quick.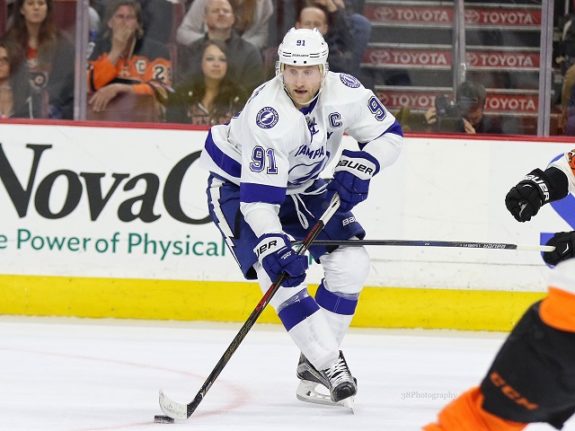 Yes, Nick is well aware that both those stars are sidelined with long-term injuries. Stamkos could miss up to six months, meaning he may not be back before the NHL playoffs and thus a non-factor for the rest of the fantasy season. There is a fair bit of uncertainty surrounding Quick too, with his wonky groin expected to keep him out at least until the New Year and probably past the All-Star break. So there is significant risk in acquiring either of them, let alone both in the same trade, which is what Nick has been considering. It would be a bold move and a potential "game-changer" as he described it.
Here's the deal being discussed:
OUTGOING = Aaron Ekblad, William Nylander and Gustav Nyquist
INCOMING = Steven Stamkos, Jonathan Quick and Brent Seabrook
An exchange of draft picks was also part of the conversation, with Nick moving down a couple rounds. Both Nick and the other GM were a bit uncomfortable and decided to think on it some more.
Still, Nick felt the temptation to land both Stamkos and Quick as future keepers was too good to pass up. With only two Injury Reserve spots per team in this league, Nick would need the rest of his players to stay healthy or he'd be playing shorthanded if and when anybody else got hurt. The seller is wisely seeking young talent and draft picks in return.
Nick also mentioned that he might be able to flip Quick, once healthy, for Evgeni Malkin, noting Malkin's current owner is willing to move him for a top-flight goalie. Nick had already rejected Malkin for Schneider straight up, which speaks to the value of goaltenders in this league. Nick added that he would reconsider the Malkin-Schneider swap, assuming Quick returned to form.
ANSWER: Processing all that, I can see where Nick is coming from. Stamkos got off to a great start this season and was looking as good as he ever has, but the reality is Tampa's captain is getting a reputation for being prone to injury. He suffered a broken leg in 2013 and endured a blood clot last season before undergoing knee surgery for a meniscus tear this month. Stamkos doesn't play a reckless style and he's become a fitness beast — one of Gary Roberts' prized pupils — so this habit of getting hurt is probably more bad luck than anything else.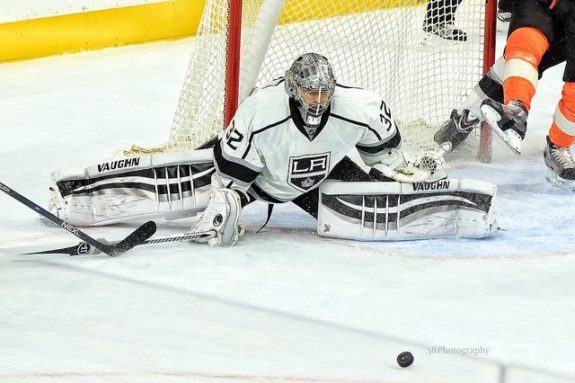 Quick, on the other hand, has had recurring groin issues and that is more concerning for the future. He's among the most flexible and agile goalies, but his style may be catching up to him and could wind up shortening his career.
Nick is already deep in goal, so Quick is less of a need as well. If possible, I'd try to focus on Stamkos and pass on Quick.
I like Nylander's upside, but I wouldn't hesitate to make that 2-for-1 swap of Nylander and Nyquist for Stamkos, throwing in draft picks if necessary.
I'd probably even trade Nylander and Ekblad for Stamkos, but without adding any picks. Nick's defence is his greatest strength, which makes Ekblad more expendable than he would be for most teams. Ekblad is going to be a stud, but Nick can afford to dangle him for Stamkos, who would arguably be Nick's best forward and a top-five keeper on Nick's roster.
If the other GM is determined to package Stamkos and Quick for the best return possible, then I'd recommend picking up those conversations where they left off and trying to get that deal done. The short-term pain could definitely turn into long-term gain for Nick.
That said, I would try to flip Quick for Malkin or a similar top forward — another sure keeper if possible. Assuming Nick was able to pull that off, my 12 keepers would be the three goalies (Rask, Schneider and Murray), the top-two defencemen (Karlsson and Burns), and seven forwards, including Stamkos and whoever Quick turned into, plus Kopitar, Barkov, Forsberg, Rantanen and Puljujarvi. Those would be some controversial decisions no doubt, but I see the most fantasy potential in that group going forward. Hope that helps.
---
My Fantasy World
Keeper one
This was always going to be a transitional season for my team. I had some star power — arguably the best players at each position (forward, defence and goal) — but it was evident that I lacked the depth to compete for the championship or even top-five prize money in this 20-team league.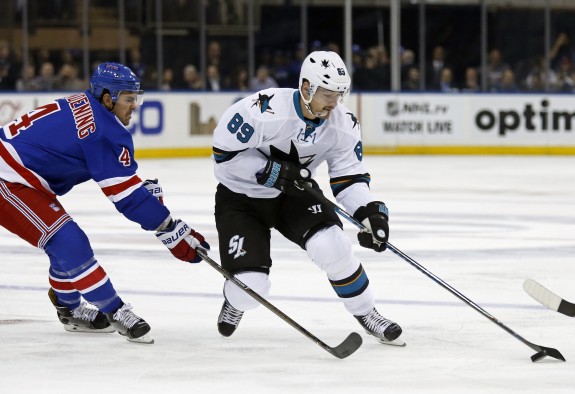 Admittedly, I failed to round out my roster with the right supporting cast in this year's auction. The additions of Mikkel Boedker, Sven Baertschi, Devante Smith-Pelly, Curtis Lazar, Teemu Pulkkinen and Philip Larsen haven't panned out, and I was further hurt by Ryan Murray's injuries and Jacob Trouba's holdout.
Through five weeks, I had two losses (both 6-3-1), two ties (5-5-0, 4-4-2) and a narrow victory (5-4-1) over an early seller. I was sitting in 14th place at the quarter-mark of our regular season, with a 20-25-5 overall record — 22 points behind the standings leader and 13 back of a payout position. The writing was on the wall.
So I decided to throw in the towel and make one of the biggest blockbuster trades of my fantasy career.
OUTGOING = Sidney Crosby, Erik Karlsson and Carey Price
INCOMING = Connor McDavid, Loui Eriksson and Philipp Grubauer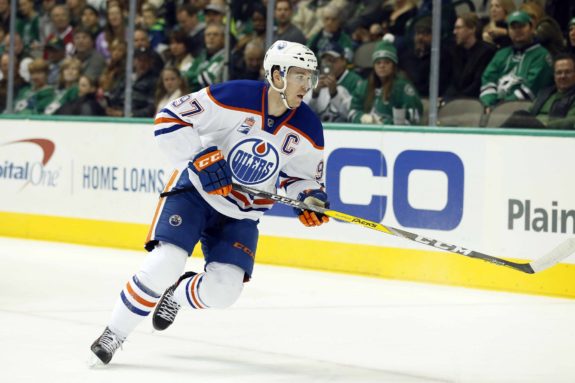 The key there, for me, is McDavid. He still has another year left on his entry-level contract and can then be locked up to a max five-year extension at a bargain salary relative to market value in our league.
Once extended, McDavid's cap hit will be half of Crosby's current contract, which has only one year remaining and is likely too expensive to warrant an extension.
Ditto for Price, he has one year left at his current salary before becoming too pricey to keep.
Karlsson is playing out an expiring contract, the final season of his five-year extension, so he'll be available in next year's auction where I'll have the cap room to potentially buy him back.
Eriksson and Grubauer were essentially throw-ins, to ensure I took back enough salary to stay just above our league's cap floor, while the other team shed enough salary to stay below the cap ceiling.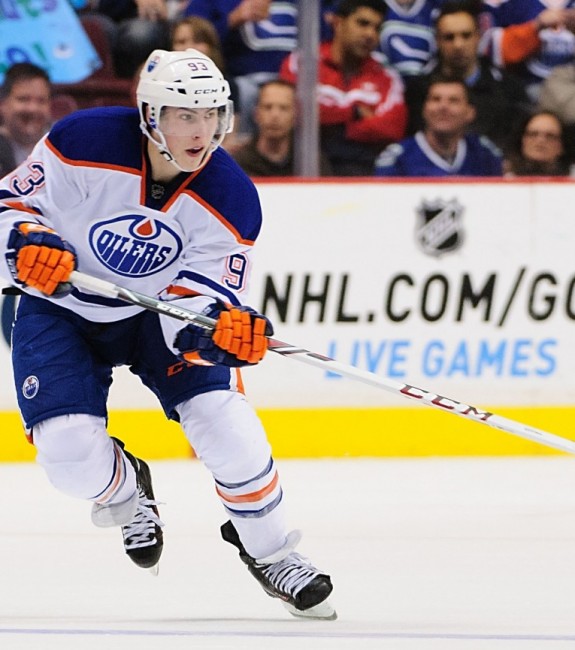 Eriksson and Grubauer won't be keepers for me, and Eriksson is already on my trade block — along with the expiring contracts of Ryan Nugent-Hopkins, Mikael Granlund and Nail Yakupov, among others — but my cap constraints are making further moves more difficult, or at least more complicated. I pretty much have to take back equal salary — dollar out, dollar in — which isn't ideal for buyers who would rather part with futures in terms of prospects and draft picks.
I may end up taking on injured players — like an expensive Stamkos or an expiring Jonathan Huberdeau — in order to facilitate a trade for futures, or simply to give myself more cap flexibility.
Interesting times ahead here — and not just for me, but for all 20 teams. In fact, my blockbuster was just one of 23 trades in a flurry of activity over the past two-plus weeks since the last Mailbag. Most occurred this week, once our salary cap fluctuated — with the floor falling and ceiling rising following Period 5 — to allow for more buying and selling.
Here are the other 22 deals that have gone down as a result (listed in chronological order, starting on Nov. 10):
OUTGOING = Ryan Suter, Tomas Tatar and Tyler Ennis
INCOMING = Jonathan Toews, Robby Fabbri, Mike Smith, Derrick Pouliot and Conner Bleackley
---
OUTGOING = Hampus Lindholm, Semyon Varlamov and a second-round pick (21-40, likely 35-40)
INCOMING = Shea Weber and Jaroslav Halak
---
OUTGOING = Henrik Zetterberg, Travis Hamonic, Danton Heinen and Matt Grzelcyk
INCOMING = Steven Stamkos (prior to injury) and Radko Gudas
---
OUTGOING = Jiri Hudler, Jannik Hansen and Darren Helm
INCOMING = Tomas Plekanec, Andrew Cogliano and Kevin Roy
---
OUTGOING = Steven Stamkos (after injury) and Kyle Rau
INCOMING = Antoine Roussel
---
OUTGOING = William Karlsson
INCOMING = Michael Hutchinson
---
OUTGOING = Kevin Roy
INCOMING = Jiri Hudler
---
OUTGOING = Michael Hutchinson, Andrew Hammond, Rasmus Asplund, Ziyat Paigin, Marcus Pettersson, Adam Almqvist, a first-round pick (1-20, likely 15-20) and a free-agent signing
INCOMING = Henrik Lundqvist and Antti Raanta
---
OUTGOING = Jake Virtanen
INCOMING = Erik Haula
---
OUTGOING = Dylan Strome
INCOMING = Matt Duchene and Robby Fabbri
---
OUTGOING = Noah Hanifin, Kyle Connor, Mike Ribeiro and a third-round pick (41-60, likely 55-60)
INCOMING = Brent Burns
---
OUTGOING = Chris Tanev
INCOMING = Nikita Tryamkin
---
OUTGOING = Christian Fischer and Adam Fox
INCOMING = Mikael Backlund
---
OUTGOING = Nikita Tryamkin
INCOMING = Michal Kempny
---
OUTGOING = Jesse Puljujarvi
INCOMING = David Pastrnak
---
OUTGOING = Kevin Bieksa, Mark McNeill and Paul Bittner
INCOMING = Nick Holden
---
OUTGOING = Jesper Fast, Travis Sanheim and a first-round pick (1-20, likely 10-20)
INCOMING = Tyler Seguin
---
OUTGOING = Mike Condon
INCOMING = Anton Khudobin
---
OUTGOING = Travis Konecny, Mathieu Perreault and Brian Flynn
INCOMING = Jeff Carter and Jamie McGinn
---
OUTGOING = Jakub Vrana, Ville Pokka and a third-round pick (41-60, likely 50-60)
INCOMING = Patrick Sharp and Jake Muzzin
---
OUTGOING = Jaden Schwartz
INCOMING = Frans Nielsen
---
OUTGOING = Jake Guentzel
INCOMING = Ryan Johansen
---
Keeper two
I'm actually on a two-week winning streak with this rebuilding team, though that is surely coming to an end this week against the second-place team in my eight-team division within this 28-team league.
It'll be a blowout loss regardless of any late surge from my squad in today's final action but, nevertheless, things are looking up here. I'm happy with the way this roster is coming together, and I've managed to add a couple more new faces since the last Mailbag.
http://gty.im/618159680
Those being rookie defencemen Troy Stecher of the Vancouver Canucks and Matt Benning of the Edmonton Oilers. The way this league works is any prospects passed over in our rookie draft cannot be added as free agents until their 10th career regular-season game.
I put in a waiver claim for both, but wasn't expecting to land either of them, considering I was 15th in the waiver order. I ended up getting Benning, my second choice, with friend of the Mailbag, Luc Grenier, snagging Stecher despite being 14th in the order. More than a dozen GMs somehow snoozed on Stecher, but given he was my main target, I quickly struck a deal with Luc the next morning.
OUTGOING = Sam Gagner, Matt Puempel, Michael McCarron, Brandon Davidson and a second-round pick (47-56)
INCOMING = Troy Stecher
That looks like a massive overpayment, but I've been watching Stecher closely and he's looking like a potential fantasy stud as a power-play quarterback in the years to come. A poor man's Shayne Gostisbehere or Sami Vatanen perhaps. With defence stats worth more than forwards in this weighted scoring system, Stecher could become a big piece to my future puzzle.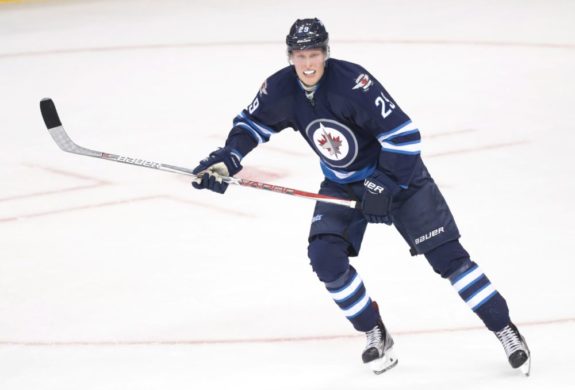 I was already in good shape up front, coming into the season with Patrik Laine and Jesse Puljujarvi, who I drafted second and third overall, plus Artemi Panarin, who I traded up to steal at 32nd overall the previous year. I also claimed Denis Malgin at the 10-game mark, and had acquired Frank Vatrano, prior to his injury, and Artturi Lehkonen in offseason trades. Those guys should comprise my starting six going forward, although I have more promising prospects on the way with the likes of Tyler Benson, Tyler Bertuzzi, Christian Fischer, Dmytro Timashov and Artur Kayumov, plus a top-eight pick in the 2017 rookie draft that could very well be top-four or even first overall depending how I do in the draft-lottery playoff tournament.
My defence was more of a work in progress, but I've managed to shore it up. I'm getting contributions from a trio of drafted rookies in Anthony DeAngelo, Michael Matheson and Gustav Forsling, and I've also plucked John Moore, Kevin Connauton and Martin Marincin from the waiver wire in addition to Stecher and Benning, plus my lone holdover in Nikita Nesterov. I still have Travis Dermott and Jeremy Roy waiting in the wings as prospects too.
Goaltending is my weakness at present, with Anders Nilsson and Linus Ullmark on my active roster, plus Carter Hart and Zachary Fucale as prospects. Hart has been trending nicely and could represent Canada at the upcoming world juniors, while Fucale is trending more toward bust status, though I haven't totally lost hope for him. Regardless, they are both a long way from seeing NHL duty, so I'll probably need to bridge that gap through a trade at some point. I'd like to land somebody like John Gibson, Andrei Vasilevskiy, Matt Murray or Connor Hellebuyck, but you can imagine the asking prices on those future studs in a dynasty league where they can be career keepers. It would likely cost me Panarin and I'm not prepared to go to those extremes just yet.
Getting back to my Stecher trade, Luc is in win-now mode as a contender in the top division and wanted the extra assets to flip for an immediate upgrade. He acted quickly and felt he accomplished that with this deal:
OUTGOING = Carl Soderberg, Matt Puempel, Michael McCarron, Brandon Davidson and a second-round pick (47-56)
INCOMING = Valtteri Filppula
There were six other trades in this league since the last Mailbag, some bigger than others:
OUTGOING = Alexander Edler, Brendan Perlini and Brock Boeser
INCOMING = Ryan Getzlaf
---
OUTGOING = Joonas Donskoi
INCOMING = Chris Neil, Torrey Mitchell and a third-round pick (57-64)
---
OUTGOING = Peter Budaj
INCOMING = Second-round pick (37-46)
---
OUTGOING = Jamie Benn
INCOMING = Phil Kessel, Julius Honka and a first-round pick (19-28)
---
OUTGOING = Joe Thornton, Jake Muzzin and Samuel Girard
INCOMING = Dustin Byfuglien and Blake Comeau
---
OUTGOING = Richard Panik, Derek Dorsett, Samuel Girard, Pheonix Copley and a second-round pick (47-56)
INCOMING = Radim Vrbata and Antoine Roussel
---
Regular draft
I'm still in eighth place in this 12-team league, now 29 points behind the standings leader and 20 clear of the basement.
I'm only 12 points out of third place at present, but the clock is already ticking and time is running out to make my move.
This rotisserie league splits the NHL regular season into two halves with a complete redraft scheduled for Jan. 10. The top three in each half get paid, with the top prize ($100) going to the team with the best combined total.
It's definitely a different format, and it's too bad there isn't another payout for the overall champion from start to finish based on our current rosters. I think my team would have as good a chance as anybody at that title, providing Tomas Hertl and Pavel Buchnevich get healthy and Oliver Bjorkstand eventually gets recalled by Columbus again.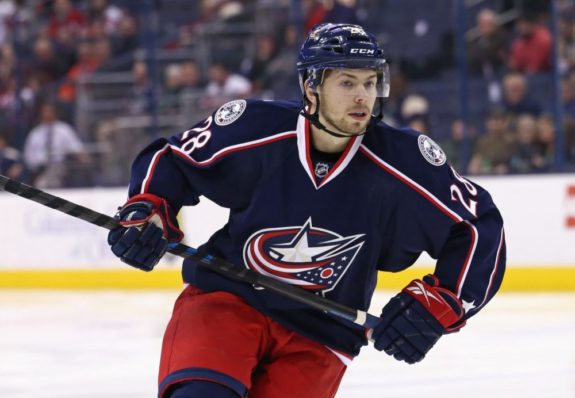 Here's hoping that call-up happens sooner than later, as any points would be better than none. Bjorkstrand made the Blue Jackets out of camp but got sent down before reaching the scoresheet. His struggles continued in the American Hockey League, but Bjorkstrand has been coming on strong lately with five points in his last three games, including three goals over his last two. If he keeps that up, Bjorkstrand should be back in the big league before long.
That said, I'm still kicking myself for using my final pick on Bjorkstrand in the 14th round. The next four names on my list were Sami Vatanen (9), Justin Faulk (7), Mikael Granlund (14) and Ryan Strome (6) — all of whom went undrafted. With Granlund instead of Borkstrand, I would be in a payout position as of today, and any of the others would have me within a handful of points from cashing in too.
Sidney Crosby, who I stole at sixth overall in the first round, is now my leading scorer with 20 points despite missing Pittsburgh's first six games with a concussion. Jordan Eberle, my third-rounder, is second with 17 points, while David Pastrnak, from the ninth round, and Victor Hedman, from the 11th round, are tied for third with 16 points ahead of my second-rounder Nathan MacKinnon, with 15, to round out my top five.
Bringing up the rear, Bjorkstrand's goose-egg is glaring and Buchnevich's back spasms have limited him to eight points in just 10 games. Hertl is hurting too after producing nine points over 17 games, which is tied for third worst on my roster with a couple of bigger disappointments in Loui Eriksson, my fifth-rounder, and Tyson Barrie, from the 10th round.
I'll need those guys to pick it up, along with Sam Reinhart (10), Mike Hoffman (11) and even Tyler Johnson (14), if I'm going to stand any chance of catching up to the top three over the next 45 days. Wish me luck!
---
Box pool
I'm on the rise here, now in a three-way tie for fifth place with 322 points from 21 players. That has my team 23 points out of first place but 50 points ahead of the current cellar dweller.
This league runs the course of the NHL regular season, so time is still on my side. I do have to make a few roster decisions next week, with a deadline looming to swap out two skaters and one goaltender if we so desire. It costs $10 to make those moves and we can only upgrade from the original groupings, but we do get to count the point differential towards our total, so it'll be a worthwhile investment for me.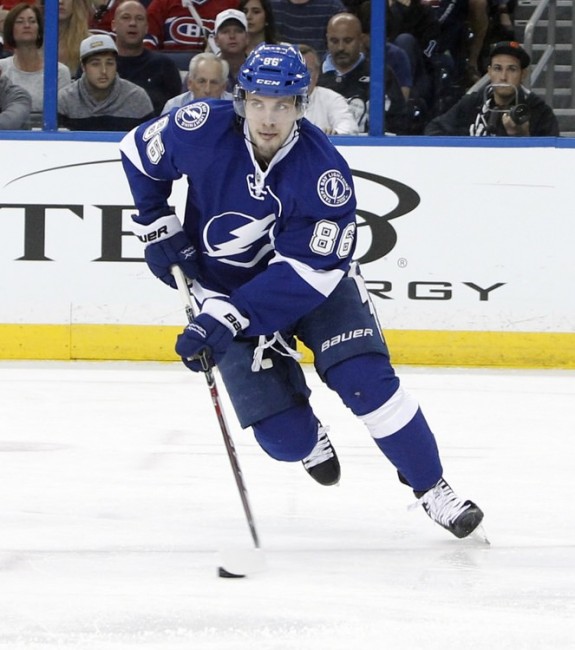 The no-brainer will be dropping Evgeny Kuznetsov (9) for Nikita Kucherov (26), which would give me a 15-point boost as of today.
I'm less decided on my other swaps, but I'll likely turn Derick Brassard (9) into Wayne Simmonds (19). I'm more torn on the goalies, with the option of dropping Braden Holtby (12) for Carey Price (17) or ditching Jake Allen (12) for Devan Dubnyk (17).
That's a tough call because Holtby and the Capitals should get better, and there's still a bit of injury risk with Price even though he's looking like world-beater right now. I also think St. Louis should overtake Minnesota in the standings at some point, which would make Allen more valuable than Dubnyk in this league. I could just stand pat there, but Price might be too tempting to pass up.
Overall, my team is mostly healthy and in good shape, though I'm hoping for more from the Sedin twins as the season progresses. John Klingberg and Shayne Gostisbehere are off to slower than anticipated starts too. If Tyler Johnson, Nathan MacKinnon and Filip Forsberg turn it up a notch, I might just come out on top when it's all said and done. Time will tell.
---
Do you have a question for the Fantasy Hockey Mailbag? You can reach out to me in the comments section below, by email at larry.fisher31@gmail.com, or on Twitter: @LarryFisher_KDC.
Larry Fisher is a senior writer and head scout for The Hockey Writers, having been an at-large contributor for THW since August 2014. Fisher covers both the NHL and the WHL, specializing in prospects and NHL draft content, including his annual mock drafts that date back to 2012. Fisher has also been a beat writer for the WHL's Kelowna Rockets since 2008, formerly working as a sports reporter/editor for The Daily Courier in Kelowna, British Columbia, Canada from 2008-2019. Follow him on Twitter: @LarryFisher_KDC.