After a relatively quiet winter break in the NHL – other than Randy Carlyle's sudden but unsurprising (inevitable?) dismissal yesterday – it's a good time to reflect on the fantasy hockey season so far. Of course, the usual suspects are doing their thing. Guys like Sidney Crosby, Claude Giroux, and Ryan Getzlaf are having typical Hart Trophy campaigns. Steven Stamkos is back and battling for another Rocket Richard Trophy for his growing mantle. And Carey Price, Pekka Rinne, and M-A Fleury are again statistically dominating the crease.
The surprising performances from 'unknown' players this season, however, has been as consistent as the NHL stars above. I know I had to do a double-take on how many points, goals, or raw statistics these players have rung up halfway through the '14-'15 campaign.
Here are a few statistically surprising skaters that have likely carried more than a few fantasy teams this season.
---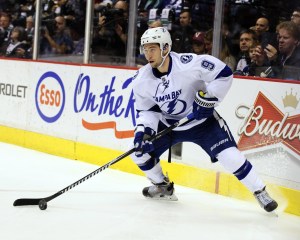 Tyler Johnson – Surprising Stat: Tied for Fifth in League scoring (45 points in 42 games).
I touched on Johnson briefly in my previous article, and I have to praise him once again. The last time I checked, he was pushing into the NHL's top-10 point leaders, thanks to tremendous chemistry with Ondrej Palat (32 points in 40 games) and Nikita Kucherov (41 points in 43 games!?). Eight points in his last five games has vaulted him alongside Ryan Getzlaf and Patrick Kane to fifth in league scoring. Nice company.
Everything about this is surprising – his point totals, his consistency (his longest pointless streak is three games, which has happened just once), his league-leading plus-minus, and the simple fact he has more points than Stamkos (well, so does Kucherov). A brilliant campaign for the sophomore who's showing no signs of slowing down. And to think this guy was probably sitting on the waiver wire in fantasy leagues to start the year…
---
Nick Foligno – Surprising Stat: 20 PPP, Third in the League.
When you think of power play specialists, Erik Karlsson's ability to quarterback the man advantage comes to mind. Or John Tavares' prowess and dominance down low around the net. Or Alex Ovechkin's blistering one-timer. But how about Nick Foligno?
The first-time NHL All-Star miraculously sits third in the league in power play points. The myriad of injuries up front has given Foligno a shot on the PP unit, and to his credit he's taken full advantage. Playing with a guy like Ryan Johansen doesn't hurt, but Foligno was emerging as a useful fantasy asset last year. If your league counts hits, Foligno becomes incredibly valuable. As long as he sits in that top-six/PP role, there's no reason to believe he can't continue this career year.
---
Matt Beleskey – Surprising Stat: 17 goals, more than Ryan Johansen, Wayne Simmonds, and Logan Couture.
'Who will play with Ryan Getzlaf and Corey Perry?' has become almost a cliché or saying in the NHL, since it's asked as much as 'who will the Edmonton Oilers take first overall this year?' Though Beleskey hasn't been consistently beside Getz and Perry over the year, he's producing when he does get a shot with the Big Two. He gets decent power play time, but it doesn't account for his massive 17 tallies. What would explain it is his unsustainable 17% shooting percentage, so expect his pace to slow down dramatically. Still, he's provided GMs with tremendous value over the first 42 games of the season. Besides assists, he only has five of those.
---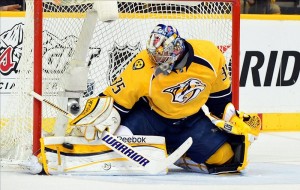 Pekka Rinne – Surprising Stat: League-leading 28 wins. Second most minutes behind Cory Schneider.
Boy did the Nashville Predators miss Pekka Rinne last year. Plagued with hip problems leading to an inconsistent season, Rinne is back on superstar form, carrying the Preds to the best record in the West. His 28 wins are six more than his closest peers (Carey Price and Frederik Andersen), he's second in GAA, and third in SV%. The two-time Vezina Trophy finalist is a lock to snag the best goalie award for 2014-15.
---
John Carlson – Surprising Stat: 31 points, fourth in defence scoring.
When John Carlson was drafted at the end of the first round in 2008, I thought it was another late-round gem similar to Mike Green. Carlson was an offensive stud for the London Knights, won a gold medal for the U.S. with an overtime winner at the WJHC, and has finally translated his two-way game to the Show. He's the go-to guy on D for the Caps now, and a lock for his first 50+ point season. If your league counts blocks, he's a monster in that category, too.
---
Ben Scrivens, Viktor Fasth – Surprising Stats: .898 & .886 SV%, respectively, both in the bottom five of the NHL.
What's really surprising is that they're even near .900%. Or that fantasy GMs actually roster these anchors.
Freelance sports writer. Ex-intern at The Hockey News and 680 News.