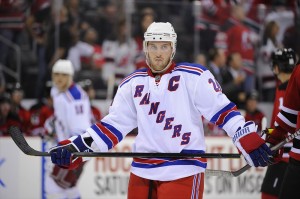 It is always unfortunate to see a player go down with an injury but that's always worse when you see it live (via TV or the arena itself). Last night Ryan Callahan fought Max Talbot and the fight looked anything from ordinary from the start. One could see Talbot almost yanking on Callahan's arm. Inevitably, the left shoulder gave on the captain and Twitter went on fire.
First, let us look at the video real quick. We present the video believe and thanks to Travis Hughes for the visual aid.
This was pretty easy to diagnose from the video or was it? Here is what we know. Ryan Callahan definitely injured his shoulder. Max Talbot says he heard it pop out and the video does support that contention. Again, there were at least two attempts by Talbot to  yank Callahan's shoulder into oblivion.This one above was a little higher in quality.
First and foremost, there is so much to learn about shoulder injuries that needs to be leaned. There are a bevy of sites that explain what is going on so to speak.
Also, the key is just watch the video a few times. Once you do that, one will get a clear idea of this is a season ending injury or it is what nobody expects. Look for patterns and the way in which a person recovers as well. Quiet also is a godsend at times like this along with solid rehab. It may very well be a 4-6 week recovery time but it may not.
People are rushing to judgment quickly on this injury. It will be intriguing to see how the rest of the tests results come back. Stay tuned as we will be waiting. Will it be a few weeks or will it be something more? We open up the floor to you, the fans, in the comments section. Thanks again for reading and expect more fantasy hockey insight like this going forward.