They may have started slow and you may have been forced to drop them, but it's time to let them redeem themselves. Here is a list of players that got off to a bad start, but have been turning things around as of late in the world of fantasy hockey. If they are still available in your league, you need to add them right now. (Percentage owned numbers are from Yahoo fantasy hockey and could change at any minute).
[Click Here:  FREE to Enter, Single Day Draft – $500 in Prizes] 
Slava Voynov, Los Angeles Kings (62% owned)
Much was expected out of Voynov this season after he led all defenseman with six goals in the 2012-2013 playoffs. He only put up three points in his first 13 games though, and has lost his spot on the top power play unit to Jake Muzzin.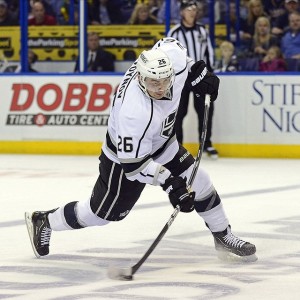 Voynov still doesn't have that gig back, but he is putting up the points consistently. He has six points in his last six games and is a remarkable plus-6 in that span. He is only 23-years old and is trending upwards. His offensive sense is too good to deny and don't be surprised if these numbers continue for the rest of the season.
Cam Fowler, Anaheim Ducks (50% owned)
Fowler was invisible at the start of this season, but is turning into a stud in Anaheim. He has put up eight points over his past 11 games, with half of those coming on the power play. The Ducks are very talented offensively and Fowler is currently seeing 3:11 of power play time a game.  The 21-year-old needs to be on your fantasy team.
Jakub Voracek, Philadelphia Flyers (72% owned)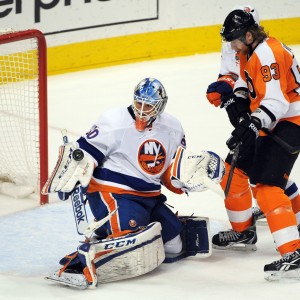 If Voracek was somehow dropped in your league, it's time make that person pay for the worst move of the season. Philly is putting their early season struggles behind them and have won four of their past five games. The scoring has been balanced but Voracek is currently riding a six-game point streak. He is very talented, as demonstrated by his 46 points in 48 games last season. He is also playing alongside a Claude Giroux that is finally scoring. Stop reading this and get Voracek on your team if he's available.
Wayne Simmonds, Philadelphia Flyers (46% owned)
Here is another Flyer who is profiting from the team's change in play. This is a team that now looks very dangerous and Simmonds is a key cog in their offense.  His past four games have been stellar, as he has two goals and two assists, 11 shots on goal, and a plus-3 rating.  He is also contributing heavily in the hit department and is always good for penalty minutes. Half of his points on the year have come with the man advantage, where Simmonds is averaging 3:28 of ice time a game. He is also playing on a deadly second line that features an inspired Brayden Schenn. How can you pass this up?
John Carlson, Washington Capitals (68 % owned)
It is a miracle this guy isn't owned in more leagues. Carlson fell off most people's radars after starting the season with a disappointing two points over his first 13 games. That is erased now as Carlson has five goals over his past nine games. He has gone beast mode for Washington and has fired 24 shots on goal in that span. With an injury to Mike Green, Carlson is now operating on a top power-play unit that features Alexander Ovechkin and Nicklas Backstrom. Two of those five goals came on the man advantage. This guy has 40-point potential every year and shouldn't still be available in any leagues.
Marcus Johansson, Washington Capitals (37% owned)
He may not be Alexander Ovechkin, but he plays with him. Johansson has put up eight points in his last eight games, with half of them coming on the power play. The 23-year-old is living the dream in Washington, playing on the top line and averaging just under three minutes of power-play time a game.  Add him while you can.
Nail Yakupov, Edmonton Oilers (69 % owned)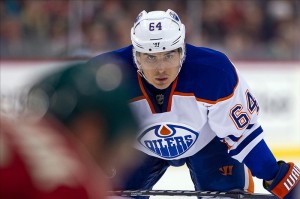 He has faced endless scrutiny this season, but finally, Nail Yakupov is rewarding fantasy owners. He has five points over his past five games, including a stellar outing Monday against the Blue Jackets.  He recorded a goal and an assist—both on the power play—and went plus-2. Yakupov is minus-14 on the year but has gone even over his past five games. His ice time has slowly been increasing since he played a season-low 10:46 against Philly in early November. He saw almost 17 minutes of ice time against Columbus. You're really going to bet against a guy who put up 17 goals (in a shortened campaign) in his first ever NHL season?
Sam Gagner, Edmonton Oilers (40% owned)
He went pointless in his first four games since returning from a broken jaw but is finally starting to contribute in fantasy hockey this season.  He is riding a three-game point-streak while centering the second line on an offensively dangerous Oilers team.  They have struggled mightily this season but broke out Monday with a seven-goal game against Columbus. Gagner only picked up one assist in the win, but it's fair to say that this game will give a boost to almost every single Oilers' fantasy value.