With the NHL season just about to wind down, I will do what many hockey fans across the globe will start to do soon if they haven't already done so… look towards next season. In this first installment of the Stock Report, I'll be taking a look at some of the players in these playoffs who helped improve their fantasy hockey stock going into the 2016-2017 season.
We have been treated to very competitive and exciting playoffs so far that have seen some rather surprising turns and breakout performances. This post will be geared specifically towards the goaltenders and defensemen who, this postseason, best helped their case to be drafted higher (or at all) in your fantasy hockey leagues next season.
Depending on how the off-season shakes out we could see multiple players on this list see their fantasy hockey stock rise thanks to a teammate potentially being on the trading block. Should a situation like that arise, it is a bridge we can cross if/when we come to it. For now, let's dive in a take a look:
Goaltenders:
Matt Murray, Pittsburgh Penguins
One can make the case that Murray helped himself the most out of any player on this list come fantasy drafts next season. Drafted in the third round of the 2012 NHL Entry Draft Murray, was projected to eventually develop into a solid starting goalie at the pro level. Now he is a front-runner to potentially win the Conn Smythe Trophy as playoff MVP with less than 30 games played in the NHL. I doubt many thought he would get to this level this quickly and he seemingly only gets better when the pressure is ratcheted up.
So far in his young career between the regular season and the playoffs he's a combined 23-7-1 with a .927 SV% and a 2.05 GAA. Pretty impressive for a rookie who turned 22 only two weeks ago. The spotlight seems to only make him play better and that is a good thing for fantasy owners going forward, especially in keeper leagues. You can make the argument that he should be a top-10 goalie at the beginning of the season and should be drafted like one, but there is one obstacle standing in his way and his name is Marc-Andre Fleury.
Fleury has three years left on his deal, has been the Penguins starter for a decade, and has already won the team a Stanley Cup in 2009. Injuries have set him back, but he is still a top-tier goaltender in this league and unless he is traded this off-season the path for Murray to be the Pens full-time starter in '16-17 will be blocked. Monitor this throughout the summer and into training camp but if the Pens announce Murray as their guy going forward pounce on him in fantasy drafts.
Martin Jones, San Jose Sharks
A pre-Stanley Cup favorite for the Conn Smythe, Jones had a breakout first year for the Sharks. He finished third in the league in wins during the regular season with 38, upped his game in the playoffs and got San Jose to their first Stanley Cup Final. Win or lose the final, he has established himself as one of the top goalies in the league and should be drafted that way next year. Jones' stellar play this postseason has put him on the fantasy hockey map with his 13-9-4 record and leading all goalies this postseason with three shutouts.
Per @EliasSports, Dominik Hasek (.939 in 1999) has best SV% in single Cup Final by losing goalie in 3+ games. Martin Jones currently at .938

— Pete Jensen 🏒 (@NHLJensen) June 6, 2016
When you consider that before this season started Jones was being drafted on average in the 12th round of most fantasy drafts and now he should be considered a top-five fantasy player at his position to start next season, it's an impressive leap. We have seen in these playoffs what San Jose can do as a team when fully healthy. The Sharks, for the most part, will look very similar next year and should have a healthy Logan Couture, Marc-Edouard Vlasic and Tomas Hertl for the season which only adds to the case for Jones jumping up into the top-5 at the goalie position to start next season.
Thomas Greiss, New York Islanders
Another goalie who potentially faces a blocked path to being a full-time starter, Greiss' path to the crease is slightly more clear than that of Murray. When Jaroslav Halak went down in early March with a groin injury Greiss took the reins and ran with it. The Islanders quickly got behind the journeyman netminder and rode him to a second round loss to the Tampa Bay Lightning, the team's first trip past the opening round of the playoffs since 1993.
Aside from John Tavares, Greiss deserves much of the credit for the Islanders getting as far as they did this year, stepping into a tough situation and playing the most games in a season of his professional career. In his 11 playoff starts, Greiss posted a 5-6-2 record along with a .923 SV%, good for third among qualifying goaltenders this playoffs. The highlight of Greiss' postseason was winning back-to-back double OT games for the Islanders against the Panthers, stopping 88 of 90 shots in 185:54 minutes of action.
The Islanders are very high on Greiss, and despite Halak being owed $4.5 million AAV over the next two years, it seems likely Greiss could break camp as the starter for next year. Even if Greiss doesn't inherit the starting job it appears that he and Halak could be headed towards a time-share, akin to Halak's time in St. Louis when he split time with Brian Elliott, and making the tandem a must-own in fantasy leagues. Fantasy hockey owners should target Greiss easily as a top-20 player at the position, with top-15 potential if he is announced as the starter.
Others receiving consideration: Andre Vasilevskiy, Tampa Bay Lightning
Defense:
Marc-Edouard Vlasic, San Jose Sharks
Often over-shadowed by his Norris Trophy candidate, and rather furry, defense partner Brent Burns, Vlasic has established himself as a top two-way defenseman in these playoffs and going forward. Even before the playoffs began, Vlasic had himself a career season.
The 29-year-old rearguard notched career-highs in both assists (31), and points (39), while seeing action in only 67 games, the second-lowest total of his career for a full season. Vlasic returned just in time for the Sharks to start their march to the Stanley Cup Final, proceeded to shut down some of the top scorers in the Western Conference, all-the-while almost doubling his career playoff offensive output.
Through 22 playoffs games to date, Vlasic has a 1-11-12 stat line, after having only 14 career playoff points before this postseason, and is tied with Nikita Kucherov for the playoff lead in plus/minus at +13. He is also running the point for the Sharks second power-play unit, netting three power-play points while averaging more than 1:30 of PP TOI this postseason.
As long as Vlasic can stay a bit healthier and return to his career average of 74 games per season he should be a shoe-in next year to crack the 40-point barrier, and will be even more valuable in fantasy leagues that award points or categories for plus/minus and blocked shots. He is a borderline top-30 defensive candidate for fantasy drafts next season, and if you are in a league with plus/minus and/or blocked shots he could easily be a top-25 asset at the position.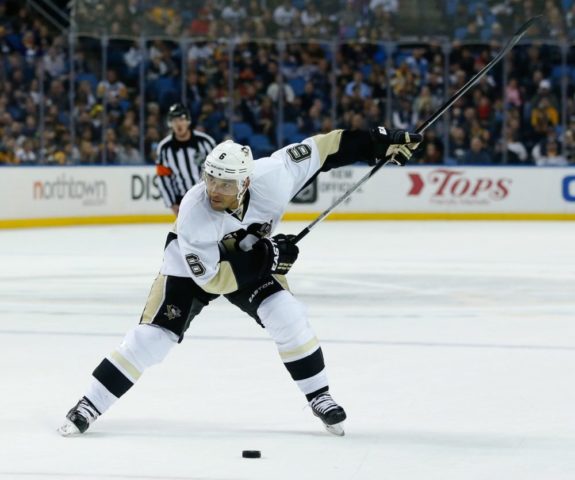 Trevor Daley, Pittsburgh Penguins
It's safe to say that statistically Daley had a fantasy hockey fall from grace this season compared to where he was a year ago. Just last season, playing as the top-pair defenseman for the Dallas Stars, Daley finished fifth in the league among defensemen when he set a career-high 16 goals, and posting his first 30+ point season. After being dealt to the Blackhawks in the Patrick Sharp trade before the season began, Daley was expected to see those numbers balloon playing with the likes of Patrick Kane, Jonathan Toews, Duncan Keith and the rest of the defending Cup champions as they started their title defense.
Things didn't pan out the way either party hoped, and after 29 games and only six assists Daley was traded to the Pens in exchange for Rob Scuderi. Daley found a good fit in the Penguins new system under Mike Sullivan, and had a solid finish to his regular season netting 22 points and 60 blocked shots in 53 games with Pittsburgh, while averaging almost six minutes of ice time more once he got to the Penguins. He translated that strong finish of the regular season into the playoffs with six points, two PPP, and 39 shots on goal in 15 games before an injury cut his post-season short.
Daley finished the regular season second among Penguins defensemen in TOI, averaging 20:27 per game, and he saw that average jump to over 22 minutes in the playoffs.  Despite not playing since Game 4 of the Eastern Conference Final, Daley still ranks second on the Penguins behind Kris Letang in ice time during the playoffs. With numbers like these, you can make the assumption that Daley will get the first crack at being opposite Letang when the Penguins enter camp, giving him a great opportunity for top-pair minutes and lots of power-play time and making him a top-35 defensive candidate come draft season.
Colton Parayko, St. Louis Blues
We all remember how the physically-imposing Parayko burst onto the fantasy hockey scene early in the season for the Blues by posting seven points (4G, 3A), 30 SOG and a 13.3 shooting% in his first 11 games. The rookie looked to be an early-season contender for the Calder Trophy before hitting a wall and having a very up-and-down rest of the season.
Ultimately he finished with 33 points and 165 SOG in 79 games, an impressive season for a rookie defenseman seeing top-4 minutes for a playoff contender. Parayko took his game to a higher level in the playoffs netting two goals, five assists, and 42 SOG in 20 playoff games while increasing his TOI from the regular season by almost a full minute. His 42 SOG in the playoffs were second only on the team to Blues sniper Vladimir Tarasenko's 62.
The Blues have Alex Pietrangelo and Jay Bouwmeester under contract long-term, but with top defenseman Kevin Shattenkirk having only one year left on his contract and rumored to be on the trade block this off-season, Parayko could find himself featured in a top-pair role at the beginning of next season with more power-play responsibility to boot. With or without Shattenkirk in the mix on the Blues defense, Parayko should be considered a top-30 fantasy defenseman heading into next season.
Others receiving consideration: Ryan Pulock, New York Islanders; Jason Garrison, Tampa Bay Lightning; Brian Dumoulin, Pittsburgh Penguins, Jared Spurgeon, Minnesota Wild.
A lot is bound to change before we even get to fantasy draft season. It's always exciting to see how the off-season will play out and who will be affected from a fantasy standpoint. What we do know is, that for a lot of the players listed above, the future is bright. In Part II, to be posted in the coming days, I will examine the forwards who most helped their fantasy hockey stock in these playoffs.