– Your Weekly Fantasy Hockey Breakdown
Each Monday, we'll take a look at the past week in fantasy hockey. Specifically, we'll dive into which players are heating up, which players are cooling down, players to target on the waiver wire, and an update on fantasy-relevant injuries. From week to week, a lot can change in a player's fantasy outlook due to line combinations, injuries, or just a simple tweak in their game and we will have you covered.
Trending Up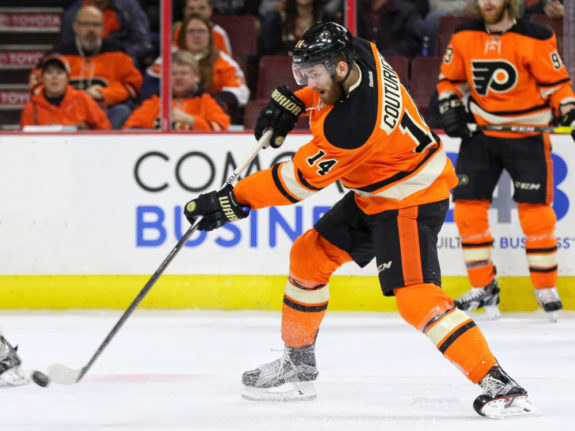 Sean Couturier – PHI (C)
Centring the top line between Claude Giroux and Jakub Voracek sure has its perks. Couturier is on fire, tallying six points (three goals, three assists) in his last three games. For those in leagues that award additional points for the power play, all six of his points came at even strength, which is unlikely to change much given his lack of playing time with the man advantage. However, as long as he remains on the top line, he will continue to have plenty of even strength opportunities.
John Tavares – NYI (C)
After a sluggish start, Tavares exploded last week. With two hat tricks and an assist in three games, he now has his owners grinning from ear to ear. Although he won't keep up this pace, it could be a sign of another big season for the former first-overall pick.
Alexander Radulov – DAL (RW)
With just four points in his first nine games, Radulov wasn't quite providing owners with the type of production they had in mind when they drafted him. Well, he's now doubled that total in his last three games (two goals, two assists).
Three of his four points came with the man advantage, a trend that's likely to continue given his significant role on the first unit of a power play that includes Tyler Seguin and Jamie Benn, and ranks first in the NHL at 32.4 percent efficiency. For fantasy leagues that include shots-on-goal, he's also fired 10 on net in this stretch. He's a must-start whenever he hits the ice.
Related: What if Tavares Leaves Isles in July?
Trending Down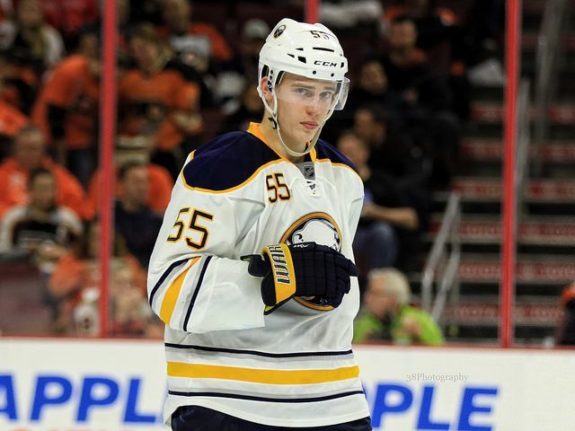 Rasmus Ristolainen – BUF (D)
After back-to-back 40-plus point seasons, Ristonlainen has struggled to find the score sheet this season, including zero points in his last four games. The drought can largely be attributed to the Sabres' power play struggles this season, an area which ranked first in the NHL last season. Despite the lack of scoring, he continues to rack up shots-on-goal and remains on the top power-play unit, so it's only a matter of time before he gets it going. But for now, temper your expectations.
Henrik Zetterberg – DET (LW/C)
It was a hot start to the season for Zetterberg as he turned in nine points in his first eight games, but he has gone stale of late. The veteran has failed to register a single point in his last four games, while also logging a minus-4 rating in that span. The only positive to this drought is he's still throwing pucks at the net consistently and remains the nucleus of the Red Wings' offense. It won't be long before he's back on the scoresheet again, but don't expect the same pace he started the season at.
Victor Arvidsson – NSH (LW/RW)
Expectations were high for Arvidsson after he posted a career-high 61 points last season. Other than a couple of multi-point efforts, he's struggled to find the scoresheet this season and is without a point in five straight games. When judging his value, it's important to remember he was playing on the top line alongside Ryan Johansen and Filip Forsberg last year, as well as the top power-play unit. He hasn't been given the same opportunity or ice time so far this year, so don't expect the same production.
Waiver Wire Targets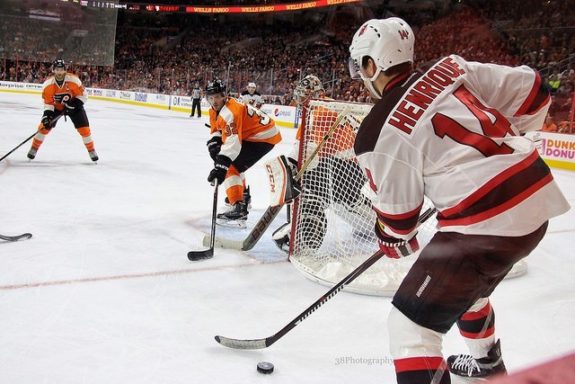 Adam Henrique – NJD (C – 48% owned)
The New Jersey Devils' offense is firing on all cylinders this year, and Henrique is a big reason why. He's registered eight points (three goals, five assists) in 10 games, is centring the second line, and plays a key role on the top power-play unit. He's been put in every position necessary to have a big year, and other than deeper fantasy leagues, he may still be available on your waiver wire.
Brandon Montour – ANA (D – 29% owned)
With Cam Fowler expected to be out 3-7 weeks, Montour is primed to break out offensively. Since Fowler went down, Montour has five points in five games and is quarterbacking the top power-play unit. Other than the deepest of leagues, there's a good chance he's still on your waiver wire. Grab him now and reap the rewards until Fowler returns.
Mikko Rantanen – COL (RW – 26% owned)
After a franchise-worst season last year, the Colorado Avalanche have rebounded nicely so far, and Rantanen has been a big reason why. He leads the Avalanche in scoring with 10 points (three goals, seven assists) through 11 games, and given that his role on the first line and top power-play unit are his to lose, he should continue to produce. Grab him now before someone else does.
Jesper Bratt – NJD (LW/RW – 35% owned)
Bratt is another Devil that needs to be added to your roster. Bratt has taken the league by storm this season, tallying 10 points in as many games. Despite being a rookie, the Devils are already using him in important situations, including on the second line with Henrique and Marcus Johansson, as well as the first power-play unit. He has all the makings of a valuable fantasy asset, and you won't want to miss out if he continues to produce this way.
Alex Killorn – TBL (LW – 36 % owned)
Anyone playing on the NHL's second-best power play with studs like Steven Stamkos and Nikita Kucherov needs to be added. Although Killorn plays a bottom-six role at even strength, he plays a prominent role on the Lightning's top power-play unit. With nine points (one goal, eight assists) through 12 games, he's on pace to post a career-high in points, and as long as he continues to dish pucks to Stamkos and Kucherov with the man advantage, he holds plenty of fantasy value.
Related: Devils Three Candidates for the Calder
Injury Updates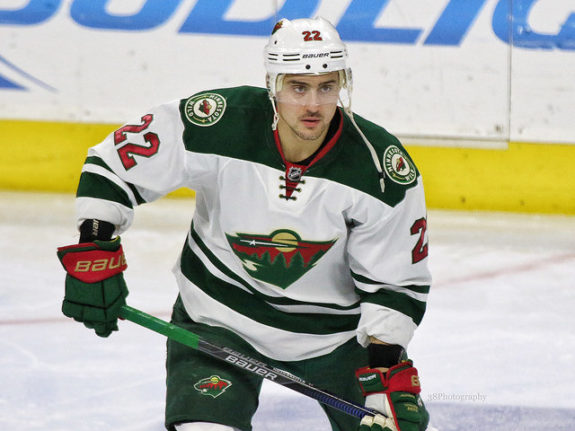 Nino Niederreiter – MIN (Ankle)
Niederreiter has been upgraded to day-to-day and is expected to return to the lineup on Tuesday versus the Winnipeg Jets. His return should provide a nice boost to a Minnesota Wild offense that has struggled to begin the year.
Cam Fowler – ANA (Knee)
Fowler suffered a knee injury Oct. 20 that's expected to sideline him for 3-7 weeks.
Jaromir Jagr – CGY (Lower Body)
Jagr was initially expected to return for Sunday's game against the Washington Capitals but was ultimately unable to go. His expected return to the Calgary Flames' lineup is Thursday.
Roberto Luongo – FLA (Hand)
Luongo was forced to leave the Florida Panthers game on Oct. 20 and has since been placed on I.R. A timetable for his return has not been set.
Jeff Carter – LAK (Ankle)
After being cut by a skate in the LA Kings game on Oct. 18, Carter is expected to miss 6-8 weeks.
Bobby Ryan – OTT (Finger)
Ryan suffered a broken index finger in the Senators' Oct. 21 game and is expected to miss approximately one month.
Justin Schultz – PIT (Concussion)
Schultz suffered a concussion Oct. 24 and has been upgraded to day-t0-day. There's a chance he returns to the lineup on Wednesday against the Edmonton Oilers or Thursday against the Calgary Flames.
Andre Burakovsky – WAS (Thumb)
Burakovsky is expected to miss 6-8 weeks after suffering a broken thumb in the Washington Capitals game on Oct. 21.
Related: Jagr Should Retire After Flames Season
I've been writing for over three years and have work published by the Calgary Herald, National Lacrosse League, Hard Knocks Fighting and The Weal at SAIT. Although I've covered many different topics as a journalist, sports writing remains my main passion and strength.