News broke yesterday of the trade between the Rangers and Senators that sent fan-favorite Derick Brassard to the Senators for young center Mika Zibanejad. While not a "blockbuster" trade, it was a trade that saw a significant piece of each team's top-six forward rotation shipped out of town and into a new uniform.
Through 281 career games:#Sens Derick Brassard: 51 goals, 153 points#NYRangers Mika Zibanejad: 64 goals, 151 points

— Sportsnet Stats (@SNstats) July 18, 2016
People can dissect the trade all they want, but right now let's take a look at the fantasy aspects for both players and the teams going forward. We also take a look at what fantasy hockey players can expect from the players around them as well and where the players realistically slot into their future lineups.
What It Means for Brassard and the Senators
The trade makes sense for both teams and it should help Brassard when it comes to his fantasy value. Brassard's value was probably never higher than it is at this moment. He was coming off his best goal-scoring season of his career, posting 27 goals and breaking the 20-goal barrier for the first time. He has been arguably the Rangers' most consistent forward in his three full seasons with the team.
.@NYRangers trade Derick Brassard to @Senators in deal for Mika Zibanejad. Brassard: career-high 27 goals last season (1st 20-goal season)

— ESPN Stats & Info (@ESPNStatsInfo) July 19, 2016
He was a bit of an iron man for NY, playing in 241 of 246 games the last three seasons. In that time he produced 163 points, good for a scoring pace around 55 points per season. He is coming off back-to-back seasons of posting 60 and 58 points and has a career points-per-game average of 0.6 PPG. In his career with the Rangers he had an average PPG of 0.67 and in each of his last two seasons his average has been above 0.70.
Brassard is also a solid power play performer, even dating back to his earlier career days with the Columbus Blue Jackets. Despite the Rangers' total offense dropping this past season, their power play improved and that was largely helped by Brassard.
He posted a career-high 22 power play points and a career-high eight power-play goals. In his three full seasons with the Rangers, Brassard posted 21 PPGs and 58 PPPs.
Derick Brassard led all NYR in playoff scoring since his acquisition with 44 points in 59 games.

— Forever Blueshirts (@4EverBlueshirts) July 18, 2016
Where he he is most beneficial is potentially in the playoffs, where he is a proven performer from his time with NY. In his 59 career playoff games, all with the Rangers, he has posted 44 points. He had three playoffs posting a minimum of 10 points. With Ottawa potentially on the verge of contention, having Brassard in the lineup is a helpful force.
He brings a solid veteran presence to the Senators' top-six, and for fantasy purposes he might be exactly what players like Bobby Ryan and Mike Hoffman need. Brassard is primarily a passer by nature, as evidenced by his high shooting percentage and low shot output for a center. That will help players like Ryan and Hoffman who are the primary shooters in the Senators' top-six.
Brassard converted on a fantastic 14.8 shooting% this season, about three points higher than his career average, and it will be tough for him to keep pace. He has never approached a 200+ shot season and posted a career-high 182 this year. Even if he is able to replicate that output, it is reasonable to expect his goal scoring to go down playing with talents like Ryan and Hoffman.
Ryan hasn't played with a solid, play-making center since his time with the Anaheim Ducks. Having Brassard could help bring him back to that 30-goal mark again. Hoffman is one of the more exciting young players in the league and is primed for a breakout year after scoring 27 and 29 goals respectively in the last two seasons. With Brassard profiling more as a natural passer, putting him between these two could be dynamic.
A dip in scoring production could and should be expected, but it is reasonable to think that Brassard could post 20+ goals and could easily break his career-high of 41 assists. Brassard was a top-70 fantasy forward going into the season and he should stay there. He makes the players around him better in the short-term and gets a bump because of his power play acumen.
What It Means for Zibanejad and the Rangers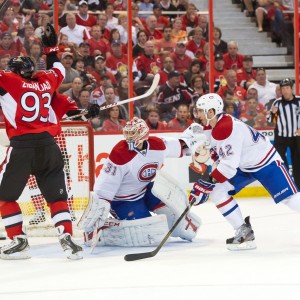 As I said above, the trade makes sense for both teams to make. The Senators wanted to bring in a veteran who could balance their offense more. The Rangers wanted to bring in a young player, with upside, who was cheaper and they could invest in going forward.
The Rangers were headed for a potential cap crunch and needed to free up space. It would have been difficult to trade either Dan Girardi, Marc Staal or Rick Nash thanks to their prohibitive cap hits, and buying any of them out was out of the question. GM Jeff Gorton had a solid piece to play with in Brassard and got back a very nice return. Not only does the move give the Rangers a speedy young forward and cap relief, it netted them a second-round pick that they can use as a trade chip or to eventually restock their farm system.
Last two years:
Brassard- 46Gs, 118pts, 49.8CF%
Zibanejad- 41Gs, 97pts, 48.9CF%

Zibanejad is 6 years younger, and NYR got a 2nd round pick.

— Anthony Petrielli (@APetrielli) July 18, 2016
Despite not putting up the offensive numbers that Brassard has put up, Zibanejad is still developing and, at only 23, he has yet to enter the prime of his career. The sixth-overall pick in the 2011 NHL Draft, Zibanejad has been in the league for the majority of the time since then. He received a nine-game tryout his rookie year in 2011-12 and has been in the league since the lockout year of 2012-13.
The good news for the Rangers is that he has statistically improved every season so far. He is a big body, has a ton of potential and has seen his scoring stats increase each of the last four seasons. And he was doing that on a team that was battling for middle-of-the-pack in the Eastern Conference. What happens with the Rangers is that he can move back to his natural center position, after seeing time in the past on the wing in Ottawa, and increase his shooting workload.
Zibanejad seems more comfortable as a shooting center than Brassard ever was. He posted a career-high 184 SOG this season, two more shots than Brassard, and he seems primed for a 200+ shot season this year. That is a number that Brassard is unlikely to hit, even had he stayed with the Rangers, and fantasy hockey players should be excited about his upside. The biggest question is how will Zibanejad will fare on the Rangers' power play.
Brassard is 29, had 1 20 goal season, costs 5M per & has peaked, Mika is 23, has 2 20 goal seasons, has potential & size, and makes half $$

— Fake Sens Fan (@SensTown) July 18, 2016
We already touched on how apt a PP contributor Brassard is for the team, and even how solid he was with Columbus years ago. Zibanejad has never produced much on the power play, only 38 points in his career. He will see an expanded offensive role with the Rangers and will see significant PP time going forward, especially with his propensity to shoot the puck.
It is reasonable to expect at least the same fantasy output from Zibanejad, but more than likely his goal-scoring numbers will go up, especially with an increase in shot output. He figures to slot into the Rangers' top-six as their second-line center with Derek Stepan as the 1C. Who fills in next to him is up for debate. The Rangers will deploy some combination of JT Miller, Mats Zuccarello, Nash and probably Chris Kreider as the winger in their top-six.
If that is the case, look for a second line of Zibanejad centering Kreider and Miller. That is a solid second line for NY and fantasy owners should jump at Zibanejad as a 3/4 center come draft time. He is knocking on the door of the top-100 overall forwards but is not there quite yet. However, this trade definitely moves him up and helps his fantasy value.
This trade will be debated about for a long time, especially if Zibanejad re-signs long-term in NY after this season. He is young and still developing and Brassard still has some great hockey left in him and should flourish in Ottawa. The trade makes sense right now for both teams and helps both players' fantasy values even more.