Clutch, sneaky, quick, and hard working, those are just a few of the many words that could describe the playing style of Danny Briere. It's a playing style that is few and far between in today's NHL.
That type of playing style became even more scarce on Monday afternoon, when the 37 year old announced his retirement:
"After taking a few weeks to think about it, it's time to hang them up and spend a little more time at home with the family," Briere said. "I've been very, very fortunate to have had a chance to play with some great organizations, but at this point the family becomes a priority. The Flyers are where I played the bulk of my career. I've had a great time in Philadelphia and have been very, very fortunate to have the chance to play here. I would like to thank Mr. Snider, Paul Holmgren and Peter Luukko along with the coaches, staff, the fans and all my teammates. It's been a great ride in an area that I still call home."
Standing at just 5 feet 10 inches tall and 179-pounds, Briere may have lacked in size but made up for with timely goals and leadership that was unrivaled among anyone in the NHL. What's even more impressive, is this all stemmed from a player who was put on waivers early on in his career, and seemingly was a step away from going nowhere in the NHL, but that's when he decided to make the most of his abilities.
In 973 NHL games, he put up 696 points, averaging 0.74 points/game but that isn't where he excelled. Flyer fans especially, know him as Mr. Playoffs. That's where Briere took center stage.
Flyer commentator Bil Clement once described it as "ice water running through his veins".
He posted 72 points in 68 playoff games as a Flyer and holds the Flyers record for most points in a single post-season (2010, 30 points). He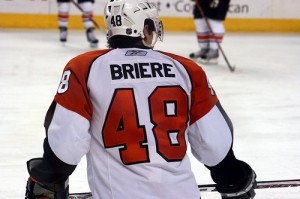 also tied the Flyers franchise record for most game-winning goals in the post-season with four in 2010. Briere was a crucial piece in the Flyers miracle comeback against the Bruins in 2010, and nearly put the Flyers on his back that season to bring home the first cup in 35 years. Save one for the time he scored twice in a matter of 5 minutes in overtime.
Briere's legacy will go much deeper than just the playoffs. Despite never donning the 'C' in Philadelphia, he always led by example on the ice. Don't forget back to 2012, when Briere fought Kyle Turris, and took it upon himself to score all 3 Flyer goals, including the overtime winner in a 3-2 win against the Senators.
That's the type of leadership that can only be found among some of the elite captains in the NHL.
Briere also embraced his stardom, and was a very active member of the Ed Snider Youth Hockey Foundation. That's just one of the multitude of things he participated in that will extend his legacy far off the ice.
Briere was the full package when it came to what an NHL player should be, on and off the ice.
He was so appreciated around the league that multiple players took to Twitter to congratulate the centerman on his outstanding NHL career.
Congrats to Danny Briere on a helluva career! Was a privilege to play with and learn from you! #sneaky

— James van Riemsdyk (@JVReemer21) August 17, 2015
Awesome to see all the love for @DannyBriere48 on here. Congrats big guy on a helluva career, thanks for being a great mentor and friend

— Matt Duchene (@Matt9Duchene) August 17, 2015
Congrats to Daniel Briere for an outstanding career. Was an honor competing with him. #bestteammate #legend

— Max Talbot (@Max25talbot) August 17, 2015
Briere's legacy will live on in today's NHL. He was well-respected and smaller players have learned a lot from Briere's finesse and quick style of play, and his leadership skills were unmatched in a day and age where that trait is hard to find.
Plus, who could forget that signature fist pump?
Farewell, Danny Briere.