The Franchise Four. The Mount Rushmore. Four players who tell the story of an organization. In this series I'll be taking a look at the history of all 30 NHL squads. For criteria, I'm choosing one forward, defenceman, goaltender and a wild card from any position.
With 18 seasons in "The Grand Canyon State," the Arizona Coyotes have housed a number of great players since migrating south from Winnipeg. While some of the players on this list also laced 'em up with the Jets, the focus here is on the Coyotes.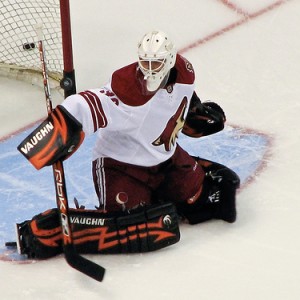 4.) Ilya Bryzgalov – The one player on this list who never played for Winnipeg is Bryzgalov. During his four seasons in Arizona, Bryzgalov posted a ledger of 130-93-27, with a .917 save percentage, 2.54 goals against average and 21 shutouts. In the 2009-10 campaign, Bryzgalov was an NHL Second Team All-Star, while also finishing second Vezina Trophy voting.
3.) Teppo Numminen – Sure his Jets days carry some weight here but Teppo's game really picked up with the Coyotes. Numminen was an iron man on the blue ine, ranking third in club history with 551 games played. Numminen also ranks fourth in helpers (214) and sixth in points (269). Numminen also notched eleven playoff points for Phoenix. The speedster and puck rushing defenceman Numminen, was a three-time All-Star with the Coyotes.
2.) Keith Tkachuk – My wild card choice here and if we add his Winnipeg numbers, he probably goes up a notch. Granted he played a year less in the desert than Jeremy Roenick but it's not like his best years were behind him in Winnipeg. Tkachuk ranks second in franchise history in goals (179), third in points (334) and second in penalty minutes (716). Tkachuk was a force and a power forward. Tkachuk netted eleven playoff goals with Phoenix. During a seven-game series in 1996-97, against the Mighty Ducks of Anaheim, Tkachuk posted six goals. It was the same 1996-97 campaign which saw Tkachuk lead the NHL with 52 tallies. Tkachuk was a three-time All-Star with the Coyotes. Tkachuk is also a member of the U.S. Hockey Hall of Fame.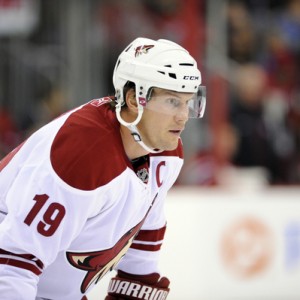 1.) Shane Doan – The last of the original bunch from Winnipeg and the guy who never wanted to leave. Doan is the Coyotes all-time leader in games played (1,320), goals (361), assists (520), points (881) and penalty minutes (1,106). Across 55 postseason contests, Doan has potted 15 goals. Additionally, Doan is a two-time All-Star and the recipient of the King Clancy Memorial Trophy in 2009-10. Through thick and thin, Doan's career has spanned the life of the franchise.
Michael Gwizdala covers the New York Islanders for The Hockey Writers. Michael is also an Associate Producer at WNYT NewsChannel 13. Additionally, Michael was once a Media Relations intern for the AHL Albany River Rats. Michael is a graduate of The College of Saint Rose in Albany, NY.