On Saturday, newest Buffalo Sabres Hudson Fasching and Casey Nelson made their NHL debuts against the Winnipeg Jets.  The two rookies made a good first impression at home to their fans and teammates.  The NHL speed didn't look to be too much for them in their first appearance.
Fasching Shows Size and Speed
The former University of Minnesota forward didn't take long to show the NHL what type of game he likes to play.  Since being selected in the fourth round of the 2013 Draft by the Los Angeles Kings, Fasching has been hyped as a power forward with good speed for his size.  He goes to the dirty places to score goals and isn't afraid to use his power to drive to the net.
Fasching showed just that type of play when scoring his first career NHL goal over the weekend.  He picked up the puck with speed in the neutral zone, lowered his shoulder around Jets defender Jacob Trouba and drove the net to jam in his first goal.
That is the type of play that the Sabres expect to see from Fasching through the final seven games of the season.  He played a little over 12 minutes in his debut Saturday.  Head coach Dan Bylsma thought he played well enough in the first two periods to earn the right to play on the top line with Ryan O'Reilly and Evander Kane in the third period.  We'll see if Bylsma decides to keep that line together going forward.  If he does, it'll be interesting to see what the 20-year-old winger can do in the early stages of his career surrounded by that talent.
Fasching has had a great attitude since joining the Sabres last week.  He's excited to be given this opportunity and is playing like it.  After the game on Saturday, Fasching sounded like the adrenaline from his first goal was still running through him.  I haven't heard a hockey player that excited in a long time.
He also said coach would tap him on the shoulder & he thought "am I in the way?" but he wanted him back in the game. Surreal experience.

— Buffalo Sabres (@BuffaloSabres) March 26, 2016
Nelson Exceeds Expectations in Debut
I didn't know what to really expect from blueliner Casey Nelson in his debut.  The 23-year old was signed out of Minnesota State University as a college free agent last week by the Sabres.  Nelson was regarded as one of the top college free agents and seemed like a good acquisition for Buffalo.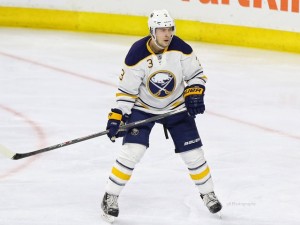 Nelson played along fellow defenseman Mark Pysyk in his first game over the weekend.  I think this was a heady move by Bylsma.  Pysyk is a smart defender who is great with the puck and helps his partner to be successful.
Bylsma gave Nelson the minutes and didn't seem to hold back on a young player skating in his first game.  He played over 16 minutes, including a shift on the point on the power play.  Nelson is a good skater, which allows him to be in the proper position on the ice.  In his first game, he didn't show any hesitation and went with his natural instincts to make aggressive plays offensively, as well as defensively.
Nelson recorded his first NHL point with an assist on Fasching's goal.  He exceeded my expectations in his first game.  It'll be interesting to see how he finishes out the season.  I'm sure Nelson will have his moments where he struggles, but if he can play at the level he did in his debut, the Sabres may have found themselves a solid blueliner moving forward.
Featured Image was provided by Amy Irvin / The Hockey Writers