They were both first round picks of the Washington Capitals, both became regulars in the lineup starting in 2010-11 and now as the Caps are about to enter the postseason quest for the Cup with perhaps their best team ever, both Karl Alzner and John Carlson are the foundation that will be a big key to how deep the NHL's best team makes it this spring. Both players are in the prime of their careers and the other additions on the blue line the past few years have allowed this duo to focus on their jobs rather than overcompensating for the rest of the defenders.
Washington was one of the best teams in the league last season, and gave the New York Rangers all they could handle in an epic seven-game series. This season, they added two offensive specialists up front, but the song remains the same on the blue line as they let Mike Green walk away for greener pastures and they haven't missed a beat. In fact, they got better.
Alz Well
Alzner, 27, was taken fifth overall by the Caps in the 2007 NHL Draft, and has been a rock on the blue line — he hasn't missed a game in five seasons and barring any craziness over the final few weeks, he will also play in every game this season as well. On March 25 in New Jersey, he skated in his 500th NHL game which, as he told The Hockey Writers, is about the only statistical milestone he will achieve in his career.
"I've said this whole season, and my whole career – I'm not going to get, most points, most assists; that's not my stat. The only thing I can really control is games played. I'm happy to be halfway home to a thousand (games played) which is a benchmark for all of us." He paused, grinned and added, "We'll see, the first 500 were pretty tough; It'll be interesting to see another five."
http://gty.im/460974406
With only 105 points in 501 games, Alzner obviously (as he alluded to) isn't much of an offensive threat, but his value is on the penalty kill and in front of the crease, where he makes his living making life miserable for opposing forwards. The Caps now have that nice balance on their D-corps where they have some offensive guys (Carlson, Matt Niskanen, Dmitry Orlov) and some defensive specialists (Alzner, Brooks Orpik, Nate Schmidt) who can chip in from time to time, but their steady presence allows their counterparts to do what they do best and create offense.
The additions of Niskanen and Orpik last year not only strengthened Washington, who was almost in the East Final, but also took away assets from a rival, Pittsburgh. At their peak, the sextet have to be considered one of the best groups in the league when you see how dominant they were throughout the majority of the current season; of those six, three (Alzner, Orlov, Niskanen) haven't missed a game.
JC Superstar
Carlson, 26, was taken 27th overall in the 2008 NHL Draft and would have also reached 500 NHL games this season if not for his injuries; he too had played in every game for the Caps over the past five seasons. That kind of stability on the blue line is what teams are always searching for at the draft, especially so when selecting those players in the first round.
Returning from a 13-game absence due to a lower-body injury in the New Jersey game, which is where he's from — he netted the game's only goal in overtime, which was his first career OT goal. "It was a long road, and a lot of different obstacles; a different set of goals you give yourself to get back mentally," the 26-year old said of his road to recovery.
Welcome back John Carlson. #RoadWarriors @Vegashttps://t.co/TnMkZHxXRl

— NHL (@NHL) March 26, 2016
Coming home is always great, getting to see friends and family that can't be at every game over the marathon NHL season, but in this trip to New Jersey, some of those folks missed out on his late-game heroics. "Actually this game ironically was probably the least-attended I would say," Carlson told THW after we asked if the whole clan still comes to see him six seasons into his career. "My whole mom's side of my family lives here (in New Jersey); I have a pretty big family. There's always family and friends coming out when I'm here."
Playoff Prep
"(Tonight), that's kind of the way we have been this year, we don't get too worried about not scoring goals right away," Alzner said after the tightly contested game against the Devils. "We're okay with waiting until the end to finally get one. I think we learned (a lot) from that Pittsburgh game when we came out in the first 10 (minutes) and we were on fire and couldn't get the puck in the net. Tonight it was the opposite; we just stuck with it, knew it would come eventually, and it did."
He also admitted to THW that it was a playoff-style game, sort of, which is good as they get ready for the postseason in two weeks.
"Yeah, I think so; I feel like the playoffs the last few years have kind of weird though. There have been some high scoring games, so I think the main thing is be prepared for anything. Tonight…this is your prototypical playoff-type game," Alzner said. "This is what you expect. We're happy with the way we stuck with it, and that third period was pretty even; if we would've kept going 5-on-5 you never know what would have happened. We stayed calm and that's a good sign leading into the postseason."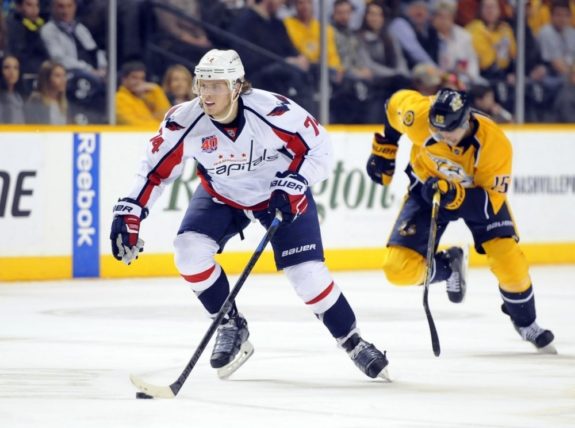 Carlson echoed his comrade's comments a few minutes prior, almost sounding like a coach; or a really smart player.
"We like to score some goals and stuff; we had some chances, not a whole heck of a lot. But yeah that was our main talking point before the game," he told us. "Whatever the game gives you just take that, don't try to reinvent the wheel if for the first period and a half or two periods they stymied us. Don't get frustrated, and don't try to do anything too crazy. Just let the game sort itself out."
The Caps have one of the best goalies in the league, who has been the best player this season. They have offense galore, and can beat you 5-4 or 1-0. This very well could be their year, finally. A big reason if they do win their first Stanley Cup, it will certainly be the presence of Carlson and Alzner protecting the crease and adding the timeliest of goals.