In an interview with the Russian publication Sport-Express, Edmonton Oilers forward Nail Yakupov admits that he requested a trade this season through his agent Igor Larionov.
"As far as I know trade has come very close," Yakupov told Sport-Express (in a Puck Daddy translation). "I've been out of a suitcase. Me and my agent Igor Larionov were given permission to talk to other teams. A number of teams were interested. But at the last moment something went wrong. And I'm still here."
Montreal, Winnipeg, New Jersey and Carolina are named as teams that expressed interest in the 22-year-old winger. When presented with those teams as interested parties, Yakupov doesn't deny them as potential suitors and says that there were even more teams.
The list of teams that were interested was bigger, I could name couple more of them. And I don't think it makes sense to discuss which team could get me or where I would like to be moved. Thing is this did not happen, and I'm still in the Oilers.
Might the Minnesota Wild have been one of those teams?
https://twitter.com/NHLbyMatty/status/714251500734656512
Could The Wild Have Been In On Nail Yakupov?
In short, yes.
We know the Wild were looking for offensive help, particularly as their mid-season slump began to resemble the Centralia Mine Fire.
Reports indicated that the Wild were in on Jonathan Drouin early in the process when it appeared he might get traded this season, and, according to many, they've had scouts at Syracuse Crunch games since he returned to the fold.
They were also in on Ryan Johansen before he was traded to the Nashville Predators. Mike Yeo confirmed that in an interview with Michael Russo and Chad Graff after he was fired. They were looking for offense.
---
RELATED: Nail Yakupov: Not a Bust
---
Yeo, in that same interview, alludes to a trade that could have happened, which would have provided "short-term relief." Might that have been Yakupov?
We talked about [trades] … one thing, we could have, if I would have told Chuck [Fletcher], 'Do this,' we talked about a couple things, I knew that it might have given us some short-term relief. But what I'll say is I didn't cheat the team. I knew that it might have helped us in the short-term, but I didn't think it was going to help us in the long-term.
This is useful information to the extent that it aids a case that the Wild were willing to talk about any offensive weapon considered to be on the market because it was a need and general manager Chuck Fletcher isn't scared to make trades. That doesn't mean they were about to pull the trigger, but there's reason to believe that Fletcher was making calls on high-upside offensive weapons if they were said to be on the market.
It's not really worth trying to guess who Yeo is actually talking about — whether that's someone like Yakupov or a rental like Loui Eriksson — because the idea that they were looking is what's important. Yet, by his definition, a player that provides some short-term relief but doesn't solve anything long-term could easily be a description of a Yakupov trade (or any rental).
You add another player who can create offense and that maybe helps you get out of the scoring slump, but between questions about whether he'll ever deliver on his promise and his $2.5 million cap hit next year, it's not clear that he's useful long-term for this team.
Does It Make Sense This Summer?
So it may have been discussed, but as alluded to above, this may not be a useful long-term move for Minnesota.
You shouldn't do this, but let's set the cap considerations aside, even though they are significant. Yakupov's $2.5 million isn't huge, but it's enough to weigh on the mind of a GM with a team looking at five RFAs likely to be coming back next season, two of which should see a raise.
Nonetheless, let's just look at roster logistics, because that's going to get us where we're going.
There's something appealing about taking a risk on a player who has exhibited the raw talent Yakupov has in the past. You hope a fresh start and a new system sparks what he's capable of rather than the six-goal, 19-point performance he's given this year. I'm not sure the numbers suggest it'll happen, but he's had runs — frequently when given time with a top center — that makes it look like he's still got the skill.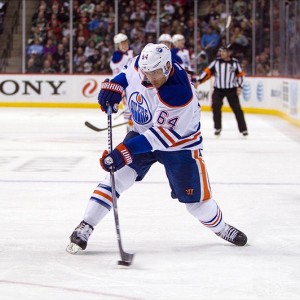 If he starts coming anywhere near what the expectations on him were, his $2.5 million cap hit doesn't look too bad and his next contract probably isn't that large no matter what happens next year.
However, that doesn't necessarily mean this makes sense for the Wild. They're a team that could benefit from taking a gamble on the trade market if they want to find a high-end scorer. The team lacks that kind of game-breaker, especially on the young side of the roster. You don't often find a Tyler Seguin on the trade market, and the only way to make that happen is to take a risk on a young player that another team wants to give up on. Risk will almost inevitably involved.
However, the Wild's current depth chart doesn't really project to have many openings at wing in the top-nine. If you're not getting Yakupov into the top-six, he's probably not worth acquiring. While some of these players could be gone and some are versatile in terms of their position, there isn't room for him really, even if you assume Charlie Coyle gets moved back to center next year (something that shouldn't be assumed).
Wings:
Zach Parise (LW)
Thomas Vanek (LW)
Jason Zucker (LW – RFA)
Jason Pominville (RW)
Charlie Coyle (C/RW)
Nino Niederreiter (RW)
Justin Fontaine (RW – UFA)
Jordan Schroeder (C/RW – RFA)
Beyond what's in the NHL right now, a majority of the team's best forward prospects are wingers. The only ones who really project at center are Graovac and maybe Joel Eriksson Ek, but he can play wing as well and may find himself starting there over center whenever he makes the leap to North America. That was even the case at the 2016 World Junior Championship, where he lined up as a wing.
Outside of that pair you have Alex Tuch looking like he could make a push to make the roster next year if he decides t go pro, and he's a right wing like Yakupov. Mario Lucia signed his entry-level contract Sunday, though he's a left wing.
Christoph Bertschy has played center in Iowa, but played wing in the three games he was called up to the NHL this season. His size may keep him at wing if he gets more games in the NHL next season. Zack Mitchell plays on the wing as well and has made an impact in his two seasons with Iowa, becoming just the second player in Iowa history to hit 20 goals.
The Wild prospect pool isn't depleted, but it's not the most loaded system around. However, their depth issues at forward are down the middle more than on wing.
Ultimately, unless it involves shipping some players out the door — read: both depth and cap — Yakupov isn't going to make sense for the Wild. They may need to make a move with some level of risk involved, not entirely dissimilar to a trade for Yakupov, but it shouldn't be for Yakupov. There's an embarrassment of riches on their blue line, and to dangle a top defensive prospect or one of their top-four, the return probably needs to be a wing with a more sure chance of reaching his ceiling or a center, where the Wild's needs are greater.