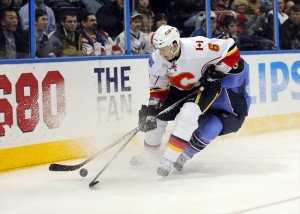 Jay Feaster doesn't seem to be too taken in by hockey's annual rituals and television events.
When the trade deadline came around during the 2010-11 season and the then-interim Calgary Flames general manager made a swap, it was a depth trade of a late round draft pick for veteran forward Freddie Modin. When free agency began last summer, the Flames let July 1 come and go without making any major moves. Trade deadline 2012? Another non-event in Calgary.
So it's probably not that surprising that Jay Feaster got most of his shopping done before the madness began on Sunday afternoon.
On Wednesday, Calgary acquired Washington's Dennis Wideman and signed him to a five-year deal. The Flames also re-signed pending free agent Blake Comeau to a two-year pact. On Friday, the Flames quietly agreed to terms with pending free agents Lee Stempniak and Cory Sarich and restricted free agent Blair Jones. Wideman's deal was a bit on the pricey side (with a $5.25 million cap hit), but it's likely that Stempniak ($2.5 million) and Sarich ($2 million) left money on the table in agreeing to remain in Calgary and foregoing the open market. Jones signed for a paltry $650,000 per season, while Comeau will make $1.25 million, half of his 2011-12 salary.
Feaster's quiet splurge has put the Flames in an interesting spot. They have 46 NHL contracts for the 2012-13 season (including restricted free agents Leland Irving, Paul Byron, Akim Aliu and Mikael Backlund) and $61.9 million of a projected $70.2 million salary cap already spent. That accounts for 28 forwards, 14 defenseman and 4 goalies under contract, not to mention forcing Feaster to juggle 20 one-way deals (9 forwards, 9 defensemen, 2 goalies) and 10 contracts with no-movement or no-trade clauses.
In short: at this juncture, Feaster's gambling on the market. With so many bodies from last season being re-signed, and seemingly only KHL import Roman Cervenka and Swiss rookie Sven Baertschi penciled into open night spots, the only way the 2012-13 Calgary Flames will be significantly different from the previous season is if other NHL general managers decide (like Feaster already has) that the free agent market isn't the best way to upgrade their clubs and come a-calling.
The open question, as of now, is what assets would Feaster be willing to part with in an effort to move his team forward?