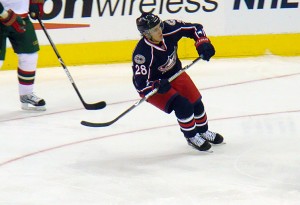 Long before Nikita Filatov was born, his parents and fellow Russian citizens were intimately familiar with the аппарат (apparat) – the Russian term for the bewilderingly massive and complex Soviet bureaucratic system that governed even the most insignificant aspects of daily affairs.  To many, that system represented stability, order, predictability and safety.  To many others, it was stifling, restrictive and oppressive.   As he head back to Russia to join his KHL club, CSKA Moscow, on a 1 year loan from the Columbus Blue Jackets, he may be feeling that he has had his own run in with the apparat.
Much has been written and said over the past 24 hours, encompassing the full range of vilification of the various players in this drama, and predominately bleak predictions as to the future.  While such speculations and assignations of blame are endemic to the sports commentary arena, they are largely ill-founded and have little factual basis.  Nobody knows the details of what has transpired in the locker rooms and meeting rooms except the participants.  Even those with organizational "ins" bring their own perspectives and biases to the story.  We cannot possible place ourselves in the mind of a coach who owns a Stanley Cup ring, an Olympic gold medal, together with World and World Junior championships.  Similarly, nobody can know what it is like to be a 19 year old Russian phenom, aspiring to be an NHL star, but with little preparation for the rigors of the NHL game.  Public statements by those involved are intended not so much to inform, but to placate. 
Indeed, one of the fascinating aspects of this saga is the way it has formed an almost malevolent undercurrent to the early part of the season in Columbus.  The local fans, always ready for a good conspiracy story, have been sharply polarized by the developments.  In one camp are those who have immediately compared Filatov to the now-infamous Nikolai Zherdev, the talented but uncoachable Russian forward who burned through Columbus and New York on his way back to the KHL.  They rely on an off season interview Filatov provided to a Russian reporter, where he conceded that the KHL had offered him "many times" his NHL entry level deal to play in the KHL.  The critics parlay this into a conclusion that Filatov has never intended to stick in the NHL, and would bolt to the KHL at the first opportunity. (I know, he is back in Russia, but read on) They ignored the part of the story where Filatov talks about his dream of becoming an NHL star like his hero, Ilya Kovalchuk.  They condemn GM Scott Howson for wasting a draft pick, and have written off any chance of Filatov rejoining the Blue Jackets.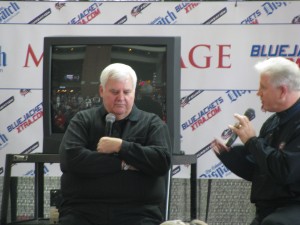 In the other camp are those who aim their daggers at Hitchcock, characterizing him as cold and inflexible, unwilling to display any flexibility toward Filatov, despite Hitchcock's own characterization of the young Russian as "the type of talent that only comes around once every ten years or so."  They accuse Hitchcock of pre-judging Filatov, holding him to a different standard than other players, and condemning him to failure by limiting minutes, miring him on the fourth line, and providing little encouragement.  Others accused him of hating Russian players – a patently ridiculous assertion, particularly given his long-standing close friendship with Sergei Zubov.
If all of this sounds a bit over the top over a 19 year old prospect who has played in a total of 60 hockey games in North America (39 AHL/21 NHL), it is.  Keep in mind, however, that this is the same fan base that excoriates the 19 and 20 year olds on the Ohio State football team, and calls for the coach's firing for having the bad judgment to only win 1 national championship and 5 Big Ten titles in the past 7 years.  Even outside of Columbus, however, this tussle has generated more than its share of interest, and the accompanying degree of hyperbole. 
So, just for a change of pace, let's look at some facts, starting with Ken Hitchcock.  In Hitchcock, the Blue Jackets have a certified Hall of Fame hockey coach: 522 wins and 1,002 NHL games as head coach, in addition to all of the other credentials noted previously.  However, credentials are only part of what led to Hitchcock's hiring.  The other part, and perhaps the major part, is the system that Hitchcock brings to the ice.  Before his arrival, the Blue Jackets were a rudderless ship on the ice.  Predecessors Gerard Gallant, Doug MacLean and Dave King threw bodies on the ice without structure.  To be fair, King attempted to bring structure, but simply did not have the talent.
Hitchcock is legendary for his system, which emphasizes stifling defense, strong checking and persistent pressure to create offense at the other end.  Some hail Hitchcock as a genius, while others accuse him of squeezing the life blood out of the game – but they all respect his knowledge, his dedication and his determination.  For Hitchcock, the system is not optional — for anybody.  Just ask Brett Hull, who had only passing familiarity with defensive play prior to hooking up with Hitchcock at Dallas in 1998.  (Over a two year period in the mid-90's, Hull had 111 goals and was a minus-30).  Their battles were legendary, but Hull grudgingly bought into the system, and a Stanley Cup was the reward.  As he prepared for his Hall of Fame induction, Hull credited Hitchcock with making him a complete player and characterized him as one of the greatest coaches ever.
When Hitchcock arrived in Columbus, he faced two immediate challenges – the mercurial Zherdev, and Nash, who shared Hull's disdain for his own end of the ice.  Zherdev eschewed contact, resisted coaching and proved maddeningly inconsistent.  He lasted a year.  Nash, in contrast, took to the system, albeit in fits and starts.  Today, he is the Captain and among the league's elite in all three zones, even though he can still be caught cheating to the top of his zone on occasion.
As the system took hold, GM Scott Howson provided a full complement of Hitchcockian players – big, fast, tough players willing to check first and score later.  Commodore, Tyutin, Torres, Umberger all complemented Nash and fit Hitchcock's plan.  Antoine Vermette brought great skill, in addition to an edgy playing character.  Only relatively slight Kristian Huselius and defender Kris Russell appear to fall outside the parameters of Hitchcock's preferred player profiles.  However, listening to Hitchcock talk about them, there is distinct admiration of the skill and attitude they bring to the ice. Local media joke about Hitchcock's specialized lexicon, filled with terms such as "weighty", "heavy" and "responsible", all of which are qualities to be admired and emulated.  "Trust" comes only from play that is both "heavy" and "responsible".
That issue of trust is something that can be vexing to young players breaking into a Hitchcock system.  Jakub Voracek and Derick Brassard both were subjected to reduced minutes, micromanagement and full Hitchcock scrutiny during their rookie year last year.  Voracek got the message immediately – he bulked up significantly over the winter, and just recently has been earning significant time in the critical moments of third periods.  Such is the young player's lot in the system. 
The reward for all of this effort, of course, is success.  In just two full seasons, Hitchcock has brought the team from obscurity to their first-ever Stanley Cup playoff berth.  Starting this year, despite a spate of injuries, illness and perplexing defensive zone lapses, the Blue Jackets are 11 – 6 –2 with 24 points, solidly above the playoff line and in contention for the Central Division lead. 
Enter Nikita Filatov, with unquestioned talent, youthful exuberance and a scoring pedigree.  He sported 4 goals in his maximum 8 games last season before being sent to AHL Syracuse, including a memorable hat trick against Minnesota at home.  In retrospect, that showing clearly abetted the lofty, but unrealistic expectations, which contributed to the current frenzy. 
Comparisons to Zherdev are unfair, stereotypical and demeaning.   Zherdev was sullen, selfish, and isolationist.  He made little effort to socialize or become part of the community.  He made little effort to integrate into Hitchcock's system, and would fade into oblivion when critical times arose.  It took the NY Rangers very little time to recognize the same behavior there.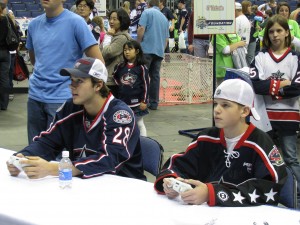 By all accounts, including Hitchcock's, Filatov is an engaging, hard working guy who worked hard at being a good teammate.  His English skills are more than passable, and nobody doubts his sincerity in wanting to become a star in the NHL.  On Sunday, in the midst of the turmoil leading up to his departure, Filatov was participating in HockeyFest at Nationwide, playing NHL 2K9 against all comers on an oversized screen.  Hitchcock likes Filatov, even as he concedes his distaste for Zherdev's attitude.  So it is time to lay the ghost of "Z" to rest once and for all.
Some basics to keep in mind with Filatov – he is just 19 years old, and has spent virtually his entire hockey life in the Russian system – large ice, little checking , and where forwards score and defensemen defend.  Though he claims to be in the 185 pound range, most agree that is significantly high.  He is in excellent shape, but has not yet reached that stage of development where he can easily add both bulk and strength.    As Nash and his brethren will attest, the Hitchcock system is tough to master when you are used to playing the North American game and are at a natural weight, let alone when you are adjusting to an entirely new style of play and attempting to change your body.   This all takes time.
Time – and timing — there lies the heart of the problem.  Hitchcock is paid to win games.  Sure, part of that is developing young players, but only to an extent.  The Blue Jackets are already the youngest team in the NHL, a fact that likely has Hitchcock waking with cold sweats in the middle of the night as it is – adding Filatov to the mix borders on a youth overdose. 
Age is only part of the equation.  This season has progressed far differently than most, including Hitchcock, had anticipated.  Traditionally a squad that has struggled to score, the Blue Jackets have been in the upper half of the league in goals scored.  The Power Play, dead last in the league last year, is clipping along at a 23% + rate, good for 7th in the league.  In a development that befuddles most, however, the team lies in a tie for 28th in Goals Against.  Some of this can be laid off on some untimely injuries to Mike Commodore and Jan Hejda, but most is simply the failure to execute the system.  On a team already glutted with forwards, and in need of a more physical presence in their own zone, development of Filatov was clearly not one of Hitchcock's top priorities.
Did Hitchcock provide Filatov with a fair amount of time on the ice this year??   Undoubtedly not.   For a player learning a new system, new linemates and changing his fundamental game, 8 minutes of total ice time is not enough to find the rhythm and pace that distinguishes hockey from other sports.  Examining his statistics for the 13 games in which he appeared reveals that he had fewer turnovers than many, more Even when he was on the ice; it was usually on the third or fourth line.  At his current age and size, he has no business on the checking line, and the fourth line grinders provide little opportunity for him to show his skill.  In those few circumstances where he played with the second line, there was energy, skill and some clearly dynamic action. 
So, given all of that, should Hitchcock be excoriated for not giving Filatov a "fair shake"?   In the final analysis – no.    As Hitchcock noted earlier today, Filatov simply lacks the size and the familiarity with the NHL pace to be a consistent contributor right now.  Could he get there?  Of course.  Again, however, Hitchcock has to worry about winning games now, and the pressure is higher this year, due to the Olympic break.  Also, he knows that Filatov needs to play in the top six to really be able to showcase his game – but right now there is no room.  Hitchcock is the last one to move a veteran out to give a youngster time to learn the system.
Had the tables been turned, and the offense was sputtering, perhaps Hitchcock would have been more willing to experiment with Filatov.  Perhaps not.   The situation is reminiscent of Bill Walsh's San Francisco 49er teams in the '80's.  Walsh was the architect of his own system, known as the "West Coast Offense", characterized by short, safe passes, play action and strategically placed runs.  Just as Hitchcock abhors the "run and gun" style of the Atlanta Thrashers, Walsh dismissed the "mad bomber" strategy of the Oakland Raiders as folly.  Then they drafted this guy by the name of Jerry Rice.  Walsh had to find a way to utilize this talent, while maintaining the integrity of his system.  He did, and the rest is history.  When the time is right, Hitchcock will find a way to incorporate Filatov's talents into his system.
So, should Filatov be assailed for bailing out to the KHL?  I think the reasoned answer again is – no.  He is only 19 years old.  When guys like Nash and Hull take awhile to embrace the system, why should we expect Filatov to grasp it any more quickly?   At age 19, offense is fun, defense not so much.  Is it a maturity issue?  Well, he needs to mature, but I am not sure it is an "issue".  He is going through the natural maturation process for the end of the teenage years, but is doing so under a microscope. 
Sure, going to Russia is not an ideal circumstance from the perspective of the Blue Jackets.  He will still be playing on the big ice, with little accountability in the defensive end.  On the other hand, he will regain his confidence, and gain another year of size and strength.  Bigger and stronger, he will find it easier to be more competitive, or "weightier".  That, in turn, will get him more ice time, which will boost confidence – and so it goes.  Watching him in Syracuse, there truly was little more he could learn there, except for handling the smaller surface.
Are there any guarantees?  Of course not.  But this is no different, analytically, than the care and feeding of any draft choice.  Go down the draft lists from 2006 to the present and see just how few of the players drafted ever see a minute of NHL time.  The Jackets own Filatov's NHL rights for several more years, so they have a measure of protection.  Could they elect to trade him? Sure.  Will they?  I doubt it, but who knows?
It all boils down to this – at this point in time, Filatov is not the right player for this team, in this position, using this system.   This is not a condemnation of anyone – it is just a by-product of the system, Hitchcock's own apparat, and the time and effort necessary to get Nikita up to speed in that system, given the other personnel and the organization's current needs.  Given the condemnation of the MacLean administration for rushing players such as Klesla and Brule to market, one would think that people would appreciate the need to be patient.
Patience is not something that fans do terribly well.  However, not every story requires a villain, and this is one of those that doesn't.  If all goes according to plan, we can all assemble next July or August, and once again begin the debate.  In the meantime, let's all enjoy the hockey.