With a miraculous come-from-behind 5-4 shootout win over the Edmonton Oilers on Saturday night, the Calgary Flames' playoffs hopes are still alive, albeit on life support.
But along with fighting for a post-season berth, what, if anything, do these final five games mean for the Flames heading into the summer?
It's unlikely GM Jay Feaster will be significantly swayed by any late season magic or individual heroics, but with plenty of contractual decisions on the horizon, it is conceivable that a player's impact down the stretch will affect their chances of returning to Cowtown next year.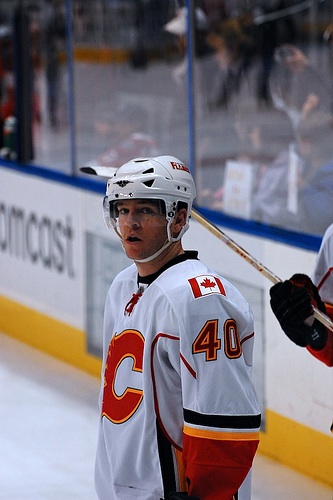 According to capgeek.com, the Flames have 19 players under contract for 2011-12 with a total cap hit of $58 million. With the salary cap expected to rise again next season, Calgary could have approximately $3 to $3.5 million in space to work with – barring any major moves — to fill out the 23-man active roster.
But with eight players on the current roster heading to unrestricted free agency, some tough decisions will need to be made about who to keep and who to let go.
Based on necessity alone Feaster will need to ink a backup goalie and with Henrik Karlsson performing admirably in his first pro season in limited time, it appears he will return and the cost shouldn't be much more than his current $500,000.
On defense, the top-four heading into next season should include Jay Bouwmeester, Robyn Regehr, Cory Sarich and Mark Giordano.
So where does that leave Steve Staios and Anton Babchuk?
Despite scoring what was arguably the most important goal of the Flames late-season push on Saturday, Staios could be on the way out due to the cap crunch, even if his demands as an aging D-man are minimal.
At 26 years of age and proving to be a valuable power play specialist, Babchuk should cash in on his current $1.4 million pact. But it wouldn't be surprising if he priced himself out of Calgary, especially with the promising development of Swedish prospect Tim Erixon and American League blueliner T.J. Brodie.
Unlike the backend, the Flames don't have many immediate futures up front and will have to make due with the current group unless Feaster manages to make a significant trade, which will be difficult considering the amount of no-trade clauses and anchoring contracts on his ledger.
He could consider buying out or burying waiver-wire forwards Ales Kotalik and Niklas Hagman, who make a combined $6 million for the 33 total points they've produced.
Chipping in three points in his past five games might not be enough to resurrect Kotalik's career in Calgary. Hagman, on the other hand, hasn't helped his cause in crunch time, having produced a single point in his past 10.
This would make room for the impending and deserved raises of Alex Tanguay and Curtis Glencross, who have proved they can produce when the games matter most.
Currently one of the NHL's best bargains at $1.7 million and outproducing many players with significantly more lucrative pay cheques, Tanguay is due a moderate raise, at least equal to if not more than what some of the Flames other underachievers are making.
The same goes for Glencross ($1.2M), who has provided a dose of energy and penalty-killing prowess from a hybrid second/third-line role. Breaking the 20-goal plateau won't help Feaster in his attempts to bring him back on the cheap, either.
And then there's Brendan Morrison, who was a great bargain before injuring his left knee in mid-March.
Cleaning up the mess left by ex-GM Darryl Sutter will be no easy task, although the fight and production of players on the hot seat in the final stretch of backs-against-the-wall, do-or-die hockey will give Feaster a good idea of who to build around and who to send packing.