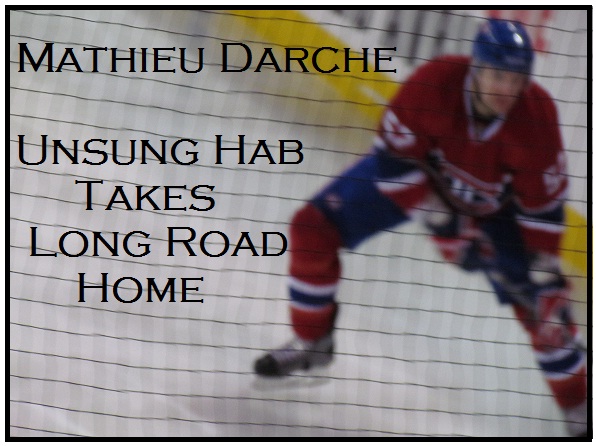 Hometown Hab Turns Hard Work Into Success
The Montreal Canadiens are a team that has been built and developed through the use of an awful lot of money. Money which is essentially spent as an investment towards making the Habs a better hockey team.
But those investments are never a sure thing.
Fortunately, within the risky world of over-endowed contracts, sometimes the best bang for the Canadiens buck comes thanks to some of their smaller investments.
Investments which come no smaller than $500,000 a year.
Of those "smaller investments" Montreal has made in recent years, Mathieu Darche is among the best, and, having fought his way onto the team last season after being called up, has proven to be a vital part of a successful Montreal lineup.
As one of those small investments, Darche in turn plays a less significant role on the Habs versus many of the teams more skilled and talented(and higher paid) players, yet his impact has been nothing short of important.
UnDrafted Local Skated With 11 Pro Teams To Find A Home with Habs
A native of St.Laurent, Québec, Darche grew up playing locally and watching the Canadiens play theirs at the Montreal Forum. Eventually Mathieu followed in his big brother J.P.'s footsteps, attending McGill University and earning a Commerce Degree in Marketing and International Business. While at McGill, Darche also earned a spot on Martin Raymond's hockey team, the Redmen, playing a key role in his final three seasons(1997-00), racking up 60 goals and 69 assists in 75 regular season games.
Upon the conclusion of his successful University career, Mathieu again followed in brother J.P.'s footsteps by pursuing a career in professional sports. Yet, unlike his older brother, who shared in his passion for hockey, Mathieu would go on to play the sport they both loved while J.P. found his success as a Long Snapper both in the CFL and NFL.
Although undrafted after his career with the Redmen, Darche caught on with the Syracuse Crunch of the AHL in 2000-01 and began a nine year journey that would take the fourth line grinder through 11 teams before coming full-circle, returning to his home in Montreal.
Along the nine season journey, Darche has played for seven AHL teams, four NHL teams and one team in Europe, skating in 787 games while earning 509 points(236 goals, 273 assists) and 418 penalty minutes.
Of which, all the experience he's earned has now gone into helping him not only play a key role on the Montreal Canadiens, but has also helped them become a better team.
Hard Work Pays Off in TOI & on Scoreboard
Darche's true success came thanks to last year's playoff run when his hard work and attitude, even as as the team's infrequently used utility man, proved invaluable as he thrived when called upon.
Although he only played 29 regular season games and 11 playoff games, the hard work and attention to detail he brought to Montreal from Hamilton, accompanied by fine reviews from Bulldogs(and former Redmen now Lightning)coaches Guy Boucher and Martin Raymond, impressed Jacques Martin and Pierre Gauthier.
So much so that the Canadiens did not hesitate in offering the grinding fourth liner another contract for this season.
And he hasn't disappointed.
For the $500,000 salary and cap hit that Habs management have invested #52 in 2010-11, they have gotten nothing but pleasant surprises at every turn.

With 21 points in 53 games, Darche is producing 0.40 points per game in an average ice-time of 10:52.
Not only is his production to cost ratio impressive given the ice-time, but the Canadiens are a winning team when they have him in the lineup, with a record of 27-21-5 in the 53 games he's played.
Here's a better breakdown of Darche's effectiveness in 2010-11:

Interestingly enough, giving Darche under eight minutes of ice-time is when he's least effective.

The second most common amount of ice-time that Darche sees also happens to produce a .500 record for the Habs.

Although only 15% of the games Darche has played have seen him skate between 10 and 12 minutes, it's also the average that gives the Canadiens their best advantage.

Darche's prime range. 18 of his 53 games played, this is #52's most productive pocket as when he skates between 12-14 minutes he's posted 11 points and +6.

Rarely played over 14 minutes a game, but when given the chance(only 6 times in 53 games played) Darche produces points and victories for Montreal.
10 & UP
Not often do veteran journeymen find themselves in the position to make a real difference on a team with playoff aspirations, yet in Mathieu Darche's case he no longer finds himself the utility man he once was for this team, but a player whose presence is key and whose role makes a difference.
As a matter of fact, although he is still only a fourth line grinder, the more Jacques Martin uses him, the better the Canadiens tend to play.

VERSUS

The difference is plain to see as Darche's numbers, and the team's record, are much better when he's on the ice for at least 10 minutes a game.
There is also an asterisk to Darche's value as he has added punch to a struggling power play. Although the statistics were not readily available, Darche averages 1:25 per game on the power play and has produced 6 points(2 goals and 4 assists) in only 75:05 of total power play ice-time.
Although it doesn't seem like much, Darche's 6'1 frame and 217 lbs. have been very useful in front of opposition goaltending on the man-advantage.
A common denominator in Darche's success lies in Benoit Pouliot, David Desharnais, Jeff Halpern and Scott Gomez. Those four have provided the catalyst for 56% of Darche's production.
Relative Value
Of course, all of this breakdown comes at the expense of perspective.
For the Canadiens, Darche is but one of 23 members of a living, breathing warrior. His presence is important, vital at times, yet nothing that cannot be overcome by those waiting in the wings or those already on the ice.
For Darche, this season, although marred by injury, has been a milestone. It's the first time that he's played on an NHL team two years in a row, not only that but it's also been his longest stretch up in the big leagues.
While there is definite value in having a hard-working productive grinder in the lineup, it's still up to Darche to prove whether or not he'll remain an important member of the Canadiens.
He's fought long and hard to live out his dream, and at 34 years of age has become an inspiration for regular hard-working hockey players and local Montrealers alike.
He's become a true unsung hero to those aspiring to one day make it in the NHL, a unique person and an undrafted player who fulfilled his dreams through hard work, heart and his unwavering desire to succeed.
With a degree from a prestigious university and a wealth of hockey experience, Mathieu Darche has set an example that anyone should be proud to follow in, including his teammates.
The playoffs are on the horizon and, having recently returned to the lineup, the Habs are going to be counting on the leadership and heart that brought Darche to Montreal in the first place as they chase down the franchise's 25th Stanley Cup.
Steven Hindle