Be sure to stop by THW's "Book Room" page dedicated to book reviews.
The Art of Scouting: How The Hockey Experts Really Watch The Game and Decide Who Makes It
By Shane Malloy (The Art of Scouting website)
From Datsyuk to Zetterberg, how do the Detroit Red Wings uncover such gems in the draft and how do other scouting teams miss out on such draft day steals more often than Dion Phaneuf snaps a composite stick in two?
From Daigle to Wickenheiser, how do NHL teams fail to see that their next can't miss hockey superstar will have a tough time contributing as a bottom six forward?
While these questions are far from easily answered, author Shane Malloy uncovers to hockey fans and those interested in the world of hockey scouting and player development what a complex profession it is.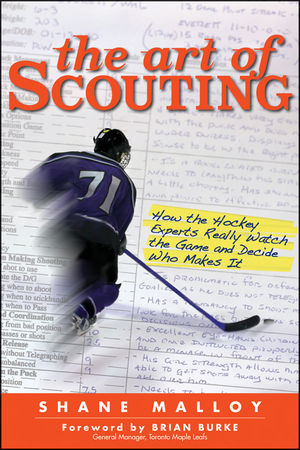 In The Art of Scouting, hockey espionage is revealed. To many hockey fans and even the media, hockey scouts on the exterior appear to have an exciting and secretive career. While secretive enters into the equation, the life of a scout is not exactly as sexy as you would think.
While scouts are definitely a vital cog in any successful hockey organization, don't go imagining some James Bond – Steve Yzerman hybrid guy infiltrating hockey rinks near you…
Bad coffee. Long winter road trips. Remote locations. The task of projecting how a 17 or 18 year old prospect will develop and contribute as a 23 year old hockey player and beyond takes a keen eye with vast experience and knowledge, with a little luck wrapped in for good measure. Oh, and did I mention – a ton of work. Yeah, and you might want to consider the type of player your GM and coaches are looking for that will fit into the team system as well. Piece of cake!
While the book is not going to tell you everything you ever needed to know to be an NHL scout, it is a very disclosing look at a very much misunderstood area of the world. For those interested in the scouting process or contemplating pursuing a scouting or player development career, this is a definite must read. However, even the most casual of hockey fans will definitely enjoy as well.
Malloy has interviewed with a large number of NHL scouts and has intertwined many great quotes from these key guys in the world of hockey scouting. Within those quotes and elaborated on by the author are characteristics and skills scouts look for that the common hockey fan would simply not think of.
Caution: Spoiler Alert
I cannot resist sharing and highlighting just a few of the select items that I especially enjoyed.
A portion of a quote from Mike Futa, Co-Director of Amateur Scouting, Los Angeles Kings: "It's the only job where you can be right 15 percent of the time and be ruled a Hall of Famer or a success."(Chapter 1)
In talking with a scout, Malloy notes: "The vast variety of leagues that players are drawn from makes hockey the most difficult sport to scout for."(Chapter 3)
In Chapter 4 "Tools of the Trade", the author takes an interesting look at statistical analysis, highlighting "Clutch Goal Scoring".
Chapter 7 features an intriguing infiltration in attempting to truly define the elusive hockey characteristic – hockey sense.
In chapter 10, deception on a player's shot was analyzed and the fact that scouts look at goalie reactions to players' shots was interesting to note in how they gauge shot deception.
Chapter 14 features the point: "…not all scouts believe defencemen are significantly more challenging to project. In fact, forwards have more styles, which can complicate matters…"
What others are saying:
From Hockey Book Reviews (Joe Pelletier):
Malloy offers us a sneak peek into the world of scouting, gathering insider information from dozens of current and former hockey scouts. We get to learn how the scouts watch the game, and more importantly, what they are looking for to determine whether they believe certain players are prospects or not.
From Sportsology (Gus Katsaros):
The scouting 'fraternity' and its unwritten dress code would make the original man in black, Johnny Cash along with Tommy Lee Jones and Will Smith proud.

Economic implications stemming from the Collective Bargaining Agreement negotiated through the NHL lockout (2004-05) has forced member clubs to rely heavily on scouting and developing home-grown players. Never has there been more pressure for bird-dogs to find players to be potentially developed into the organization's ranks.
From Wiley:
There is no manual for being a hockey scout, for deciding who makes the cut to the NHL, and who ends their career in the minors. The Art of Scouting, by Shane Malloy, goes behind-the-scenes and into the corner of the rink to reveal the secrets of this all-important aspect of pro hockey.

The clendestine world of hockey prospecting is more akin to Cold War-era spying than a casual day in the stands. There are long hours spent gathering information, drinking bad coffee, and constantly travelling. The stakes are high, as the future success of their organizations depends on the scouts' skill, especially in a time where the NHL salary cap can restrict player acquisition.

The scouting fraternity is notoriously (and necessarily) tight-lipped. Malloy, who has been covering hockey prospects, scouting, and player development for the past decade, is one of the first media personalities to be welcomed into this world. Via expert interviews and Malloy's unique experience, readers will gain a new appreciation for what scouts do and how they do it, what it really takes to make it to the NHL, and how to watch the game like a scout.
Christopher Ralph is THW's prospect and draft analyst, and does the occasional book review.
*Follow Chris Ralph as The Hockey Spy on Twitter as he infiltrates, dissects and analyzes happenings of hockey prospects and the NHL entry draft.
Chris is THW's senior draft/prospect analyst and a Managing Editor. Watch for "The Next Ones" Prospect Profile series, exclusive rankings, mock drafts, as well as the annual THW NHL Entry Draft Guide. Follow @ChrisRalphYQ on Twitter as he infiltrates, dissects and analyzes all happenings of hockey prospects and the NHL entry draft. Email: cralph[at]thehockeywriters[dot]com