Time is working against the top three scorers in the Ontario Hockey League.
North Bay Battalion forward Justin Brazeau, Owen Sound Attack forward Kevin Hancock and Ottawa 67's forward Tye Felhaber sit 1-2-3, respectively, in the OHL points race nearly a third of the way into the season. Despite that, none of them are guaranteed to be playing hockey next year with their junior careers nearing an end.
All three are 20 years old and in their final season of junior eligibility. They went undrafted by NHL clubs and are playing in the Canadian Hockey League without pro contracts.
"This is the age where it's your last shot, for me I want to play pro hockey," said Felhaber, a native of Pembroke, Ont. "There's definitely a little bit more pressure (in your final year). You don't know what's going to happen, the scary part is the uncertainty of next year."
"My goal at the end of the year is to have a pro contract in my hand, hopefully I can get there," said Brazeau, from New Liskeard, Ont.
Brazeau is producing more than two points per game to lead the OHL with 39 in 19 outings, Hancock has 38 points in 21 games while Felhaber has 37 points in 22 contests as of Wednesday.
It isn't uncommon for the oldest players to put up the most points in a league of 16- to 20-year-olds, although the majority of them are already under contract with NHL teams. But there is reason for the trio to stay optimistic if they continue in the race for the Eddie Powers Memorial Trophy as the OHL's top scorer.
Aaron Luchuk, the 2018 Eddie Powers winner, was 20, undrafted and without an NHL contract this time last year, and then the Ottawa Senators came calling in December 2017 to sign him to an entry-level deal. He's currently in the ECHL with the Brampton Beast.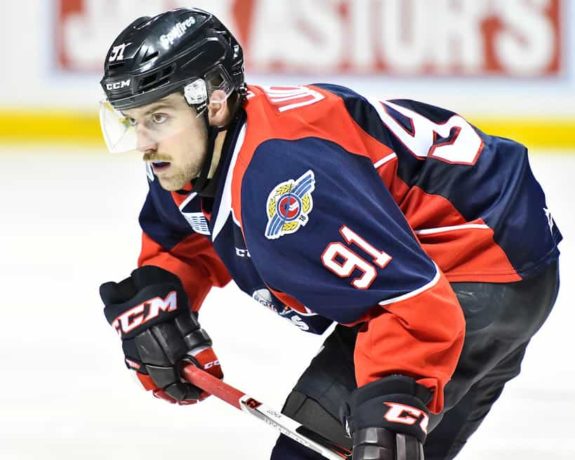 Since 1999, regardless of age, every winner has gone on to be part of an NHL organization, although the minor-league levels are most common for those undrafted.
"Being in my last year here I want to obviously achieve great things with my teammates but also personal goals I'm obviously looking for an NHL contract. That's probably one of my biggest goals this year," said Hancock, from Mississauga, Ont.
RELATED: What Ever Happened to Fabian Brunnstrom
NHL teams hold various camps every year in the off-season and invite young talent to come out and show off what they have alongside their own top prospects. Many of the skaters on the ice are undrafted as clubs try and find a diamond in the rough.
Hancock has skated with the New York Rangers and Buffalo Sabres, while Brazeau has been to camps with the Detroit Red Wings, Columbus Blue Jackets and most recently the San Jose Sharks, where he got the hint about what it would take to earn a contract.
"When I left San Jose, it was to make sure I came back and dominated the league," said Brazeau. "That was kind of the message."
Felhaber has been to Toronto camp and even got a chance to play in the American Hockey League at the end of the 2017-18 season with the Laval Rocket, who signed him to an amateur tryout contract after the 67's were eliminated from the OHL playoffs.
"I played four games and spent a month in Laval, it was pretty cool," said Felhaber.
All three have spent enough time in the OHL that if pro hockey doesn't work out, they could go to post-secondary school through the CHL's scholarship program. But they have to make their decision within 18 months of their overage season or their funding becomes void. If they extend hockey too long, they will lose their free education.
"School is in the back of my mind as a backup plan because obviously you don't know," said Hancock. "Keeping all my options open."
"My mom's a big believer in education, so if nothing happens pro then I'm definitely going the school route, she'll want that and I want that," said Brazeau.
—
AROUND THE CHL: The Flint Firebirds are 2-2-0 in their past four games after starting the season with 17 losses in a row. Despite being 2-18-1, Flint is no longer on pace to finish with the worst OHL record of all time, which belongs to the 1995-96 London Knights (3-60-3).
— Some of the top players in the CHL will represent their countries at the upcoming world junior championship in Vancouver and Victoria beginning Dec. 26. However, Peterborough Petes forward Liam Kirk will be heading to Estonia to represent Britain in the Division II Group A world junior championship against the host nation, South Korea, Lithuania, Romania, and Spain. Division II Group A is three tiers below the top division.
— As of Wednesday, the top 10 teams in the CHL rankings are: 1. Prince Albert Raiders (17-1-0); 2. Ottawa 67's (17-3-2); 3. Rouyn-Noranda Huskies (17-4-0); 4. Halifax Mooseheads (16-4-1); 5. Moncton Wildcats (16-4-2); 6. Vancouver Giants (13-4-2); 7. Baie-Comeau Drakkar (16-5-0-1); 8. London Knights (12-4-2); 9. Red Deer Rebels (13-5-1-0); 10. Drummondville Voltigeurs (14-5-1).
___
Follow @KyleCicerella on Twitter
Kyle Cicerella's junior hockey notebook will be published every Thursday.
Kyle Cicerella, The Canadian Press